BBC Sport - Wimbledon 2016: Novak Djokovic out after shock defeat to Sam Querrey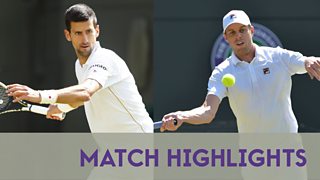 Highlights: Djokovic out after Querrey shock
Watch the moment Sam Querrey knocks out defending champion Novak Djokovic in a huge upset at Wimbledon.
The American ended Djokovic's hopes of a calendar Grand Slam with his 7-6 (8-6) 6-1 3-6 7-6 (7-5) third-round win.
Read More: Novak Djokovic loses to Sam Querrey at Wimbledon 2016
Available to UK users only.
Watch more Wimbledon action here.