Channel Islands seal dramatic survival in County Cup Division Four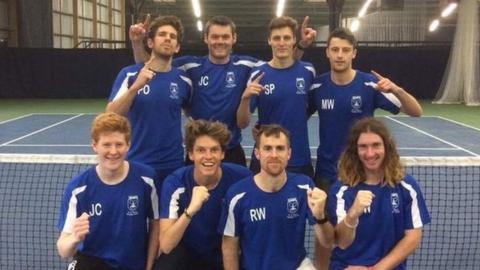 The Channel Islands men's team pulled off a dramatic 5-4 win over Staffordshire to avoid relegation from Division Four of the Winter County Cup.
James Faudemer and Rob West won the final doubles rubber in a final set tie-break to keep the islands up.
The islands trailed 4-2 going into the doubles rubbers but won all matches to survive at their highest-ever level.
Having lost to Buckinghamshire and North Wales, the islands defeat would see them relegated to Division Five.
"We're all so delighted, we would have been hard done by to have gone down," team member James Faudemer told BBC Radio Jersey.
With North Wales topping the group with three wins from three, the Channel Islands finished second in their group after all the other counties registered one win, with Buckinghamshire going down due to a heavy final-game loss to North Wales.
Meanwhile, the Channel Islands women finished bottom of Division Six after heavy defeats to North Wales, Oxfordshire and Cumbria.