Jocelyn Rae: Golden girl content to end tennis playing career on a high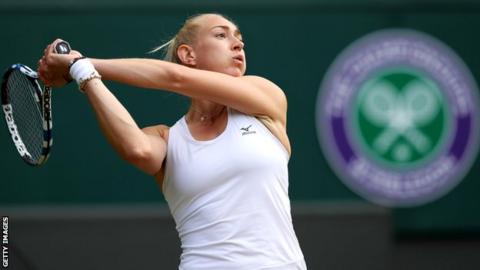 Jocelyn Rae has her Scottish-born father to thank for the golden moment of a tennis playing career she has ended at the age of 26.
Born and brought up in Nottinghamshire, Rae was thrust unexpectedly into the limelight as part of Scotland's Commonwealth Games squad heading for Delhi in 2010.
She left India with a glittering prize and a lifelong memory, having won the mixed doubles title with Colin Fleming.
It was all made possible by father Robert - still "a proud Scot" despite having left Plean, near Stirling, as a child - phoning team organisers to check her eligibility.
"It was very out of the blue as the Commonwealth Games was not on my radar," Rae told BBC Scotland.
"It was probably one of the best things he has ever done.
"My mum and dad are both proud, but my dad is like a whole other level. He still watches the re-runs of the tapes today."
The 19-year-old Rae was suddenly being talked about as the successor to Elena Baltacha - potentially the next Scot to break into the world's top 100.
But a foot injury the following year meant she never surpassed the ranking of 450 in singles she achieved at the time of her Commonwealth gold - and ultimately was a major contributor to her decision to quit the game in December.
"The main reason for my decision was injuries," she explained. "I was plagued with them growing up, as most professional athletes are, and I sustained quite a bad injury on my left foot in 2011.
"It was only a few months after the Commonwealth Games success and so that was a big blow.
"It meant I had to give up singles after two years out of the game after surgery.
"So that was something I always had to manage along the way through the rest of my career.
"And, in my last tournament, I actually woke up with a sore shoulder and, for me, I don't know what it was, it just clicked that I can't mentally do the injury side of things any more."
Rae still managed to make her mark in the doubles game, reaching a highest ranking of 67 in February 2016 and being part of the British team for five Fed Cup campaigns.
However, with wedding plans in place, she will now concentrate on helping develop potential champions after accepting a coaching position with the Lawn Tennis Association.
"I am also a massive home person and, as much as a life of a tennis player is exciting and you obviously get to see beautiful places around the world, do what we love in nice conditions, it was just starting to get a little bit on top of me," she said.
"It is a lot of travelling. When you are playing the lower tournaments, you can go to a particular country and stay for two, three or four weeks and get a good tour out of that.
"But, when you make it on to the main tour, that's the goal and where you want to get to, it is tricky. It means you are all over the world.
"It's tiring sat in the economy side of things. Being 6ft 2in, it is a bit tough on the back and legs.
"It is non-stop. The season is pretty much constant and I was just starting to miss home a lot.
"When I was travelling, I was lucky - I got on really well with my doubles partner, Anna Smith, and we kept each other sane probably.
"I had a coach with me for a few weeks here and there when I could afford it. But, at the end of the day, you are pretty lonely.
"It is a tough place to be, but also I've had the best memories and experiences from doing that, so it is a double-edged sword."
Rae was pleased to have gone out on a high, winning the Odlum Brown VanOpen doubles title with Jessica Moore in August, having reached the Wimbledon mixed doubles quarter-finals with Ken Skupski a month earlier.
"I had such an amazing last year," she said. "I played Fed Cup for the fifth or sixth time and we got promoted.
"Then Wimbledon and making the quarter-finals, which I had never done before, and not only that - getting to play on Number One Court for the first time and an hour after that being told we had been drawn to face Jamie Murray and Martina Hingis on Centre Court the next day.
"That was like three dreams come true in the space of 48 hours.
"It was a great way to finish it for me because Wimbledon obviously holds a special place in most players' hearts and especially us Brits.
"We enjoyed the experience and tried really hard, but they were just too good on the day and went on to win the title.
"At the time, I was thinking it was probably going to be my last Wimbledon, so every moment was even more special really."
Yet it is that moment in the Delhi sunshine, when she and Fleming overcame top seeds Paul Hanley and Anastasia Rodionova of Australia, that she will remember most.
"It was such an unexpected run," she said of her Commonwealth Games experience. "I had met Colin literally the night before our first match, which we almost lost against two good Australian players.
"After that, I settled into it, we got to know each other a bit more and we just flew from there.
"The whole experience was incredible and to come away with gold was the cherry on top.
"That was an absolute whirlwind of a couple of weeks and was probably my main highlight."