David Omoregie 'capable' of winning Commonwealth gold - Colin Jackson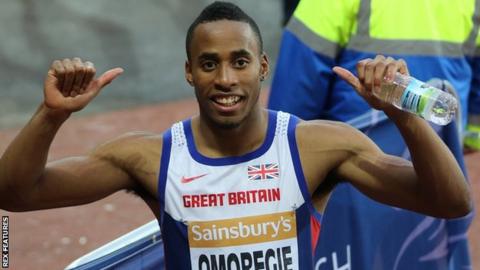 Welsh 110m hurdler David Omoregie is capable of winning gold at the 2018 Commonwealth Games says former world champion Colin Jackson.
Omoregie won bronze at the 2014 World Junior Championship and added European U23 Championship gold a year later.
The 20-year-old set a new personal best of 13.24 seconds in winning a race in Berlin in September.
"I'm pretty sure we'll see the best of him at the Commonwealth Games," Jackson told BBC Wales Sport.
"Will he win that title? He's more than capable of it. He's getting stronger and more mature.
"Every time he's racing now he's gaining more experience, which is key. The hurdles will bite you back if you don't respect them.
"He's learnt that the hard way and had a couple of dodgy competitions where he's made technical mistakes."
Jackson won 110m hurdles gold at the 1990 and 1994 Commonwealth Games and was also a two-time world champion.
Cardiff's Omoregie missed out on this year's Olympic Games - he ran a personal best a week after Great Britain had named its squad for Rio.
Seren Bundy-Davies was the only Welsh track and field athlete at this summer's Olympics.
But the 21-year-old bowed out of the 400m in the first round and was not part of the Great Britain's women's 4x400m relay team.
Jackson is confident Bundy-Davies, part of the relay team which won bronze at the 2015 World Championship in Beijing, will rediscover her form.
"Seren had a lot of pressure on her," Jackson added.
"She had a cracking indoor season a couple of years ago and then she matched that outdoors.
"It seemed a catastrophic failure for her at the Olympic Games which meant she got dropped for the relay squad. It would have been quite devastating.
"But Seren's a great athlete and athletes don't go bad overnight. There's something we can definitely poke our finger at and say 'that was the cause and that was the reason.'
"I'm pretty sure she will return back to the top."
Wales had just one track and field competitor at an Olympics for the first time since the 1952 Helsinki Games.
But Jackson, an Olympic silver medallist in 1988, believes there are better time ahead for Welsh athletics.
"For me there's time to turn everything around and be very positive in what's happening in our sport," Jackson said.
"We were blessed back in the day with the amount of talent we had coming through.
"Now we've got a real nice glut of athletes who are going to be world class in their day but we've just got to give them time.
"We've got to believe in them that they will make it.
"If you give them that real sense of 'we believe in you' it's amazing what they can achieve."