Weightlifting World Championships: Sarah Davies hopes doping bans help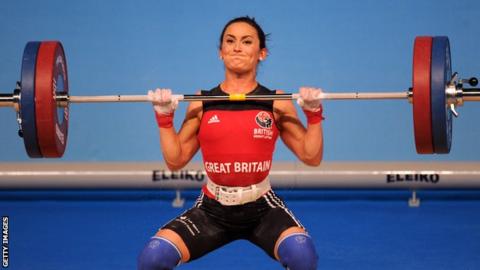 Weightlifting World Championships
Date: 25 Nov-5 Dec Venue: Anaheim, United States
British weightlifter Sarah Davies hopes banning nine nations from the World Championships proves her sport deserves to remain in the Olympics.
Russia and China are two of the biggest nations to be banned from this week's event in Anaheim, United States, over doping.
There were more than 50 failed tests in the sport at the Beijing 2008 and London 2012 Olympics combined.
"At least there's something being done about it," Davies told BBC Radio Leeds.
The other nations barred from competing in California this week are Armenia, Azerbaijan, Belarus, Moldova, Kazakhstan, Turkey and Ukraine.
The International Weightlifting Federation (IWF) took the decision in September after International Olympic Committee (IOC) president Thomas Bach demanded it addressed "the massive doping problem".
Weightlifting will feature at the Tokyo 2020 Olympics but has been given no guarantees for Paris 2024.
"There's obviously speculation about whether weightlifting will continue in the Olympics, which is a worry," said 25-year-old Davies, who competes in the -63kg A group on Saturday.
"Whether it [the bans] will make a difference is difficult to tell at this point, but hopefully the IWF keep working with the IOC to show they are acting."
The World Championships will be Davies' final major competition before what she hopes will be her second Commonwealth Games for England in Gold Coast, Australia, in April.
She hopes good performances at each event will help convince UK Sport to reinvest in the GB Weightlifting programme after it lost all funding last year.
"It we're strong at the Worlds and getting some medals across the male and female categories at the Commonwealths, it will give a good message," she said.
"It would show what we can do without funding and hopefully prove what we could do with more support would be something quite significant."