Sochi 2014: Russian skiers Vylegzhanin, Petukhov, Shapovalova and Ivanova receive lifetime Olympic bans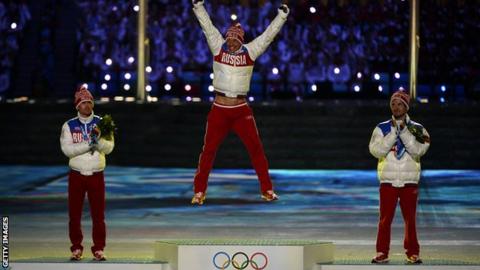 Four Russian cross-country skiers have been found guilty of doping by the International Olympic Committee (IOC) and banned for life from the Olympics.
Maxim Vylegzhanin, Alexei Petukhov, Evgenia Shapovalova and Yulia Ivanova were all sanctioned following doping investigations into Sochi 2014.
"The reasoning for these decisions will be communicated in due course," said an IOC statement.
The case against a fifth athlete was ended due to insufficient evidence.
Three-time 2014 silver medallist Vylegzhanin, Petukhov, Shapovalova and Ivanova were named in the McLaren report into state-sponsored doping in Russia last December.
They are among six athletes to have had provisional doping bans upheld after a failed appeal to the Court for Arbitration in Sport (Cas) in May.
Fellow cross-country skiers Alexander Legkov and Evgeniy Belov had lifetime Olympic bans confirmed by the IOC earlier this month.
Russian President Vladimir Putin accused the US of inventing doping allegations against Russian athletes in an attempt to influence next year's presidential election.