Coming home to Indonesia
Powering innovation
Growing up as one of six children in a wooden wall three-room house with a leaky roof in the city of Jambi, Sumatra, Muhammad Nurdin never dreamed that he would end up working in Australia and the United States, travelling the world, liaising with government and staying in five-star hotels. Nurdin may now be senior vice-president of ExxonMobil Indonesia, but as a child he could not even afford the bus fare to get to school.
Even on school days, he had to help his mother sell the simple cake and crackers she made. "I had to walk about 2km to 3km each way to primary school," Nurdin recalls. "Other students would only carry their books, but I had to carry ice cream, because I needed to sell ice cream to get money to buy something to eat at lunch."
At the time, fewer than 50 per cent of Indonesians graduated high school. But a talent for physics, and being named the best junior high school student (Siswa Teladan Nasional) in Jambi in 1989, helped Nurdin secure a high school scholarship from Mitsubishi Motors. He was also named the best senior high school (Siswa Teladan Nasional) in Jambi in 1992 and received an invitation to study mechanical engineering at Gadjah Mada University. He completed university supported by scholarships from the Indonesian Engineers Association (PII) and the government (Supersemar).
But finances remained an issue. "My boarding house had very, very, very cheap rent (so everyone would choose to stay there), so I had to share with around 10 other students and didn't have access to a dedicated table for study," Nurdin recalls. During the day, he had to study in the university library; at night, he took his books to the mosque for peace and quiet.
Bright Lights, Big City
Nurdin joined Mobil Oil Indonesia (then ExxonMobil) at a time of great change for his country: 1998, with the economy in crisis, protesters on the streets, and the ruling government regime at that time about to fall. Soon, he was posted to Melbourne, Australia, as part of a program to familiarise local engineers with the global business (the Early Graduated Interchange Program or EGIP). It was the first time he had travelled outside Indonesia.
The language barrier proved a challenge. Coming from ordinary schools and an under-privileged background, Nurdin only learned English when he joined ExxonMobil, and it took him time to acquire the art of thinking in English. "If you're in a meeting with people talking English, you need to convert all the conversation from English to Bahasa Indonesia, and then think about it in Bahasa," he says. "Once you know the answer you need to convert to English again, so by the time you have the answer and are ready to speak up, people have already moved to another different subject."
To recreate the culture of home, Nurdin and his wife threw themselves into Melbourne's Indonesian community and joined regular Saturday gatherings at the Consulate-General. "Melbourne has what it calls ethnic community radio, so each ethnic community has a slot in the radio program," Nurdin says. "I ran the Indonesian program every Saturday: playing Indonesian songs and updating on the situation in Indonesia, helping engage with Indonesian families who were living in Melbourne at that time."
Over the past 21 years with ExxonMobil, the family has moved four times: from Indonesia to Australia, back to Indonesia, then to Texas in the United States, and finally back to Indonesia. "We had a child every time we moved from one country to another country," Nurdin laughs. "So now my wife said to me, 'Don't move to another country – four children are enough, I'm not ready for another one'."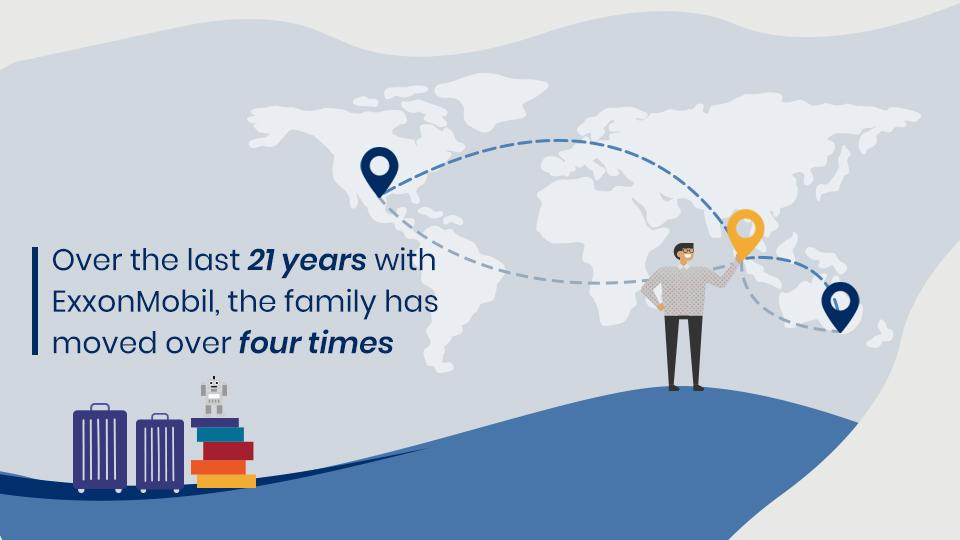 Things Are Bigger in Texas, U.S.A.
Posted to the facility engineering group at ExxonMobil's Houston headquarters, Nurdin received a deeper immersion into the global business – albeit without as much travel as he would have liked. "I had a portfolio to support Europe and Caspian region, including Germany, UK, the Netherlands, Norway, Kazakhstan and Azerbaijan," he says. "But I never had an opportunity to visit the countries that I was supporting. Partly because of my passport, there were always challenges to get visas approved within the timeframe that I had."
Living in Texas proved quite the culture shock. "Everything is big in Texas: the cars are big, the food is big," Nurdin laughs. "Even when you buy a portion of food, you can share it with your wife. Sometimes my wife and I would share one portion for both lunch and dinner, the portions are so big."
And the career opportunities were big too. "You are surrounded by all the experts and every expert is very happy to help you and share their thoughts and expertise," Nurdin says. "But you also have an opportunity to get access to the senior management, to learn about their thought process and what they care about and how they make decisions."
Bringing Technology Home
Today, as senior vice-president, Nurdin looks after all of ExxonMobil's production operations across Indonesia. This includes maintaining safe and reliable operations of the facility that is producing more than 25 per cent of oil for Indonesia, ensuring compliance to applicable safety regulations, engaging with government and resource owners, and working as an ambassador for the business, including liaising with universities and other industries.
As a young engineer in Australia, Nurdin realised how much he still had to learn about technology. Over those quiet evenings in the mosque, he had painstakingly studied steam turbines. When he reached Melbourne, he found the industry had moved on several generations – aeroderivative turbines, based on jet engines, were already standard.
Today, Nurdin helped Indonesian universities to help expand students' knowledge base, whether through talks on new developments such as compressors capable of working 3km to 5km below sea level or through liaising with academics. "The industry is shifting dramatically and unfortunately universities will not always be able to catch up," he says. "I provide context so the university is up to speed about what technologies are available and what skillsets might be required by the industry."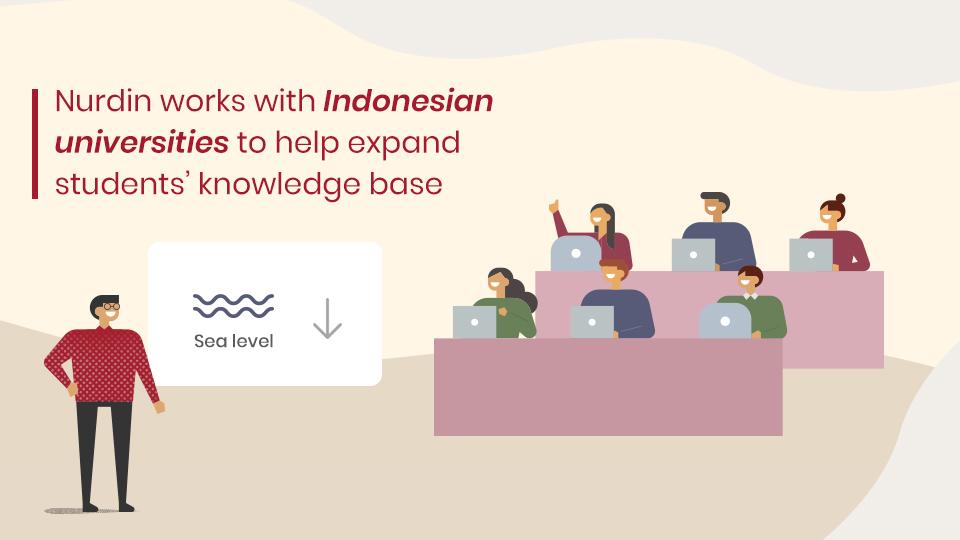 A product of the scholarship system, Nurdin is passionate about ExxonMobil Indonesia's scholarship program – a vital asset in a nation where university remains out of reach for many. "Right now, we have the Banyu Urip scholarship for ten university students from the community near our operation in Bojonegoro," he says. "I'm a big supporter because I am one of the young, poor Indonesians that benefited from those opportunities, so I would like everybody to have the same opportunities that I had."
Indonesia. Powered by Indonesians.
At ExxonMobil, we believe in empowering our employees so they can help drive Indonesia's progress forward. Find out more about Katimin, Akhmad, Endra and Natalia's story at energyfactor.co.id.
Find out more