Having spent years exploring the Grand Canyon's wild places in search of new inspiration, Bill Cramer creates art from the paths that tourists don't take.
The Grand Canyon's pinks, violets and reds were painted by nature six million years ago. Landscape painter Bill Cramer eternalizes these same hues on his canvas, using the holy grail of the United States' great outdoors – at a record 5.5m visitors in 2015 – as the main inspiration for his artistic work.
Grand Canyon – est 1919
Arizona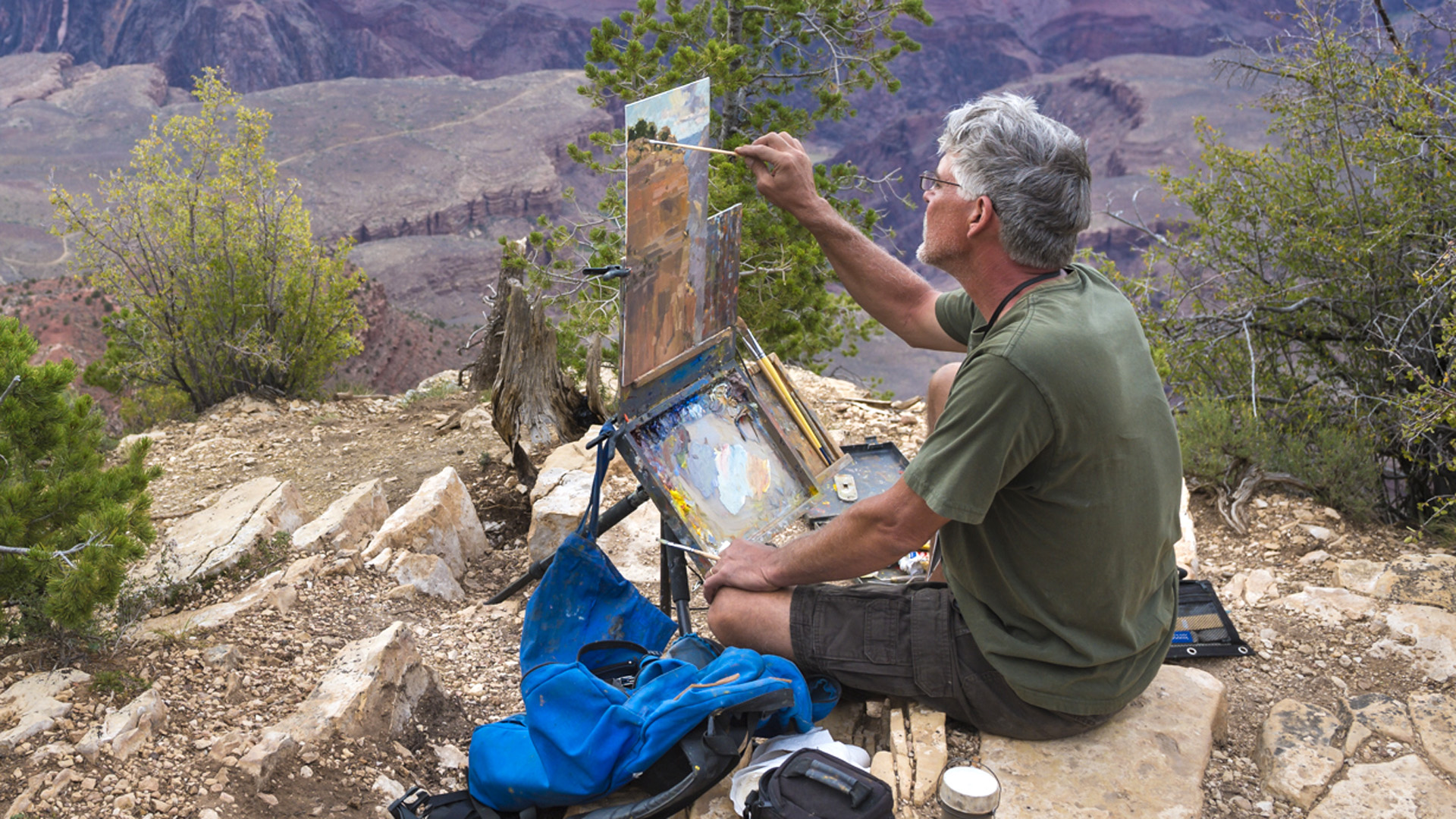 Bill Cramer, landscape painter
Read more about BBC Travel's celebration of the US National Park Service's 100th Anniversary.
A veteran rock climber, Cramer's desire to create art was born from his time exploring the vertical places of the American West, which gave him a perspective that few others ever experience. "My appreciation for the canyon grew with my work," he said. "As your skill level gets better, so does your perception level… You start to notice things, how shadows are cast, how light changes, how things happen."
Cramer lives his experience inside the park to the maximum, often painting barefoot for three to six hours, using oil paint and a portable easel. He is often accompanied by friends, classical music and chilled wine.
"Any landscape worth painting is more than the obvious visual elements," he said, referring to how his mindfulness towards nature results in creations that are as edifying as the landscape that inspired it. "The push of an evening breeze, the feel of sun baked sandstone, the scent of sagebrush or the sound of a raven suddenly overhead are examples of the many unseen elements that inform my work."
I'm generally scaring my friends and the rangers who run out of climbing gear to 'rescue' me
Usually painting from just below the South Rim, where most people don't reach, Cramer feeds off the prime views of the canyon, as well as off the adrenaline rush he gets by exploring the more precarious parts of the rim. "I'm generally scaring my friends and the rangers who run out of climbing gear to 'rescue' me," he said. By incorporating gnarled bonsai-like trees and microenvironments that don't exist on the marked tourist parts of the rim, Cramer is able to create compositions that other painters never dare to achieve.
Last year, Cramer set out to explore the park from one end to the other, joining a guided river-rafting trip at the bottom of the canyon with fellow painters. Following years of painting only from the top, the perspective he got during the weeklong painting retreat was invaluable. "You really understand how immense the canyon is, now that you're looking up. There are little tributaries, waterfalls and pools that – once they mix with Colorado River – become turquoise blue."
In an effort to give back to the park that breathed life into most of his work, Cramer is joining 20 to 30 artists for the annual Grand Canyon Celebration of Art in September this year. He's won the Artist's Choice Award three times before, "probably because I buy the most beer and wine", he joked. Besides exhibiting and selling previous studio work and art painted throughout the week, artists like Cramer are helping raise money for a museum that will include a massive collection of paintings and artefacts currently stowed away in warehouses at the South Rim.
When not at work or attending art events, Cramer teaches three to four workshops a year, mentoring people in how to paint landscapes. He believes that it's best to go into outdoor painting without expectations and to pay attention to what you see, including weather conditions – good or bad. Cramer once saved three European tourists stuck in tornado-like weather and he cheated death when lightning hit just 15ft away. Those experiences led to some of his strongest pieces.
Cramer is determined to keep exploring the Grand Canyon's wild places in search of new inspiration. "You can [explore] the Grand Canyon your whole life and not see it all," he said. "It just never ends out here."
If you liked this story, sign up for the weekly bbc.com features newsletter, called "If You Only Read 6 Things This Week". A handpicked selection of stories from BBC Future, Earth, Culture, Capital, Travel and Autos, delivered to your inbox every Friday.