Every day, border patrol agent Ryan Hajek faces the delicate balance of taking care of and enjoying Texas' Big Bend National Park, and the hot button issues of US immigration.
Border patrol agent Ryan Hajek was walking in the open Texas desert, trying to stay as quiet as possible. It was dark except for the full moon that hung above him. He was looking for something specific – a water bottle, some clothes left behind, anything that showed evidence of human life.
Big Bend – est 1944
Texas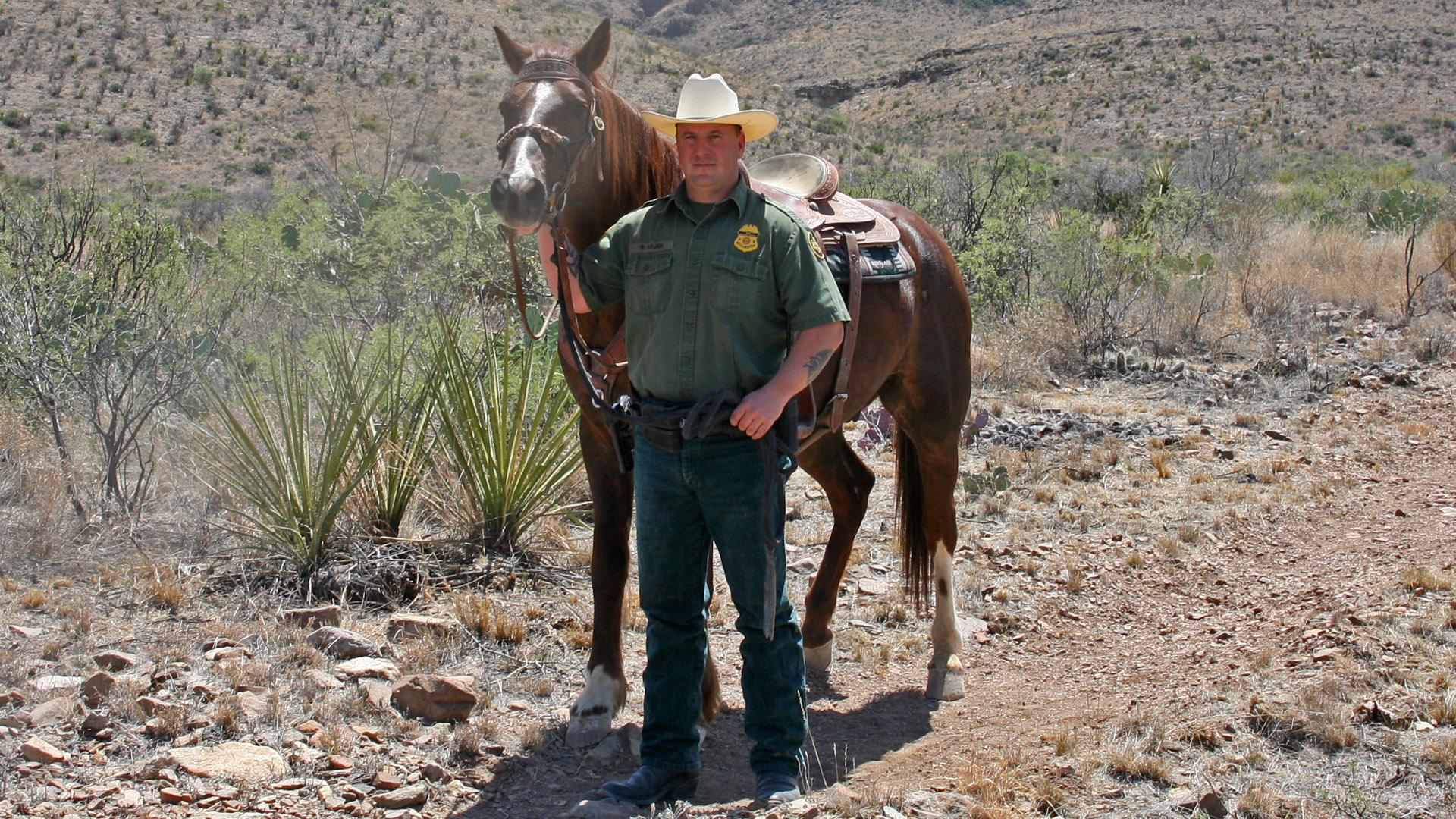 Ryan Hajek, border patrol agent
Read more about BBC Travel's celebration of the US National Park Service's 100th Anniversary.
Tracking people and conducting lay-in operations – which require officers to hide in the desert brush and wait for drug smugglers or groups of illegal immigrants to appear – isn't an easy gig. But Hajek, an agent with the United States Customs and Border Protection Agency who patrols the United States' border with Mexico, gets to work in what's arguably one of the most beautiful national parks in the world, Big Bend National Park.
Big Bend, known as "Texas's Gift to the Nation", stands out because of its large quantity of flora and fauna: the area has 451 bird species, 24 bat species, 59 types of cacti, more than 190 species of butterflies and 13 kinds of ants and scorpions. In the 1930s and '40s, the state of Texas donated about 703,000 acres of land just in time for the park's opening on 12 June, 1944. Over time, donations continued to trickle in until the area reached its current size of more than 801,163 acres. The park is a testament to nature's ability to combine water and desert, valleys and mountains and of course, borders.
Earth's rich saga also thrives here: sea fossils and dinosaur bones are known fixtures, and geologic and American history is etched into its limestone canyons. Hajek likes to think about the pioneers. There's an old cemetery near remnants of a broken-down community with no names on the graves. When the park is empty and the action is slow, he comes here and ponders about how hard, but how fulfilling it must have been for them to sustain a life here. Hajek's appreciation for his surroundings reminds him over and over again of why he dedicates his life to the park and to the nation.
Last October, when driving through the park headquarters, he spotted two men in the park's convenience store meant for tourists. "I had a hunch that they were up to something," Hajek said. "I decided to watch and see." The men purchased 12 Gatorade drinks, 12 cans of beans and a stack of tortillas. After they paid for their goods, they walked into the brush and disappeared into an area that lacked hiking trails. "I got my uniform on and followed their tracks, and followed them for about one-and-a-half miles," he said. The trek paid off. Hajek discovered 271 pounds of marijuana, two loaded handguns and five men who crossed the US-Mexico border illegally.
While the border has created tension between the two neighbouring countries, it's also a symbol of their strong alliance. There is a legal crossing from Big Bend into Boquillas, a small village and Mexican National Park. Here, there are no border agents, but instead, kiosks with virtual officers watching from El Paso to allow Big Bend visitors to experience what is essentially the other side of the park. Mexico has four protected areas – Maderas del Carmen, Ocampo, Canon Santa Elena and the Rio Bravo del Norte – that are an extension of Big Bend's ecosystem. The two countries work together to protect an entire environment instead of just what lies inside their borders to foster scientific and conversation efforts in the area.
Like Mexico and the US, Hajek's duties go beyond boundaries, and working in Big Bend means taking on responsibilities that are not asked of other border patrol agents. Not too long ago, the park service received a call from a lost hiker whose phone only had enough battery to allow him to call for help. For 12 hours, the hiker sat alone, lost in the middle of the Texas desert. Hajek used his tracking skills to locate him. "It was a search and rescue mission," he explained.
Everyday, Hajek deals with the delicate balance of taking care of the park and enjoying its exquisite nature, and the hot button issues of US immigration. "My job is stressful from a law enforcement and humanitarian perspective," Hajek said. "I try not to take it home with me. It's a geological wonderland and the beauty of the park is a good way to meditate and relax and forget about things."
If you liked this story, sign up for the weekly bbc.com features newsletter, called "If You Only Read 6 Things This Week". A handpicked selection of stories from BBC Future, Earth, Culture, Capital, Travel and Autos, delivered to your inbox every Friday.