How does the BBC use cookies?
We use different types of cookies for different things, such as:
Analysing how you use the BBC
Giving you a better, more personalised experience
Recognising when you've signed in
Giving people outside the UK the international version of the BBC website (which has adverts).
Read on to find out more about the different kinds of cookie we use. If you like you can turn BBC cookies on or off here.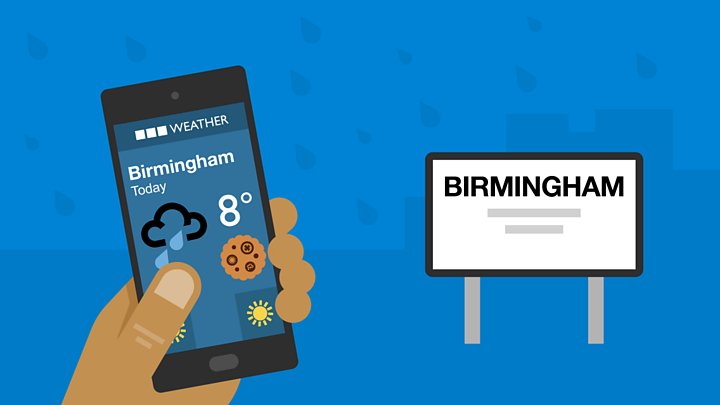 Strictly Necessary cookies
These cookies let you use all the different parts of bbc.co.uk. Without them services that you have asked for cannot be provided.
Some examples of how we use these cookies are:
Signing into the BBC
Remembering previous actions such as text entered into a registration form when navigating back to a page in the same session
Remembering security settings which restrict access to certain content e.g. to help with parental control choices.
Functional cookies
These help us personalise the BBC to you. For instance, remembering your preferences and settings so if you set a location on the BBC homepage, we'll remember it using functional cookies and use it to give you local news and weather. They also remember your choice of playlist and favourites and help fulfil requests by you such as commenting on a blog.
Some examples of these cookies are:
Flash cookies, which are stored on your hard drive, not your browser. These are useful for things like pausing a programme on iPlayer and then later picking up where you left off.
Remembering if you visited the website before so that messages for new visitors are not displayed to you
Remembering settings applied to the website such as colour, font size and layout.
Performance cookies
These help us understand how people are using the BBC online, so we can make it better. And they let us try out different ideas.
We sometimes get other companies to analyse how people are using the BBC online. These companies may set their own performance cookies You can opt out of these cookies here.
Some examples of how we use these cookies are:
To collect information about which web pages visitors go to most often so we can improve the online experience
Error management to make sure that the website is working properly
Testing designs to help improve the look and feel of the website.
Cookie name
What it's for

S1

ns_session

NO-SA

ckpf_sylphid

ckpf_mvt

ckpf_sa_labels_persist

ckps_iplayer_nations_1

Analytics cookies set by the BBC ("iStats")

The BBC's analytics system uses cookies, log file data and embedded code to gather information regarding visitor activity on the BBC's websites and other BBC online services. The data gathered is sent to ComScore, the BBC's analytics partner, for analysis and reporting. The BBC uses this information to help improve the services it provides to its users.

You can opt in or out of this reporting in cookie settings.

Scorecard Research by comScore

Comscore provide the BBC with analytical information about our visitors. ComScore collect data on the traffic and engagement for the site to provide the BBC with a competitive context of their performance versus the market. This data is then used for sales pitches, editorial, strategy, business development and product development.

For more information about what how comScore use this data, please visit the ScorecardResearch Privacy Policy.

Nielsen/NetRatings

Quantcast

These independent measurement and research companies, based in the US, gather data regarding the visitors to BBC sites on our behalf using cookies, log file data and code embedded in our sites. The BBC uses this information to help improve the services it provides to its users.

To opt-out of receiving these cookies from these companies, click the links below:

Out-out of Nielsen/NetRatings cookies

Opt-out of Quantcast cookies (set for international users only)

Google DoubleClick

The BBC uses Google DoubleClick to measure the effectiveness of its online marketing campaigns.

Google Analytics

From time to time some BBC online services, including mobile apps, use Google Analytics. This is a web analytics service provided by Google, Inc. Google Analytics sets a cookie in order to evaluate use of those services and compile a report for us.

Adobe SiteCatalyst (2o7.net)

Adobe uses cookies, log file data and embedded code to gather data on behalf of the BBC World Service about visits to the BBC World Service sites including the foreign language news sites, a full list of which can be found on the BBC Languages site. The BBC World Service uses this information to track volume of usage on the World Service sites and to help improve the services it provides to users.

Effective Measure

Effective Measure provide BBC Worldwide with analytical information about visitors based in the Middle East and Africa. Effective Measure collect data on the traffic and engagement for the site to provide BBCW with a competitive context of their performance versus the market. This data is then used for sales pitches, editorial, strategy, business development and product development.

i00

Kantar for BARB

Along with other broadcasters, we share anonymous data about use of online and mobile media players with the Broadcasters' Audience Research Board (BARB), to understand how many people watch online, and how much they watch.

Kantar Media collect this data for BARB using cookies. The anonymous data collected by Kantar's cookies is only used for this purpose.

Optimizely

The BBC uses Optimizely cookies, to test and analyse how audiences interact with BBC websites. We do this to make informed decisions about how to provide a better experience for visitors to BBC websites.

To opt-out of the Optimizely cookies please visit our How can I change my BBC cookie settings? page and turn off performance cookies.