Favourite Locations
Features & Analysis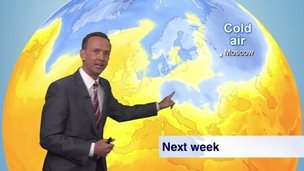 Weather for the week ahead
Nick Miller takes us through the weather details for the week ahead.

What's causing the current Aurora Borealis?
The Aurora Borealis - better known as the Northern Lights - has been treating a whole host of countries to a wonderful display. Peter explains what's behind this latest show.

Carolinas overwhelmed by historic rainfall
Whilst the rain has stopped for now, the clear up after the torrential rain continues. BBC Weather's Peter Gibbs reports.