Favourite Locations
Features & Analysis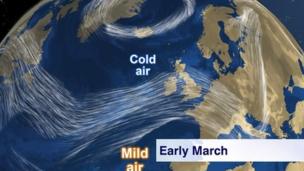 Weather for the week ahead
The position of the jet stream means an unsettled start to meteorological spring. It's likely to be a little cooler too.

US temperature contrasts
Jay Wynne takes a look at what's behind the fluctuating temperatures and wintry weather affecting parts of the US.

In pictures: Storm Doris hits the UK
Storm Doris has wreaked a destructive path - bringing snow, rain and high winds and travel disruption.