Favourite Locations
Features & Analysis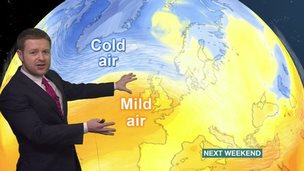 Weather for the week ahead
Tomasz Schafernaker takes us through the weather details for the week.

Peter Gibbs reflects on his trip to Antarctica
Peter has departed the Antarctic for the Falklands. He reflects on his trip on BBC News.

Huge temperature contrasts across US
Extreme cold weather is affecting eastern Canada and NE states of the US. Further west it's a much hotter story as Nick Miller explains.