Favourite Locations
Features & Analysis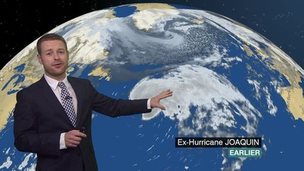 Weather for the week ahead
BBC Weather's Tomasz Schafernaker takes us through the weather details for the week ahead and beyond.

Carolinas overwhelmed by historic rainfall
Whilst the rain has stopped for now, the clear up after the torrential rain continues. BBC Weather's Peter Gibbs reports.
What are the Northern Lights?
BBC Weather's Matt Taylor explains what causes the spectacular light display.