What is risk assessment?
Risk assessment is a simple way to plan what you're going to do to minimise the chances of anybody getting hurt or causing damage to property or equipment. It's how to identify sensible measures to control the risks in your workplace.
Consider health, safety and security from the start. How can it be managed responsibly? Be clear and specific about what's going to be assessed. Concentrate on real risks – those that are most likely and which will cause the most harm. You should be competent to complete risk assessments and know what could go wrong and how to control it. If you don't know, ask someone who does.
This guide will help you understand the process so you can assess risks accurately anywhere you work, whatever you're doing, whether it's for location shoots, breaking news, large music events, in engineering workshops or even just around the office.
Know what you're planning to do – activities, locations, people, equipment, processes, substances and conditions. Think through what you're going to do in small chunks, and consider those things with a fair chance of happening. Click through the images to learn more.
Who might be harmed and how?
How do I identify controls?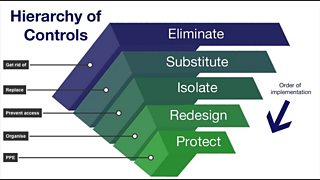 Summary
The risk assessment process is simple.
You should:
identify what could go wrong
identify who might be affected and how they might be harmed
identify controls that are needed to stop it going wrong
show that any remaining risk after all reasonable controls are in place is low enough to be acceptable
record all of your findings and keep it
tell everyone what they need to know and do
make sure it all gets done
ensure that if anything changes, you check you've got the right things in place. If not, stop the activity and review what's needed
You're not on your own – help is always available.