Why do I need to know about UHD?
Ultra-high definition (UHD) with brighter whites and darker blacks is said to be the biggest change in television since the move from black-and-white to colour.
Manufacturers of 4K TV sets are fueling the demand for UHD. So are online streaming companies like Netflix and Amazon. The BBC is investing in a UHD future. Its first experiments were the Queen's Christmas broadcast in 2014 and Planet Earth II in 2016, leading to Blue Planet II in 2017.
This guide is an introduction for anyone who wants to know what's involved in making programmes in UHD.
What makes UHD better than HD?
UHD means millions more pixels than HD. But there's far more to it than that. The BBC Blue Room's Colin Warhurst explains what makes UHD ground-breaking.
What's end-to-end UHD?
To experience UHD in all its glory, everything from capture to screens needs to be compatible. Click on the infographic below to learn what needs to happen at each stage for UHD to be experienced at home.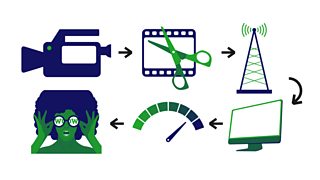 What's end-to-end UHD?
The content needs to be captured in UHD. Specifically this means:
• using a camera and lens that can deliver a resolution of 3840 x 2160 pixels
• capturing at least 12 stops of dynamic range
• setting the camera to capture 25 or 50 frames per second for now, though in time it will be important to deliver a high frame rate (100 frames per second) for certain genres
• outputting the content either in hybrid log-gamma (HLG - the format developed by the BBC and NHK, particularly for live television) or in a raw or Log formats so the HDR and WCG colour space can be applied in post-production
For precise information on deliverables and file formats, use the 'BBC specific technical standards delivery document' which can be found through Where Next? Step 7 of this guide.
To deliver end-to-end UHD capture formats, edit formats, signals, screens and internet speeds need to be aligned.
That means that, while 30 million people enjoyed Planet Earth II, they weren't getting the full UHD experience when they watched it at home on BBC One.
But the BBC also created a short iPlayer trial version. That made it possible for people who had a suitable screen and internet speed to have the full UHD WCG HDR experience. These are some of the things viewers said:
"The colours, sharpness and clarity were amazing. Beautiful to watch!"
"Stunning quality. In fact it looked 3D."
"It was incredible! From the beginning! Please, please, please just release all the content you have in this format!"
Content needs to be edited to exploit the UHD potential. This might include:
• grading - for drama and natural history, a colourist can make the most of the possibilities of the wider colour gamut and higher dynamic range in post-production
• zooming and re-framing - the BBC has adopted a pragmatic figure of around 75% of a UHD programme needing to be classed as UHD. This means that for 25% of the footage, editors can use those eight million pixels to zoom and re-frame while maintaining a high-definition shot
• image stabilisation - video editing programmes like Adobe Premiere Pro and Apple Final Cut Pro X allow shots to be artificially stabilised as if they were shot with a camera stabiliser. The snag is that this process lowers the resolution of the footage. If the rushes are ultra-high definition, there's much more scope for stabilisation
Viewers need ultra-fast broadband to experience UHD at home.
The most practical way for the BBC to distribute programmes made in UHD is over the internet. UHD channels take up a lot of space on the spectrum, which means they can't be distributed using the networks and transmitters of terrestrial TV.
Therefore, to enjoy the very highest resolution, viewers need an internet connection of about 30 Mbit/s for live UHD and 18-20Mbit/s for video on demand – and not everyone has.
The UK government tried to ensure 95% of the UK has access to broadband speeds of 24 Mbit/s by 2018 but there's a wide gap between urban and rural areas.
Viewers with slow broadband or no broadband will not be able to experience the full benefits of UHD. However, even with a lower internet speed, WCG HDR pictures still look better than HD.
The format of the UHD file needs to be compatible with the signal of the viewer's TV.
Amazon was the first to stream UHD HDR content – but it could only be seen on a certain type of Samsung TV. Amazon had created an app that was built into the TV and was capable of decoding the HDR metadata. Other TVs couldn't.
To avoid incompatibilities it's important that the right deliverables for the distribution route are created.
For live TV or iPlayer, it's best to create hybrid log-gamma files, which will be compatible with most TV sets bought in 2016 or later.
For drama or anything that may later be distributed on UHD Blu-ray, it might be necessary to create two kinds of file: one that's compatible with the PQ signal for distribution on Blu-ray and another in hybrid log-gamma for iPlayer and TV.
It is, however, straightforward to convert a hybrid log-gamma file to the PQ format for Blu-ray.
The TV screen needs to be capable of displaying UHD.
Even if a TV set can read the UHD signal, the programme won't be seen in UHD unless the screen itself can show it.
To display UHD, a screen needs to be 3840 pixels wide and have a wider colour gamut. It should ideally be HDR as well.
In 2017 it was estimated that less than 10% of the UK population have TVs that can display UHD content in all its glory - though that figure will only increase over time.
The BBC Blue Room, in Birmingham, has a screen that can demonstrate UHD HDR WCG content to anyone who wants to experience it.
How do I film in UHD?
The BBC's specific technical delivery standards and the European Broadcast Union's guidance on tiering of cameras for use in television production (EBU R118) can be found in Step 7.
How much storage is needed?
Storage of UHD content needs to be planned
The time it takes to transfer and store footage depends on what's been captured - the number of pixels, the colour scheme, the depth of contrast and the frame rate.
How to manage your storage challenges
Calculate what storage you will need before embarking on a production
Use drives with a write speed of at least 100Mb/s
Prepare well so you can reduce the shooting ratio
Use linear tape open as an alternative to a drive. It's more secure than a disc and more efficient
Consider applying a mezzanine compression but be careful not to significantly compromise quality
Aim to create UHD with HDR and WCR but don't attempt the higher frame rate for now
Examples of UHD transfer times