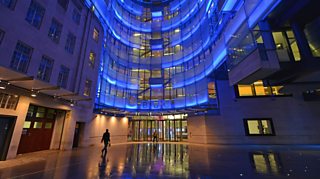 BBC Academy
What is the BBC?
The BBC is a public service broadcaster established by Royal Charter. It's funded by the licence fee paid by UK households. It provides ten national TV channels, regional TV programmes, an internet TV service - BBC Three - 10 national radio stations, 40 local radio stations and an extensive website.
BBC World Service broadcasts to the world on radio, TV and online, offering news and information in 40 languages. We also have a commercial arm, BBC Studios, as well as a number of other commercial ventures.
Our mission is to act in the public interest, serving all audiences through the provision of impartial, high-quality and distinctive output and services which inform, educate and entertain.
Our vision? To be the most creative organisation in the world.
How did the BBC begin?
How is the BBC organised?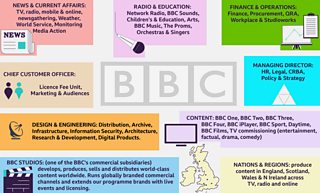 How is the BBC organised?
Tim Davie, chief executive

One of the BBC's commercial subsidiaries, which develops, produces, sells and distributes world-class content worldwide.

It also runs globally branded commercial channels and extends our programme brands with live events and licensing

It strengthens the BBC creatively and financially by securing IP and generating

Anne Bulford, deputy director general

The Deputy Director General Group covers most of finance and operations, including Design & Engineering, Human Resources and Marketing & Audiences.

Francesca Unsworth, director and Current Affairs covers all platforms - TV, radio, mobile and online and includes the BBC World Service.

Ken MacQuarrie, director

Nations & Regions produces content in England, Scotland, Wales and Northern Ireland across TV, radio and online.

Charlotte Moore, director

Content covers material created for BBC One, BBC Two, BBC Three, BBC Four and BBC iPlayer, including BBC Sport.

Tony Hall, director general

The executive is responsible for the executive management of the BBC.

James Purnell, director

The Radio & Education department includes network radio, the Proms, Children's, Learning and the Ideas Service.
What is the BBC for?
The BBC has five public purposes. These are reviewed every 10 years and renewed in an agreement between the BBC and the Secretary of State for Culture, Media and Sport. The ninth Royal Charter and Agreement took effect on 1 January 2017 and will continue until the end of 31 December 2027.
What is the BBC for?
Where does the money go?
The bulk of the BBC's £5bn funding comes from the licence fee. It also raises around £1.3bn from selling its programmes for broadcast overseas.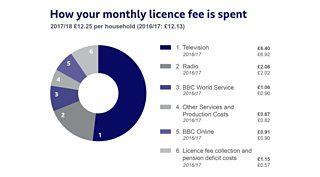 Where next?