Baroque orchestral music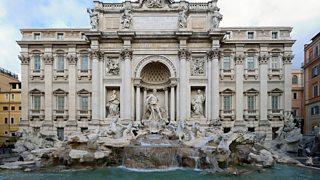 Baroque music is characterised by:
long flowing melodic lines often using ornamentation (decorative notes such as

trills

and

turns

)

contrast

between loud and soft, solo and ensemble

a

contrapuntal

texture where two or more melodic lines are combined

terraced dynamics

- sudden changes in the volume level, sometimes creating an echo effect

the use of

harpsichord continuo
An example of Baroque music is the second movement from Bach's Brandenburg Concerto No. 4. It demonstrates the solo group of violin and two flutes and the ripieno (accompanying) strings.