Measuring potential difference (voltage) and current
A potential difference across an electrical component is needed to make an electric current flow in it. Cells or batteries often provide the potential difference needed.
Potential difference is often called voltage. It is also known as electromotive force. Note that this is not really a 'force', and it is measured in volts (not newtons).
Measuring potential difference (voltage)
potential difference is measured in

volts, V

the potential difference across a component in a

circuit

is measured using a

voltmeter

the voltmeter must be connected

in parallel

with the component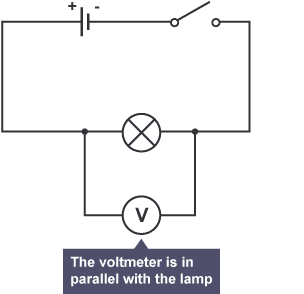 Measuring current
current is measured in

amperes

(amperes is often abbreviated to

amps

or

A

)

the current flowing through a component in a circuit is measured using an ammeter

the ammeter must be connected

in series

with the component