The first homologous series is the alkanes. Their names all end in –ane.
The alkanes have many uses:
methane – (natural gas) cooking, heating

propane – used in gas cylinders for BBQ etc

octane – used in petrol for cars
The general formula of the alkanes is
. They are insoluble in water.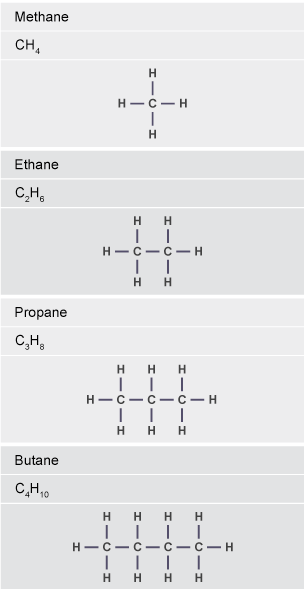 The names, molecular formula and the structural formula of the first eight alkanes must be learned. Using a mnemonic can make learning the names easier.
Methane

CH

4

Monsters

Ethane

C

2

H

6

Eat

Propane

C

3

H

8

Pupils

Butane

C

4

H

10

But

Pentane

C

5

H

12

Prefer

Hexane

C

6

H

14

Hairy

Heptane

C

7

H

16

Haggis

Octane

C

8

H

18

Occasionally