Isomers
Isomers are compounds with the same molecular formulae but different structural formulae.
They have the same number of each type of atom. They can be part of the same or different homologous series, e.g. alkenes and cycloalkanes can be isomers.
Due to their different structures their physical properties (melting point, boiling point etc) are usually different.
This diagram shows butane and methylpropane. (Methylpropane used to be called iso-butane, but the correct name is methylpropane).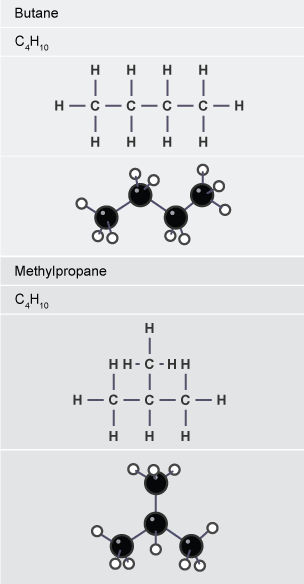 Both have a molecular formula of
. The structural formulae are different though, so they are isomers of each other.
Polar and ionic compounds tend to be soluble in polar solvents, whereas non-polar compounds tend to be soluble in non-polar solvents. By looking for polar bonds and arrangement of bonds in a solvent, solubility can be predicted.
Boiling point for compounds tends to increase with molecular size due to increasing intermolecular forces. When comparing molecules of the same size, the type of intermolecular forces present need to be considered by looking for O-H or N-H bonds (hydrogen bonding) or polar bonds (permanent dipole-permanent dipole interactions).
Volatility is a measure of the ease of evaporation. Again this is affected by the intermolecular forces present.