Prehistoric knowledge about the body and disease
If we assume that prehistoric peoples were similar to the few remaining primitive peoples of the modern age, we can also assume they knew little about the inner workings of the body.
Some of their burial practices where bones were stripped of the flesh, bleached and buried in different piles, however, suggest that they must have known at least something about bone structure. And archaeologists have found evidence of cannibalism amongst some prehistoric people, so presumably these people also knew something about the flesh and inner organs of the body.
It is possible that prehistoric people believed that life and the functions of the body were determined by the spirits (animism). The Australian Aborigines of recent times believed that illness occurred when a person's spirit was lost or stolen by an enemy.
Prehistoric surgery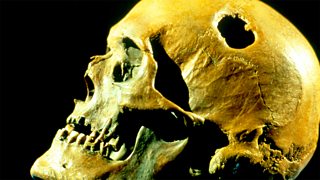 Australian aborigines in recent times were able to stitch up wounds and to set broken bones by encasing them in mud. Some historians suggest that this shows that prehistoric people could have acquired similar skills. The presence of healed but badly set bones in prehistoric graves, however, suggests that perhaps they had not.
Archaeologists have certainly found examples of trephined (or trepanned) skulls in excavations of prehistoric sites. Historians have suggested that the motivation of these operations was medical, in so far as it was intended to remove an evil spirit which, for example, was causing epilepsy or headaches. This may be true, but cannot be proved.
The skull of Gadevang Man is a well-preserved, prehistoric 'bog body', dated 480-60 BC, found in Denmark. The skull shows signs of a surgical trephination procedure
The precise cuts that can be seen on some of the trephined skulls, and the re-growth of the bone (which proves that the patient/victim survived the operation), do indicate that prehistoric people had the ability and knowledge to be successful surgeons.