A ball is projected vertically upwards with an initial velocity of 24.5 ms-1.
The effects of air resistance may be neglected.
Calculate the time taken for the ball to reach its maximum height.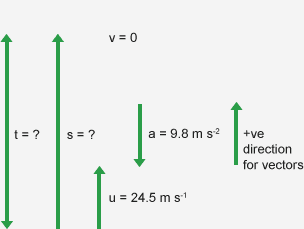 Let unknown vector quantities go in the positive direction for vectors.
Vertical motion is a constant acceleration of -9.8 ms-2 towards the centre of the Earth.
(upwards)
(stationary at top)
(acceleration is negative as it is in downwards direction)
This is the unknown we are trying to find.
As displacement is unknown we need to use an equation that does not include displacement.