A student wanted to investigate the effect of light on the growth of cress seedlings.
The student had three pots of seedlings grown in different conditions.
Pot 1 was placed with light from above. Pot 2 was placed in a cupboard with no light. Pot 3 was placed in a window with light from one direction only.
The image shows the seedlings at the end of the investigation.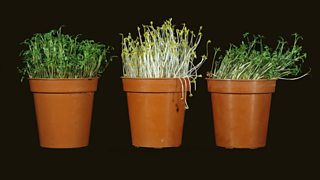 What is the response shown by the cress seedlings in Pot 3? [1 mark]
A negative gravitropism
B negative phototropism
C positive gravitropism
D positive phototropism
D - positive phototropism.