Salsa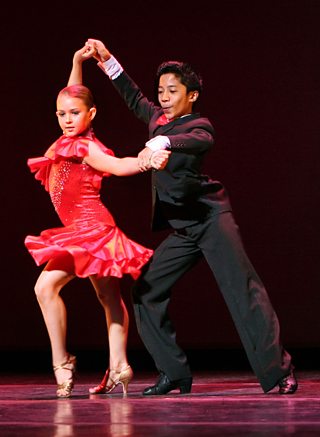 Salsa is lively dance music with many different styles. It originated in Cuba and has African and Spanish influences. It is very popular in Cuba, Puerto Rico and New York.
Salsa music:
has a time signature of 4/4

uses

clave

rhythms - usually played by

claves

- which provide the rhythmic foundation

has melodic and rhythmic syncopation

uses simple

harmony

based on repeated chord patterns, often in the

minor key

uses

call

and

response

vocals in which the leader sings a line - the call and is answered by a chorus - the response

usually has a structure of simple melodies followed by

coro

, or improvised sections

uses lyrics of love and everyday life
The clave rhythm is a syncopated rhythm grouped in 3 + 2 or 2 + 3: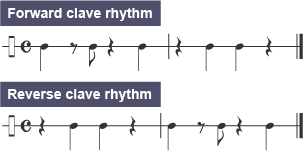 Tango
Tango is a sensuous paired dance that originated in the 1880s in the slums and bars of Buenos Aires, Argentina. The tango can be identified by its rhythmic characteristics. It has:
four beats in a bar

a

syncopated ostinato

(repeated) rhythm

accented notes
Here are the two main rhythms found in a tango: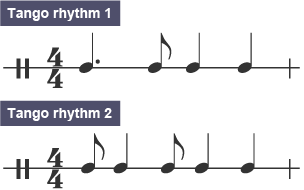 Habenara
Habanera is a variation on the tango that comes from Cuba. It is based on a dotted rhythm, which also appears in some other tango influenced dances. The most well-known habanera is from George Bizet's Carmen.
Merengue
Merengue was originally the national dance of the Dominican Republic and has African and Spanish influences. Its rhythmic characteristics include:
a fast 2/4 beat

catchy melodies and rhythms

syncopated rhythms played on a

tambura (a double-headed drum)

Bossa nova
Bossa nova means 'new trend'. It is a fusion of samba and jazz. Its rhythmic characteristics include:
Here is a typical bossa nova rhythm:

Rumba
The rumba is a slow dance in 4/4 time. This rhythm is the foundation of the rumba and can be heard in accompaniments and melodies:

A well-known example of the rumba is the Jamaican Farewell.
Question

The clave rhythm can be found in which style?

Salsa