Al-Qaeda
After the Soviet withdrawal from Afghanistan, Osama bin Laden returned to Saudi Arabia as a hero.
He then started an organisation to help ex-soldiers who had fought in the Afghan war.
Many of these soldiers went on to be the key members of Al-Qaeda which was set up by Osama bin Laden in 1988.
Al-Qaeda (Arab for 'the base') was funded by Osama bin Laden's family wealth which was estimated to be in the hundreds of millions of dollars.
Osama bin Laden recruited Muslims from mosques around the world and developed Al-Qaeda into a militant organisation, which was made up of a number of different nationalities.
US troops in Saudi Arabia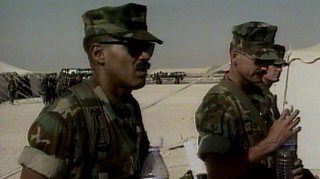 On his return to Saudi Arabia, Osama bin Laden was disappointed with what he believed was a corrupt government.
He was then outraged when the government allowed American troops to be stationed there ahead of the first Gulf War in 1991.
This led to a rift between Osama bin Laden and his country's leaders.
After several attempts to silence him, the Saudis banished him.
In 1992, he established the headquarters for Al-Qaeda in Khartoum, Sudan where he lived in exile.
Training camps
Under pressure from Saudi Arabia and the USA, the government in Sudan forced Osama bin Laden to leave.
In 1996, he moved his base of operations to Afghanistan where, as the "guest" of the Taliban, he set up Al-Qaeda training camps.
The first actions of Al-Qaeda against the USA were attacks on American servicemen in Somalia.
A string of terrorist actions suspected to have been organised by Al-Qaeda followed and in August 1996 Osama bin Laden issued a "Declaration of War" against the USA.