Temperate deciduous forests are found between 40° and 60° north and south of the equator.
The rainfall is high, between 500-1,500 mm a year. The temperatures remain on average above 0°C even in the winter. The summer temperatures average between 25-20°C. The winter is cooler, encouraging the trees to shed their leaves.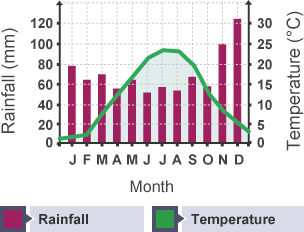 The trees have typically large broad leaves, such as oak, beech and elm. These form the canopy layer.
As some light can get through, the vegetation is layered. Beneath the taller trees is a shrub layer. The shrub layer contains species like hazel, ash and holly. Grass, bracken or bluebells can be found in the ground layer.