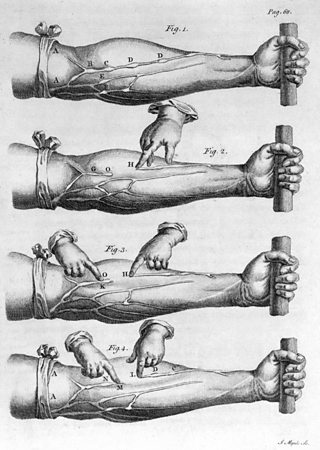 William Harvey discovered the principle of the circulation of the blood through the body.
Before Harvey, doctors accepted Galen's idea that new blood was manufactured by the liver to replace blood that had been burned up by the muscles.
Harvey became physician to James I (and later to Charles I). Both kings were interested in science and encouraged Harvey's research.
He was also a lecturer in anatomy. He dissected animals and carried out experiments to build up a detailed knowledge of the working of the cardio-vascular system (the heart and blood vessels). This led him to reject Galen's ideas.
In 1628 he published An Anatomical Account of the Motion of the Heart and Blood in Animals. In this book he proved that the heart acted like a pump and was responsible for recirculating the blood around the body.