Image: Rapper Professor Green filming his BBC Lifeline appeal on behalf of CALM. Video: The finished televised appeal.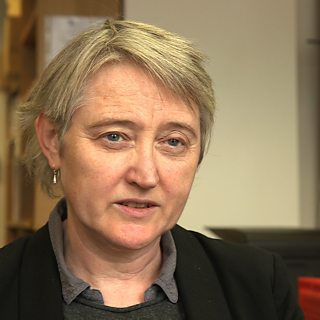 Rachel Clare
CALM Communications Director
Planning is key to the success of any social media campaign
The beauty of social media, particularly for small charities such as CALM, is that it is simple, cost effective yet hugely powerful as a campaign tool. You don't need a big team of digital gurus to implement an effective campaign online, but with a bit of planning, engaging content and some focused networking, you can see big results. The success of our BBC Lifeline Appeal was in no small part due to our social media activity, so here is an insight into how to grow your campaign beyond the TV broadcast.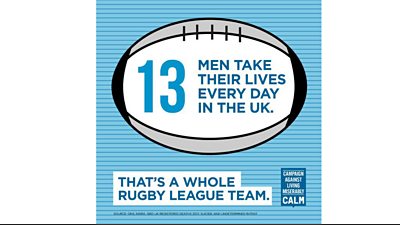 Pick a relevant and influential spokesperson
Having Professor Green as our appeal presenter was not only fantastic for CALM in terms of credibility amongst our target demographic and having a compelling and honest approach to a difficult subject, but also because he has huge influence on social media.
With over 2 million followers on Twitter alone, just one tweet from him has the potential to reach a huge audience, so his multiple tweets and Facebook posts promoting the campaign proved to be vital to it's online success. His social media activity subsequently seeded support from his high profile followers, such as Ricky Gervais, which widened our reach even further.
Plan and Monitor activity
Planning is key to the success of any social media campaign, so creating a content calendar detailing what you are going to be posting, where and when is vital. Plan your schedule around your audience – when are your followers or fans most likely to be online and what are the key appeal activities that you want to highlight? For instance, we started promoting the broadcast of the appeal film three days beforehand, upping the number of posts on the day of broadcast, and then again for the second broadcast a few days later.
Use a social media management system, such as Hootsuite or Sprout Social to keep everything clear and organised, schedule posts in advance (which are then automatically published) and monitor performance of your social activity.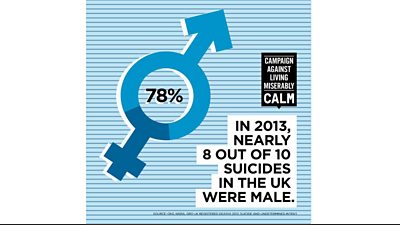 It's also important to create a suitable hashtag for your appeal and consistently use it in all your posts. Hashtags act like a collective 'heading', enabling you to search for all occurrences of it on social media, and also allows you to track the amount of people engaging with your campaign. Make it as specific, memorable and relevant as you can, and check whether it already exists - you don't want to be sharing a hashtag with another organisation, fundraising campaign or twitter meme!
Develop engaging content
Create a narrative through your content. People engage with individuals, not brands so tell a story through images, pre-empt questions most likely to be asked by those who have watched your film and create content around that. Where does the money they donate go? Who are the people you are helping? Why should they support your cause?
People are more likely to share images, photos and videos than text alone, so we created compelling infographics to illustrate the hard hitting stats around male suicide, shared behind the scenes photos from the film shoot and promoted the link to watch the film on the BBC website.
£14k of the £22k total raised from our appeal came through text to donate, a fundraising stream we promoted heavily online, which demonstrates the impact of digital promotion on fundraising. Many people access social media via their mobile phones, so the transaction between reading a tweet and texting to donate is a quick and simple one.
Use Your Networks
Everyone these days seem to have a social media account of some sort, so take this opportunity use your networks to push the appeal. Create example posts/tweets to show what you would like them to share, making sure you are explicit in what twitter handles, links and hashtags you want to use and not forgetting the 140 character limit on tweets! Here are examples of suggested tweets and posts we distributed to our networks on Twitter and Facebook: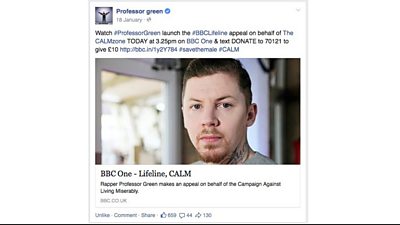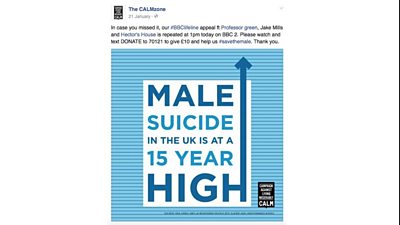 Send an e-newsletter to your supporters asking for them to engage with and share the appeal; ask your ambassadors, trustees, patron, staff and corporate contacts to promote the appeal to their own networks and from their personal social media accounts; approach experts in the field and influential figures on Twitter with a personal adherence to the cause, asking for them to share your content.
With Twitter support from the likes of Stephen Fry, Alastair Campbell & David Baddiel, as well as influential organisations like Department of Health, Movember UK and Topman, we saw 17.5million digital impressions on social media the week of the appeal, with 3.5k interactions from 2.3k unique users. Visits to the CALM website on the day of the first broadcast of the film went up 360%.
The week of the BBC Lifeline Appeal was a record breaking one for CALM in terms of public engagement, making it one of the most successful BBC Lifeline appeals of the last 12 months. Thanks to pro bono support from Hanover Comms, who helped implement our strategy, the campaign cost CALM little more than time and ideas - another reason why social media is such a powerful campaign tool for small organisations with even smaller budgets.
While the appeal was financially successful for CALM, more importantly it was promoted and shared by hundreds of our supporters and those impacted by suicide as an awareness-raising tool. As such, it reached millions.