The World Heritage Committee is considering a 1950s housing block to join its roll call of great buildings. Jonathan Glancey makes the case for l'Unité d'Habitation as a work of great architecture.
O
Once a year, the World Heritage Committee meets to decide which natural and man-made wonders should be admitted to its hall of fame. Since 1972, nearly a thousand such places of "outstanding universal value to humanity" have been designated by Unesco – the United Nations Educational Scientific and Cultural Organization – including the Egyptian Pyramids, the Great Barrier Reef, the Taj Mahal, the City of Bath and Chartres Cathedral.
What you might not expect is the fact that the World Heritage Committee has been considering whether or not to bring a post-war concrete housing block into this distinguished fold. Many will find this odd, distasteful even. A concrete housing block? With its brutal looks, leaks and out-of-service lifts, surely this is the very type of building that gave architecture such a bad name in the second half of the 20th Century?
Given that the concrete housing block in question has also been known as 'La Maison du Fada', or the 'House of the Crazy', by local people and even residents with a sense of humour, you might be forgiven for thinking that the World Heritage Committee has spun completely off its axis. And yet the Unité d'Habitation, a twelve-storey monolith of 337 apartments off Boulevard Michelet in the south of Marseilles is, without doubt, a work of great architecture.
Horror show
It is one of several masterpieces by Le Corbusier, the Swiss-French architect who has long been portrayed by conservationists and traditionalists as a kind of dictatorial monster, condemning millions of people to life sentences in poorly designed and badly built 'concrete horrors'.
Certainly, Le Corbusier believed the house should be "a machine for living [in]", and, from the publication in 1923 of his radical polemic, Towards a New Architecture, his influence was widespread and, in the hands of lesser architects, often unwelcome.
He was, though, much misunderstood. Le Corbusier wanted city dwellers to live in superbly designed blocks of bright high-rise flats set on concrete 'piloti', or stilt like columns, over lush garden landscapes. It took him, though, until 1947 – when he was sixty years old – to win a commission to design an ideal block of flats for families bombed out of their homes during World War II.
Completed in 1952, L'Unité d'Habitation stands on massive tapered concrete legs, like some epic work of modern art in a green setting, with the Mediterranean and mountains in sight. Nothing like this concrete megastructure had been seen before; the way it stood on those robust legs with its rough textured skin and its curious kinship to both a geological outcrop and an ocean liner. It is both a living creature and a purposeful machine. Thrilling then, the Unité still excites eye and imagination when first seen.
A fine vintage
Inside, its flats, stepped and stretched across central corridors – "like wine bottles in a rack" said Le Corbusier – and boasting views from either side of the block, along with shady balconies and double-height living rooms, are lived in by professional people. More than a few of them are architects.
Fashionable today, the Unité d'Habitation is respected and even loved by those who choose to live here as well as by the architects, students and other visitors who come to experience this remarkable essay in modern design. They like the fact that the building is at once "a machine for living", a mesmerising structure and a lovely place to live. The drama of the building reaches up to the sky: the roof, with its paddling pool, children's art room, opportunities for sunbathing and heroic views is like that of no other apartment block.
Despite its radically new form and Le Corbusier's uninhibited use, for economy's sake, of rough cast concrete – known as 'beton brut' – Unité d'Habitation is like some great ship, with a complement of sixteen hundred souls, sailing the seas of architectural and Mediterranean history. Its design is gloriously rich: Le Corbusier drew on sources as diverse as the Florence Charterhouse, the Carthusian monastery in Tuscany he first visited in 1907, and the revolutionary communal housing projects designed by Soviet architects in the 1920s.
Paffard Keatinge-Clay, an adventurous English architect who worked for Le Corbusier on drawings for the Unité says: "Le Corbusier never won a competition, because he worked against the rules. . . That made him an original, but it also meant that he lost work to much lesser talents. When I think of the sheer ingenuity that went into the Unité d'Habitation, I can see why not every client had the stamina for a building by Le Corbusier."
What local authorities around the world asked for instead from the 1950s was a form of low-cost, quick-build mass housing that, although superficially influenced by Le Corbusier, was nothing like this gifted architect's work; it was like wanting a Picasso for the price of a picture postcard. In the design of L'Unité d'Habitation, Le Corbusier offered ordinary families architecture of the highest and most inventive order and even what may yet become, and confounding his critics, a World Heritage Site.
If you would like to comment on this story or anything else you have seen on BBC Culture, head over to our Facebook page or message us on Twitter.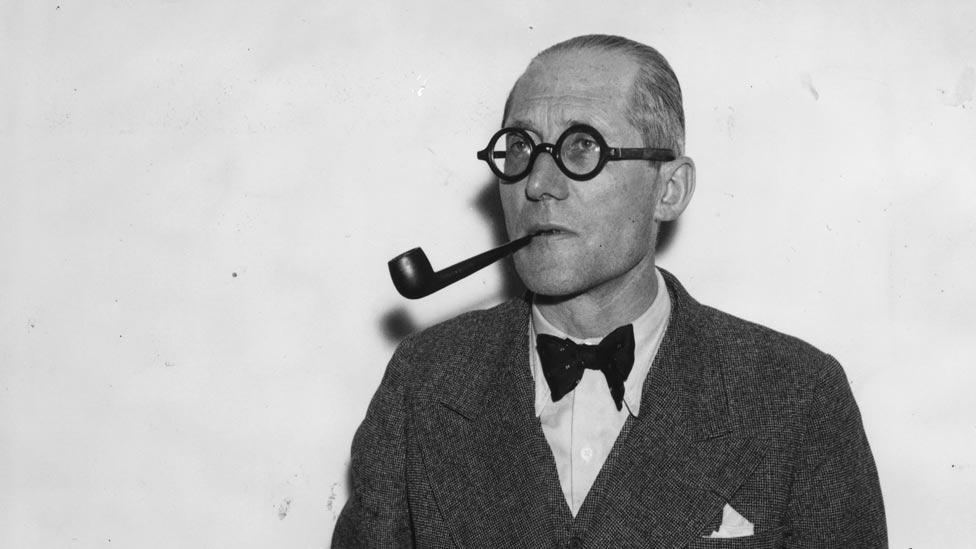 Considered by many to be a pioneer of modern architecture, Le Corbusier and his radical polemic, Towards a New Architecture have been viewed by some as dictatorial. (Getty Images)
Considered by many to be a pioneer of modern architecture, Le Corbusier and his radical polemic, Towards a New Architecture have been viewed by some as dictatorial. (Getty Images)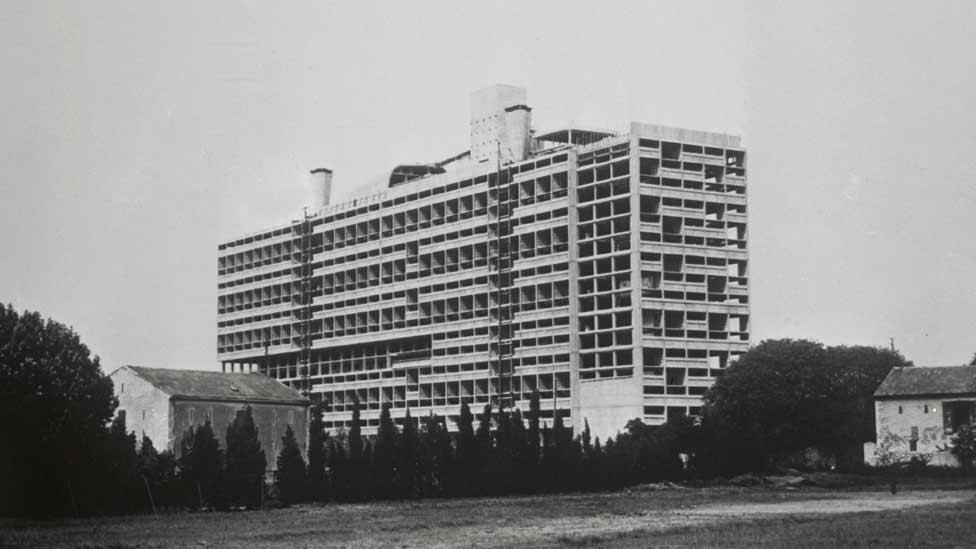 L'Unité d'Habitation was completed in 1952. Situated to the south of Marseille, it is known as 'radiant city' by its fans, and by its detractors, as 'house of the crazy'. (Corbis)
L'Unité d'Habitation was completed in 1952. Situated to the south of Marseilles, it is known as 'radiant city' by its fans, and by its detractors, as 'house of the crazy'. (Corbis)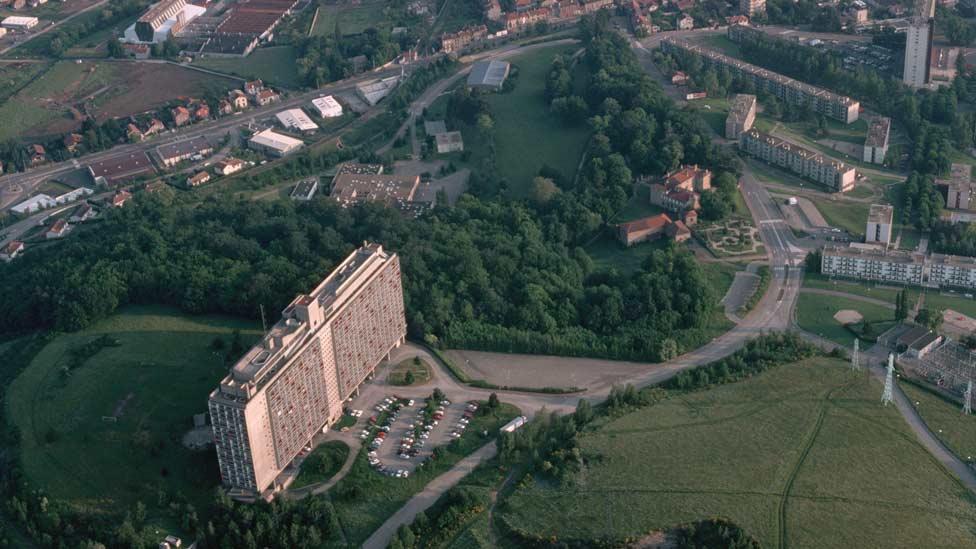 Le Corbusier intended the Unité d'Habitation's brutalist concrete form to contrast with the lush surrounding gardens and Mediterranean landscapes. (Corbis)
Le Corbusier intended the Unité d'Habitation's brutalist concrete form to contrast with the lush surrounding gardens and Mediterranean landscapes. (Corbis)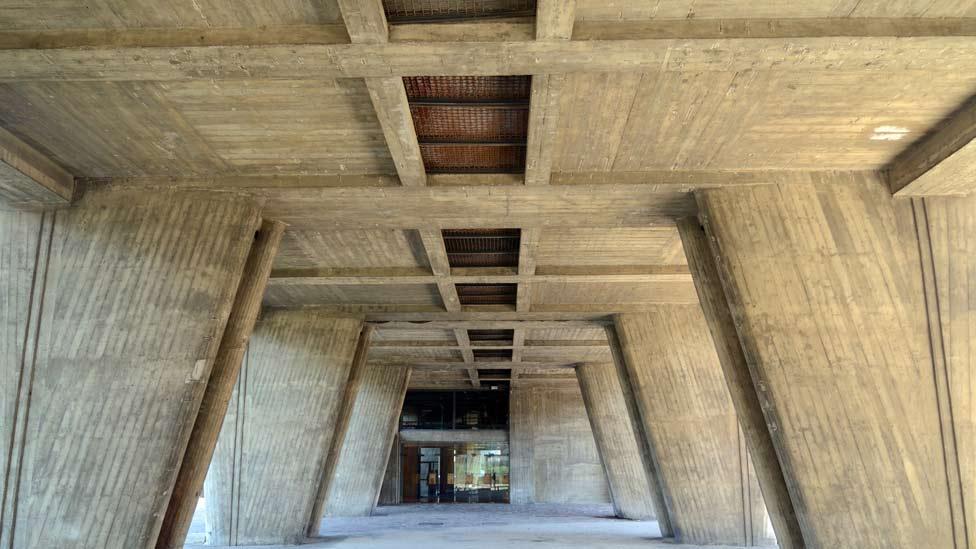 The building is perched on vast, tapered concrete legs known as 'piloti' which increase the building's imposing stature, creating additional space underneath. (Corbis)
The building is perched on vast, tapered concrete legs known as 'piloti' which increase the building's imposing stature, creating additional space underneath. (Corbis)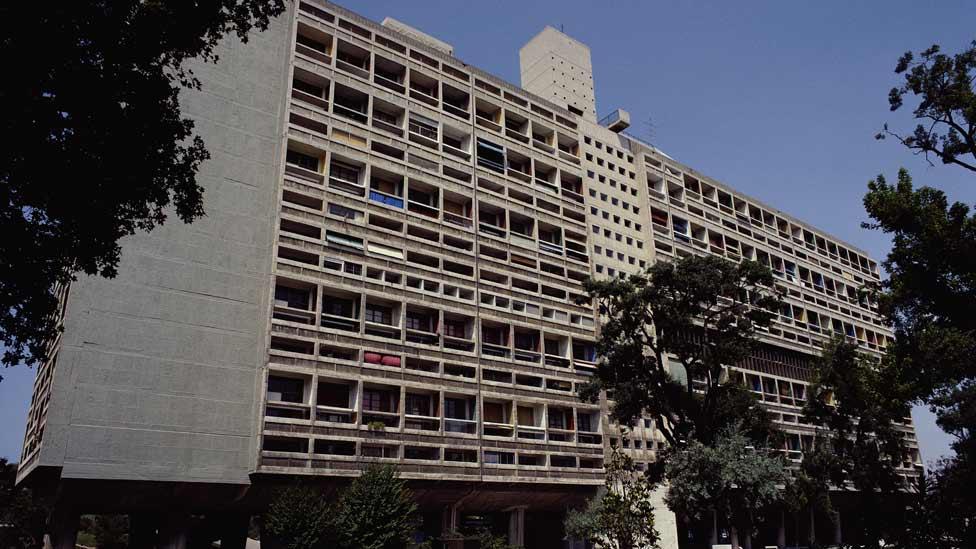 The 337 apartments are arranged over 12 storeys. Le Corbusier likened the frame of L'Unité to a wine rack in which individual units functioned as the bottles. (Corbis)
The 337 apartments are arranged over 12 storeys. Le Corbusier likened the frame of L'Unité to a wine rack in which individual units functioned as the bottles. (Corbis)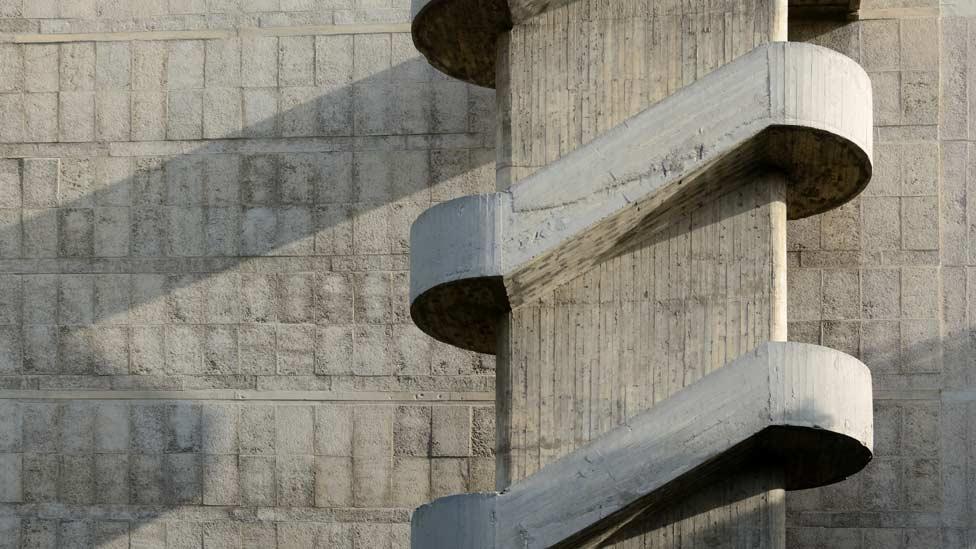 Le Corbusier made use of the latest building materials. Partly for reasons of economy, the structure was cast in a rough-hewn concrete known as 'beton brut'. (Corbis)
Le Corbusier made use of the latest building materials. Partly for reasons of economy, the structure was cast in a rough-hewn concrete known as 'beton brut'. (Corbis)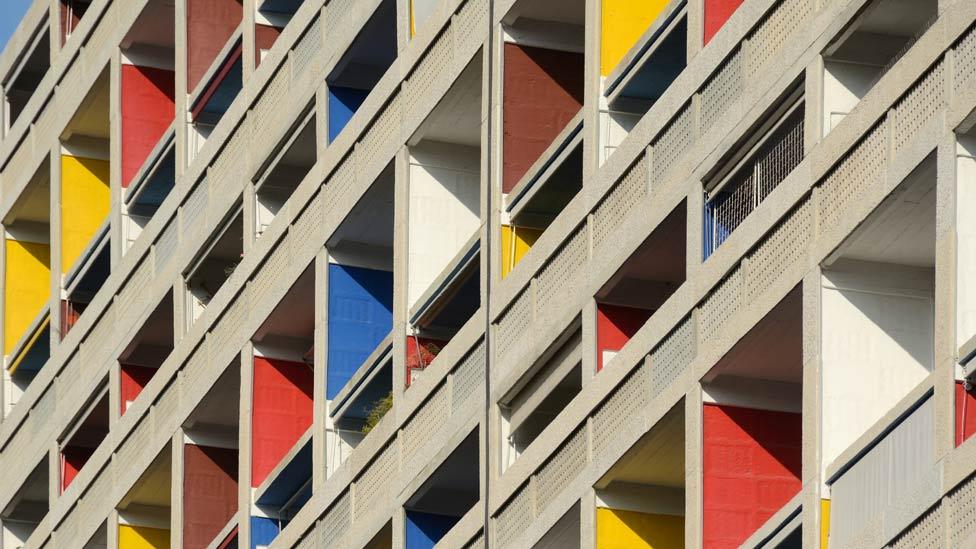 Each living unit was designed as an autonomous space, with double-height living rooms and deep balconies in bright colours contrasting with the plain concrete facade. (Corbis)
Each living unit was designed as an autonomous space, with double-height living rooms and deep balconies in bright colours contrasting with the plain concrete facade. (Corbis)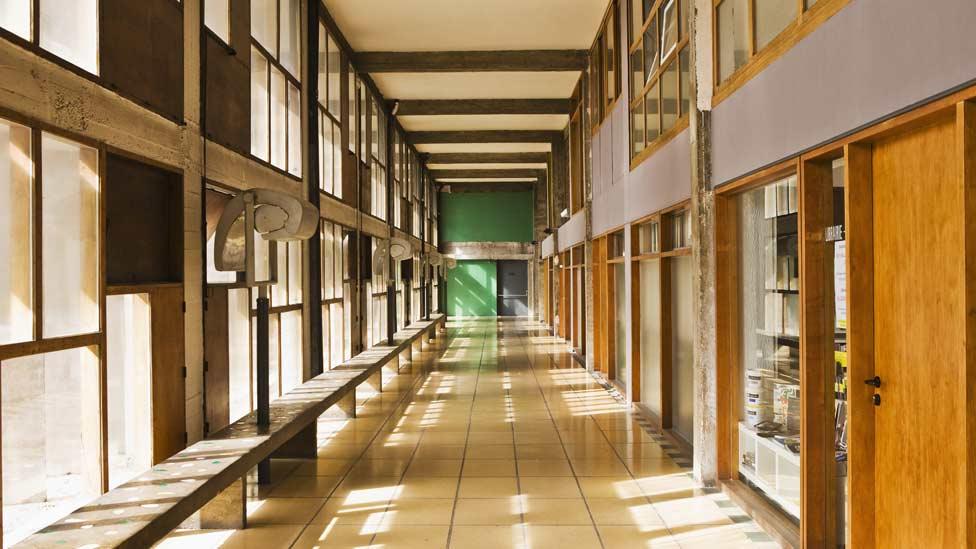 Inside, the apartments are arranged around wide central corridors which Le Corbusier envisioned as "vertical cities". (Corbis)
Inside, the apartments are arranged around wide central corridors which Le Corbusier envisioned as "vertical cities". (Corbis)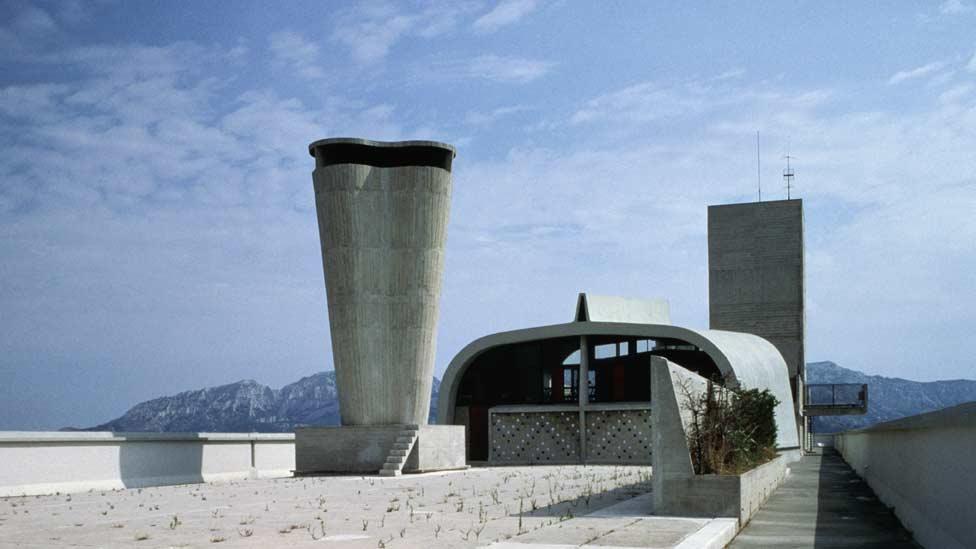 Despite his view that a house should be a "machine for living in", Le Corbusier designed the roof to provide dramatic, unparalleled views across the French countryside. (Corbis)
Despite his view that a house should be a "machine for living in", Le Corbusier designed the roof to provide dramatic, unparalleled views across the French countryside. (Corbis)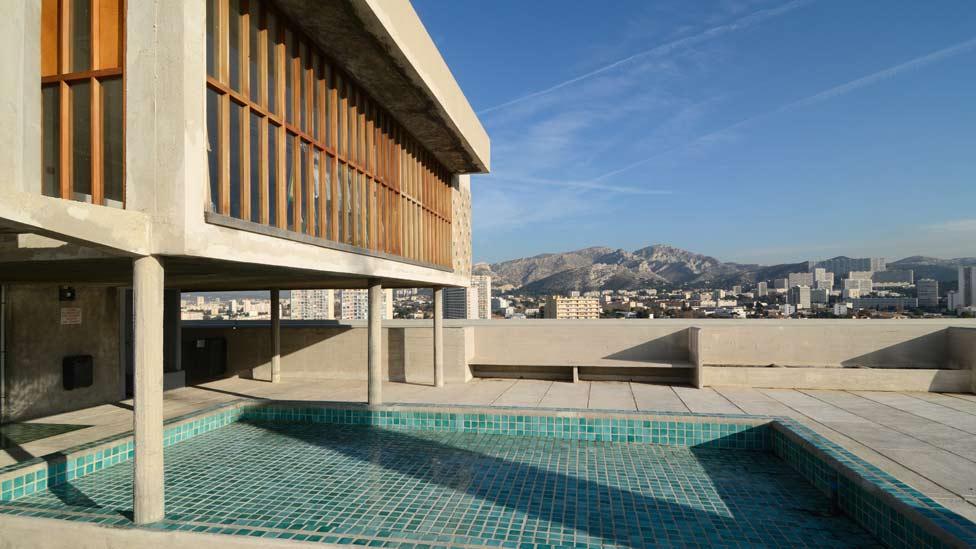 With its children's art room, paddling pool and opportunities for sunbathing, L'Unité's roof provides a relaxing haven for its inhabitants. (Corbis)
With its children's art room, paddling pool and opportunities for sunbathing, L'Unité's roof provides a relaxing haven for its inhabitants. (Corbis)