Astonishing work has been emerging from a new generation of Egyptian street artists. Influenced by ancient culture and contemporary politics, they are delivering potent messages of protest. Alastair Sooke surveys the scene and meets a major player.
M
More than two years after protesters toppled Hosni Mubarak, Cairo is still ablaze with fiery visual reminders of Egypt's revolution. On the edge of Tahrir Square – the nerve centre of dissent – the burned-out tower block that once housed the headquarters of Mubarak's National Democratic Party stands blackened and empty. It forms a jarring juxtaposition with the coral-pink walls of the Egyptian Museum, the dusty storehouse of the country's most precious antiquities, next door.
Around the corner, there is a different kind of monument to the revolution. Mohamed Mahmoud Street – which intersects with Tahrir Square from the east – is as colourful and vibrant as the sombre hulk of the NDP building is charred. Almost every square centimetre of the walls that flank the street has been covered with bright, cacophonous paint. These murals are some of the best examples of the inimitable street art movement that has flourished since the protests against Mubarak began.
 "There was very little street art in Egypt before the revolution," says Mia Gröndahl, a writer and photographer who has lived in Cairo since 2001, and whose book Revolution Graffiti: Street Art of the New Egypt was published in the UK last month. "So few pieces, in fact, that people weren't aware of it. But Egypt had the artists waiting to come out of the closet and express themselves honestly and politically."
Most of these artists were forged in the fire of the 18-day demonstrations against Mubarak in early 2011, when at least 846 people were killed. Emboldened by the ferocity of the protesters, several artists started painting slogans and murals commenting upon the tumultuous events that were convulsing their country. While other young protesters hurled bricks, Egypt's fledgling street artists picked up paintbrushes and spray cans. "By the summer of 2011," Gröndahl writes in her book, "people [had] started to talk about the walls of Egypt being under an 'art attack'."
Mad graffiti weekend
Two years ago this month, during a collaborative event known as the "Mad Graffiti Weekend", Ganzeer, a graphic designer, created an unforgettable stencilled mural of a large tank aiming its cannon at a boy on a bicycle who is balancing a tray of bread upon his head. Over time, the mural was added to, retouched, painted over and defaced, in response to events such as the "Maspero Massacre" of October 2011, when security forces and the army killed more than 25 Egyptian Copts who were peacefully protesting about the destruction of a church.
One memorable character to appear on the wall – a pot-bellied panda bear with drooping shoulders and a melancholy expression – has disappeared beneath subsequent layers of paint. Despite this, though, the Sad Panda, a resigned witness to ongoing mayhem that has since appeared on various walls around Cairo, has become one of the most recognisable visual motifs in the country's new lexicon of street art. His negative body language offers a kind of pacifist rebuke to the violence and uncertainty that have engulfed Egypt since 2011.
"People in Egypt love street art," Gröndahl tells me. "There is an old heritage of expressing yourself in images here, so they are no strangers to it. It has become an integrated part of the continuous struggle for freedom. The graffiti reminds people that the revolution isn't over yet."
Revolution Graffiti documents the urgency and self-confidence of contemporary Egyptian street art. Most of the images reproduced in the book make the work of celebrated British graffiti artists such as Banksy appear insipid by comparison. Street art, by definition, should be by the people, for the people: in Egypt it has proved a strident yet eloquent instrument of protest.
As I drove down Mohamed Mahmoud Street last week, one composition in particular caught my attention. It presents a life-size figure in profile in the guise of an ancient Egyptian pharaoh, striding forcefully forwards from left to right, his skin coloured an unnatural turquoise. One arm is raised aloft, brandishing a crook or mace to smite a group of kneeling, bearded figures that cower naked before him.
It is a scene straight out of Egyptian art history. In the entrance hall of the Egyptian Museum, for instance, you will find the Narmer Palette, one of the oldest artefacts associated with a unified Egypt. Created around 3000 BC, the palette is decorated on one side with an image of a king in profile holding aloft a mace with which he is about to strike the enemy slumped at his feet.
The craftsman who skilfully carved the palette out of obdurate greenish-black rock is anonymous, but the artist who painted the mural on Mohamed Mahmoud Street has a name: Alaa Awad. Awad is a prominent member of the new generation of Egyptian street artists whose work during and since the revolution has captured international attention.
Ancient treasures
Awad, whose political message is not as immediately obvious as that of some of his more punchy peers, is my favourite street artist. Recently, I met Awad over sweet tea flavoured with mint in a café in his hometown of Luxor, where he teaches painting. Awad creates impressive murals, which take anything between six hours and one week to make, in the streets of Luxor as well as Cairo. He works with a brush and acrylic paints, rather than stencils and a spray can, and produces complex, phantasmagorical compositions that fuse the appearance of Cubist paintings by Picasso with the imagery of the ancient Egyptians. "I don't care about the police catching me," he tells me. "I just go out to paint something for people in the street. I have to share my painting now. I can't keep it."
How does he feel about Egypt's future under the presidency of the Muslim Brotherhood leader Mohamed Morsi? "I am really worried about the politics and the future of Egypt," he says. "I don't see any change in Egypt's politics, inside or outside. I just see that the Muslim Brotherhood has captured the government. They want to change everything according to their own style, to make everything Muslim Brotherhood. They forget to improve things for the public. They have forgotten the people."
Awad's mural of a pharaoh smiting enemies on Mohamed Mahmoud Street isn't his only painting inspired by Egypt's past. In several other works, groups of beautiful, crying women mourn the deaths of ordinary people or "martyrs" killed during the revolution. This is a motif borrowed directly from the decorated walls of tombs of high-ranking officials in ancient Egypt. Why is he so interested in the art history of his country?
"I am proud about it," he says. "When I was young, I saw pictures of Tutankhamun, Nefertari and Nefertiti. They were like treasures for me. Ancient Egypt was a big civilisation. I must make people remember this culture, this history – because we can lose it. And we can't know our future if we forget our past."
As street art, Awad's murals aren't to everyone's taste. "It takes a while to understand what Alaa wants to tell us," says Gröndahl, "and in that sense his street art might not be so effective. Street art is more about getting the message out, for people to quickly understand what's on your mind. But as an artist, his art is intriguing. I'm a fan of his expressive and colourful scenes."
For my money, Awad's work is Egyptian street art at its best: distinctive, original and nuanced. His murals blend a sense of darkness, violence and despair with moments of tenderness and elation. They are full of strange, hybrid creatures, such as the beast with a bearded man's head emerging from its maw cantering beneath the legs of the pharaoh on Mohamed Mahmoud Street, which seem dredged straight from the unconscious of the nation.
Perhaps, then, we should stop thinking of Awad and his colleagues as "street artists", and start calling them simply "artists" instead.
Revolution Graffiti: Street Art of the New Egypt by Mia Gröndahl is published by Thames & Hudson
Alastair Sooke is an art critic for The Daily Telegraph
If you would like to comment on this story or anything else you have seen on BBC Culture, head over to our Facebook page or message us on Twitter.
The art of ancient Egypt is a huge influence on the work of Alaa Awad, a prominent member of the country's new generation of street artists. (Alaa Awad)
The art of ancient Egypt is a huge influence on the work of Alaa Awad, a prominent member of the country's new generation of street artists. (Alaa Awad)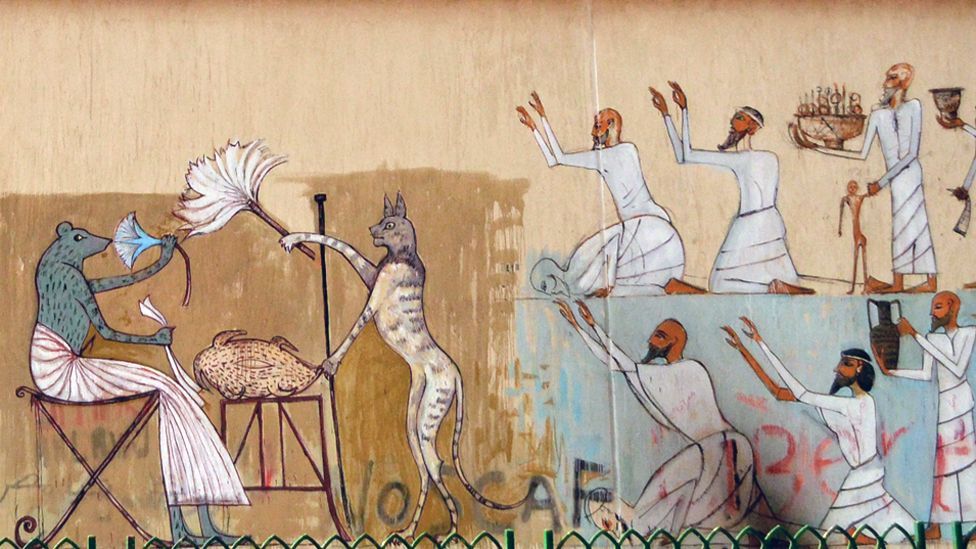 Awad's hybrid creatures are inspired by ancient Egyptian art, yet also seem to spring from the contemporary nation's psyche.(Alaa Awad)
Awad's hybrid creatures are inspired by ancient Egyptian art, yet also seem to spring from the contemporary nation's psyche.(Alaa Awad)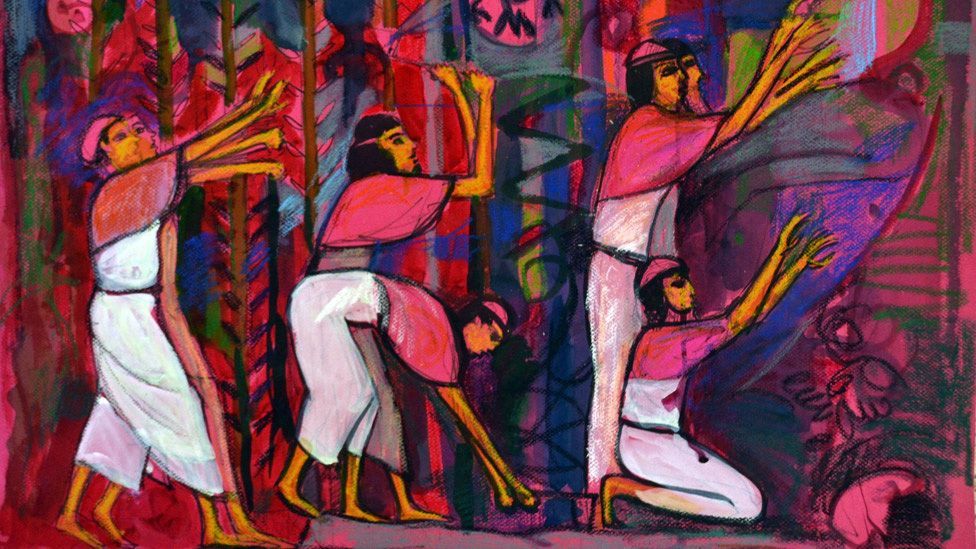 "We can't know our future if we forget our past," says artist Alaa Awad, who incorporates in his work motifs from the decorated walls of ancient Egyptian tombs. (Alaa Awad)
"We can't know our future if we forget our past," says artist Alaa Awad, who incorporates in his work motifs from the decorated walls of ancient Egyptian tombs. (Alaa Awad)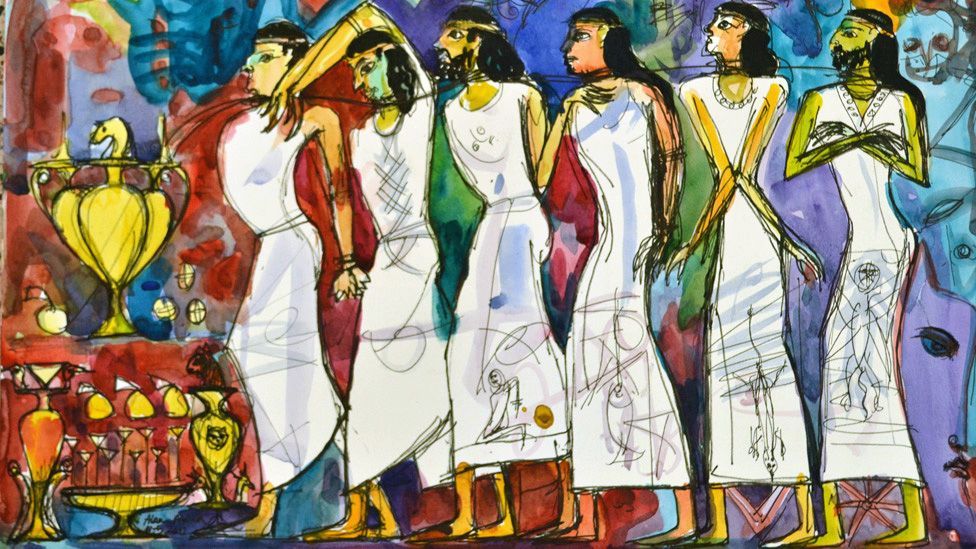 Images of Tutankhamun and Nefertiti made a strong impression on street artist Awad as he was growing up – for him, they embody the native spirit of Egypt. (Alaa Awad)
Images of Tutankhamun and Nefertiti made a strong impression on street artist Awad as he was growing up – for him, they embody the native spirit of Egypt.(Alaa Awad)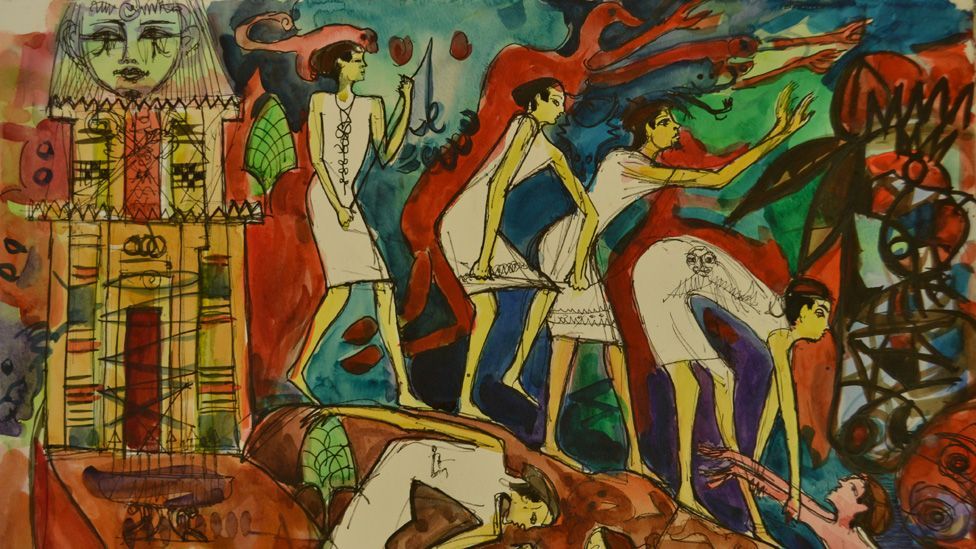 Awad's complex, phantasmagorical paintings fuse ancient Egyptian imagery with Cubist influences – he uses brushes and acrylic paint. (Alaa Awad)
Awad's complex, phantasmagorical paintings fuse ancient Egyptian imagery with Cubist influences – he uses brushes and acrylic paint. (Alaa Awad)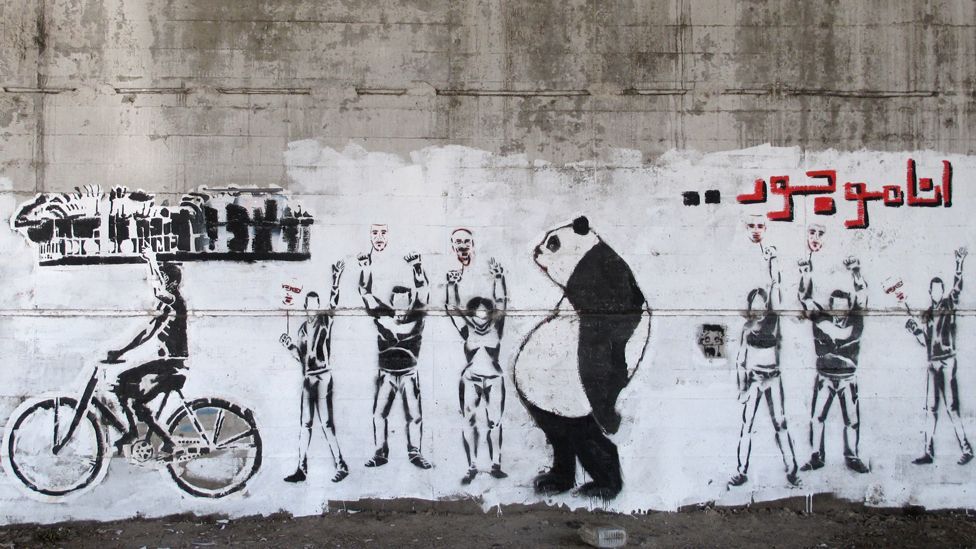 Sad Panda has become a recurring, satirical motif in Egyptian street art, and turns up in numerous locations across the urban landscape. (Mia Gröndahl)
Sad Panda has become a recurring, satirical motif in Egyptian street art, and turns up in numerous locations across the urban landscape. (Mia Gröndahl)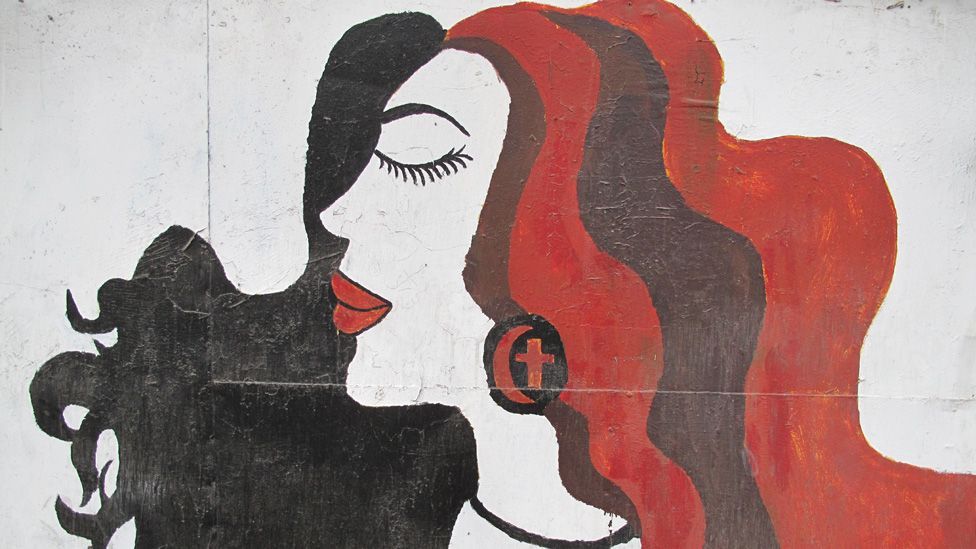 Murals by the new generation of street artists have sprung up throughout Egypt, such as this one by Freedom Painters in Nasr City. (Mia Grondahl)
Murals by the new generation of street artists have sprung up throughout Egypt, such as this one by Freedom Painters in Nasr City. (Mia Grondahl)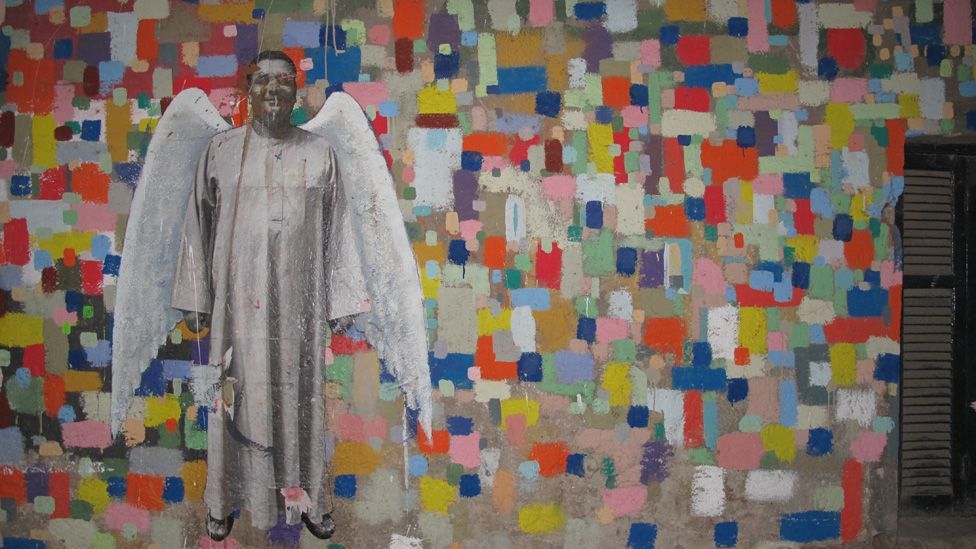 Urban art in spray paints has seen a boom in Imbaba, an impoverished neighbourhood of Cairo. (Mia Grondahl)
Urban art in spray paints has seen a boom in Imbaba, an impoverished neighbourhood of Cairo. (Mia Grondahl)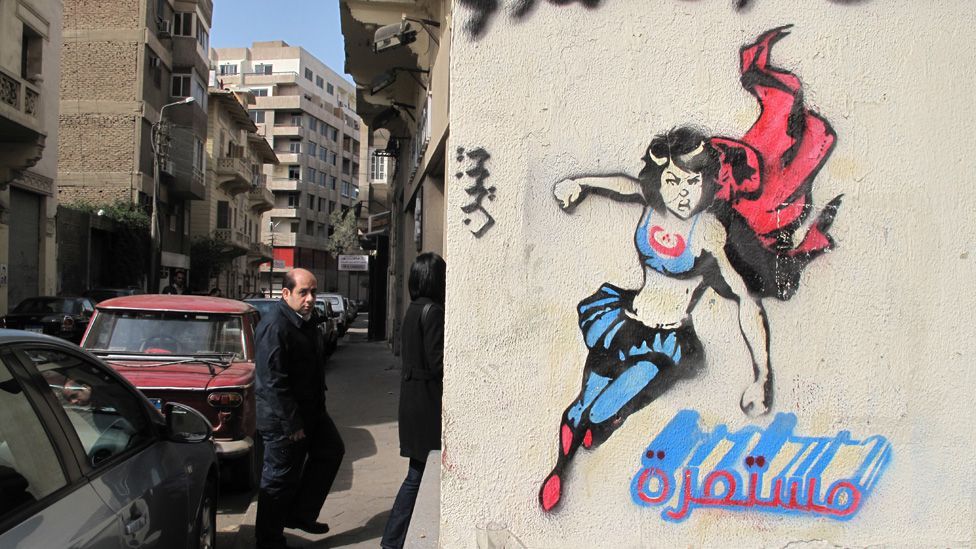 Revolution Girl by street artist El Teneen is typical of the political but accessible imagery that is now widespread in the cities of Egypt. (Mia Gröndahl)
Revolution Girl by street artist El Teneen is typical of the political but accessible imagery that is now widespread in the cities of Egypt. (Mia Gröndahl)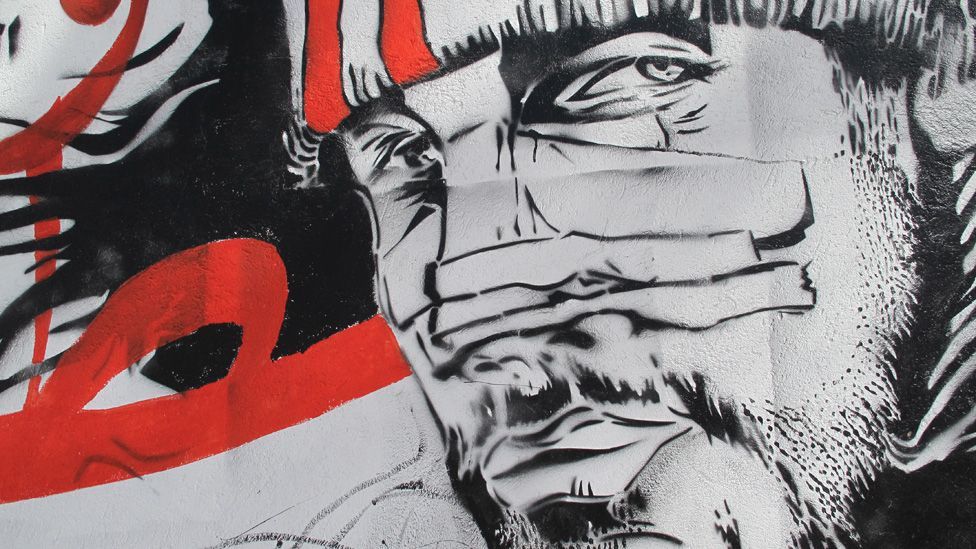 This detail from a mural by Aya Tarek in Alexandria reflects the boom in use of stencils and spray paint to deliver an uncompromising message. (Mia Gröndahl)
This detail from a mural by Aya Tarek in Alexandria reflects the boom in use of stencils and spray paint to deliver an uncompromising message. (Mia Gröndahl)