The passinho is a new dance craze that is offering the hope of a better life to young people in Rio's favelas. Júlia Dias Carneiro reports.
T
Twenty-year-old Pablo Henrique Goncalves, also known as Pablinho, grew up in Rio de Janeiro's largest shanty town, Rocinha – a poor area sprawling over one of the city's hilltops. Like many boys in Rio's favelas, Pablinho once thought football, or drugs, could be his way out - that is, until a new dance phenomenon spreading across Rio's poor communities gripped him – and he discovered that he had real talent. He now hopes to have found his ticket to a better life through the passinho.
The passinho, or 'little step', is a new dance craze that began in Rio's poor neighbourhoods and is now moving into the mainstream. It mixes a variety of different styles from funk, breakdancing and Michael Jackson's moonwalk, weaving in Brazilian rhythms like samba, frevo and forro. The result are the moves practised by Pablinho in the small bedroom shared with his parents and two little brothers.
He twists and twirls with his arms spread out, moving up and down as if his knees were made of springs, grimacing as he wiggles his upper body like a snake. His little brother dances too, trying to keep up.
Film-maker Emilio Domingos, who spent a year filming a documentary about the scene, Passinho Dance Off , says the craze has the key Brazilian characteristic of 'cannibalising' foreign culture and digesting it into something entirely new. "The dancers absorb everything they see and transform it", he says.
As well as the film, a soon-to-be produced passinho musical and performances on TV indicate that the style is beginning to reach a wider public. A recent passinho championship attracted more than 200 dancers from all over Rio to the 16 favelas hosting the competition.
But where did the dance craze come from? The answer lies with technology and social media. Teenagers from poor communities – with growing access to the internet – started uploading YouTube videos of themselves dancing at home or at parties. The most famous clip from 2008 has over 4 million views.
"When I first saw that video on YouTube – wow! – I was seriously interested in the passinho and amazed at the guys' talents and how many clicks they got," says Pablinho. "I wanted to learn to do the same – or better." This 'wow' factor led many others like Pablinho to copy the steps and share their own videos. The moves spread from one favela to another and are now reaching other Brazilian areas.
Despite a so-called 'pacification' policy that aims to expel drug lords, many of Rio's favelas are still controlled by criminals. The prospect of money and power entices children and teenagers into drug trafficking. So it is especially meaningful to see new role models being created through the passinho – and young men earning respect without carrying a weapon.
Before it became a social media sensation, the passinho grew within Rio's so-called "funk balls", – parties in the city's favelas where Brazilian funk music is played – and was often associated with violence due to the presence of drug dealers.
"The passinho is giving kids here an opportunity to quit drugs and to dance", says Pablinho. "It's not like before when kids would see criminals and think: 'I want to be like him.' No! Now they look up to us and say they want to become dancers."
Pablinho has over 10,000 friends on Facebook and performs with a group of friends called 'The Stars'. "They have amazing dance techniques and are getting recognition. Now the next step is for them to get financial recognition", says Emilio Domingos. "The problem is, it's not easy to make a living as an artist in Brazil."
Informal competitions are held in these parties: a circle opens on the dance floor and boys take turns showing off their steps in the middle. In 2011 these clashes led to the creation of the 'Passinho Battle', where dancers have just 45 seconds to show off their best moves in a duel.
The dancers also cultivate different styles. At one of the battle nights, in the Vidigal favela, the 16 competitors wore tight trousers, colourful glasses or sparkling earrings. Each had a trademark which singled them out - in Pablinho's case, it was a thin, fizzy wave shaved across his head.
Pablinho, competing against four other boys, fell to the ground when he was announced as the night's champion. By winning the tournament, he had earned a role in the forthcoming passinho musical. "That's everything I wanted; it's my life" he says. "Now I'm sure I'll be able to help my family at home a lot." He now dreams of a better life abroad.
One of the events' organisers, Julio Ludemir says the dancers are breaking the rules of organised crime. "Organised crime makes people feel like prisoners in the slum and not look beyond it. Now the favelas are getting globalised. These boys are looking at what's happening in London, in Africa, in Paris. Through social media, they are taking their dance to the world and bringing the world to their dance."
If you would like to comment on this story or anything else you have seen on BBC Culture, head over to our Facebook page or message us on Twitter.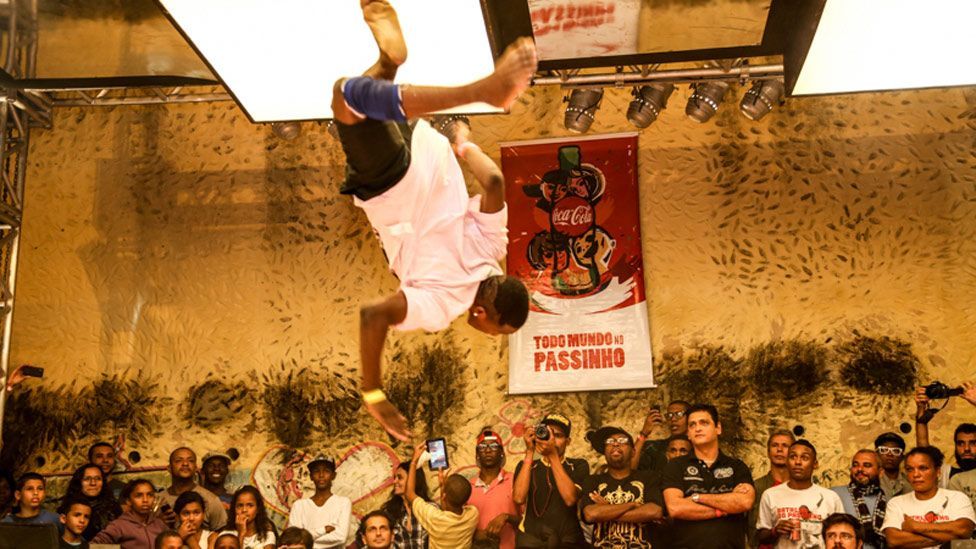 A dancer at the Passinho battle in the Vidigal favela soars above the watching crowd. (Maria Buzanovsky)
A dancer at the Passinho battle in the Vidigal favela soars above the watching crowd. (Maria Buzanovsky)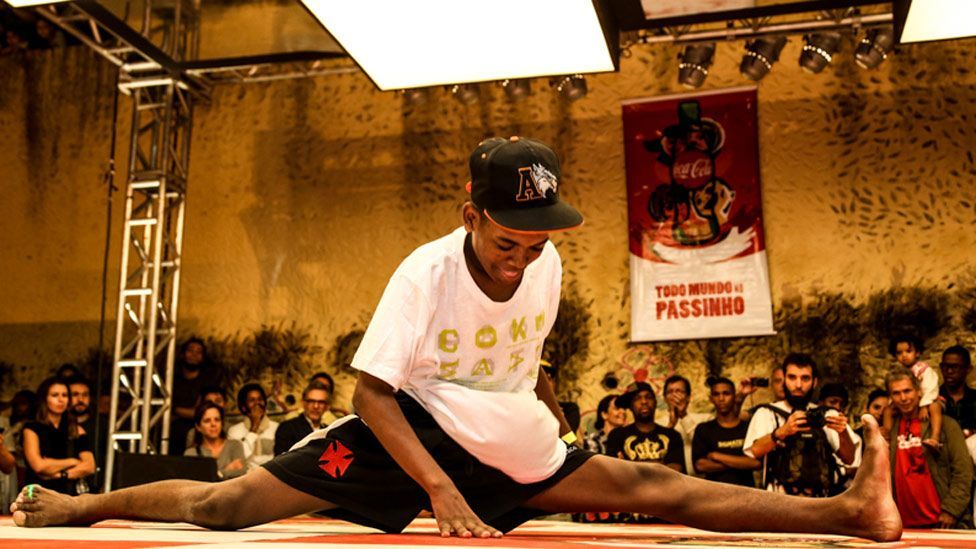 One of the dancers competing at the Vidigal favela shows off his flexibility. (Maria Buzanovsky)
One of the dancers competing at the Vidigal favela shows off his flexibility. (Maria Buzanovsky)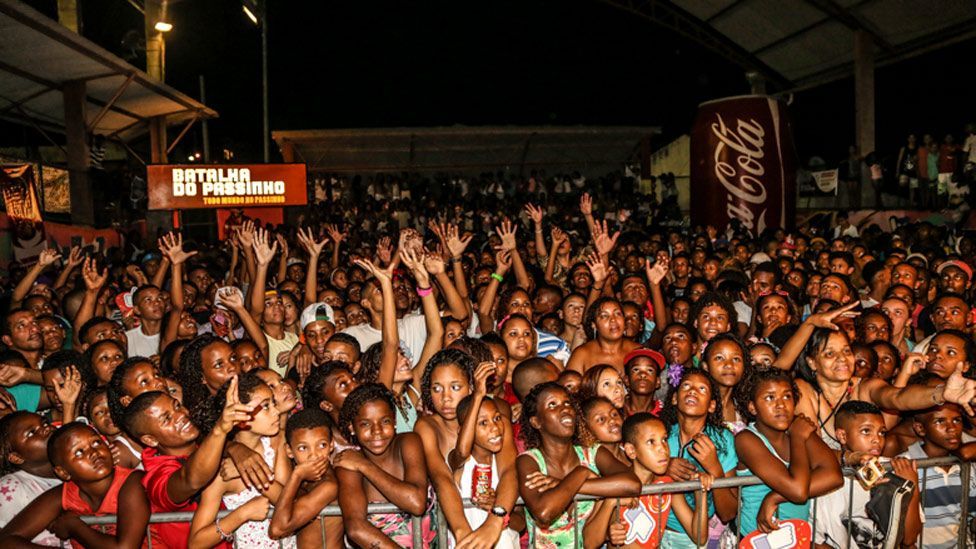 Teenagers and children make up big part of the audience at the Passinho battles. Girls dance the Passinho too – but are far outnumbered by the boys. (Maria Buzanovsky)
Teenagers and children make up big part of the audience at the Passinho battles. Girls dance the Passinho too – but are far outnumbered by the boys. (Maria Buzanovsky)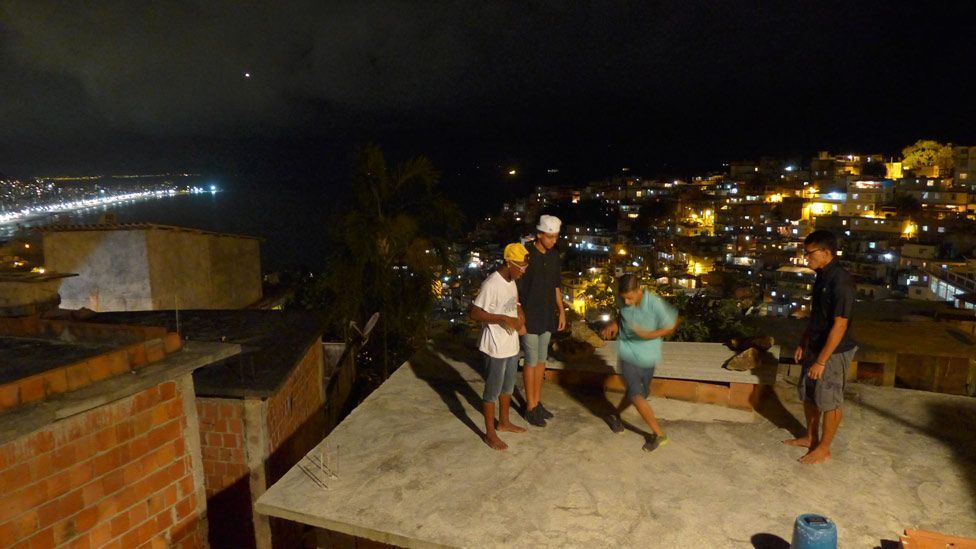 Dancers get together high on the favela rooftops to practise and share new steps. (Julia Carneiro)
Dancers get together high on the favela rooftops to practise and share new steps. (Julia Carneiro)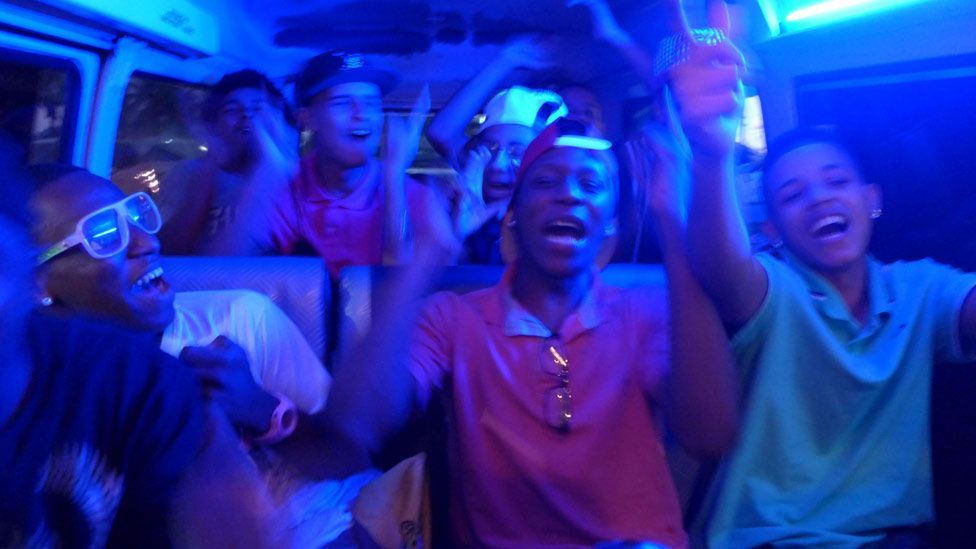 Dancers in a van on the way to a passinho battle – they form strong friendships and the competition is also about having fun. (Julia Carneiro)
Dancers in a van on the way to a passinho battle – they form strong friendships and the competition is also about having fun. (Julia Carneiro)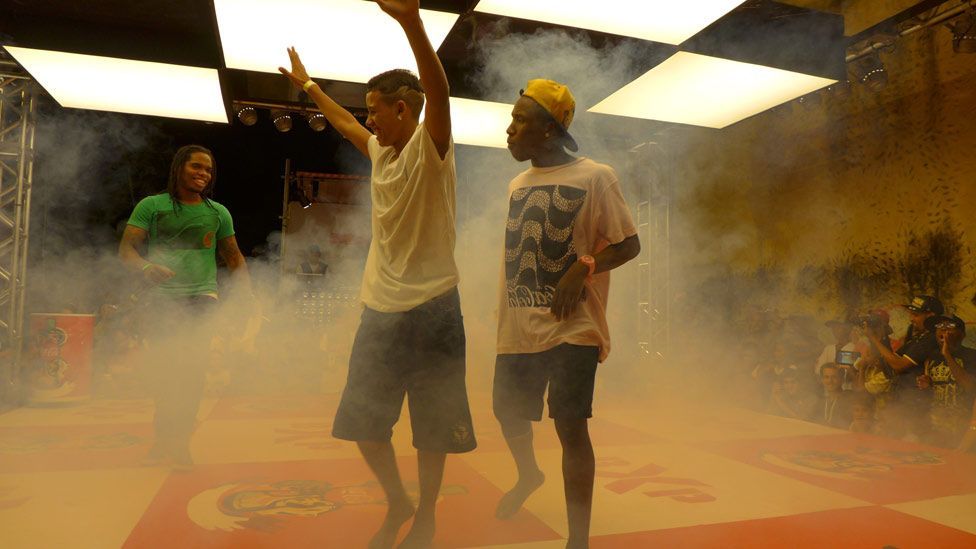 Pablinho was the winner of one of the battles, in the Vidigal favela, and earned a role in a future musical about the dance. (Julia Carneiro)
Pablinho was the winner of one of the battles, in the Vidigal favela, and earned a role in a future musical about the dance. (Julia Carneiro)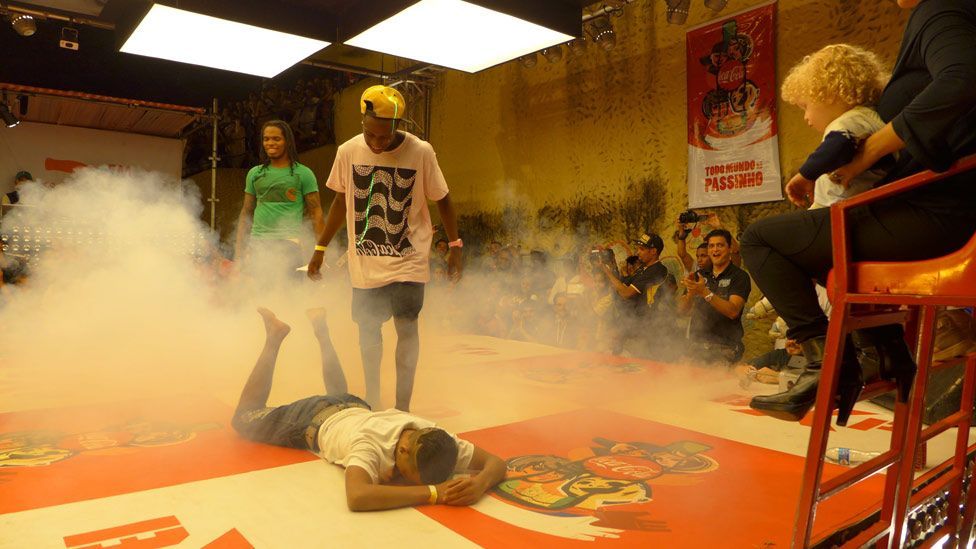 Pablinho fell to the ground as he was announced the winner. "That's everything I wanted, it's my life. Now I'm sure I'll be able to help my family a lot" he said. (Julia Carneiro)
Pablinho fell to the ground as he was announced the winner. "That's everything I wanted, it's my life. Now I'm sure I'll be able to help my family a lot" he said. (Julia Carneiro)