Winnie Madikizela-Mandela is a divisive figure in South Africa – and her wildly changing style reflects her difficult past, writes Robb Young.
S
She has been called the 'mother of the nation' and has stood accused or convicted of fraud, theft, kidnap and murder.  Revered and reviled over the decades, Winnie Madikizela-Mandela is a towering, irreconcilable figure in South Africa, whose complex persona defies easy characterisation.  And her clothes only encourage this opaque reputation. 
Unlike many political figures who cultivate a style with neat boundaries to create a consistent public image, Madikizela-Mandela keeps a motley wardrobe at her disposal.  From gracefully embellished gowns to chaotically coordinated separates, it is tempting to see her wildly diverse outfits as some sort of real-time commentary on the world around her.  But what is really going on here is something more self-referential. Madikizela-Mandela's varied costumes recall key moments in her own personal story, a unique one that spans from freedom fighter to first lady. And they reflect the momentous changes South Africa has experienced in her lifetime.
At the opening of last year's ANC party conference for instance, bundled in fur accessories and swathed in a medley of cheetah, jaguar and leopard print, Madikizela-Mandela looked surprisingly ferocious despite her 75 years.  
One could read this aggressive outfit as a growling rebuke to the ANC party leadership with whom she was at odds once again – or perhaps as part of a wider statement of protest aimed at her detractors. But having worn similar get-up to family funerals, parliamentary debates and even in court, Madikizela-Mandela could hardly be attempting to convey one particular mood or message. 
A few weeks later at her next big public appearance in Pretoria, she was mining the past again – but her outfit couldn't have been more different from the vampy diva mix of animal prints she sported in Johannesburg. An ϋber-feminine look worked just as well as a nostalgic device.
Standing demurely in a long lavender dress and carnation pink shawl fringed with furry pom-poms, she smiled for the paparazzi who had gathered for the Reserve Bank launch of a range of new banknotes honouring Nelson Mandela.  This and many more of the frilly dresses, floral prints and ruched tops she wears today hark back to the early years when newlywed Winnie was perceived as an approachable maternal figure full of goodwill and innocence. 
On other occasions, Madikizela-Mandela prefers to flaunt her militant credentials by referencing looks she wore during the 70s as a firebrand activist or in the 80s as a revolutionary figure.  These are the images of Winnie Mandela familiar to South Africans who lived through the period in which she endured exile to a remote township slum, solitary confinement and suffered torture at the hands of the minority white government.  
A masculine black blazer, red and green T-shirt and Che Guevara-style beret served her well at a fist-pumping election rally in 2009, where she invoked the memory of the combat fatigues and ladylike blouses paired with thuggish accessories of her revolutionary past.  Although such outfits represent the time her detractors say she became vengeful and unrepentant, for her most ardent supporters they symbolise her undying dedication to the cause.
At Nelson Mandela's long-awaited release from prison in 1990, Winnie marked the jubilant occasion in a relatively sober black and white outfit – in contrast to her usual preference for vibrant, colourful outfits on celebratory occasions.  Perhaps she chose this sombre look in order to commemorate the solemnity of the struggle that had finally led to this new beginning of a post-Apartheid South Africa.  Making public appearances in similarly austere monochrome is a tactic she employs regularly to this day because it serves as a flashback to more poignant moments and lends her gravitas at political events.
Until her divorce from Nelson Mandela in 1996, as first lady, Winnie found herself thrust into a very different kind of spotlight. Dutifully dressing the part of a cosmopolitan president's wife, Winnie acquired an appropriate new set of style insignia -- pearls, modest skirt and jacket combinations and tunic suits.  Whenever she pulls out one of these looks nowadays, it is still somehow reminiscent of those days on the world stage when she rubbed shoulders with George H. W. Bush, Francois Mitterrand and the power brokers of the era.
A newly independent Madikizela-Mandela embarked on her own political career as president of the ANC Women's League shortly after she stopped playing second fiddle to Nelson Mandela as estranged wife and first lady. In came a range of items that seemed to shout pride, unapologetic swagger and reward after a lifetime of sacrifice. The same sort of titanic turbans, traditional beaded Xhosa accessories, pan-African prints and vibrant kaftans she wore then have reappeared recently, following the revival of her political career after a spate of protracted legal trials and scandals.   
Instead of adopting yet another distinctive style to mark the final chapter of her life, Winnie Madikizela-Mandela seems to be drawing on the powerful subtexts of her old wardrobe to help reaffirm her extraordinary legacy.  With so many style incarnations to take from over the half-century she has been in the public eye, Madikizela-Mandela has chosen to wear them all. She performs each of her dramatically different incarnations through the eyes of the South African people, reinforcing her enigmatic reputation through her clothes.
If you would like to comment on this story or anything else you have seen on BBC Culture, head over to our Facebook page or message us on Twitter.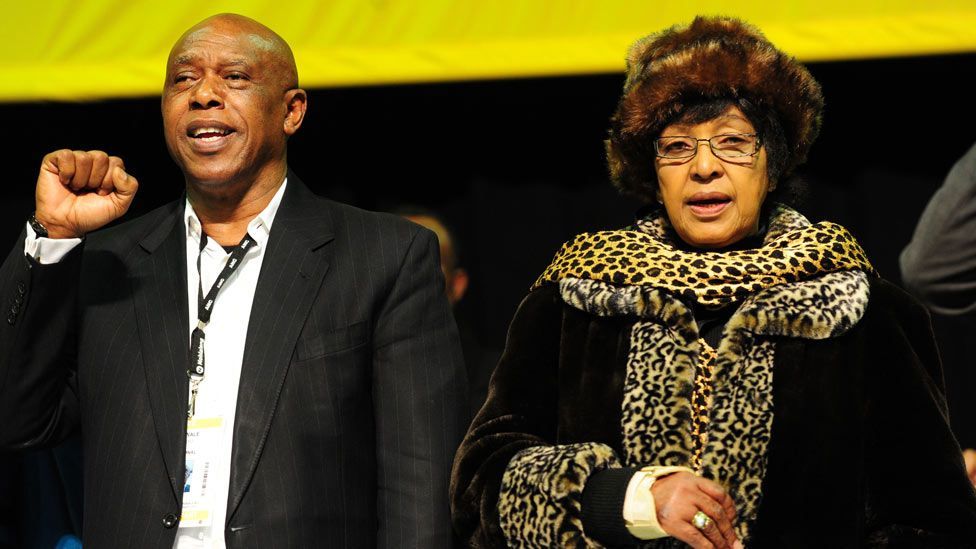 At the ANC's policy conference in Johannesburg, South Africa in June 2012, Winnie Madikizela-Mandela, seen here with Tokyo Sexwale, wore a medley of furs. (Rex Features)
At the ANC's policy conference in Johannesburg, South Africa in June 2012, Winnie Madikizela-Mandela, seen here with Tokyo Sexwale, wore a medley of furs. (Rex Features)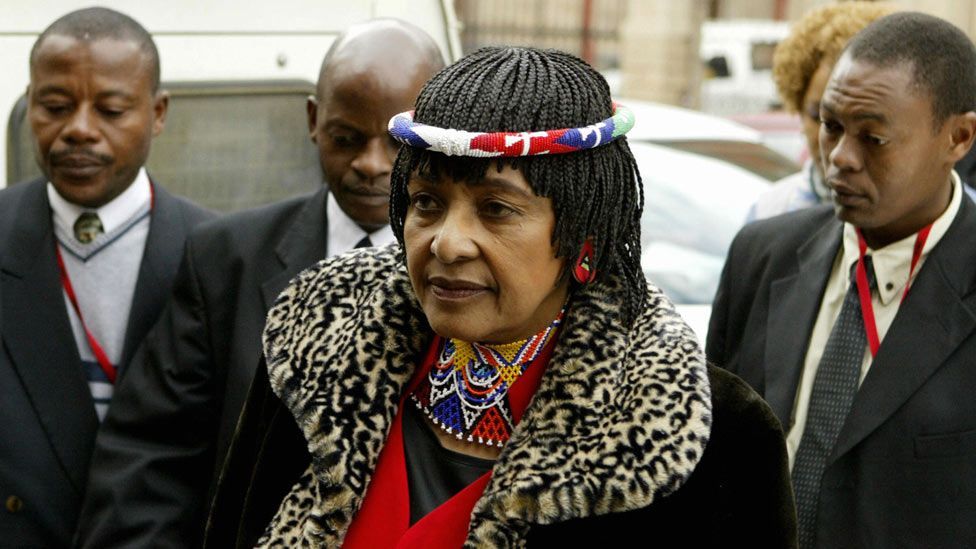 She has worn similar furs on numerous occasions, including to court, such as this appearance at Pretoria High Court on 21 June 2004. (Getty Images)
She has worn similar furs on numerous occasions, including to court, such as this appearance at Pretoria High Court on 21 June 2004. (Getty Images)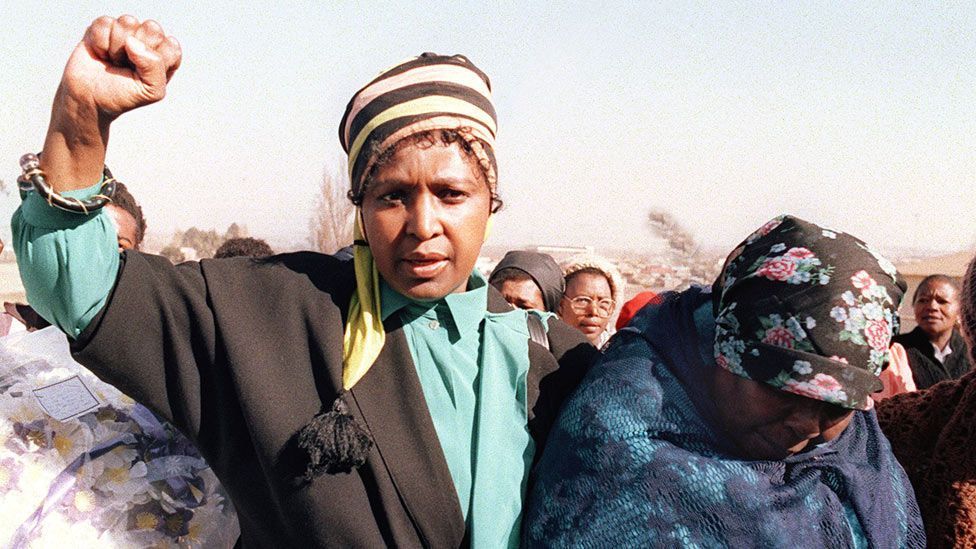 Winnie's more militant look, worn as she raises a clenched fist during the 1987 funeral of Sello Motau, senior member of the ANC military wing. (Getty Images)
Wearing revolutionary garb, she addresses supporters gathered at the final ANC rally before the presidential elections, held in Johannesburg in 2009. (EPA/Kim Ludbrook)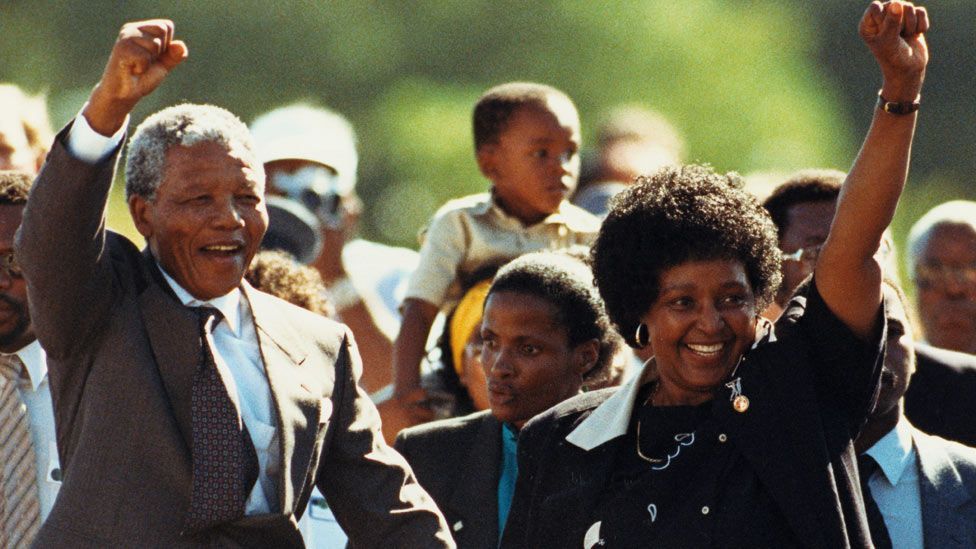 Accompanying Nelson Mandela as he left Victor Vester Prison in 1990, she adopted a more sobre, monochrome outfit. (Peter Turnley/Corbis)
Accompanying Nelson Mandela as he left Victor Vester Prison in 1990, she adopted a more sobre, monochrome outfit. (Peter Turnley/Corbis)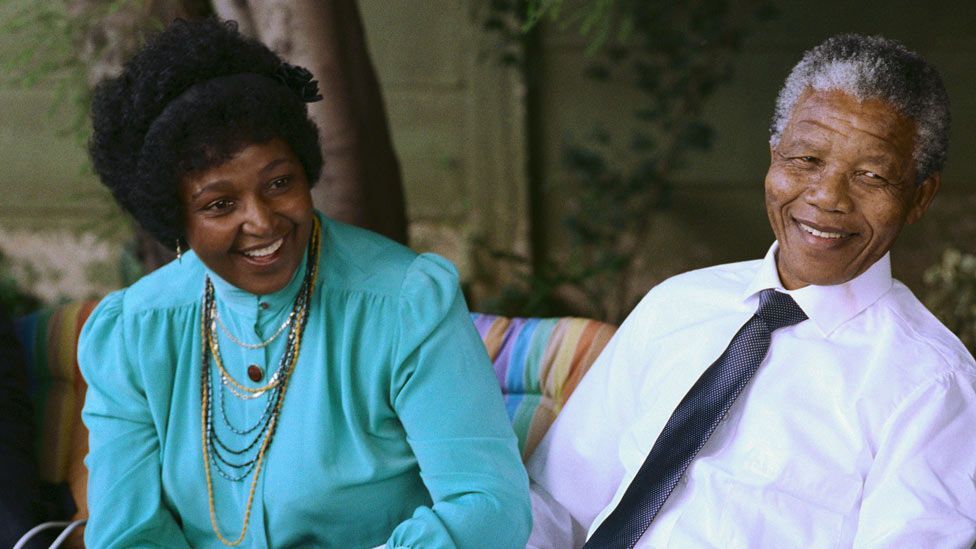 Reunited with Nelson Mandela after his release from prison in 1990, Madikizela-Mandela adopted a new style uniform suitable for a president's wife. (David Turnley/Corbis)
Reunited with Nelson Mandela after his release from prison in 1990, Madikizela-Mandela adopted a new style uniform suitable for a president's wife. (David Turnley/Corbis)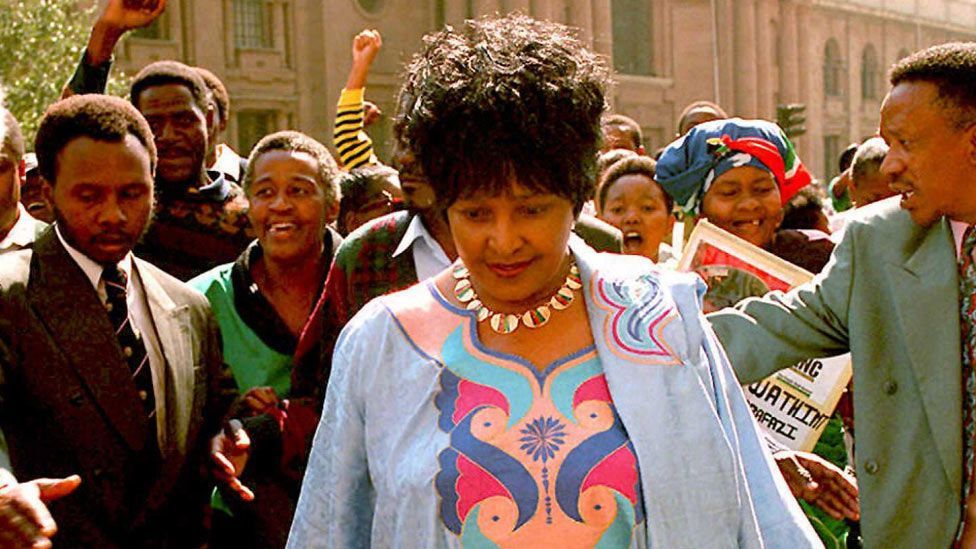 Then South Africa's deputy arts and culture minister, she is seen sporting a much softer look as she leaves the Johannesburg Supreme Court in 1995. (Getty Images)
Then South Africa's deputy arts and culture minister, she is seen sporting a much softer look as she leaves the Johannesburg Supreme Court in 1995. (Getty Images)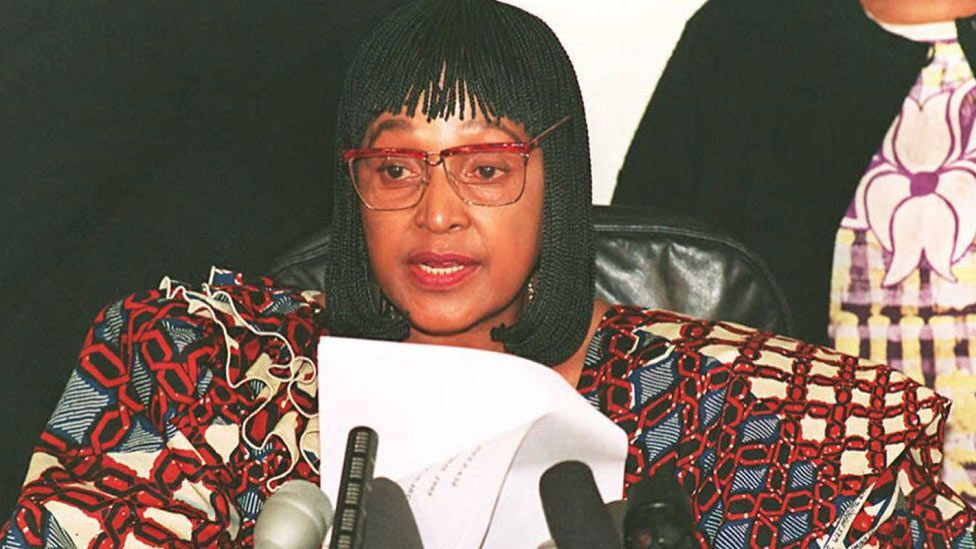 Reading a statement at a press conference to announce her resignation as minister in 1995. Madikizela-Mandela adopted a wild array of accessories during this period. (Getty Images)
Reading a statement at a press conference to announce her resignation as minister in 1995. Madikizela-Mandela adopted a wild array of accessories during this period. (Getty Images)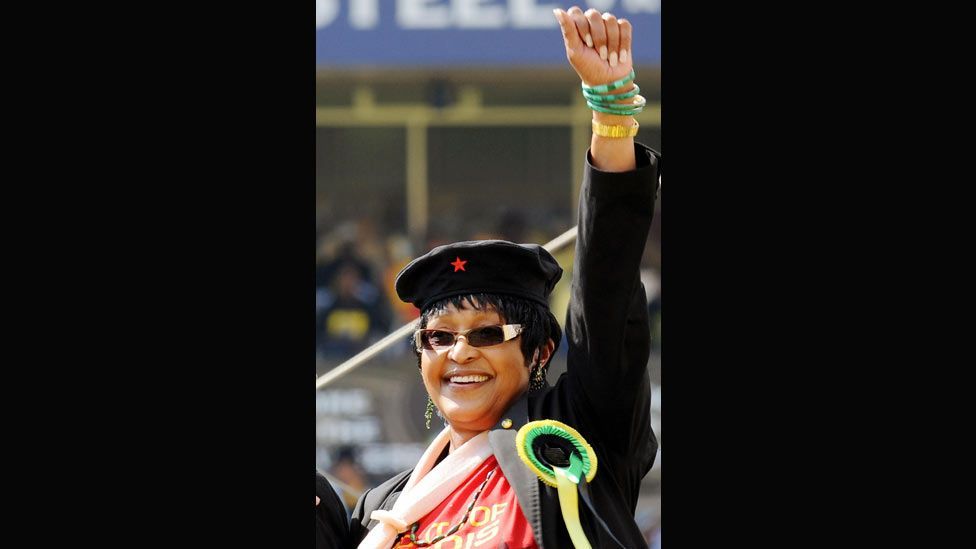 Wearing revolutionary garb, she addresses supporters gathered at the final ANC rally before the presidential elections, held in Johannesburg in 2009. (EPA/Kim Ludbrook)
Wearing revolutionary garb, she addresses supporters gathered at the final ANC rally before the presidential elections, held in Johannesburg in 2009. (EPA/Kim Ludbrook)