Dementia patients are often left in their own world, misunderstood by those caring for them. One London writer has created poems out of their own words to shed light on their experiences.
P
Poetry's ability to sum up the light and shade of human life has been one of its enduring qualities. "Poetry lifts the veil from the hidden beauty of the world", wrote Shelley, while American author James Branch Cabell said "poetry is man's rebellion against being what he is".
The poems written by those taking part in Living Words' work are a rebellion against a very personal form of oppression – the effects of dementia. For the last six years, London-based writer Susanna Howard has been working on a project with patients living with dementia, writing down their words during conversations carried out during residencies in care homes.
The project came about after Howard helped a friend with a dance project based at a hospital. After meeting the head of a local hospital trust's arts events, she began working with dementia patients in an elderly care unit.
"After the first day in the hospital ward at St Thomas' I knew I had found my purpose," Howard tells BBC Culture. "When I finished that first project one woman I worked with who had advanced dementia, and delirium at times, took my hand and said 'Now you know two worlds, the one outside and the one inside in me and you must go and tell all the people.' I was handed my mission – and it propels Living Words to this day."
Howard's conversations with those living with dementia have been collated into poems. The poems are more than just an artistic expression. They are included in the person's medical notes, giving the people caring for them more of an insight into the person living with the condition.
Howard tells BBC Culture just how the project came about, and the effect it has already has on those helping create it.
Did you have personal experience with a relative or friend with dementia?
"When I was a teenager my grandmother had dementia – when we just called it 'doolally' and nothing was really done.  However, she died before she got to the depth of the condition a lot of people I work with have reached."
When did you start the project?
"I began Living Words about six years ago. Residencies are usually in care homes and are between one and four months, with the average length being three months.
The other side of Living Words came from the residencies and focuses on producing artistic work to change cultural attitudes to dementia.
Describe the process you go through collating the poems.
"The process we now work in is very clear – the words a person speaks are written and recorded as they speak, we record so that we can always check that what is written is correct.  These words are then edited down in to pieces - the most important point here is that no words are ever added to a person's words and they are not jiggled around. Thematically sections may come together but the 'meaning' must stay clear.  The pieces are read to the person during the next session if this feels right and depending upon the person they may state desired changes and add a title. Over the subsequent sessions the pieces come together that will be in that person's Living Words Word Book.  Every person who takes part has their own book and if possible they choose an image for the front. These books then act as communication bridges for staff, relatives and the individual. The length of the books vary from one page (plus covers) to 50. Working with staff is central to the work and they continue to use the books once we leave.
Is it difficult sometimes making sense of what's being spoken?
"As a person experiences dementia their relationship with language usually changes over time.  People perhaps use language that more directly links to their emotions and what they want to say than the rest of us (this is connected to there being more 'free space' on the right side of the brain).  It can be extremely hard for words to come and we validate all words and sounds that are uttered - words and expressions that seem nonsense can in fact be directly metaphoric, or just need to be said. For example, a person will use words that wouldn't be used in ordinary conversation: 'Everything was all packed up and plopped over with'; 'These people, in to the third act' 'Some round here are all embers'; 'They don't say much this tribe'. In not finding the 'right' word people might use replacement words without realising.
"People will often talk about death and spirits and I don't see this as being 'dark'. It can be hard when a person really wants to die but through the process we use this is all heard, validated and expressed – it doesn't take the desire away but it can be a relief to be heard.  We focus so much on keeping people alive in this society and I believe it is cruel to not even allow open dialogue about death – these people are nearing the end of their lives and have a right to talk about this, however it comes out.
"As a writer of course there can be moments when one has a ping of, 'Wow, what an amazing expression', but one has to be aware of that and so share that feeling back with the person – we are in the experience together.  For example a woman on my last project said: "I'm watching the world go by / Arranging a contract to spend my emotions / There's a bin over there to take the overflow." Amazing. 
"I very much believe that this is life and to be embraced – only through engaging in the darkness do we see who we really are and glimpse what this life is."
Have you noticed a change in the people as they speak more?
"There have been many changes in people I have worked with and I am constantly surprised at how powerful the work can be.  I have worked with people who have very few words, only for the method to enable them to say more words and express themselves - I am thinking of one person who I worked with for whom this was the case, the people who worked with him were shocked and surprised by his profound poem which he called 'a call to arms, positive action', the carers in his care home now call him 'the Philosopher' and understand that he understands them. 
"This work is about relationship and like all relationships sometimes we can meet people and click straight away, sometimes it takes much longer, and sometimes the click never happens.  Once a relationship is established the work can begin. It is very important that people always know that they are in charge and are leading every session – I am reminded of a woman I worked with who after a lot of silence spoke to me of her feelings and situation in life. Once I had written it down she asked me to cross it out, we went through every word – I read it and then she said cross out and I did it.  After this we began again; through crossing the words out she realised she could trust me."
Have the people involved been shown the poems? What has their reaction been?
"Everyone who has one to one Living Words sessions has their own Living Words book – they can be from one page to 50 pages.  A large part of Living Words is when a person has their words read back to them – when this happens the person may not recall me or our time together but when they hear their words they say 'That's right, that's how it is' and when you say 'These are your words' and do the reading back technique we employ, I believe it improves a person's sense of self, of being heard and of being valid.
"The reaction varies from person to person but I am always humbled by how much the books mean to the people I work with.  Whether they recall me or the experience the book speaks how they feel - our words resonate within us. A participant, on hearing their words recently said 'That is exactly it, yes' and we said 'These are your words' and the person said 'Are they? How great. This is the truth of it'."
Susanna Howard is involved in a variety of writing projects in the UK, including a forthcoming benefit for poet James Berry.
If you would like to comment on this story or anything else you have seen on BBC Culture, head over to our Facebook page or message us on Twitter.
(Poem: Living Words, Photo: Julia Miranda/Living Words)
(Poem: Living Words, Photo: Julia Miranda/Living Words)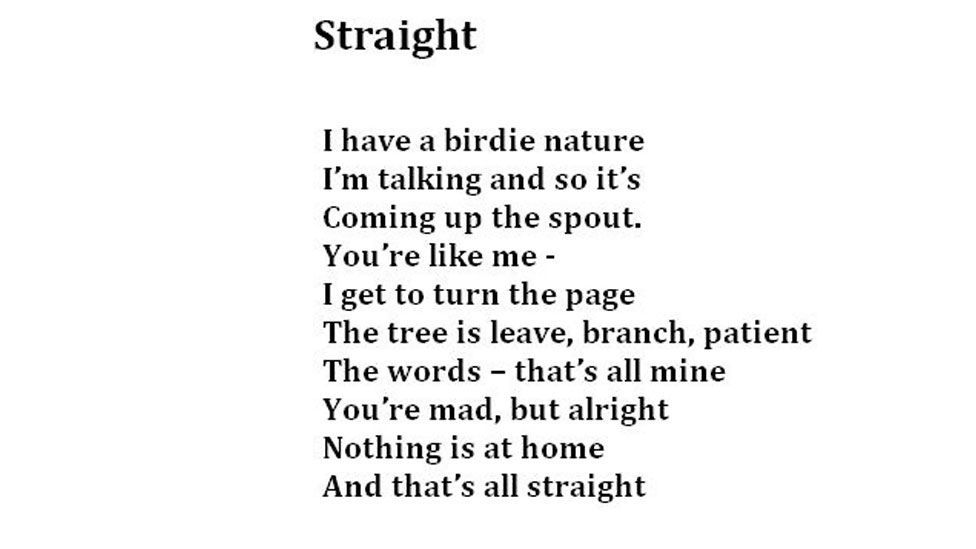 (Poem: Living Words, Photo: Julia Miranda/Living Words)
(Poem: Living Words, Photo: Julia Miranda/Living Words)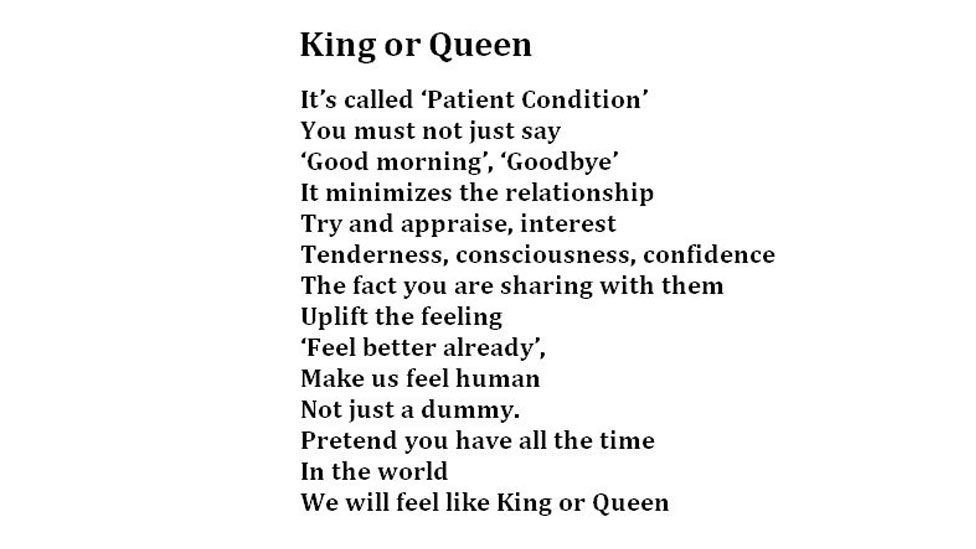 (Poem: Living Words, Photo: Julia Miranda/Living Words)
(Poem: Living Words, Photo: Julia Miranda/Living Words)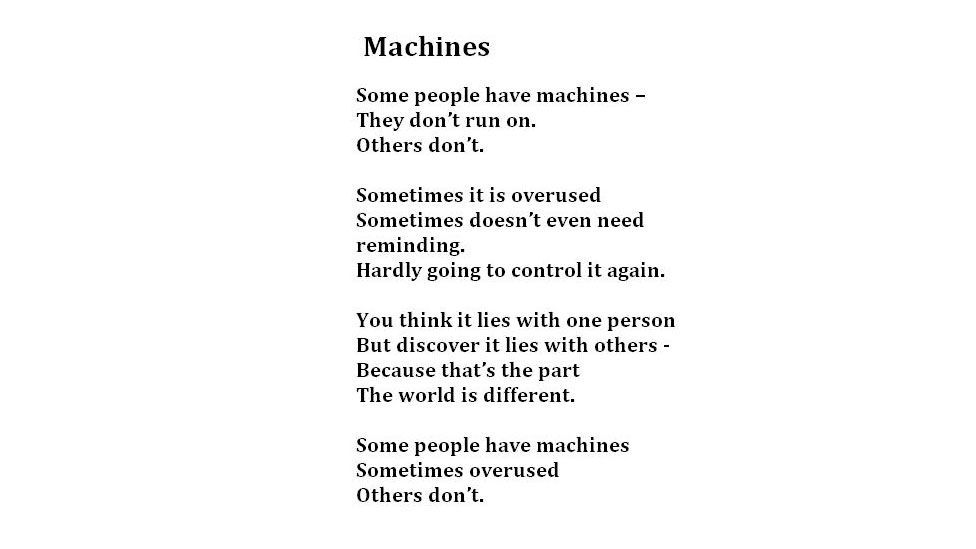 (Poem: Living Words, Photo: Julia Miranda/Living Words)
(Poem: Living Words, Photo: Julia Miranda/Living Words)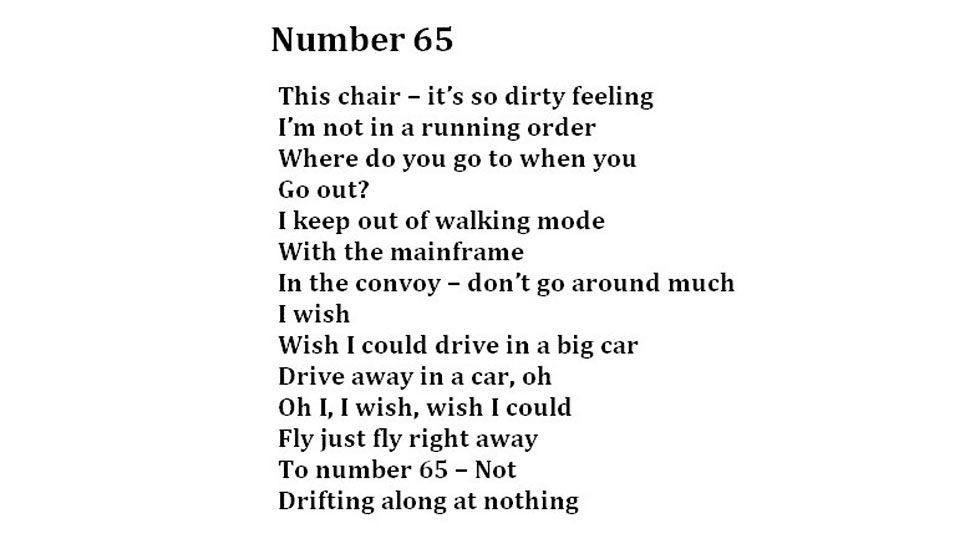 (Poem: Living Words, Photo: Julia Miranda/Living Words)
(Poem: Living Words, Photo: Julia Miranda/Living Words)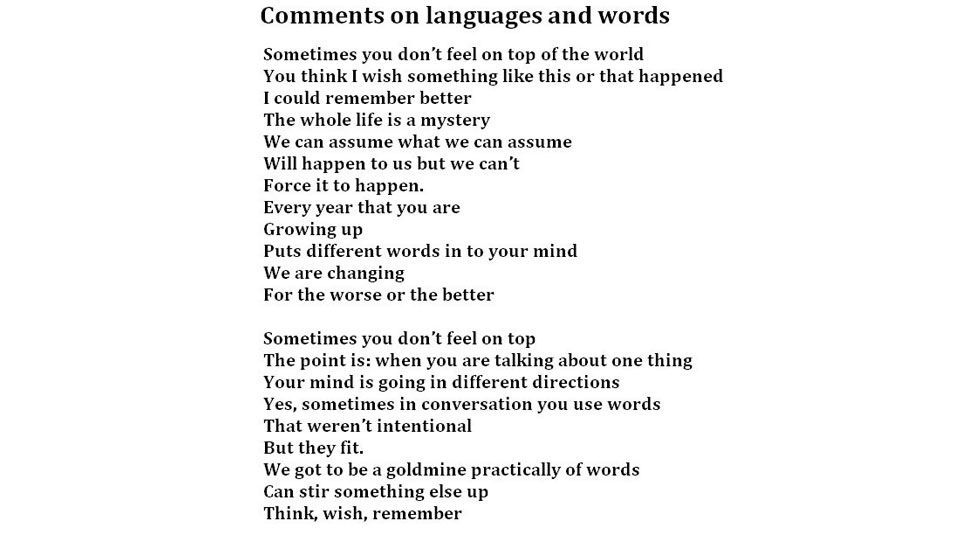 (Poem: Living Words, Photo: Julia Miranda/Living Words)
(Poem: Living Words, Photo: Julia Miranda/Living Words)