Angela Merkel has been criticised and derided for her plain style and lack of interest in fashion – but is this really a cunning plan? Katya Foreman takes a closer look.
W
What to wear when you're the most powerful woman in the world, tipped to eclipse Margaret Thatcher as the longest-serving female head of government? Truth is, Chancellor Angela Merkel – who's on course for a third term, come the German general election on 22 September – probably hasn't given it much thought. Compared to the purposeful power-dressing of Baroness Thatcher, with her helmet hair, pearls, pussy-bow blouses and electric-blue suits, Merkel's look is low key, her uniform of choice a sensible, boxy, three-button pantsuit in a spectrum of mumsy hues running from beige to purple. Classic, risk-averse and un-showy, the message is self-assurance and confidence – she has far more important things to deal with than her wardrobe.
Often derided as predictable and frumpy, Merkel – who turns 60 next July – shrugs off sartorial slings and arrows. When the Frankfurter Allgemeine newspaper ran a front-page article asking, 'Which one is Merkel, which one is Clinton?', comparing cropped snaps of similarly sensible suits as worn by the Chancellor and America's then Secretary of State, Merkel had it framed and presented it to Hillary Clinton as a gift, at a White House state luncheon in 2011.
Even when she dresses to impress, Merkel can't win. In 2008, after attending the inauguration of Norway's new national opera house in Oslo – dressed in a low-cut black dress with a distracting deep décolletage, designed by Munich-born Anna von Griesheim – Merkel made the front pages of papers in Germany and across Europe. Heading the hyena pack was the UK's Daily Mail, which ran the pictures beneath the headline, 'Merkel's Weapons of Mass Distraction', while online, the phrase 'Deutschland boober alles' was deployed. "It's simply due to the fact that, in Germany, a woman is Chancellor," she patiently told Germany's ZDF TV. "There certainly wouldn't be a discussion like this with a man."
Jewel in the crown
But Merkel is not wholly immune from the notion of keeping up appearances. German designer Bettina Schoenbach, famed for her cleanly-cut collections of smart separates, has been quietly guiding Merkel's purchases since the run up to the 2005 elections, which saw the leader of the Christian Democratic Union installed as chancellor for the first time. A subtle spectrum of jewel-tone jackets now figure heavily among her key pieces (helpfully collected into a colour-coded gallery by the ever-vigilant Daily Mail), while a top German hairstylist was called in to update Merkel's blunt-fringed bob into a softer, more flattering shape.
For haute couturiers, there remains much room for improvement. Conceding that Merkel probably "doesn't want advice", Chanel's razor-tongued, German-born head designer, Karl Lagerfeld – who rated her style as "OK" in a recent interview with Germany's Focus magazine – expressed "extreme shock" at a pair of wide-legged beige trousers Merkel wore to a dinner honouring President Obama in Berlin earlier this year. "Miss Merkel [should dress] according to her special proportions," he tutted. "[Beside Obama], the proportions were bad, like the cut. The pants were too long."
Harper's Bazaar offered up tips last summer in an article by Zoe Dickens. "Angela Merkel has come a long way from fashion fiasco to chic chancellor," Dickens wrote, handing over to 'the Bazaar Fashion Team' to play fantasy stylist. "While in possession of a terrifyingly brilliant brain, Angela Merkel is not blessed with a beanpole figure, so she should make the most of her assets: namely her legs and upper body… A-line shapes would give a little definition to her waist and flatter most body shapes… Pieces to avoid: Double-breasted jackets – they draw way too much attention to the middle." Bazaar Beauty Director Sophie Forte added that Merkel could do with a manicure: "The German Chancellor talks with her hands a lot, so groomed nails are also essential." Appraising her hair, celebrity stylist George Northwood said he would "chop into it to give it some movement and stop it looking dated, like her current style... Being in the public eye means that having healthy-looking hair could be a big asset for her. Unfortunately, at the moment she just looks old-fashioned."
Nothing to prove
But savvy Merkel's unremarkable appearance could well be a strategy for communicating to the German electorate that her time and head space is entirely dedicated to them, with no time wasted on grooming and shopping. Often underestimated as a political opponent early in her career, Merkel has been served well by being staid.
Her wardrobe certainly mirrors the CDU's centre-right, small-c conservative political outlook. But then again, Merkel's lacklustre outfits could simply be a reflection of a basic disinterest in fashion. As the daughter of a Protestant pastor, it's unlikely she had much exposure to fashion magazines while growing up in East Germany. Unlike Thatcher – who, as the daughter of a lowly grocer aspired to emulate aristocratic dress codes; a brooch always tacked to her shoulder, like the Queen – Merkel seems to feel no need to prove her status through what she wears. As her countryman Albert Einstein so sagely put it, "If most of us are ashamed of shabby clothes and shoddy furniture let us be more ashamed of shabby ideas and shoddy philosophies... It would be a sad situation if the wrapper were better than the meat wrapped inside it."
If you would like to comment on this story or anything else you have seen on BBC Culture, head over to our Facebook page or message us on Twitter.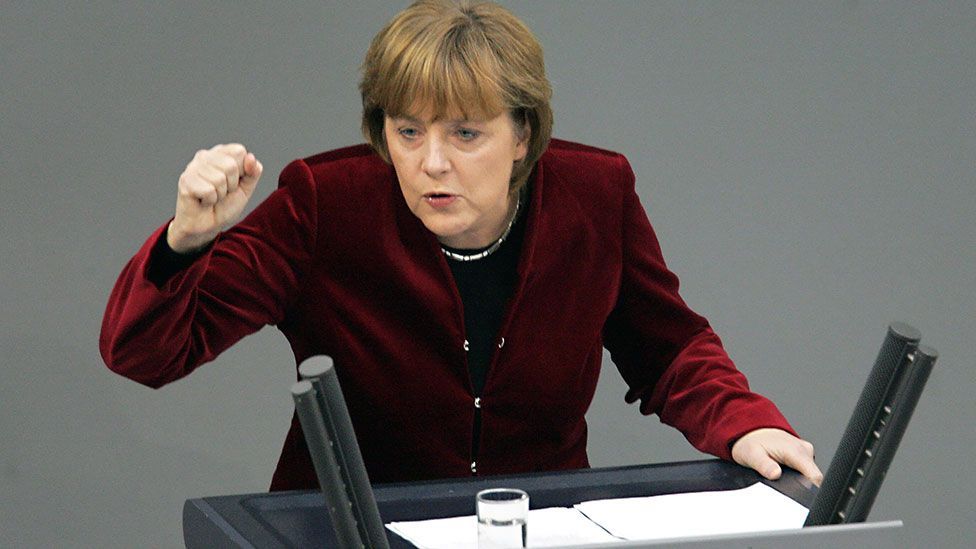 Merkel debates in the German Bundestag in 2005. The German chancellor's style has always been classic and unfussy.(Getty Images)
Merkel debates in the German Bundestag in 2005. The German chancellor's style has always been classic and unfussy.(Getty Images)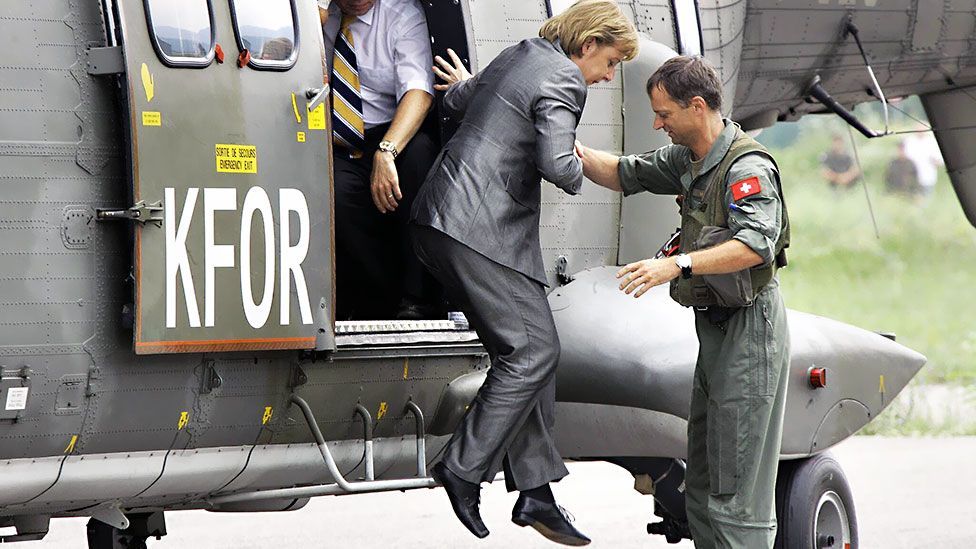 Merkel is helped as she jumps out of a helicopter in Kosovo. She has invited comparisons to Margaret Thatcher, but does not share the same distinctive style. (Getty Images)
Merkel is helped as she jumps out of a helicopter in Kosovo. She has invited comparisons to Margaret Thatcher, but does not share the same distinctive style. (Getty Images)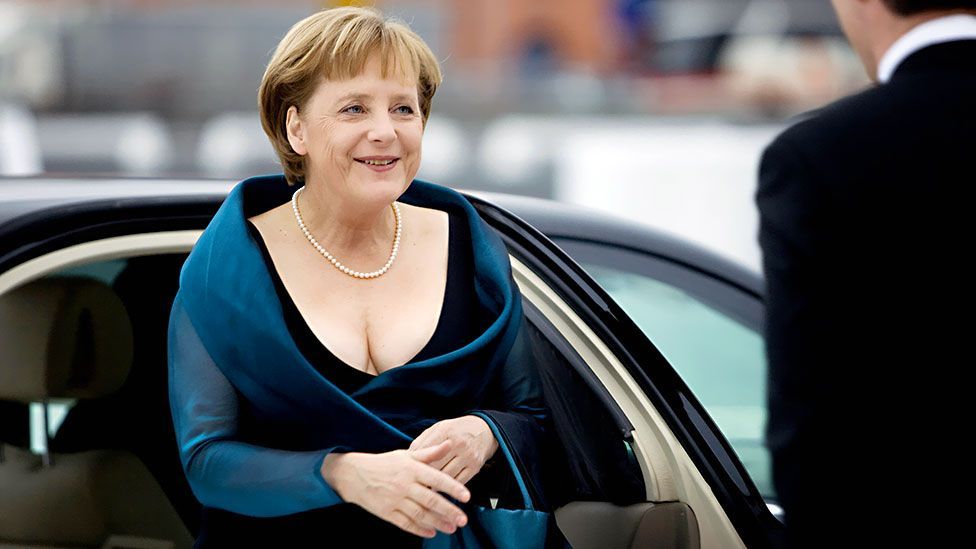 The daring neckline of a dress worn by the chancellor to the opera in Oslo in 2008 drew sniggers from the British press. (Getty Images)
The daring neckline of a dress worn by the chancellor to the opera in Oslo in 2008 drew sniggers from the British press. (Getty Images)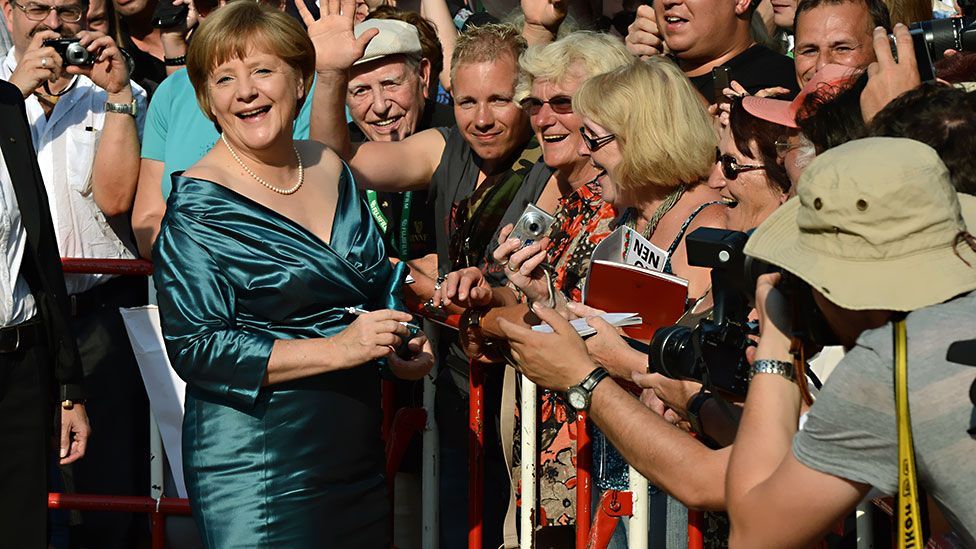 Critics have lined up to comment on Merkel's style and looks – including former Italian prime minister, Silvio Berlusconi. (Getty Images)
Critics have lined up to comment on Merkel's style and looks – including former Italian prime minister, Silvio Berlusconi. (Getty Images)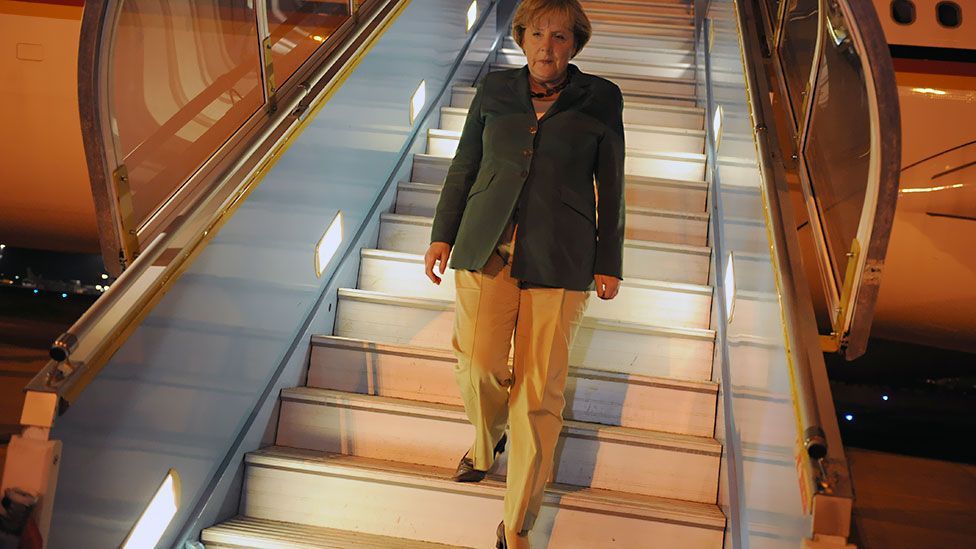 Merkel's fondness for simple trouser suits has led to sartorial comparisons with Hilary Clinton. (Getty Images)
Merkel's fondness for simple trouser suits has led to sartorial comparisons with Hilary Clinton. (Getty Images)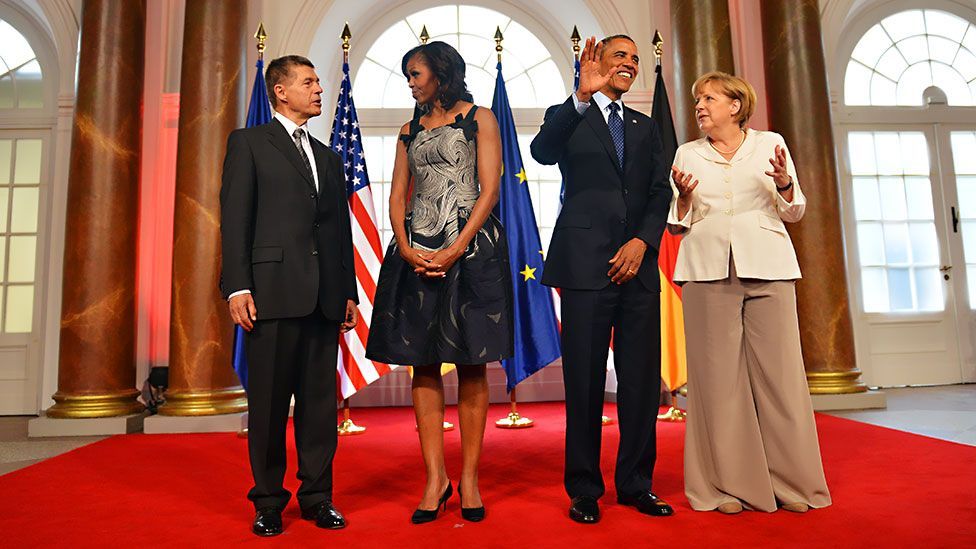 German-born fashion designer Karl Lagerfeld spoke critically about Merkel's too-long trousers on an engagement with the Obamas this year. (Getty Images)
German-born fashion designer Karl Lagerfeld spoke critically about Merkel's too-long trousers on an engagement with the Obamas this year. (Getty Images)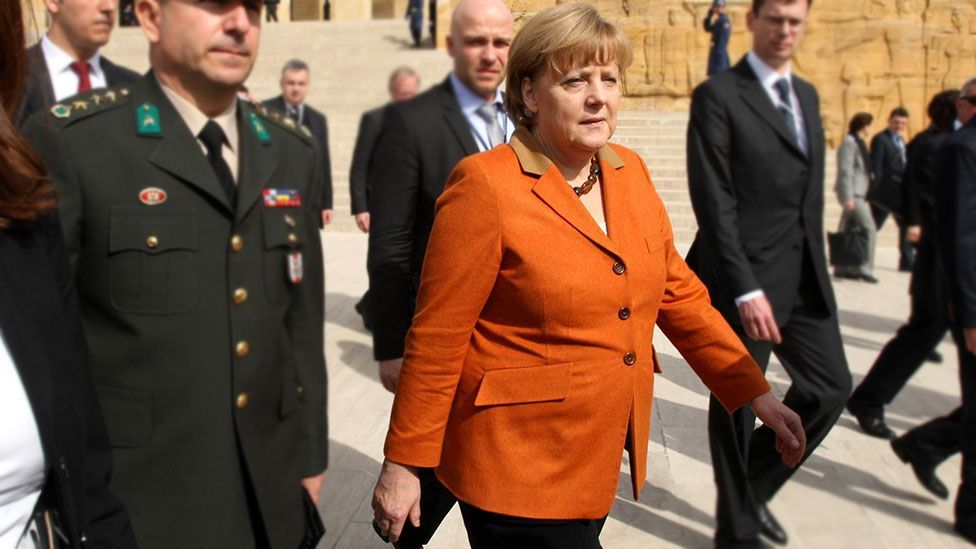 The chancellor has taken some criticism on board – recent years have seen her incorporate more brightly jewelled colours into her wardrobe. (Getty Images)
The chancellor has taken some criticism on board – recent years have seen her incorporate more brightly jewelled colours into her wardrobe. (Getty Images)
Her appearance has attracted the attention of fashion magazines such as Harper's Bazaar – who dedicated a column to advising the chancellor on a suggested makeover. (Getty Images)
Her appearance has attracted the attention of fashion magazines such as Harper's Bazaar – who dedicated a column to advising the chancellor on a suggested makeover. (Getty Images)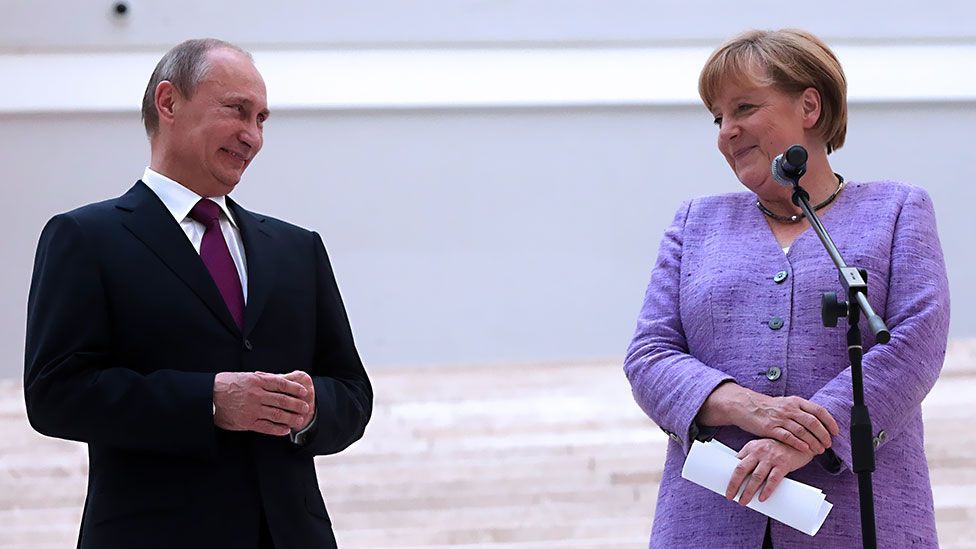 Merkel manages to shrug off negative comments – giving the German public the impression that she has more important matters on her mind. (Getty Images)
Merkel manages to shrug off negative comments – giving the German public the impression that she has more important matters on her mind. (Getty Images)