From Ziggy Stardust to the Thin White Duke, David Bowie has created icons of fashion and inspired designers from Armani to Jean Paul Gaultier. Katya Foreman sorts through the ever-changing wardrobe of a rock legend.
A
As most of his rock-god peers become paunchy pastiches of their former snake-hipped selves, the 'Thin White Duke' David Bowie is still, remarkably, genuinely hip. David Bowie is...,a retrospective of his style, career and mythology broke records at London's Victoria & Albert Museum (V&A) earlier this year −  selling 26,000 tickets before it opened, with 311,000 visitors seeing the exhibition over its five-month run.  And his latest studio album, The Next Day, is nominated for the Barclaycard Mercury Prize, alongside twentysomethings Arctic Monkeys, Foals and Laura Marling.
As his 1977 hit would have it, sound and vision are both of utmost importance to Bowie's enduring allure. Aural appeal is essential, but to truly tap into your inner pop icon you have to look the part. And for four decades, Bowie has managed to radiate tastemaker cool, whether sporting a bright orange mullet and glittery third eye, clad in skin-tight musketeer trousers dancing with puppets in Labyrinth or simply rocking a sharp Paul Smith suit. Bowie's sartorial legacy has inspired generations of designers, from tailoring don Giorgio Armani to Belgium's more avant garde Dries Van Noten. For his spring/summer collection this year Jean Paul Gaultier sent Bowie lookalikes down the runway, telling reporters he found the V&A show "absolutely incredible… You see how clever he is in all his projects, and how he connected to art."
Indeed, the London-born musician – who changed his surname from Jones (to avoid confusion with The Monkees' Davy Jones) to Bowie, after knife-wielding Texan folk hero Jim Bowie – experimented with a number of styles as a teenage wannabe: R&B, rock'n'roll, mod. But it was a far less pedestrian image that propelled his career skywards in July 1972, three years after first hit Space Oddity. During the height of glam rock, Bowie took to the stage of Top of The Pops on British TV as his sexually ambiguous new alter ego Ziggy Stardust, for a performance of Starman. He was dressed in a multi-coloured jumpsuit by Freddie Burretti, with an augmented codpiece and Russell & Bromley wrestling boots . A star – and a style icon – was born.
Alter egos
This audacious, deranged ensemble, with diverse inspirations ranging from Stanley Kubrick's A Clockwork Orange to Japanese theatrical costumes, created an indelible image of otherness with which Bowie is still synonymous: a decadent prophet for the end of the world. "This strange alien creature was beamed onto our television screens... with bright red hair and multi-coloured spacesuit; his unearthly appearance shocked the nation," said Jarvis Cocker, in the BBC documentary David Bowie and the Story of Ziggy Stardust. "He always seemed a step ahead of everyone else", Cocker added "where Ziggy walked, others followed." Fellow glam superstar Elton John, who had a hit with Crocodile Rock that same year, agrees: "David took it to another level; he just wiped the floor with everybody. It was game-changing."
Many attribute Bowie's thirst for exotic culture to the ennui he experienced growing up in grey, post-war Britain; a loner holed up in his bedroom using fantasies to escape the drudgery of everyday life. He was certainly a sponge for all things arty, studying with Lindsay Kemp, the British choreographer who specialized in mime (having himself been taught by Marcel Marceau). And no sooner had he crafted and established a character, than Bowie moved on to another Oscar-worthy act. A year after his Top Of The Pops turn, he killed off Ziggy Stardust, announcing his retirement to a sold-out venue in west London. In truth, Ziggy generated into Aladdin Sane, depicted on the 1973 album of the same name with a red and blue lightning bolt painted on his face by make-up artist Pierre La Roche (who'd also drawn Ziggy's third eye), inspired by High Voltage signs.
White lines
In 1976 came the dapper but austere Thin White Duke, an extension of Thomas Jerome Newton, the alien Bowie portrayed in Nicolas Roeg's sci-fi film, The Man Who Fell to Earth. A chilling character evoking a film noir baddie, in a sharp suit, fedora, white shirt and loosened tie, a cigarette ever hanging from his mouth, Bowie described him as "a very Aryan fascist type – a would-be romantic with no emotions at all." He was in character for a mug shot taken when he was busted for marijuana possession in 1976, staring coolly at the camera with his different-coloured eyes, although by then, his drug of choice was cocaine.
So burnt out by addiction was Bowie that he relocated himself to West Berlin, to escape his demons and recharge creatively. He released three acclaimed albums during his three-year stint there – Low, Heroes and Lodger – but didn't achieve mainstream success again until Let's Dance in 1983. The video for the title track saw him bleached blond in high-waisted cream trousers and shirt. This set a tailored template for his look ever since: suited and booted, with a cover girl on his arm. (Somali supermodel Iman became his second wife in 1992.)
Yet for someone whose profile often preceded his output, Bowie has been enigmatic of late, neither attending the V&A opening nor promoting The Next Day (announced out of the blue on his 66th birthday in January, a decade after his last album, Reality). The album cover reworked the Heroes sleeve, with Bowie's face now obscured by a white square. "Great pop or rock music... is 'of the moment', forgetting or obliterating the past", explains designer Jonathan Barnbrook.
Bowie hasn't played live since 2006 and no tour dates are planned, leading to rumours of ill health following heart surgery in 2004. Yet recent videos see him looking fit, and paps recently snapped the recluse in Venice, hiding in plain sight behind shades and hats. This is because, following in the footsteps of Keith Richards, Bowie will soon be seen in a Louis Vuitton campaign, having reportedly been lensed in the Italian city touting the luxury luggage. Tellingly, it's not simply new musical material that's putting Bowie back into the public eye, but his longstanding style-icon status, and a continuing association with fashion.
If you would like to comment on this story or anything else you have seen on BBC Culture, head over to our Facebook page or message us on Twitter.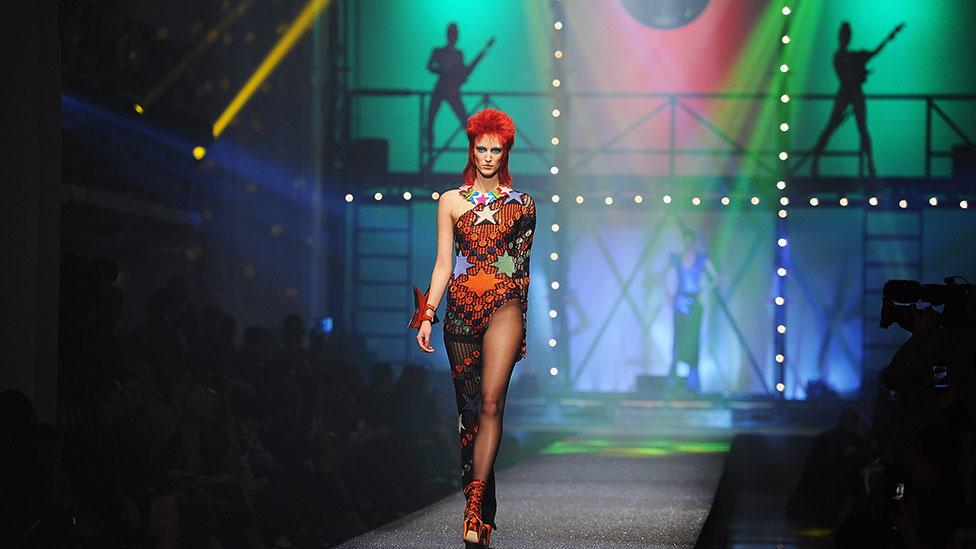 Jean-Paul Gaultier cited David Bowie as an inspiration for his Paris Spring/Summer 2013 show, sending Bowie lookalikes down the runway. (Getty Images)
Jean-Paul Gaultier cited David Bowie as an inspiration for his Paris Spring/Summer 2013 show, sending Bowie lookalikes down the runway. (Getty Images)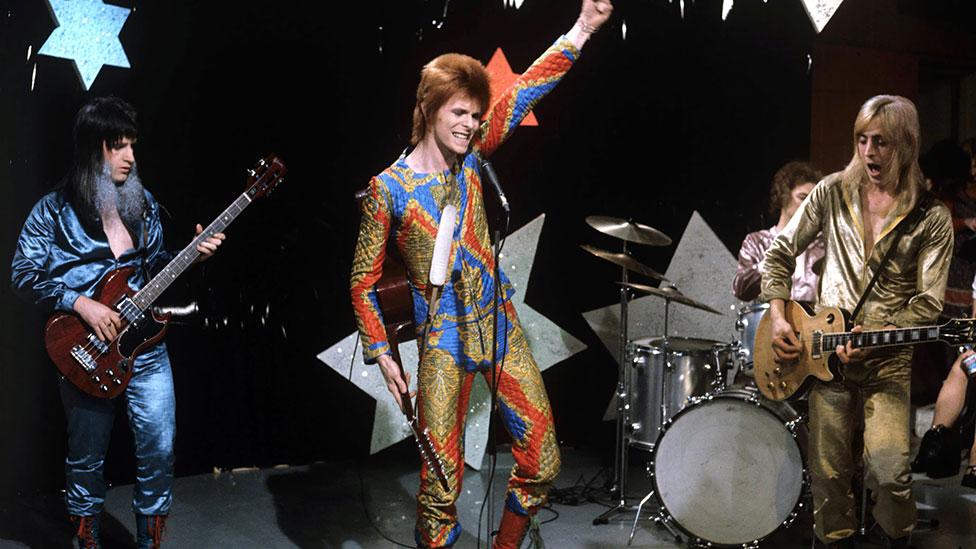 Bowie appears on television as alter ego Ziggy Stardust with Trevor Bolder and Mick Ronson, two of the Spiders from Mars in the early 1970s. (Rex/ITV)
Bowie appears on television as alter ego Ziggy Stardust with Trevor Bolder and Mick Ronson, two of the Spiders from Mars in the early 1970s. (Rex/ITV)
In 1973 Ziggy Stardust morphed into Aladdin Sane. A pun on 'a lad insane', the lightning bolt suggests a split personality. (Bowie Is/MCA Chicago/Chris Duffy)
In 1973 Ziggy Stardust morphed into Aladdin Sane. A pun on 'a lad insane', the lightning bolt suggests a split personality. (Bowie Is/MCA Chicago/Chris Duffy)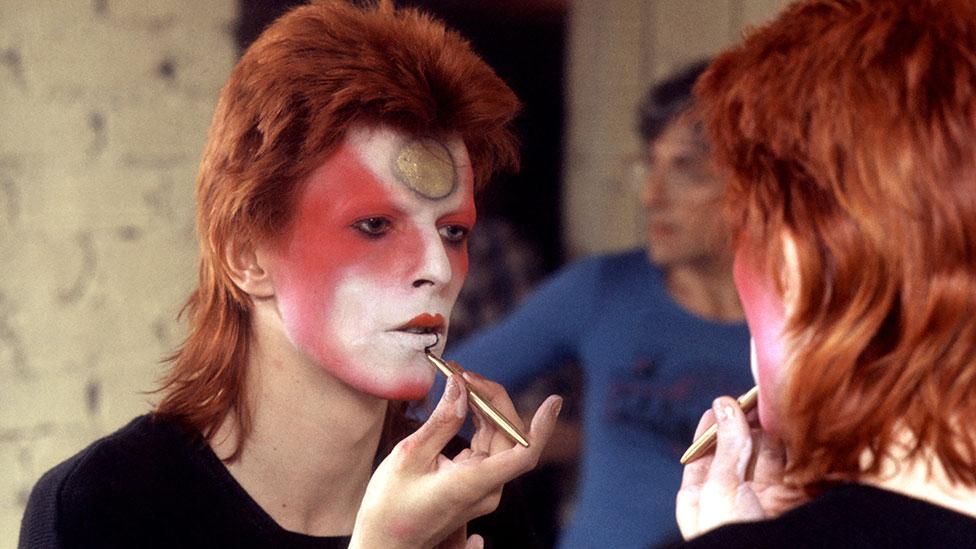 Make-up artist Pierre La Roche was responsible for Bowie's lightning bolt and astral sphere facial designs. (Rex Features)
Make-up artist Pierre La Roche was responsible for Bowie's lightning bolt and astral sphere facial designs. (Rex Features)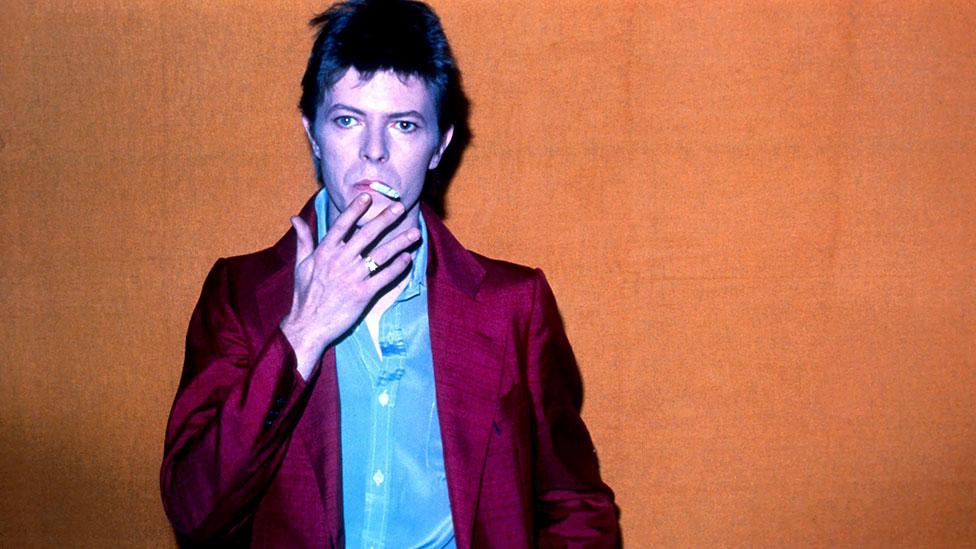 A 28-year-old Bowie is pictured at Hilversum TV studios in 1975, smoking meditatively and wearing a striking pink suit. (Rex Features)
A 28-year-old Bowie is pictured at Hilversum TV studios in 1975, smoking meditatively and wearing a striking pink suit. (Rex Features)
David Bowie is captured on the Station to Station tour in 1976, where he introduced his new Thin White Duke persona. (Rex Features)
David Bowie is captured on the Station to Station tour in 1976, where he introduced his new Thin White Duke persona. (Rex Features)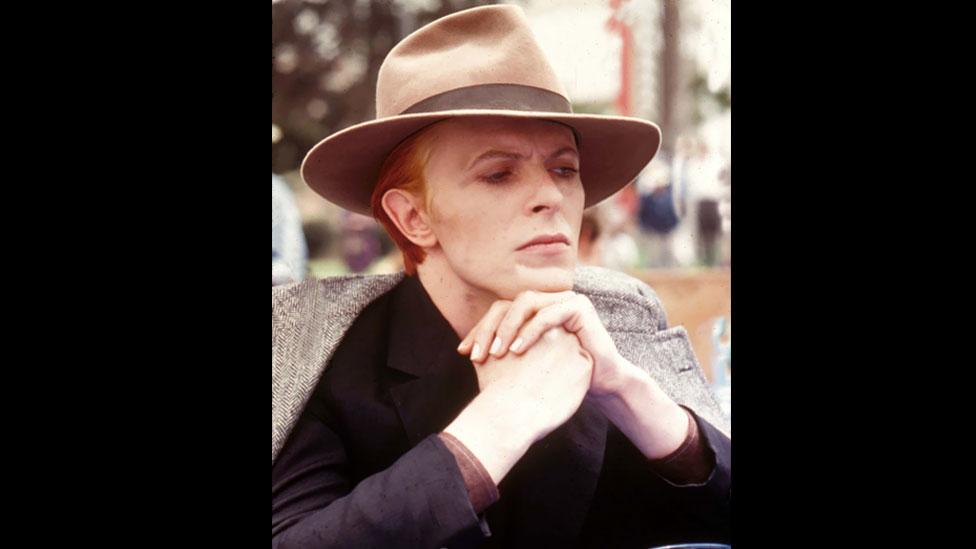 The sharp-suited Thin White Duke was an extension of the character Bowie played in Nicolas Roeg's 1976 sci-fi film, The Man Who Fell to Earth. (Rex Features)
The sharp-suited Thin White Duke was an extension of the character Bowie played in Nicolas Roeg's 1976 sci-fi film, The Man Who Fell to Earth. (Rex Features)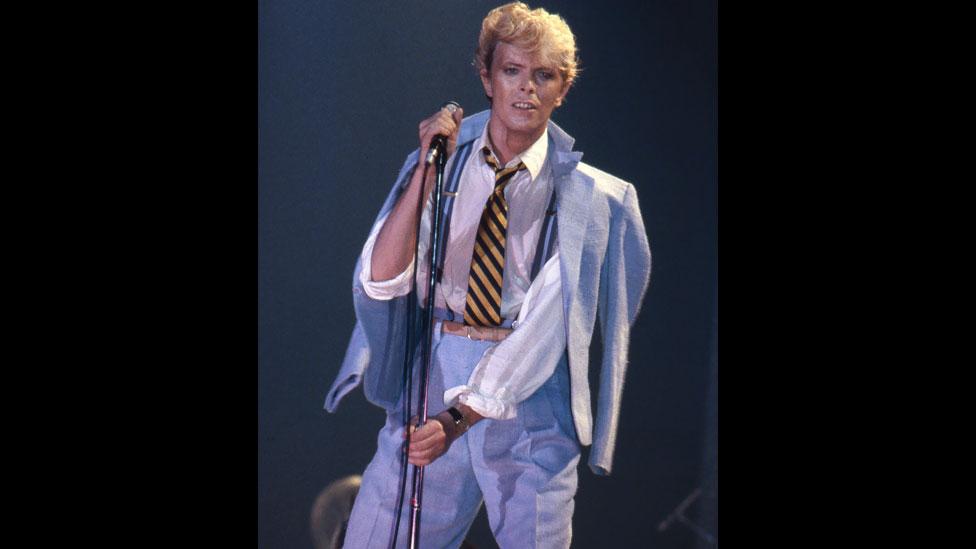 The singer appears suited and booted at the 1983 Serious Moonlight Tour warm-up gig in Brussels, Belgium, which followed his Let's Dance album from the same year. (Rex Features)
The singer appears suited and booted at the 1983 Serious Moonlight Tour warm-up gig in Brussels, Belgium, which followed his Let's Dance album from the same year. (Rex Features)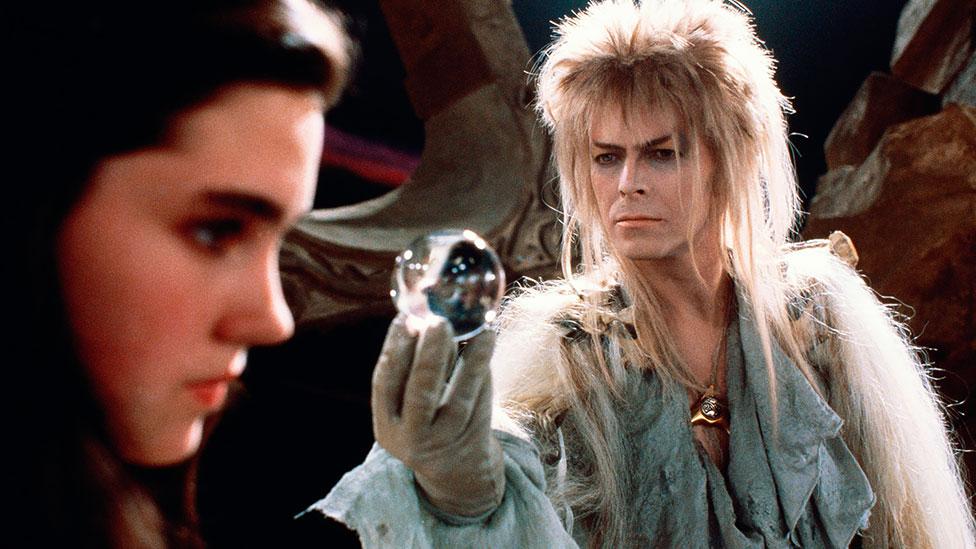 Starring with Jennifer Connelly (and Jim Henson puppets) in Labyrinth (1986), Bowie managed to pull off a feathered wig and some memorably tight grey leggings. (Rex Features)
Starring with Jennifer Connelly (and Jim Henson puppets) in Labyrinth (1986), Bowie managed to pull off a feathered wig and some memorably tight grey leggings. (Rex Features)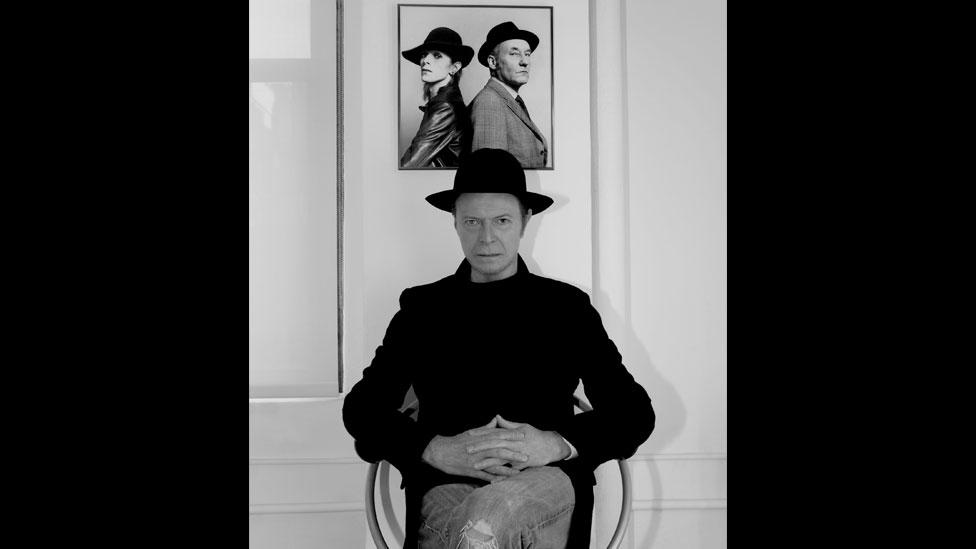 Following the release of The Next Day, his twenty-fourth studio album, Bowie was announced as the new face of luxury fashion brand, Louis Vuitton. (Sony Music)
Following the release of The Next Day, his twenty-fourth studio album, Bowie was announced as the new face of luxury fashion brand, Louis Vuitton. (Sony Music)