Robert Indiana's LOVE painting may be the 20th century's most recognisable work of art, but it earned the artist neither respect nor profit. At last, a new retrospective places him at the center of American pop art.
W
What is the single most famous artwork of the 20th century? Your first inclination, answering that faintly silly question, might be to think of the most famous artists of the 20th century and go from there. But while Pablo Picasso or Jackson Pollock or Andy Warhol may have instantly recognizable styles, no single painting of theirs has been as endlessly reproduced, as widely circulated, as frequently spoofed, and as rapaciously merchandised as a work of art by someone whose name you might not even know.
Robert Indiana, now 85 years old, may not command the same recognition as his pop art confreres, but LOVE – with its intense red-green-blue color scheme and suggestively tilted O – is still ubiquitous nearly half a century after its creation, pirated everywhere from postage stamps to doormats. Many people may not even be aware that it's a work of art at all, and that has been the curse of Indiana's career. His one massive success overshadowed the whole remainder of his oeuvre, and even LOVE barely gets the credit it deserves.
Robert Indiana: Beyond LOVE, a startling, electric retrospective that's just opened at the Whitney Museum of American Art, is the artist's first major exhibition in New York in over three decades. (It tours to the McNay Art Museum in San Antonio next year.) And it makes a forceful case for Indiana as a central figure of the postwar American avant-garde.
As the show's title implies, Indiana's best-known work is pushed to the margins here; instead it features nearly a hundred other works, ranging from totemic wood sculptures to hard-edged paintings that respond to the civil rights movement and racism in the American South. The Whitney show does include a small model of LOVE that was used for the nine large sculptures now scattered worldwide – the one on Sixth Avenue in New York is frequently commandeered as a backdrop for wedding photos. There's also an aluminum version and a cross-shaped LOVE painting. Anyone who comes expecting an outbreak of amorousness, though, will be sorely disappointed.
Bigger than Warhol?
For Indiana, the use of boldly stenciled letters and numbers, with hard edges and bright colors, was a particularly American aesthetic – the look of a country he called "optimistic, generous and naïve." They made him into a leading figure of Pop (though he disdained the term), and Indiana and Warhol posed together for Vogue. According to the art historian Thomas Crow, "If you asked someone in 1962 to name the big pop artists, Indiana's might very well have been the first name to come up and Warhol's might have been forgotten."
When, in 1965, the Museum of Modern Art asked Indiana to design its Christmas card, he turned to a theme that had long gripped him. In interviews, Indiana has traced his interest in the word "love" to the Christian Science church he attended as a child, which was adorned only with a banner reading "God Is Love." And his cunning incorporation of the tilted O – which makes the image elegant and broken all at once – complicates its spiritual and erotic suggestions. The image was strong enough to stand on its own, and Indiana made a series of LOVE sculptures, sometimes in the original red-green-blue scheme, sometimes all red, sometimes a rusty brown. No less than earlier Indiana pieces, it is a work with multiple, changing meanings: playful but also critical.
Tainted LOVE
That's not how it was received, though, not at a moment of countercultural ferment and free-love-celebrating hippiedom. LOVE became an instant emblem of the 60s – but it also wrecked Indiana's reputation as an incisive, engaged artist who used the language of American road signs and other forms of advertising in a questioning, even subversive manner.
Art critics flayed Indiana for pandering to popular tastes, and the subsequent – and unauthorised – reproduction of LOVE everywhere from T-shirts to beer mugs only made things worse, eclipsing everything that came before and after. In 1978, when Indiana was evicted from his New York studio, he decided that he'd had enough of the metropolitan art world and bunked off to a farm in rural Maine, where he still lives today. What's more, at a moment when even minor works by pop masters such as Warhol or Roy Lichtenstein fetch eye-watering sums on the auction block, Indiana has never achieved similar market success. He didn't even make much money on LOVE, which he failed to copyright.
In some ways, Indiana's woeful masterpiece prefigures the work of artists such as Jeff Koons or Damien Hirst – artists who think of themselves as image manufacturers, producing expensive multiples for art collectors and then globally distributed merchandise for the wider public. Unlike those market-driven figures, though, Indiana never aimed to see his art transformed into a commodity. Ubiquity was not the goal; it was an accident.
Beyond LOVE is a spectacular exhibition and an important opportunity to rediscover the whole career of a singular figure in American art. But this show cannot undo a larger phenomenon: the metamorphosis of a work of art into a logo so famous that viewers can barely reckon with it as art at all – let alone recognise its thoughtful creator. "It's a dream come true, a little late," Indiana said at the opening of his retrospective. Love hurts.
If you would like to comment on this story or anything else you have seen on BBC Culture, head over to our Facebook page or message us on Twitter.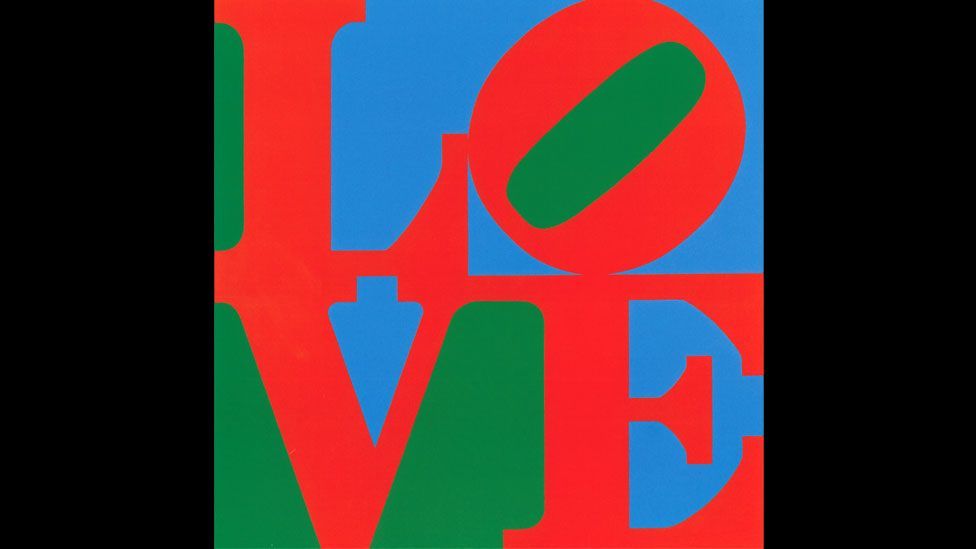 It is the pop artist's most famous painting but Robert Indiana's LOVE began as a 1965 Christmas card design for New York's Museum of Modern Art. (Morgan Art Foundation)
It is the pop artist's most famous painting but Robert Indiana's LOVE began as a 1965 Christmas card design for New York's Museum of Modern Art. (Morgan Art Foundation)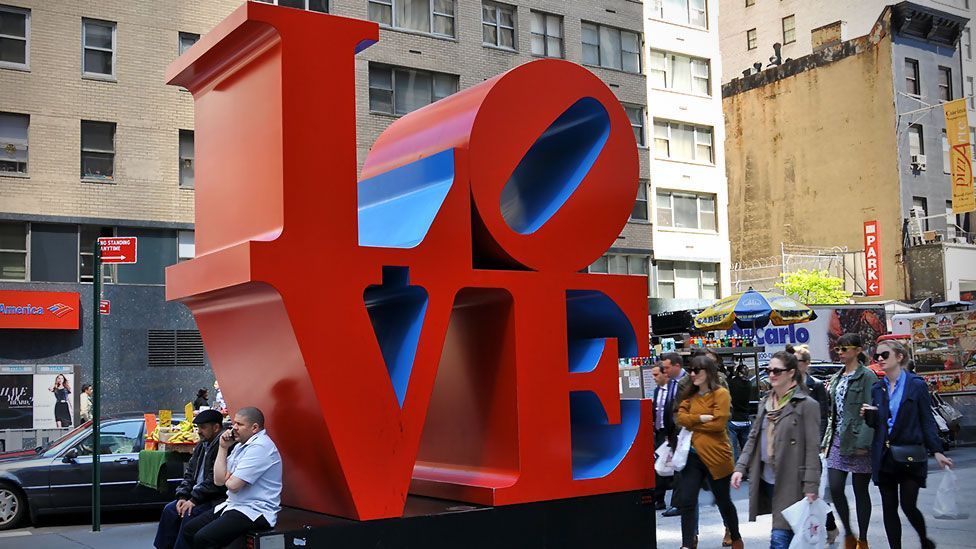 Indiana has turned his LOVE painting into several sculptures. It has also been used on postage stamps, T-shirts, and mugs - often without the artist's consent. (FaceMePLS)
Indiana has turned his LOVE painting into several sculptures. It has also been used on postage stamps, T-shirts, and mugs - often without the artist's consent. (FaceMePLS)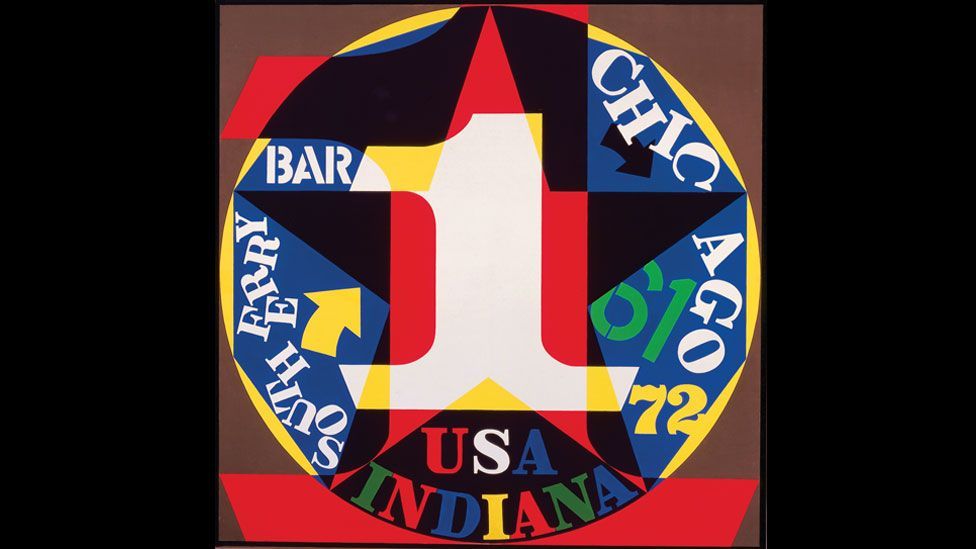 Indiana's work can hint at autobiography. Chicago pops up in Decade: Autoportrait 1961 because the artist studied at the Art Institute of Chicago. (Morgan Art Foundation)
Indiana's work can hint at autobiography. Chicago pops up in Decade: Autoportrait 1961 because the artist studied at the Art Institute of Chicago. (Morgan Art Foundation)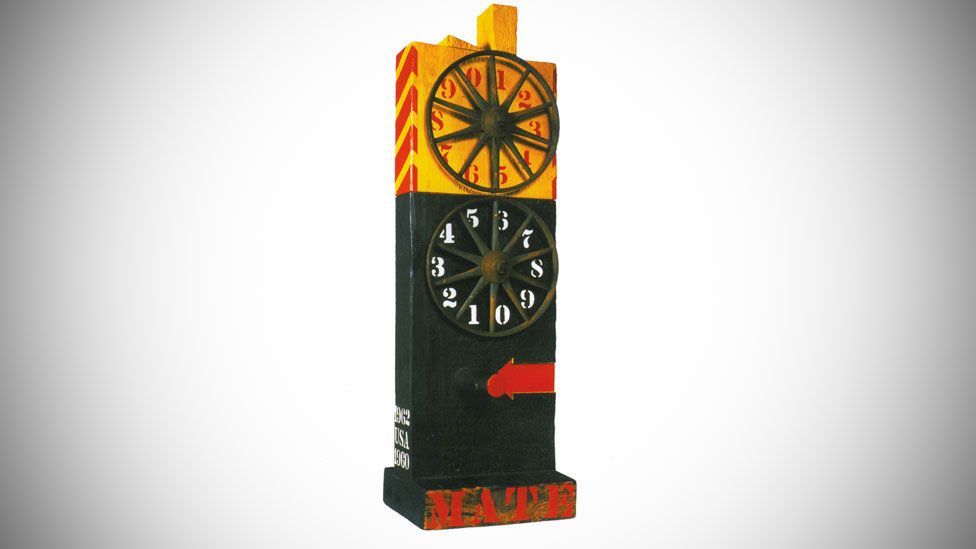 Liberating his vision from the canvas, Indiana painted on his own sculptures, like Mate, a 40in-high object into which he stuck steel and wood wheels. (Morgan Art Foundation)
Liberating his vision from the canvas, Indiana painted on his own sculptures, like Mate, a 40in-high object into which he stuck steel and wood wheels. (Morgan Art Foundation)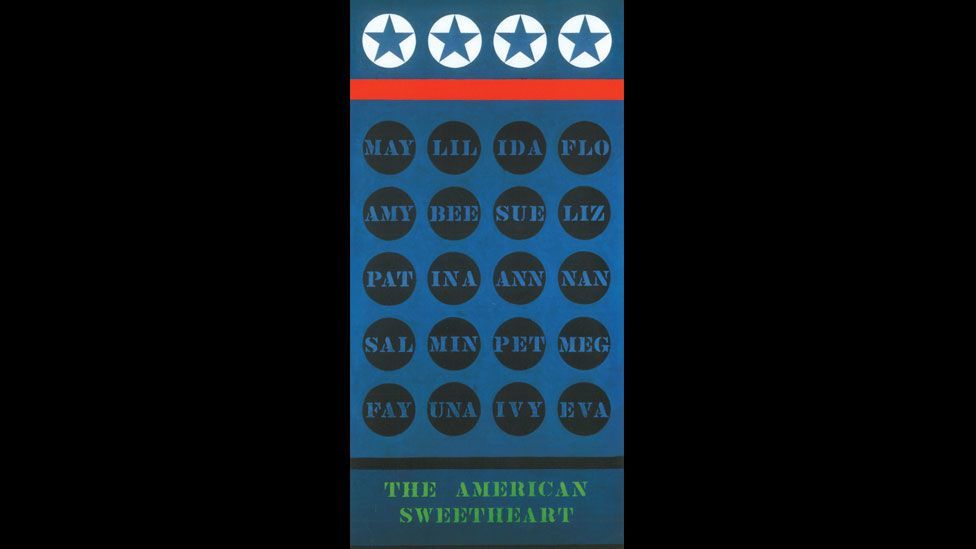 The American Sweetheart is indicative of a 'hard edge' style Indiana called representative of the US: "optimistic, generous and naive." (Morgan Art Foundation)
The American Sweetheart is indicative of a 'hard edge' style Indiana called representative of the US: "optimistic, generous and naive." (Morgan Art Foundation)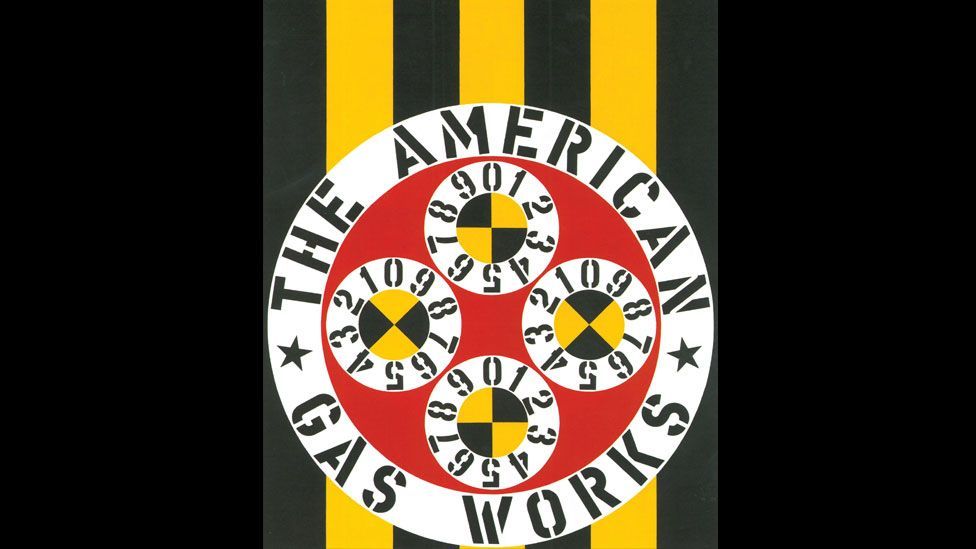 Like Andy Warhol, Indiana sees artistry in commodity. He drew inspiration from commercial iconograpohy, as in The American Gas Works. (Morgan Art Foundation)
Like Andy Warhol, Indiana sees artistry in commodity. He drew inspiration from commercial iconograpohy, as in The American Gas Works. (Morgan Art Foundation)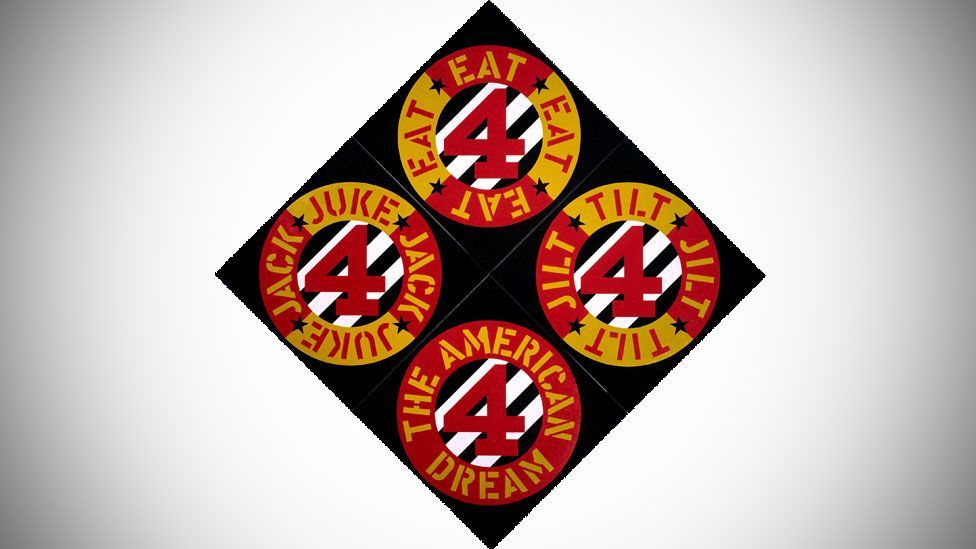 The Beware – Danger American Dream #4 features one of Indiana's recurring slogans: EAT. Along with LOVE and DIE, the motif recurs in the artist's work. (Morgan Art Foundation)
The Beware – Danger American Dream #4 features one of Indiana's recurring slogans: EAT. Along with LOVE and DIE, the motif recurs in the artist's work. (Morgan Art Foundation)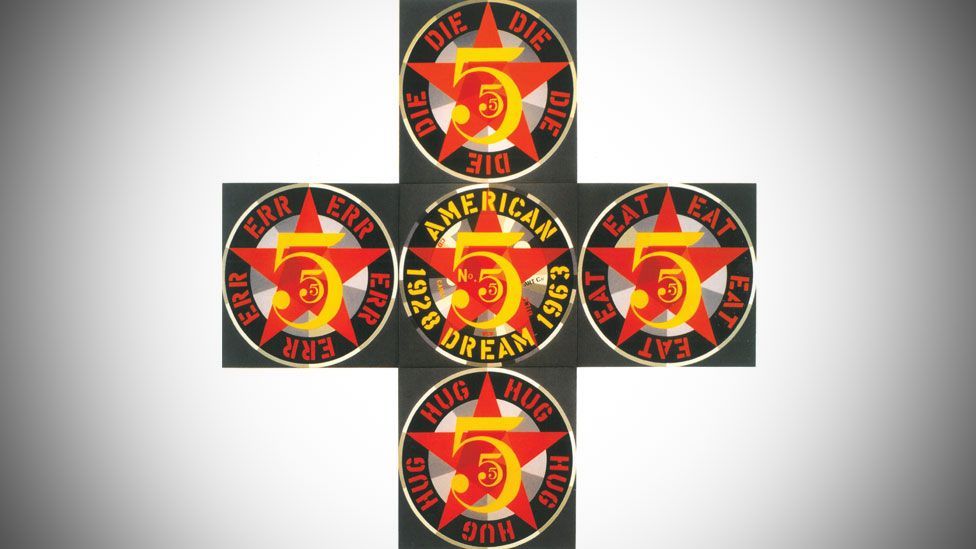 In The Demuth American Dream #5 Indiana includes his own birth year of 1928. (Morgan Art Foundation)
In The Demuth American Dream #5 Indiana includes his own birth year of 1928. (Morgan Art Foundation)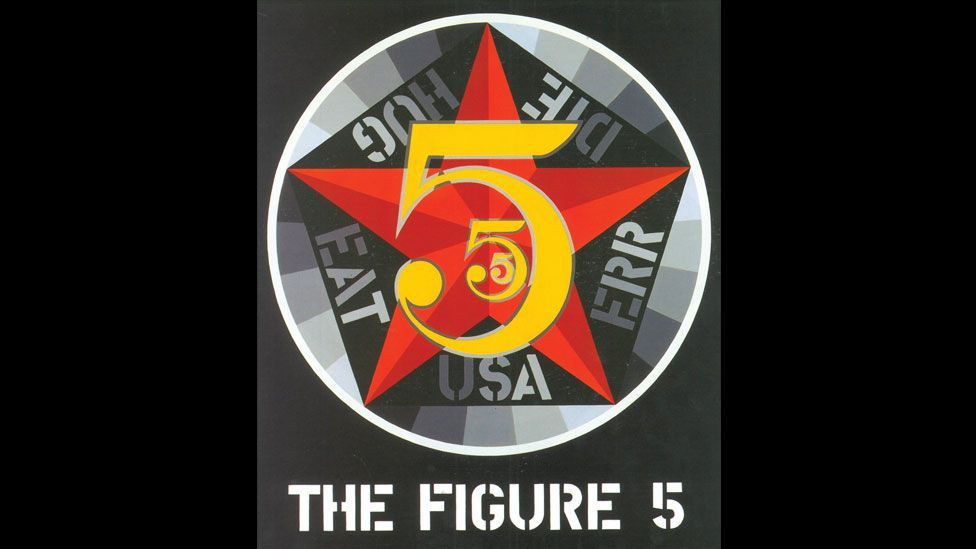 The Figure Five includes a pentagon behind a five-pointed star, perhaps a subtle nod to Indiana's own service in the US Air Force. (Morgan Art Foundation)
The Figure Five includes a pentagon behind a five-pointed star, perhaps a subtle nod to Indiana's own service in the US Air Force. (Morgan Art Foundation)