Following Anna Nicole, Breaking Bad is set to become an opera in 2014. Are pop culture adaptations the future of opera? Clemency Burton-Hill investigates.
I
I never thought I'd see the day when Perez Hilton, the Hollywood celebrity blogger and self-confessed "sassiest" gossip-monger of them all, would be reporting on…opera news. But last week Sung Jin Hong, artistic director of the small New York-based company One World Symphony, revealed he was planning to compose Breaking Bad−Ozymandias, an opera version of Vince Gilligan's hit AMC TV show. The news sent ripples far beyond the rarefied confines of the classical music universe.
No doubt there are some in the purist classical world who will view the announcement as a cynical attempt to lure audiences who wouldn't usually be seen dead at an opera house. It is more than just capitalising on a recent television success story, it is part of a trend in opera to tap into larger popular culture touchstones.
One World Symphony has a track record in presenting music from Coldplay, the Beatles and U2 alongside the canonical classics of Holst and Strauss in concert programmes. Hong's successful 2009 production of Paulo Coelho's bestseller The Alchemist was hailed by The New York Times as "Mahlerian". More recently he has been conducting such 20th Century operatic classics as Britten's Peter Grimes and Richard Strauss' Elektra and Salomé. Hong, if refreshingly unpretentious, is no musical lightweight. So why does he want to give Breaking Bad the operatic treatment?
Meth and metronomes
"Like many traditional operas," Hong said from New York, "Breaking Bad explores crises of deep human emotion during tremendous pressures or repression, whether they are social, economical, political or spiritual. The audience is intensely involved in the narrative and heavily invested in the transforming characters and complex plot." That transformation is key: he likens Walter White's genesis into Heisenberg to similar transitions in the aforementioned operas. "The main characters in Grimes, Elektra and Salomé slowly transform from protagonist to antagonist…In all these noir narratives, the seeds are carefully planted in advance, and when they are strategically harvested, the fruits go far beyond our expectation."
That "strategic harvest" of narrative and character potentially makes Breaking Bad the perfect operatic subject. "The beautiful thing about opera is it allows you to stop time, to examine moments and the import of one moment against another in a non-chronological way," said opera director and tenor Andrew Staples, who has recently sung at the Royal Opera House, Covent Garden, and whose own productions challenge received notions of how to present canonical opera. "Breaking Bad achieves that too: sometimes a whole episode is about one idea, or the plot is so twisted you spend time unpacking what it actually means for each character. This ability to examine the same situation from multiple character angles is a very operatic, a very Mozartian device."
Opera of the masses
Hong's Breaking Bad−Ozymandias can be viewed in the context of a trend in opera to lean on the potential appeal of contemporary subjects. This tactic, claims its defenders, reflects not only a drive to attract younger audiences but acknowledges opera's age-old tradition of telling stories about larger-than-life characters dealing with the extreme fates that have been dealt to them, à la Walter White. Ten years ago there was Jerry Springer: The Opera, and then in 2011 the Royal Opera House in London blew a large portion of its seasonal budget with Anna Nicole, based on the 'tragic' life of Playboy playmate and reality TV star, Anna Nicole Smith.
At the time of the ROH production, I interviewed the composer Mark-Anthony Turnage and librettist Richard Thomas (who also wrote Jerry Springer). "I'm particularly interested in things that are current," Turnage said. "I'm not interested in things that are set 100 years ago. Her story had something very powerful about it, and it undoubtedly drew me in." Thomas described her life as "very absurdly beautiful, and eccentric, and those are all qualities of the medium of opera."
Anna Nicole opened in New York recently, and, as in London, audiences flocked to see it; many performances were sold out. Most critics backed Turnage and Thomas's conviction that Smith was a more than valid subject for a major new opera. "Smith could be as epic a tragic figure as Carmen in the opera of the same name, or Violetta in La Traviata, both fallen women who die, like Smith, on stage," pointed out Time magazine's Allison Yarrow, who also referenced the historic "fallen-bombshell" trope in art (and its contemporary manifestations Miley Cyrus and Lindsay Lohan) in the same breath.
San Francisco Opera recently premiered composer Tobias Picker's opera version of Stephen King's novel Dolores Claiborne, previously adapted into a successful movie. "Many of his 56 novels have spent time on bestseller lists, making King a king of pop culture accessibility," quipps Mark Swed, Los Angeles Times music critic, who adds, wryly, "just what the opera world lusts after these days". Still, there seems to be a sense that justification of such topics is needed. Pre-empting any raised eyebrows, Picker unambiguously invoked Puccini's great verismo heroine when he claimed the put-upon, ultimately homicidal Dolores was "an American Tosca". The New York Times also picked up on the fact that a party scene promised "to be like the wedding in [Donizetti's 1839 opera] Lucia di Lammermoor".
The critical response to the work itself is telling. Those reviewing Claiborne in the more traditional broadsheet newspapers were generally lukewarm (or worse); the Financial Times, for example, went so far as to bemoan "the holes in the narrative" and declared "the opera implodes in upon itself." And yet, the Huffington Post was fulsome in its praise, calling it a "brilliant musical incarnation of the novel…and a momentous addition to the expanding canon of American opera". Indeed, Huffington Post's Sean Martinfield found Picker's Claiborne  to be "solid evidence" of his prediction that "the future of opera is looking very secure…"
Those of us who love opera and want it to flourish among new audiences have to hope that's true. But recent events in New York seem to be telling a horror story. Some commentators have blamed the wildly expensive Anna Nicole for the demise of the New York City Opera− dubbed "the People's Opera" by its founder, 1930s mayor Fiorello La Guardia – which recently filed for bankruptcy.
Scapegoating a single production for a company's ruin is ludicrous, of course.  But still, a niggling question remains: if the New York City Opera had played it safe and turned out nothing but risk-averse revivals of the operatic canon – the Mozarts, the Puccinis, the Verdis – could they have survived? What would it have meant if they had? Does the opera world really need more productions of the same old, same old?
Ultimately, the only thing that will secure opera's future is its continuing ability to tell good stories well – with imagination, passion and integrity. And with its fellow Manhattan company so recently ruined, eyes and ears will be on alert when Breaking Bad−Ozymandias opens at One World Symphony in January 2014.
When I asked Hong whom he'd most like to see in the audience he replied, without missing a beat, "Bryan Cranston and Vince Gilligan". Then he added, "And any audience who loves powerful music that inspires and ignites change. If you are hesitant or tired of stuffy, pretentious classical and opera concerts, come and see us."
If you would like to comment on this story or anything else you have seen on BBC Culture, head over to our Facebook page or message us on Twitter.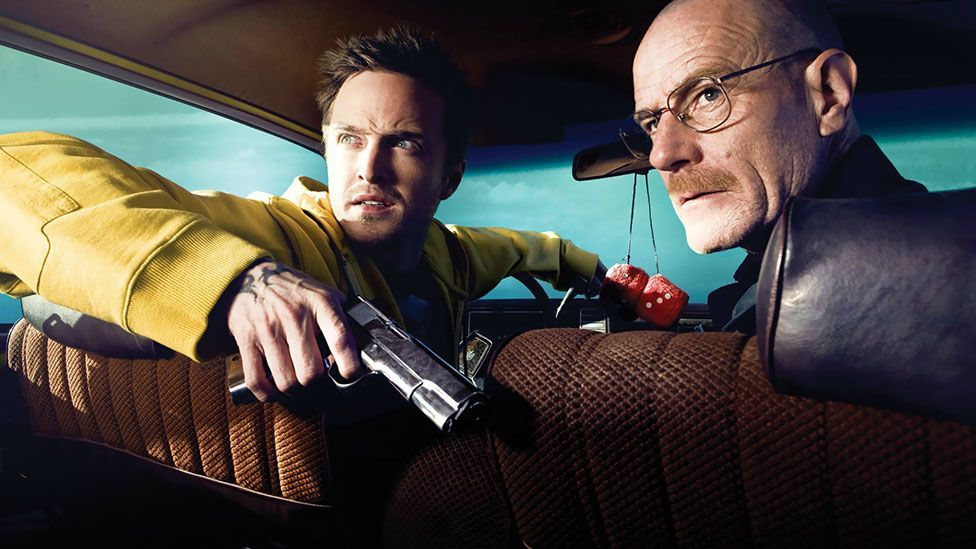 Breaking Bad−Ozymandias by Sung Jin Hong will turn the hit TV series into an opera. It is part of a trend in opera for librettos based on pop culture touchstones. (AMC)
Breaking Bad−Ozymandias by Sung Jin Hong will turn the hit TV series into an opera. It is part of a trend in opera for librettos based on pop culture touchstones. (AMC)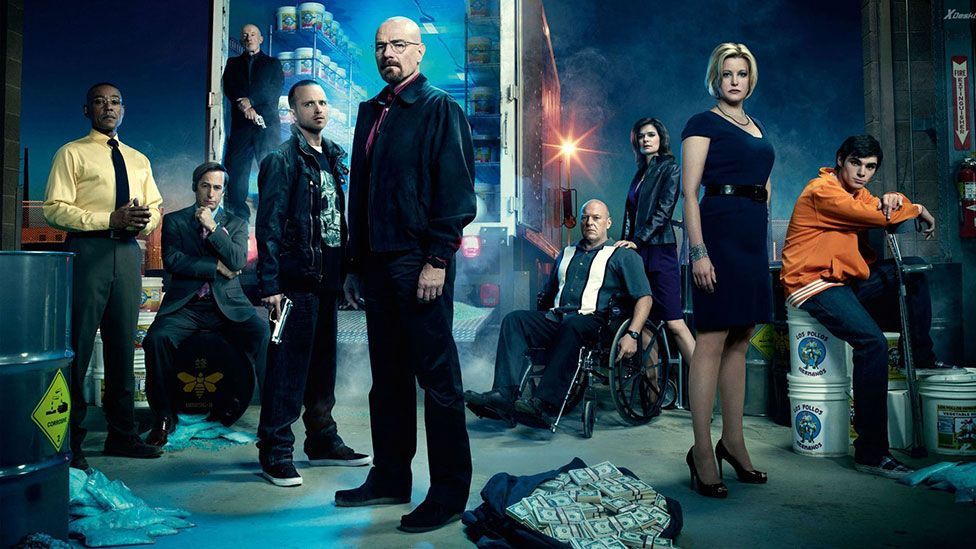 As the title would suggest, Percy Bysshe Shelley's poem Ozymandias will also be an influence. (AMC)
As the title would suggest, Percy Bysshe Shelley's poem Ozymandias will also be an influence. (AMC)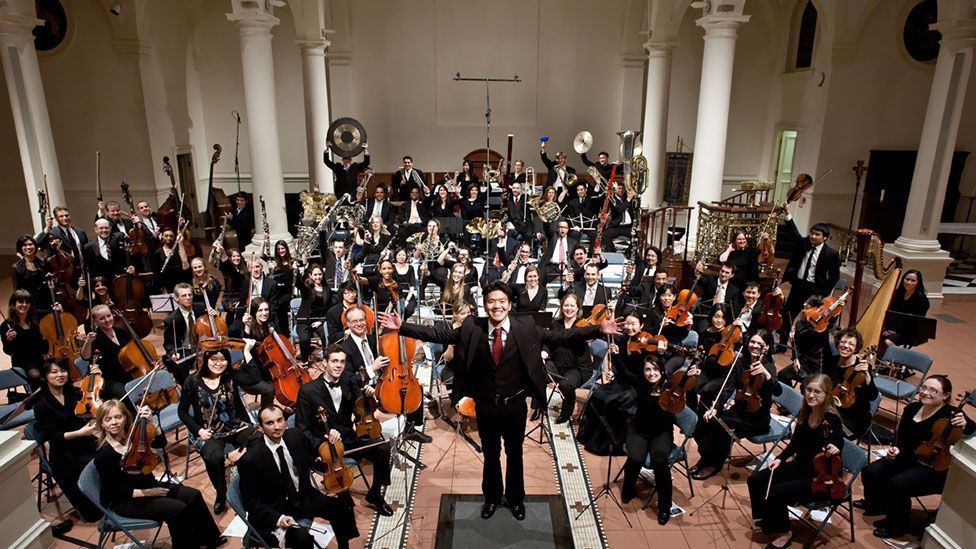 The One World Symphony regularly mixes pop with classical music in their concert programmes. Björk and One Republic can be heard alongside Bach and Schumann. (Jaka Vinsek)
The One World Symphony regularly mixes pop with classical music in their concert programmes. Björk and One Republic can be heard alongside Bach and Schumann. (Jaka Vinsek)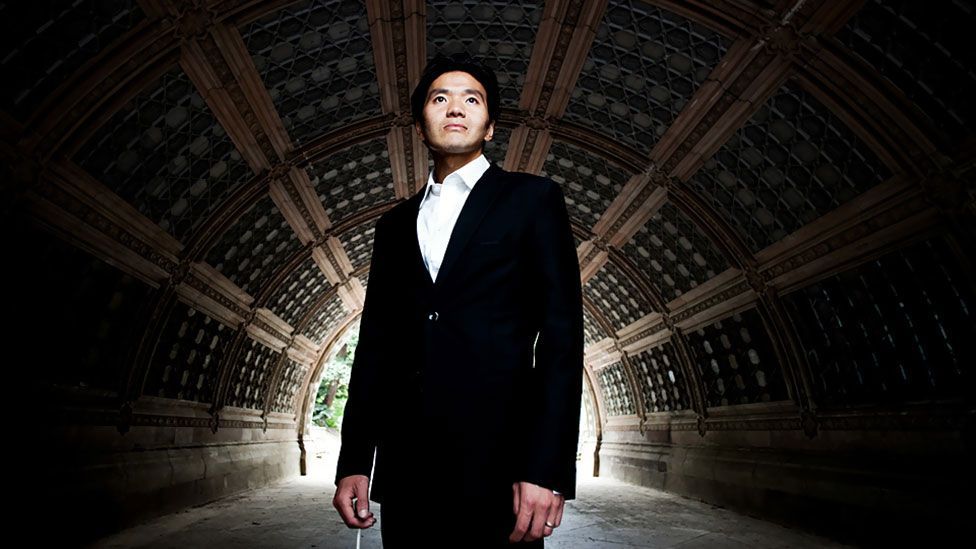 The opera's creator, Sung Jin Hong hopes the show's star and creator, Bryan Cranston and Vince Gilligan, will attend the premiere. (Jaka Vinsek)
The opera's creator, Sung Jin Hong hopes the show's star and creator, Bryan Cranston and Vince Gilligan, will attend the premiere. (Jaka Vinsek)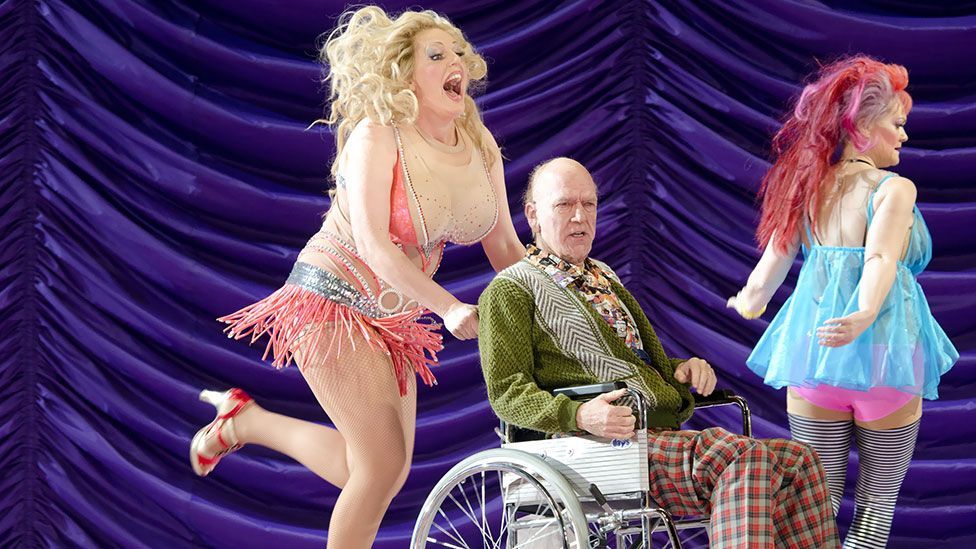 Mark-Anthony Turnage created an opera based on the life of Playboy playmate-turned-reality TV star, Anna Nicole Smith, originally starring soprano Eva-Maria Westbroek. (Rex)
Mark-Anthony Turnage created an opera based on the life of Playboy playmate-turned-reality TV star, Anna Nicole Smith, originally starring soprano Eva-Maria Westbroek. (Rex)
When the talk show host saw the unauthorised opera he said, "I wish I'd thought of it myself." Song titles include Poledancer, Jerrycam and Bigger than Oprah Winfrey. (Rex)
When the talk show host saw the unauthorised opera he said, "I wish I'd thought of it myself." Song titles include Poledancer, Jerrycam and Bigger than Oprah Winfrey. (Rex)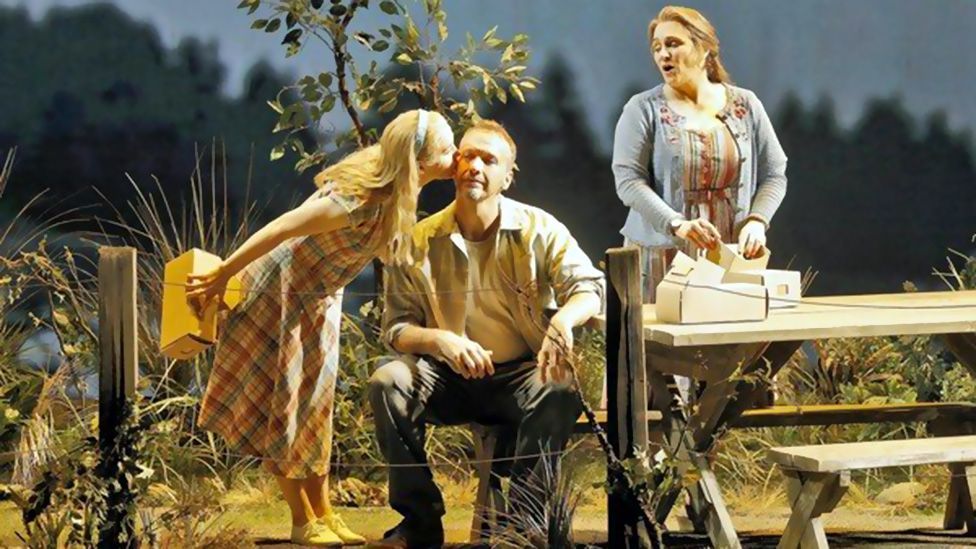 The San Francisco Opera and composer Tobias Picker gave the Stephen King novel Dolores Claiborne an operatic overhaul. (Cory Weaver, San Francisco Opera)
The San Francisco Opera and composer Tobias Picker gave the Stephen King novel Dolores Claiborne an operatic overhaul. (Cory Weaver, San Francisco Opera)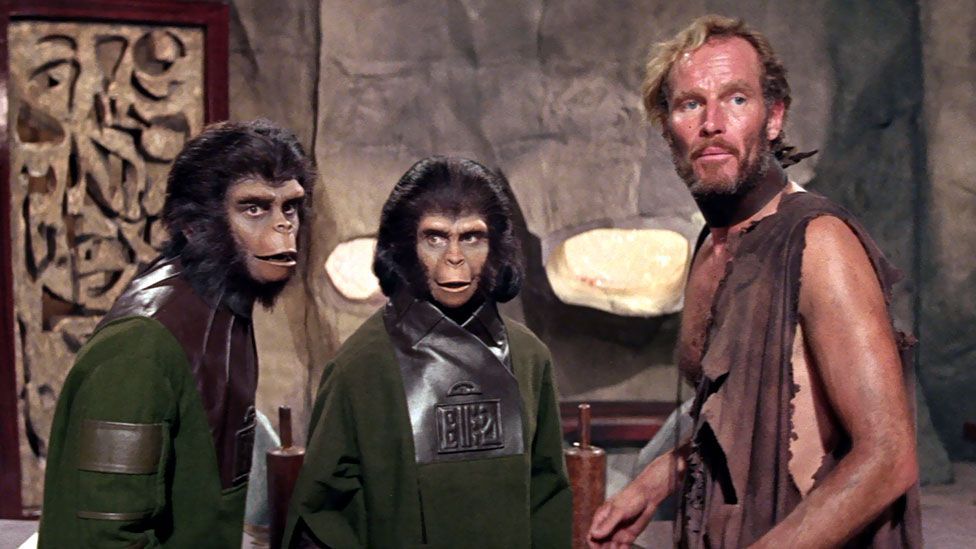 In 2005, the Bavarian State Opera produced a version of Verdi's Rigoletto inspired by Planet of the Apes. (Twentieth Century Fox)
In 2005, the Bavarian State Opera produced a version of Verdi's Rigoletto inspired by Planet of the Apes. (Twentieth Century Fox)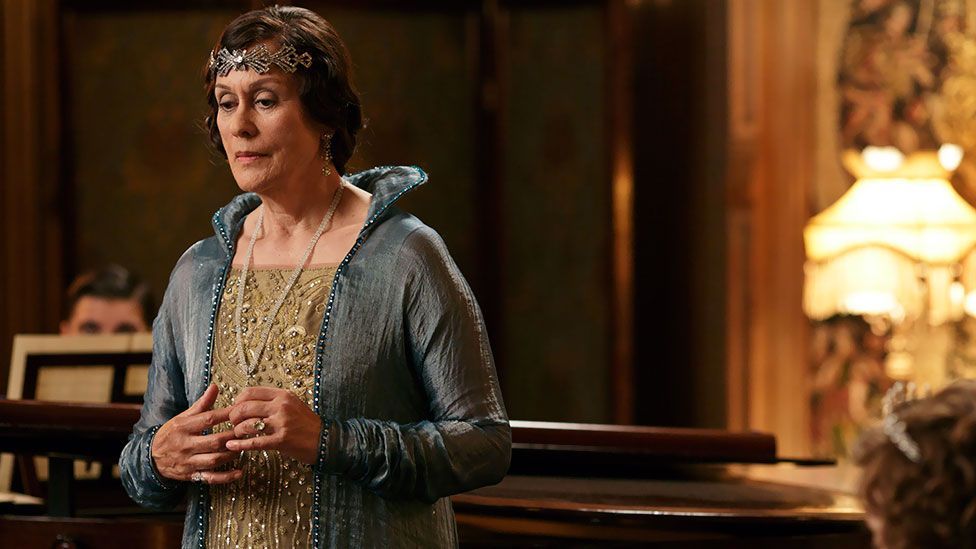 Pop culture has not just influenced opera. With Dame Kiri Te Kanawa appearing in Series 4 of Downton Abbey – will the influence work the other way? (ITV)
Pop culture has not just influenced opera. With Dame Kiri Te Kanawa appearing in Series 4 of Downton Abbey – will the influence work the other way? (ITV)