Silvio Berlusconi's look attracted a lot of press attention while he was in power. But what does the former Italian Prime Minister's style reveal about him?
A
As former Italian Prime Minister Silvio Berlusconi prepares to spend 12 months under house arrest for tax fraud, there's ample time to reflect upon his most entertaining faux pas, diplomatic or otherwise. And his bandana is surely among the highlights.
It appeared back in 2004, when the perma-tanned politician hosted the then British Prime Minister, Tony Blair and his wife Cherie for a long weekend at his vast holiday home, Villa Certosa, on Sardinia. Blair's Cheshire Cat grimace said it all as Berlusconi grinned for the cameras, clad in a pirate-style headscarf, and a matching white shirt unbuttoned to his navel, in the classic 'aging playboy' style. All that was missing was a medallion. In an interview on Italian talk show Che Tempo Che Fa (What the Weather Will be Like), the ever-indiscreet Cherie revealed the couple's discomfort: "Tony said to me, 'Whatever you do, make sure I don't get photographed standing next to him, you must stand between us...'"
For a man whose liberal use of spray-on hair filler (not to mention guyliner, platform shoes and botox) has been scrutinised as much as his politics and extracurricular misdoings – and who once proudly declared that plastic surgery "shows respect to those who expect you to represent them on an international and national stage" – it was the equivalent of stepping out with his surgical scrub cap on, post hair transplant. He was sending out the message that he's proud of the cosmetic procedures that help maintain his dolce vita.
Fashion forward?
Out rang the headlines. Berlusconi Bandana Hides Mystery, reported BBC News, claiming "Gossip about his new look overshadowed the two leaders' discussions on the situation in Iraq". Taking to his defence (albeit with tongues firmly in cheeks), UK Newspaper The Independent's Arifa Akbar and Peter Popham declared he was being fashion forward. "Berlusconi has tapped into a trend sweeping Europe," said their feature on the resurgence of the all-purpose accessory. "In the Italian resort of Porto Rotondo, not far from Mr Berlusconi's Villa Certosa, the quayside was bustling with men in bandanas the morning after Mr Berlusconi's coup de théâtre."
But while fashion fads come and go, the image of Berlusconi in a bandana remains indelible. Microsoft founder-turned-philanthropist Bill Gates was to allude to it six years later, after placing Berlusconi – one of Italy's richest men, with an estimated fortune of $9bn− on his 'shame list' in an annual report published by the Bill & Melinda Gates Foundation. "Rich people spend a lot more money on their own problems, like baldness, than they do to fight malaria," he told German newspaper, Süddeutsche Zeitung.
Yet for all the flamboyant behaviour, sex scandals, allegations of corruption and political setbacks, Berlusconi's sartorial missteps during his (non-consecutive) four-term reign as Italian Prime Minister remain remarkably sparse. The bandana incident was a rare sighting of Berlusconi off the job because, contrary to his reputation, he was never actually caught with his pants down. Of his many nicknames such as Il Cavaliere (The Knight) and The Great Seducer, it's the 'super salesman' tag that best describes his style, as an impeccably polished dresser favouring well-cut, classic power suits with pale blue or white shirts, topped off with ties of generous girth. His look is more boardroom than bunga bunga, a sober style that says he means business, even if his juvenile, party-guy actions often undermine the intent – such as the time he leapt out from behind a monument shouting "Cuckoo!" at German Chancellor Angela Merkel during an economic crisis summit in Trieste.
Entertainment was Berlusconi's business for far longer than politics, as a cruise-ship crooner-turned-media mogul, and he has always dressed accordingly, with classic Italian panache. "Those who remember Berlusconi from his early days in Milan recall that he was always a snazzy dresser, sometimes wearing his old cruise ship navy blue blazer with brass buttons," reported the BBC's David Willey in 2011. "He is a stickler for dressing correctly, and almost always shows up in Parliament in navy blue suit, white shirt and plain dark tie [...] but what mattered more to the public was not only that he had a beautiful wife (and, notoriously, other beautiful women as well), but that he owned a soccer team."
Power dressing
With bespoke Brioni suits (as worn by Obama and James Bond) crafted in tones to suit his deep, if not entirely natural Mediterranean tan, Berlusconi wears his self-made wealth on his sleeve – and wrist, once sporting the most expensive watch ever worn by a foreign head of state (even outdoing Russia's Vladimir Putin), a Vacheron Constantin Patrimony Minute Repeater Perpetual Calendar, valued at $540,000. And, however he's perceived oversees, the man who dominated Italian politics for two decades has a style and irreverent, macho attitude that still resonates with his countrymen. As Willey notes, "many Italians still defend and love him with quasi-religious fervour... He is still the great communicator – a raunchy Ronald Reagan – whose aura is, to many, intact."
Even now, following his humiliating defeat in the Italian Senate earlier this month, and while being battered with sundry legal suits, his go-to power suit remains in place, a patriotic flag badge pinned to the lapel. Will that change, if his legal team succeeds in changing his house arrest to community service? Unlikely. He'd probably take a tip from Naomi Campbell and don designer duds to sweep the streets clean. Because, for the 76-years-young Berlusconi, one of Italy's greatest showmen, it's all about keeping up appearances.
If you would like to comment on this story or anything else you have seen on BBC Culture, head over to our Facebook page or message us on Twitter.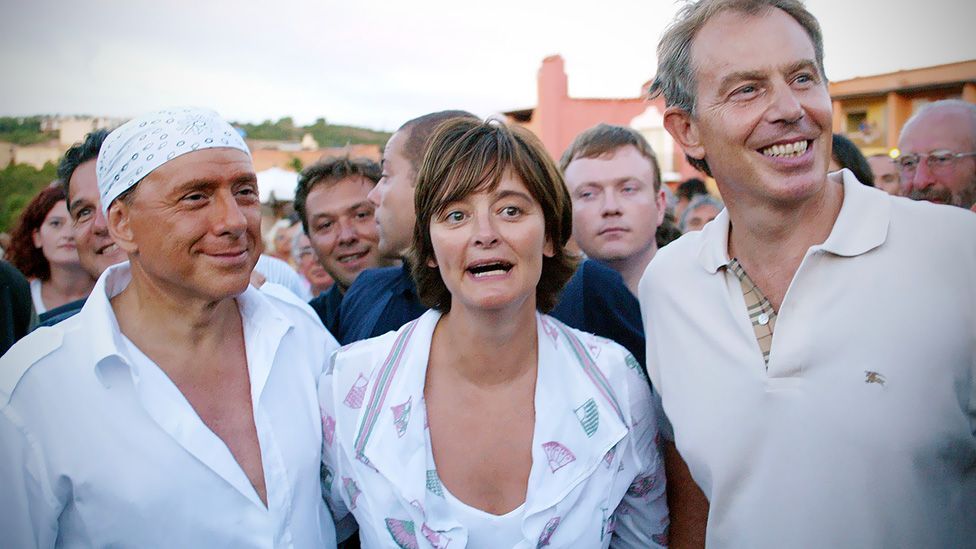 In 2004, while entertaining Tony and Cherie Blair in Sardinia, Berlusconi was pictured wearing a bandana, which was ridiculed by the British press. (ANSA/Corbis)
In 2004, while entertaining Tony and Cherie Blair in Sardinia, Berlusconi was pictured wearing a bandana, which was ridiculed by the British press. (ANSA/Corbis)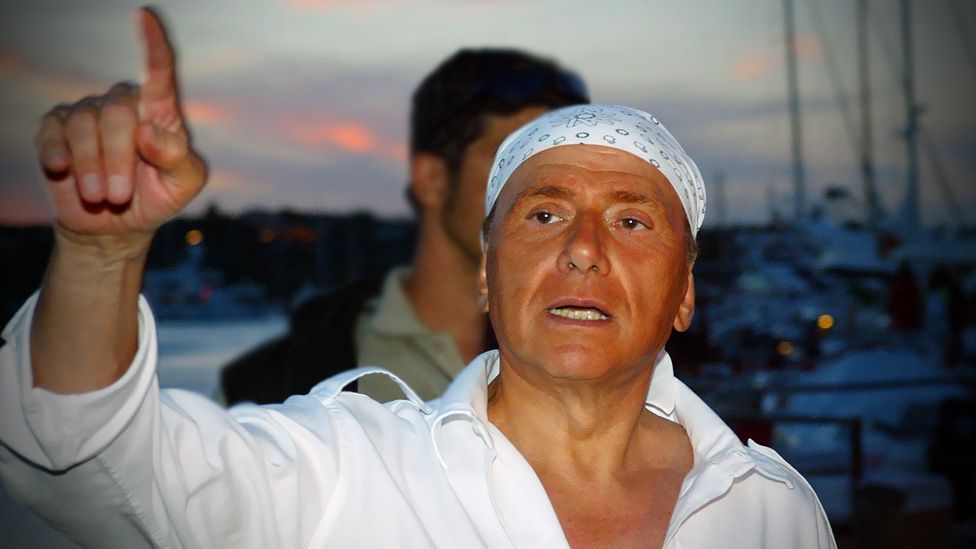 The headgear was reported to be a protective tool after a hair transplant. Cherie Blair told an Italian TV show that her husband was left "red-faced" by the incident. (AP Photo)
The headgear was reported to be a protective tool after a hair transplant. Cherie Blair told an Italian TV show that her husband was left "red-faced" by the incident. (AP Photo)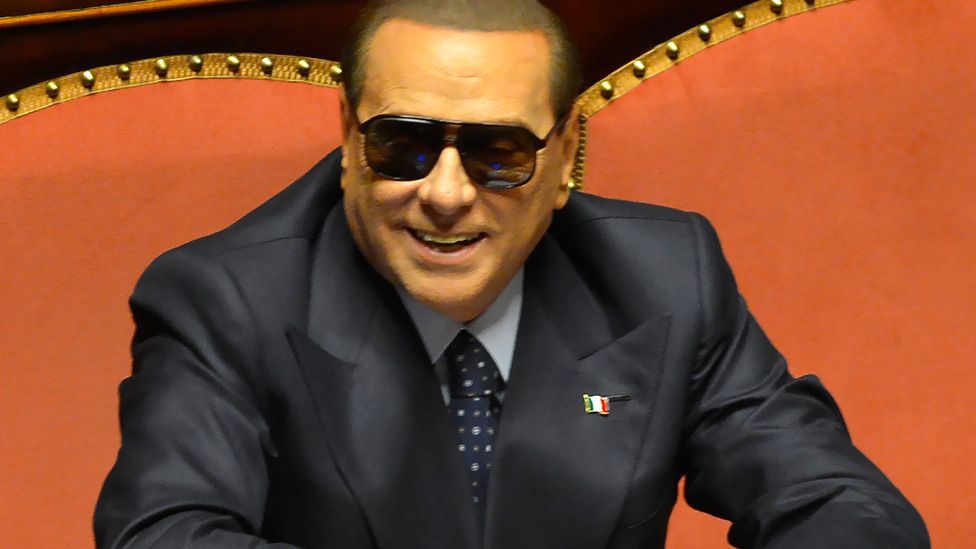 Berlusconi smiles as he wears sunglasses to hide an eye infection during a hearing for his trial at the Senate in Rome this year. (AFP/Getty Images)
Berlusconi smiles as he wears sunglasses to hide an eye infection during a hearing for his trial at the Senate in Rome this year. (AFP/Getty Images)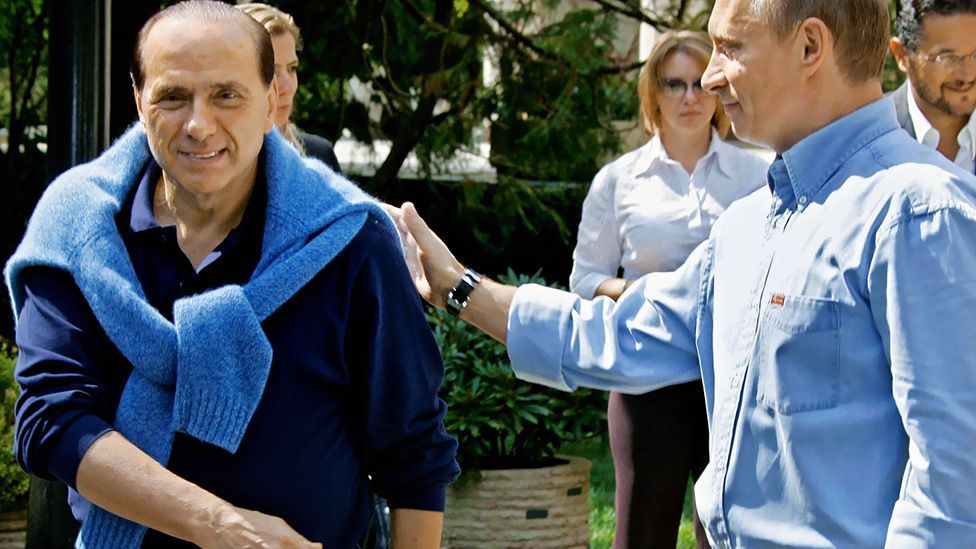 With Russian President Vladimir Putin in the Black Sea resort of Sochi in 2005, Berlusconi created a more smart-casual presence in a sweatshirt. (AFP/Getty Images)
With Russian President Vladimir Putin in the Black Sea resort of Sochi in 2005, Berlusconi created a more smart-casual presence in a sweatshirt. (AFP/Getty Images)
Berlusconi wears a customary two-piece suit as he gestures during a press conference in Jerusalem, Israel in 2010. (Getty Images)
Berlusconi wears a customary two-piece suit as he gestures during a press conference in Jerusalem, Israel in 2010. (Getty Images)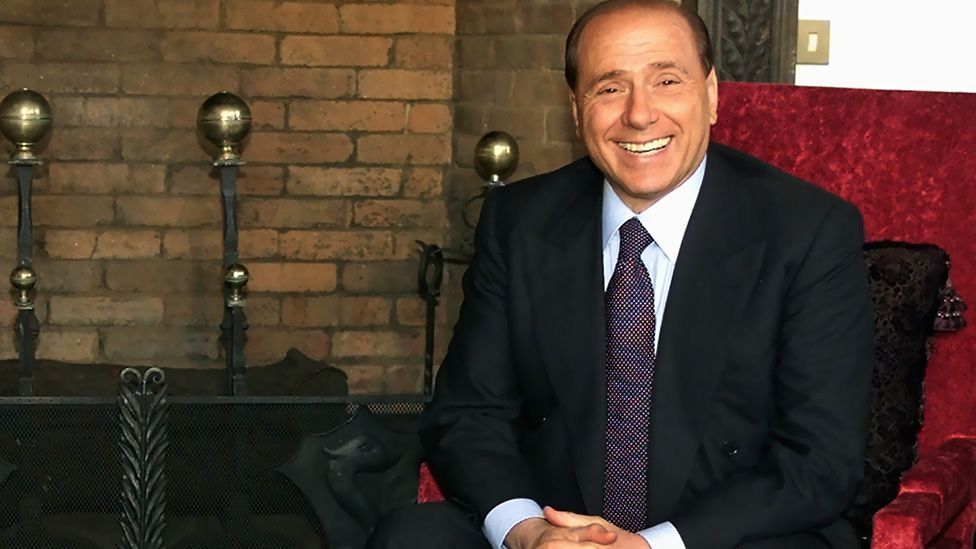 Wearing a one-piece navy suit while posing in Villa Madama, his official residence in Rome in 2002. Berlusconi has always been a meticulous dresser. (Getty Images)
Wearing a one-piece navy suit while posing in Villa Madama, his official residence in Rome in 2002. Berlusconi has always been a meticulous dresser. (Getty Images)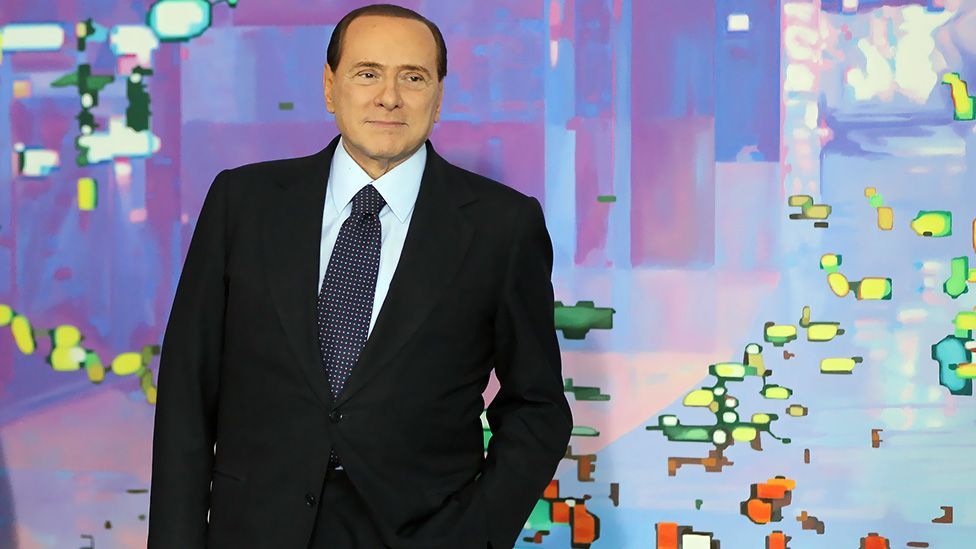 Arriving at the Chancellery in Berlin, Germany in 2011 to discuss the stabilising of the Euro, Berlusconi sports his trademark power suit worn with a wide tie. (Getty Images)
Arriving at the Chancellery in Berlin, Germany in 2011 to discuss the stabilising of the Euro, Berlusconi sports his trademark power suit worn with a wide tie. (Getty Images)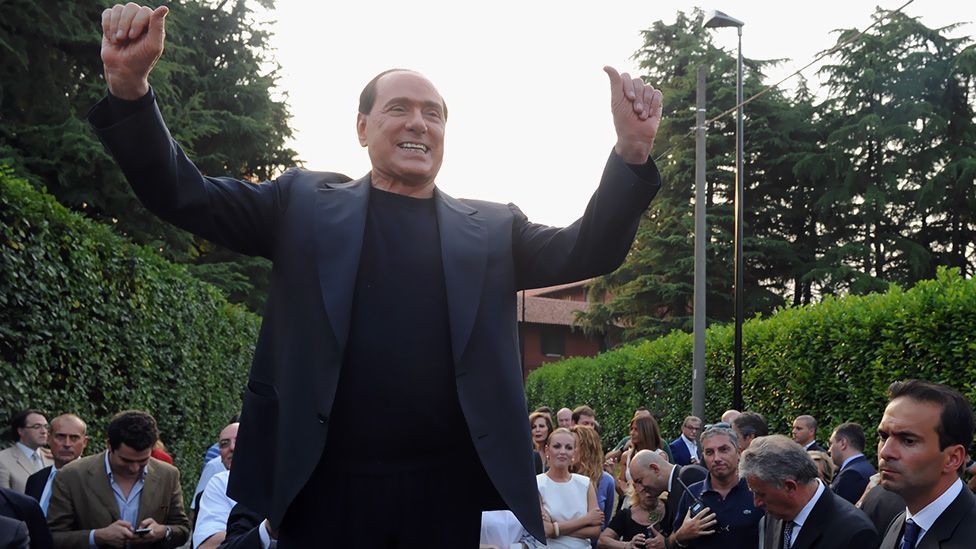 Berlusconi hails his supporters in front of his house, the Villa San Martino in Milan, Italy after his guilty verdict this year. (Getty Images)
Berlusconi hails his supporters in front of his house, the Villa San Martino in Milan, Italy after his guilty verdict this year. (Getty Images)