Whether on the street or the silver screen, the trench coat has endured as a fashion staple. Katya Foreman explores its history – and looks to its future.
T
That the trench coat, one of Britain's most enduring clothing icons, is intrinsically linked to the rain makes pure sartorial sense. What remains intriguing, however, is the sliding scale of eclectic associations that the garment has accumulated over time.
There is its neutral role as a smart, double-breasted, weather-resistant staple for businessmen; its powerful silver-screen status as the uniform of sly film noir gangsters and wisecracking detectives; and then, of course, its pervy side. Add a pair of stilettos and the belted, buttoned up trench becomes erotically charged, suggesting − just like the kilt – an underlying state of undress. While, in more negative terms, the poor old trench will never be able to shake off its reputation as the go-to uniform for flashers.
Heritage British trench coat brand Burberry, which over the past 13 years has climbed to powerhouse status under chief creative officer − and soon to be chief executive officer − Christopher Bailey, certainly played up the sexy side of the garment in the recent campaign for its Burberry Body fragrance. It featured a reclining Rosie Huntington-Whiteley, totally nude but for a strategically-positioned, open trench coat, recalling Helmut Newton's iconic images of trench coat- and high heel-clad models from the 1970s.
The trench coat's name recalls its utilitarian roots as a modern, highly-functional, lightweight garment developed for British officers during World War I to help protect them from the elements on the front line. Two brands hold claim to its invention: Aquascutum, whose trench coats went on to be adopted by Winston Churchill, Cary Grant, Lauren Bacall, Michael Caine and Peter Sellers for his role as Inspector Clouseau in the Pink Panther series; and the aforementioned Burberry, whose celebrity coups range from putting Humphrey Bogart and Audrey Hepburn in their coats (for Casablanca and Breakfast at Tiffany's respectively), and, decades later, tapping fashion royalty schoolboy Romeo Beckham for a campaign.
Aquascutum, whose trench coats for WWI officers featured removable, buttoned-in linings, had been outfitting officers in raincoats made from waterproof cotton since the mid-19th Century. The house's founder, John Emary patented the first water-repellent cloth in 1853; the brand's name comes from the Latin words for water and shield. Certain trench coat aficionados trace the oldest likely trench coat in existence to an 1851 grey showerproof Aquascutum coat worn by Lt Gen Gerald Goodlake during the Crimean war. The garment is said to be preserved at Newstead Abbey in England.
Thomas Burberry patented his own water-repellent fabric, gabardine, a tightly woven twill weave, in 1879. He was reportedly inspired by the weatherproof linen smocks worn by English shepherds and farmers and designed what the fashion house that bears his name claims was the predecessor to the trench, the Tielocken coat (nicknamed 'the Burberry'), in 1912. "'A veritable suit of mail' is how one magazine would describe the gabardine coat," reads an entry in online fashion resource, Voguepedia. "Maharajas and country doctors alike adored the all-purpose, all-weather garment. 'Fetch me my Burberry,' King Edward VII would instruct his valet."
The classic double-breasted trench coat truly took shape when its shoulder straps (for the attachment of epaulettes or other rank insignia) and D-rings (for holding equipment, such as maps) were added to meet new combat requirements for WWI. Other key features of the coat included ten buttons on the front, waist and wrist belts, wide lapels, a gun flap and raglan sleeves. Its original colour was khaki.
Return of the mac
Another term often used for the trench coat − the mac − points to another strong link to its origins, however, with many attributing its inspiration to Charles Macintosh, a Scottish chemist and inventor of waterproof fabrics who in the 1820s invented the single-breasted, long rubberised raincoat that reportedly influenced Emary and Burberry. The coat was later referred to as the Macintosh, and eventually the Mackintosh, with a 'k'.  Macintosh collaborated with British inventor Thomas Hancock, founder of the British rubber industry, who in 1843 took out a patent for the vulcanisation of rubber using sulphur, producing a material still used in raincoats and footwear − such as Converse sneakers − today.
The classic double-breasted military-chic trench coat is said to have infiltrated civilian wardrobes following the war, when surplus stock was handed out by the government. Adopted by the well-to-do hunting set and gents in the city, they rapidly became a fashion and film fixture, sported by dashing protagonists of the film noir genre in the 1940s, mainly accessorised with a wide ribbon fedora and a cigarette dangling from the mouth. The look was to resurface in the French New Wave films of the 1960s, such as Le Cercle Rouge and Le Samourai starring Alain Delon, and Le Doulos starring Jean-Paul Belmondo. Other trench-clad heroes include Michael Caine as hardman Jack Carter in the 1971 gangster film Get Carter and Harrison Ford as bounty hunter Rick Deckard in Blade Runner (1982).
A string of leading ladies also embraced the trench coat's photogenic, architectural lines, including Greta Garbo, and Marlene Dietrich, paving the way for generations of androgynous-chic icons to come, including Audrey Hepburn, Charlotte Rampling and Charlotte Gainsbourg.
A stalwart of the runways, with myriad deconstructed interpretations rolling out season after season, the trench coat undoubtedly has stood the test of time because of its defining features. Yet just as the coat, with its high-tech materials, was revolutionary in its day, offering a modern alternative to the cumbersome greatcoats of yore, it's important to keep innovating.
Trench warfare
The fate of the two main competing trench coat brands lies in the need to move with the times. Burberry has been transformed by Christopher Bailey and CEOs Rose Marie Bravo and Angela Ahrendts into a multi-billion dollar player, and its meteoric success depends on leveraging the brand's heritage – it maintains a 'Made in Britain' policy for the manufacture of its trenches – while injecting a new vision. Customers can choose between Heritage and Runway versions, from classic styles in English-woven gabardine or reinterpretations using innovative fabrics like an oxblood velvet-finish vinyl for men or calfskin, screen-printed with black hearts for women.
Not to mention the house's ambitious social media and marketing strategies, such as the live-streaming of shows and recruitment of a string of hip British muses, from Emma Watson to Tara (son of Bryan) Ferry. Launched in 2009, the brand's popular blog, Art of the Trench, billed as a "living document of the trench coat," features series by established image makers, as well as submitted photos, showing members of the public modelling Burberry trench coats. The site is said to have helped fuel the brand's Facebook fanbase to more than 1m in its first year.
As Burberry's sales have rocketed over the past decade, Aquascutum's have nose-dived. The brand was bailed out by current owner YGM Trading but remains under the radar. While its trench coat designs have stayed watertight, the brand is not impervious to the rapid changes of fashion. The lesson? New materials, new colours and new accessories must always be sought in order to keep this handsome design icon in the limelight. The trench coat will always cope with the weather in the streets, but must adapt to the shifting expectations of the international catwalk too.
If you would like to comment on this story or anything else you have seen on BBC Culture, head over to our Facebook page or message us on Twitter.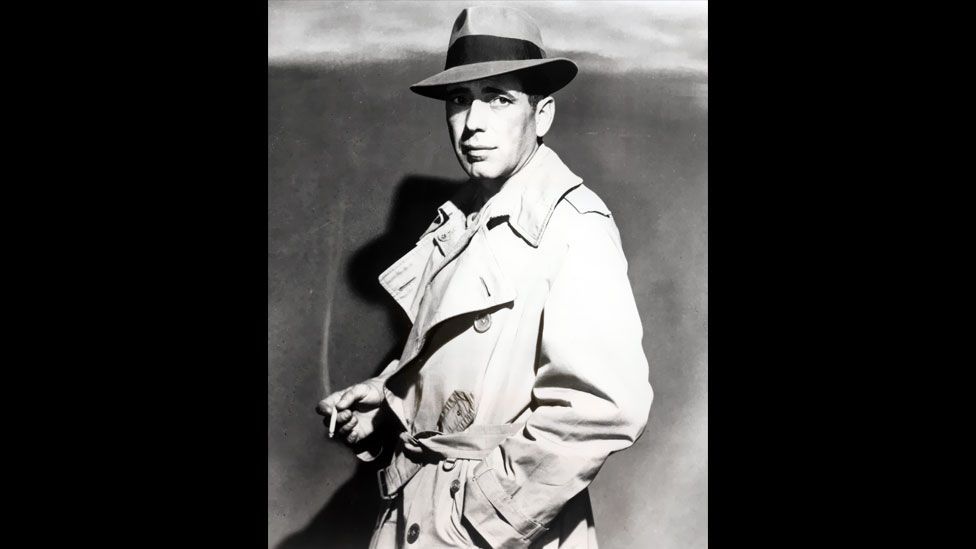 The trench coat has had a long association with stars of the silver screen – perhaps the most iconic being Humphrey Bogart. (Pictorial Press Ltd/Alamy)
The trench coat has had a long association with stars of the silver screen – perhaps the most iconic being Humphrey Bogart. (Pictorial Press Ltd/Alamy)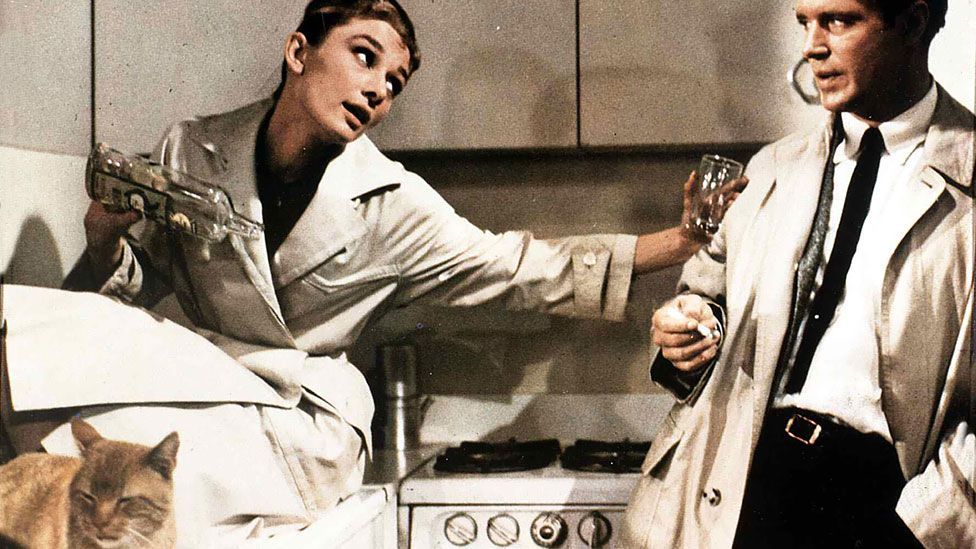 Fashion icon Audrey Hepburn wore it while playing socialite Holly Golightly in the 1961 film version of Breakfast at Tiffany's. (United Archives GmbH /Alamy)
Fashion icon Audrey Hepburn wore it while playing socialite Holly Golightly in the 1961 film version of Breakfast at Tiffany's. (United Archives GmbH /Alamy)
Cary Grant appeared in the iconic garment alongside Hepburn in the 1963 crime caper, Charade. (Pictorial Press Ltd/Alamy)
Cary Grant appeared in the iconic garment alongside Hepburn in the 1963 crime caper, Charade. (Pictorial Press Ltd/Alamy)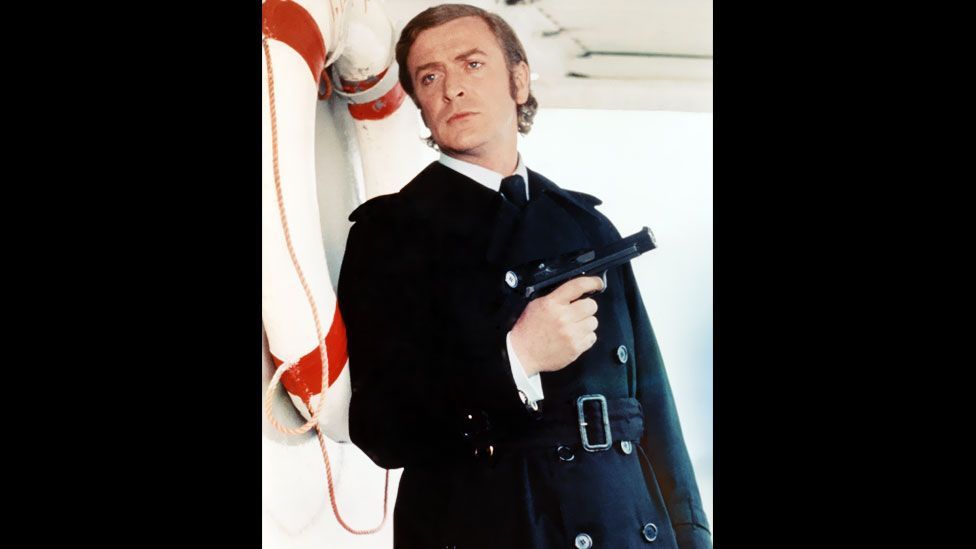 Michael Caine highlighted the trench's underworld connotations, playing a gangster in the 1971 movie, Get Carter. (Pictorial Press Ltd/Alamy)
Michael Caine highlighted the trench's underworld connotations, playing a gangster in the 1971 movie, Get Carter. (Pictorial Press Ltd/Alamy)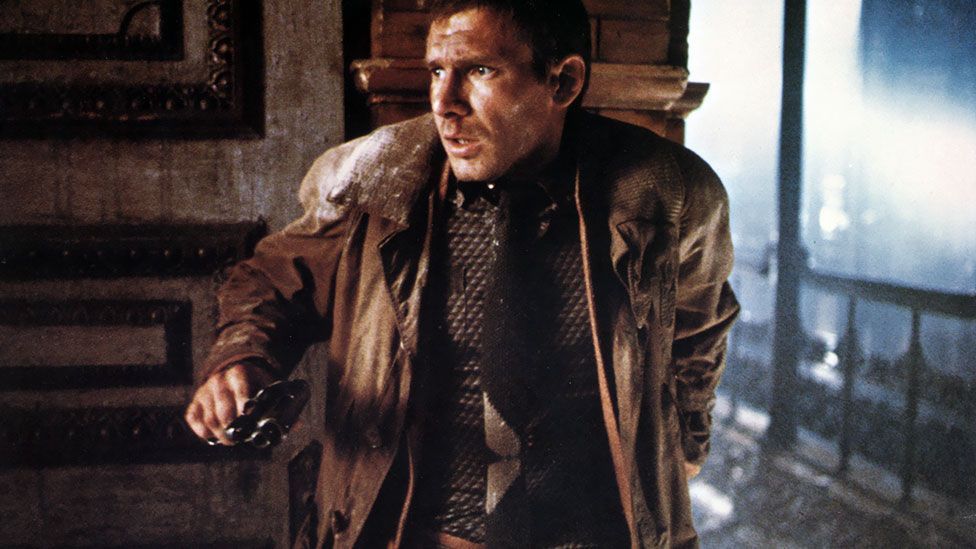 Harrison Ford fashioned the trench playing a replicant bounty-hunter in the futuristic sci-fi classic, Bladerunner. (Pictorial Press Ltd/Alamy)
Harrison Ford fashioned the trench playing a replicant bounty-hunter in the futuristic sci-fi classic, Bladerunner. (Pictorial Press Ltd/Alamy)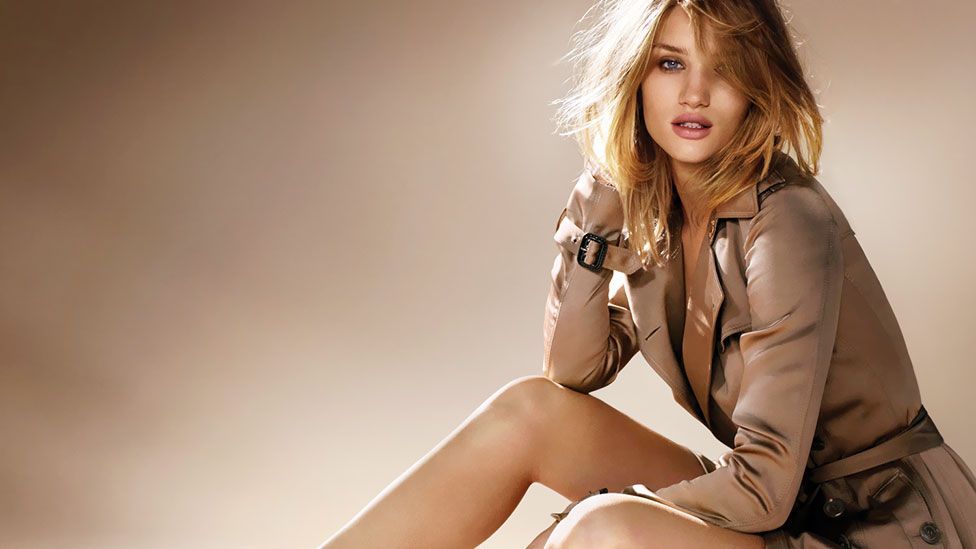 Burberry have successfully modernised and sexed-up their advertising campaigns, featuring big-name young models such as Rosie Huntington-Whiteley. (Burberry)
Burberry have successfully modernised and sexed-up their advertising campaigns, featuring big-name young models such as Rosie Huntington-Whiteley. (Burberry)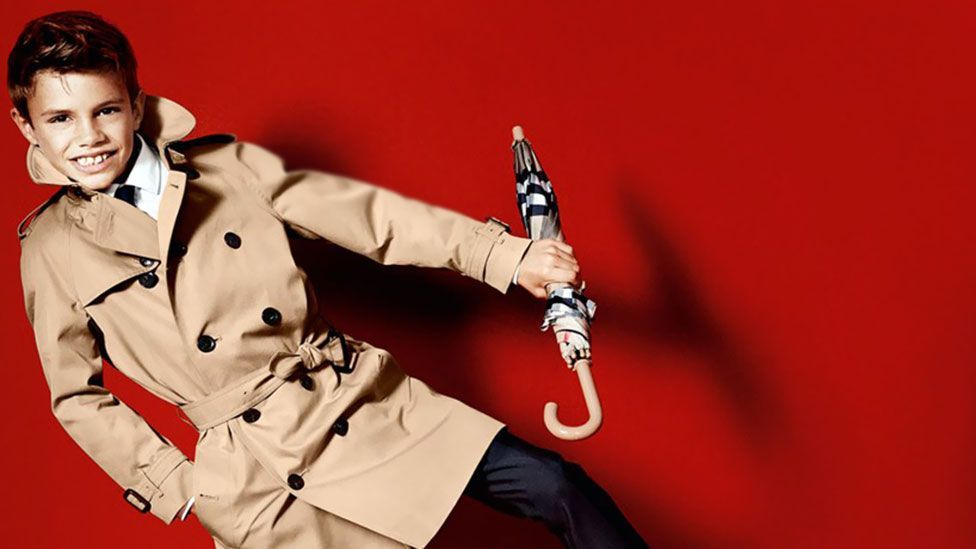 Romeo Beckham, the 10-year-old son of David and Victoria, was in Burberry's spring/summer 2013 adverts, sporting a child-sized version of the famous coat. (Burberry)
Romeo Beckham, the 10-year-old son of David and Victoria, was in Burberry's spring/summer 2013 adverts, sporting a child-sized version of the famous coat. (Burberry)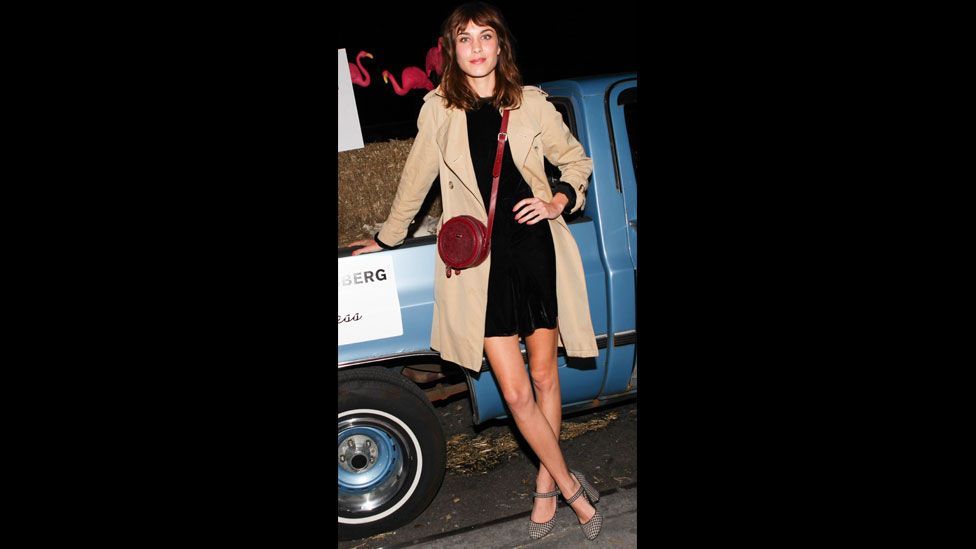 The trench has been reinvented as a modern British classic – it has been adopted by present-day trendsetters such as Alexa Chung. (BFAnyc.com/REX)
The trench has been reinvented as a modern British classic – it has been adopted by present-day trendsetters such as Alexa Chung. (BFAnyc.com/REX)
For Spring/Summer 2013, Burberry Prorsum sent models down the catwalk in the classic trench, reinterpreted in metallic fabrics and rainbow colours. (Burberry)
For Spring/Summer 2013, Burberry Prorsum sent models down the catwalk in the classic trench, reinterpreted in metallic fabrics and rainbow colours. (Burberry)