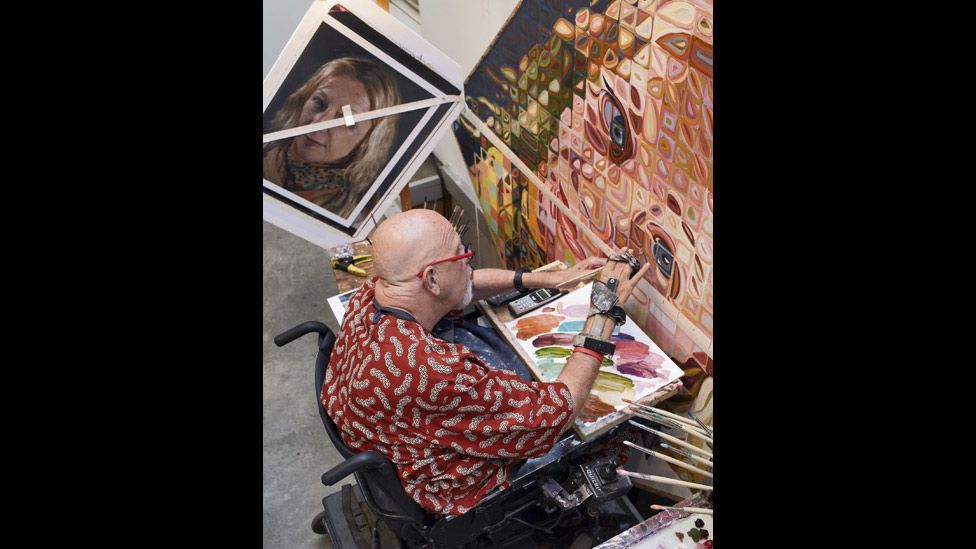 Chuck Close
The American landscape −both natural and urban − has inspired generations of artists. Art Studio America is a new book by Hossein Amirsadeghi and Maryam Eisler, who have travelled the length and breadth of the country, capturing intimate portraits of 115 artists in their places of work. These are juxtaposed with images of the landscapes that surround and influence them, and essays and interviews with the diverse group of artists, ranging from obscure figures to household names. One of the latter, Chuck Close, is photographed in his New York studio among his large canvas portraits – he describes how physical disability has influenced his working method. (All images courtesy of C TransGlobe Publishing from Art Studio America: Contemporary Artist Spaces published by Thames & Hudson)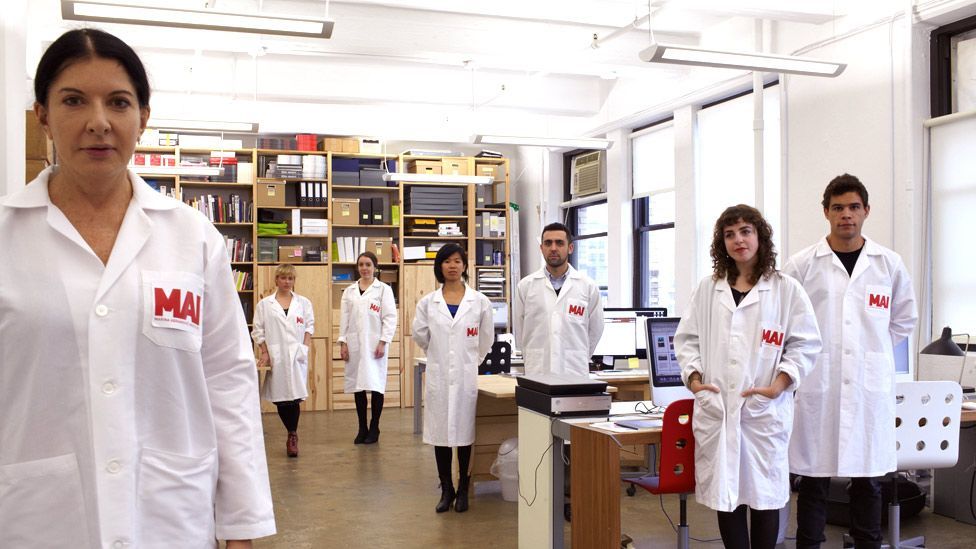 Marina Abramović
The influential performance artist, Marina Abramović is pictured in her Tribeca studio surrounded by her assistants, who are dressed as lab technicians. The Serbian-born artist talks about her emigration to New York in 2000 – which she describes as "a place with no time" − her Montenegrin upbringing, and her beliefs about the role of the artist.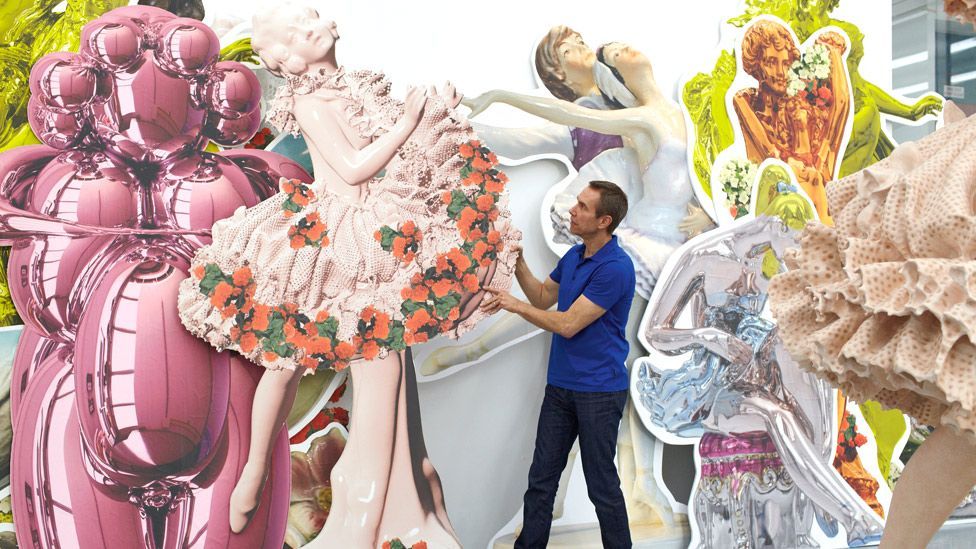 Jeff Koons
Koons is shown making adjustments to one of his 2D works. The hugely successful pop artist divides his work and home life between homes in New York and Pennsylvania. His paintings and sculptures, some of which fetch tens of millions of dollars, require a small army of artistic assistants – and often take up to two years to complete.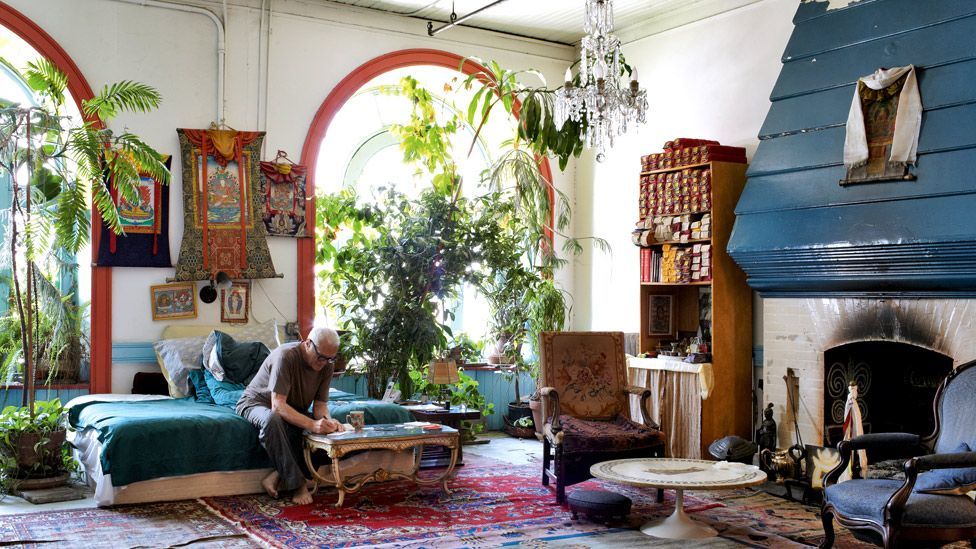 John Giorno
Artist-poet Giorno –one-time lover of William Burroughs, Jasper Johns and Andy Warhol – is photographed in his home on New York's Bowery, where he has lived and worked for fifty years. He tells incredible tales of excess and creativity that took place in the high-ceilinged loft. He is pictured here in his bohemian, plant-filled living room – which was also once Jasper Johns' work space.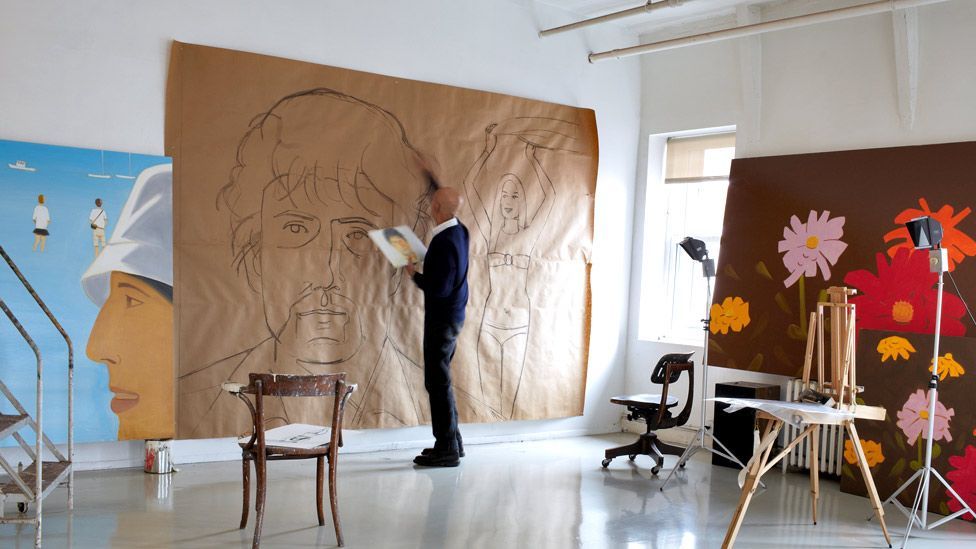 Alex Katz
Renowned pop artist Alex Katz is pictured at work surrounded by his large paintings, some of which feature Ada, his wife and muse of over 55 years. Katz has occupied his live-work studio for 45 years, since a group of artists bought the building in 1968. In spite of its rundown location, Katz fell in love with the space: "I wasn't too enthusiastic because it was like you were in the ghetto" he says. "But when I saw the top floor – nineteen windows, the building was beautiful – I couldn't say no."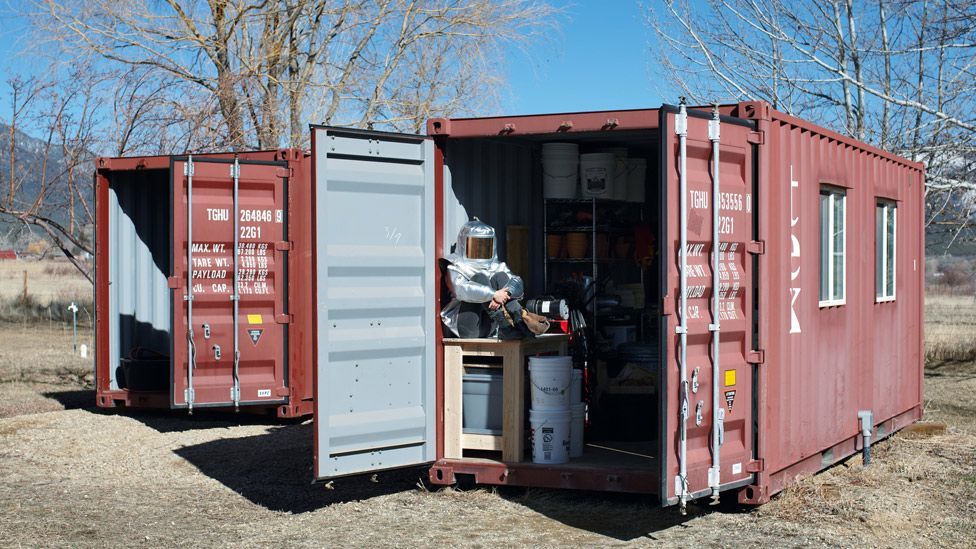 Debbie Long
Long sits in one of two refurbished shipping containers that act as her studio when she blows glass in the back garden of her home in the desert near El Prado, New Mexico. She describes how living and working in such a remote location has influenced her work: "The mainstream of art is not being fully connected with a trend but developing your own voice fully" she says.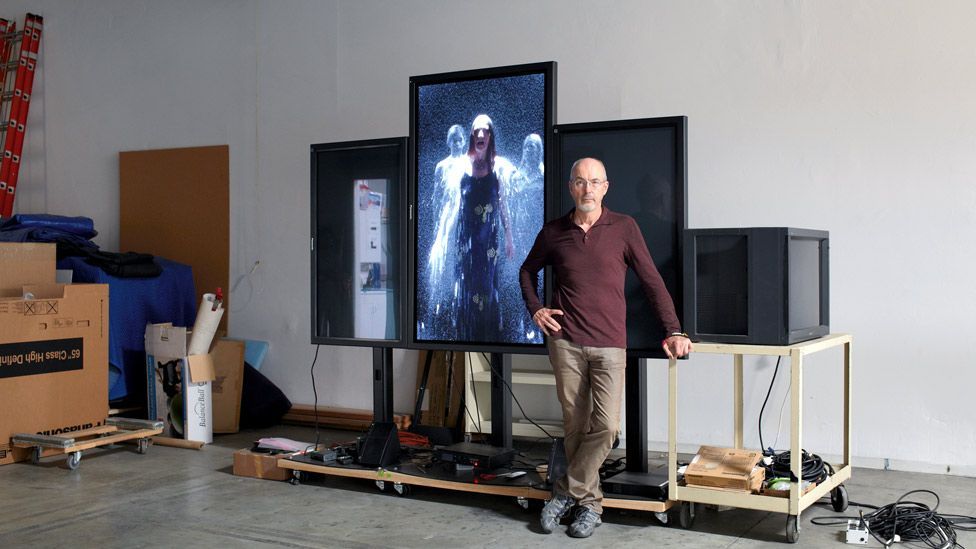 Bill Viola
Video artist Viola stands in front of his 2007 series Ocean Without Shore, in his main studio in Signal Hill, California. The artist explains how a childhood swimming accident led to his ongoing preoccupation with water, birth and death.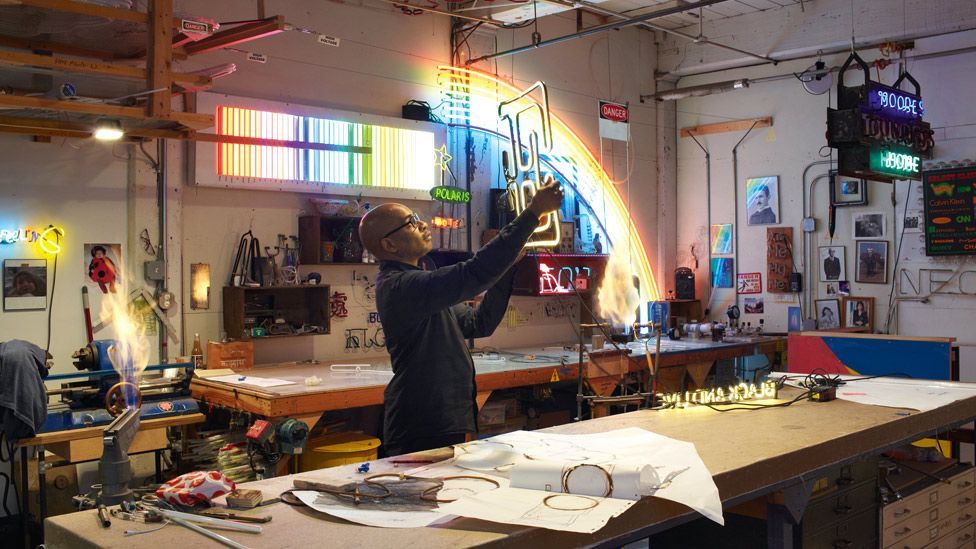 Glenn Ligon
Ligon, a conceptual artist who has been working with neon for several years, is pictured in the fabrication studio of Lite Brite Neon in Brooklyn, New York where all of his colourful neon works are made. Ligon recalls how he began to work in the space. "I was the first one on this floor" he says. "The entire floor was empty. It was like a roller rink."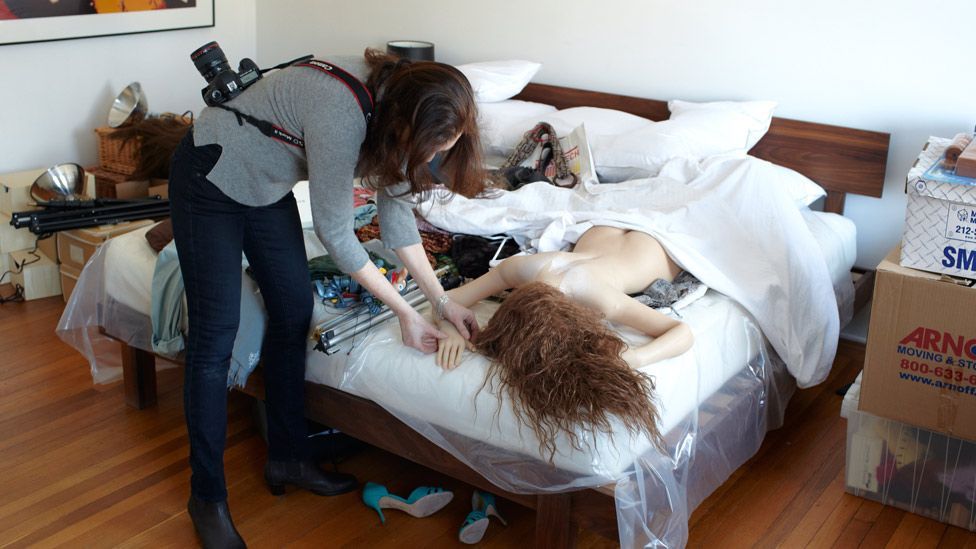 Laurie Simmons
New York artist and photographer Simmons (pictured here with one of her dolls) has staged domestic scenes with life-size dummies in her work since the 1970s. She is married to the artist Carroll Dunham (also featured in the book) and is mother to two girls: the TV star Lena Dunham and her sister, Grace. The couple live in the village of Cornwall, Connecticut and work in rooms there, as well as in independent studios in New York City.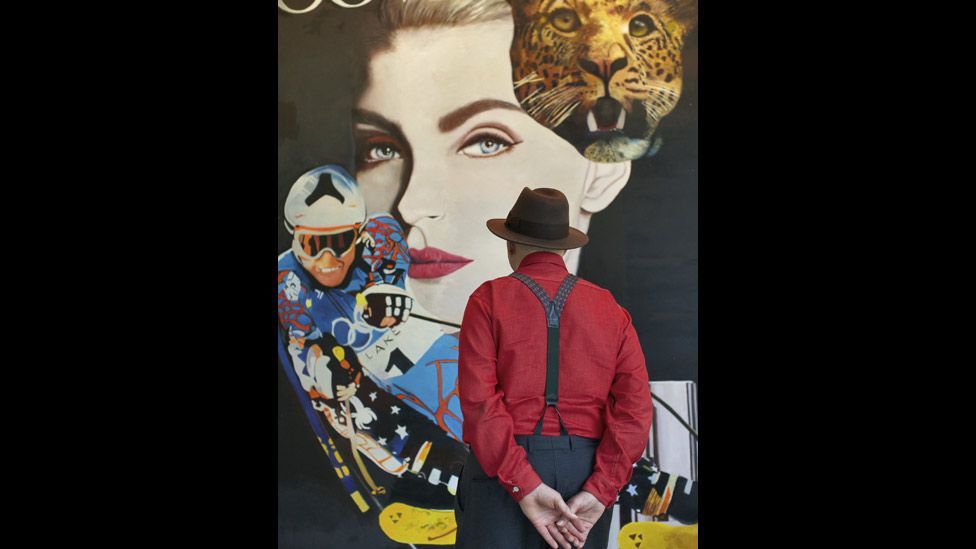 Malcolm Morley
English artist Morley moved to New York in the late 1950s, where he still lives with his wife, Lida. He is shown surveying Cover Girl (2012) in his home in Brookhaven, New York. Morley has used the studio complex, part of his converted-church home, for over twenty years. Art Studio America: Contemporary Artist Spaces, edited by Hossein Amirsadeghi, Executive Editor: Maryam Eisler, with essays by Robert Storr, Benjamin Genocchio and Mark Godfrey, and photography by Robin Friend, is published by Thames & Hudson.