The scooter began as a cheap way to buzz about bombed-out Rome, but Jonathan Glancey shows how it became stylish and sexy thanks to Roman Holiday and the Mods.
M
More than 16 million Vespa motor scooters have been made to date in thirteen countries and sold around the world. When he first saw the prototype, commissioned from Corradino D'Ascanio, a distinguished aero-engineer, industrialist Enrico Piaggio said, "It looks like a wasp!" Or vespa in Italian. Within months of Piaggio's latest venture going into production in 1946, the Italian language possessed a new verb, vespare, to go somewhere on a Vespa.
D'Ascanio's Vespa was seductive. It was also cheap and reliable, while its step-through frame meant that women could ride it in skirts, and its concealed engine – tucked under the seat or over its small back wheel – kept oil, grease and dirt from chic Italian clothes.
More than this, the Vespa – which happened to sound like a wasp, too – was fun. Especially so in a post-war Italy still recovering from the Allied bombings and that now turned to the production of modest machines for a domestic market longing for entertainment but with precious little to spend.
Women certainly loved the Vespa. Its appearance in Roman Holiday, the 1953 romantic comedy starring Audrey Hepburn and Gregory Peck, is said to have been worth 100,000 sales. Perhaps it was. The glamorous Hollywood couple spun carefree around Rome on one of the scooters, aimlessly and stylishly. Audiences wanted to do the same.
Other stars and films followed, providing more free advertising campaigns for Piaggio's mechanical wasp. From Angie Dickinson, fulsomely gorgeous on her Vespa in Jessica, a Sicilian romp from 1962, to Gwen Stefani, racing one in the 2007 video for Now That You Got It, women have been as important to the myth and success of Piaggio's bestseller as men. The male part has been played, variously, by moody Mods in 1979's Quadrophenia, a disturbing Matt Damon in 1999's The Talented Mr Ripley and by the whimsical Italian film director Nanni Moretti in Caro Diairio in 1993.
As fuel prices have soared worldwide, and as urban commuting has become ever busier and parking spaces fewer, more people have taken to scooters. And, despite ambitious rivals over the years, the Vespa has been top of the polls since it first turned a pair of tiny pressed-steel wheels.
Mod and trad
Although thought of as essentially Italian, the idea for the motor scooter we know so well came to former Italian aero-engineers from watching US military aircraft drop tiny, olive green Cushman Airbornes to troops in the industrial heartlands of Milan and Turin fighting fierce German resistance. Made in Nebraska, the Cushman Airborne – a skeletal steel motor scooter – allowed troops to nip about deftly as never before.
Using skills and materials drawn from the aircraft industry, D'Ascanio transformed the idea of this basic, yet brilliant easy-ride motorbike into the Vespa. Toy-like, yet ingenious, the Vespa made its public debut at the 1946 Milan design fair, a year ahead of the Lambretta, a similar machine, by the aero-engineers Cesare Pallavicino and Pier Luigi Torre for Ferdinando Innocenti, an industrialist D'Ascanio had crossed swords with shortly before teaming up with Piaggio instead.
Several rival scooters emerged from Germany, while Japan produced the Fuji Rabbit, which, like the Vespa, also debuted in 1946. Britain got in the act, too. Who now remembers the fast, sweet-handling, twin-cylinder Triumph Tigress designed by Edward Turner in 1958? Sadly, although it could race up to 70mph (113 kph), the Tigress required constant fettling and pockets full of screwdrivers and spanners.
It was Britain, though, in the guise of Mods riding customised scooters – their sharp clothes protected by army surplus fishtail parkas, originally designed to keep American soldiers warm during the Korean War – that gave the Vespa a surprising hint of menace. Or, at least it did during 1960s Bank Holidays when Mods invaded seaside resorts, Quadrophenia-style, on swarms of buzzing scooters and ended up fighting Rockers on motorbikes. After Italy, Britain has remained the second largest market for the Vespa.
This year, Piaggio launched its 946 model, a beautifully made scooter that harks back in terms of styling to D'Ascanio's original. It has four times the power and sturdy ABS braking as well as traction control. More significantly, advertising features glamorous young women in chic couture posing and scootering through Rome. The difference between them and Audrey Hepburn's princess of sixty years ago, however, is significant: they are on their way to work, not on a fickle Roman holiday. A design that exudes Italian charm and styling, the Vespa will be buzzing through the world's city streets for many years yet.
If you would like to comment on this story or anything else you have seen on BBC Culture, head over to our Facebook page or message us on Twitter.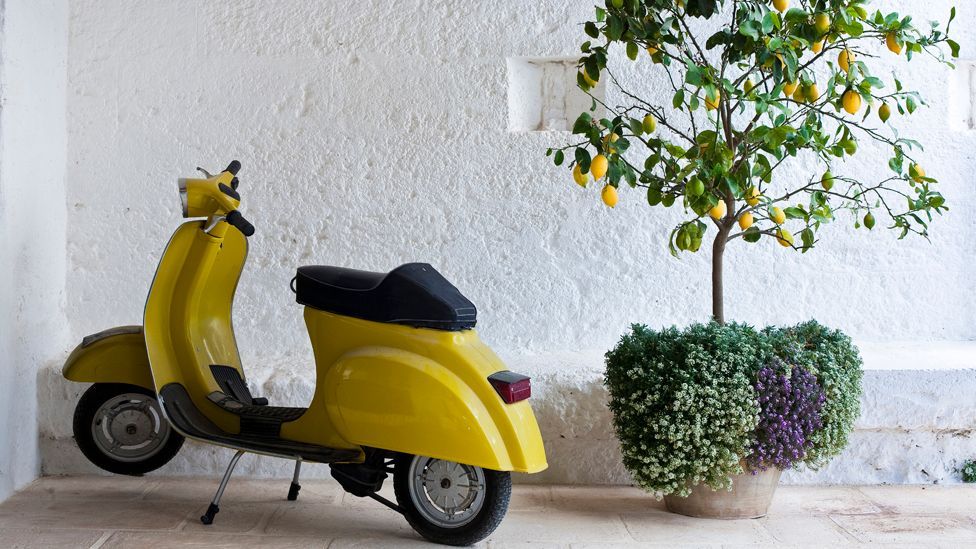 Though manufacturer Piaggio has released many different variants over the years, the Vespa, first introduced in 1946, remains as popular as ever. (Corbis)
Though manufacturer Piaggio has released many different variants over the years, the Vespa, first introduced in 1946, remains as popular as ever. (Corbis)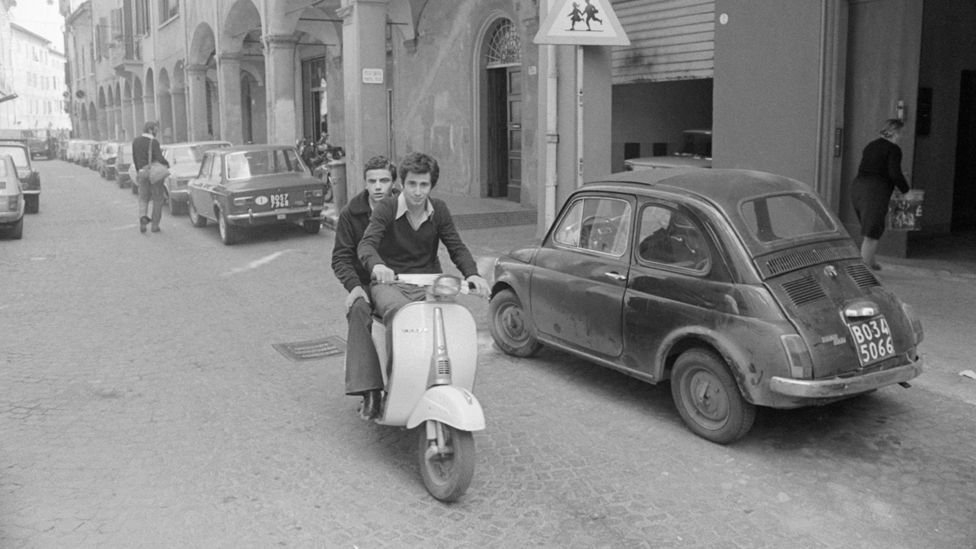 The word Vespa means 'wasp' in Italian, and by the early 1950s thousands of the scooters, originally designed by an aeronautical engineer, were buzzing around Rome. (Corbis)
The word Vespa means 'wasp' in Italian, and by the early 1950s thousands of the scooters, originally designed by an aeronautical engineer, were buzzing around Rome. (Corbis)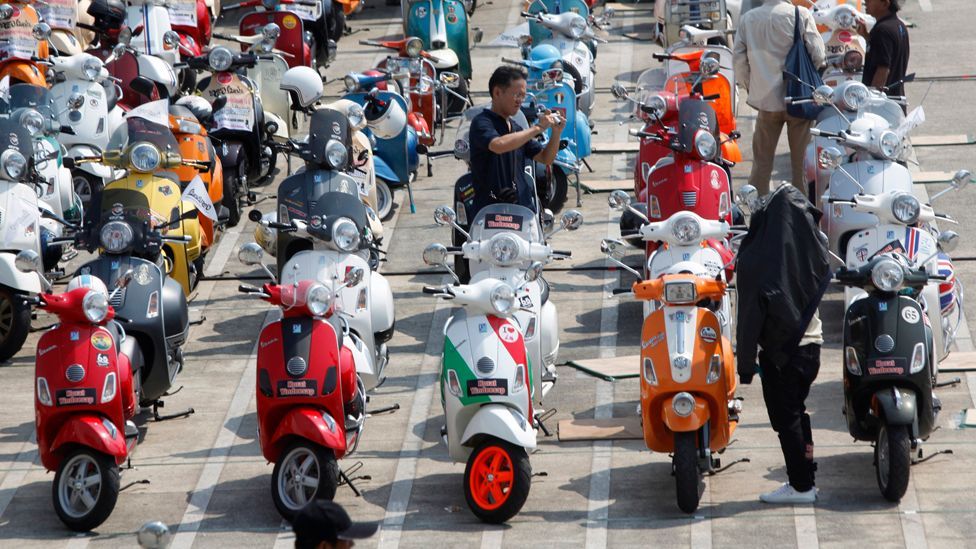 There have now been over 16 million Vespas produced in 13 countries across the globe. (Corbis)
There have now been over 16 million Vespas produced in 13 countries across the globe. (Corbis)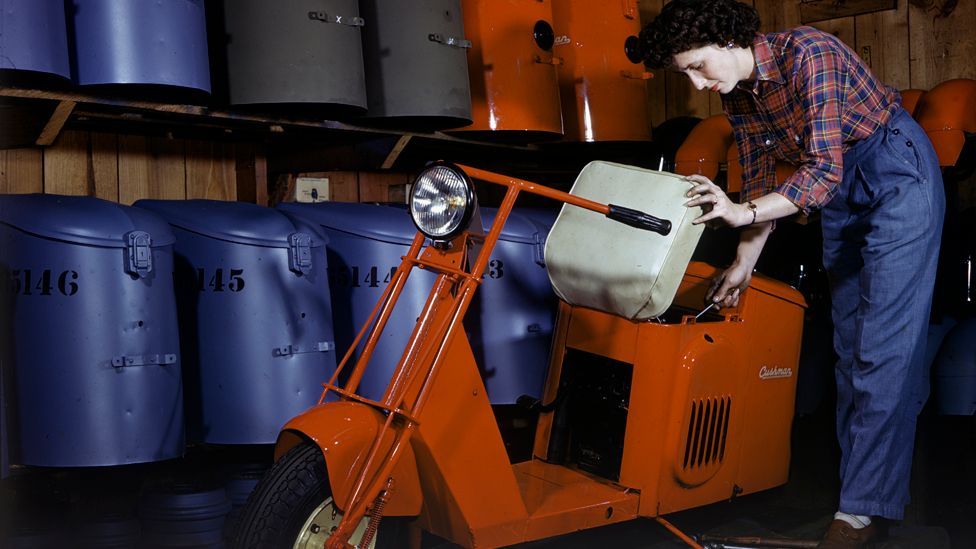 It was an American motorized scooter, the Cushman Airborne, parachuted into the Italian countryside during World War II, that first introduced the concept to Piaggio. (Corbis)
It was an American motorized scooter, the Cushman Airborne, parachuted into the Italian countryside during World War II, that first introduced the concept to Piaggio. (Corbis)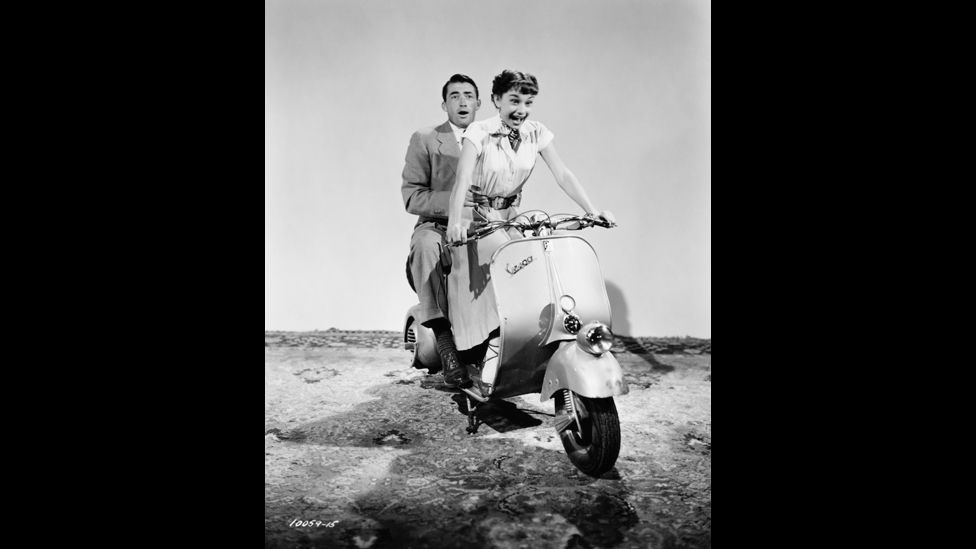 The iconic sequence of Audrey Hepburn and Gregory Peck puttering around Rome on a Vespa in 1953's Roman Holiday was said to be worth 100,000 sales. (Corbis)
The iconic sequence of Audrey Hepburn and Gregory Peck puttering around Rome on a Vespa in 1953's Roman Holiday was said to be worth 100,000 sales. (Corbis)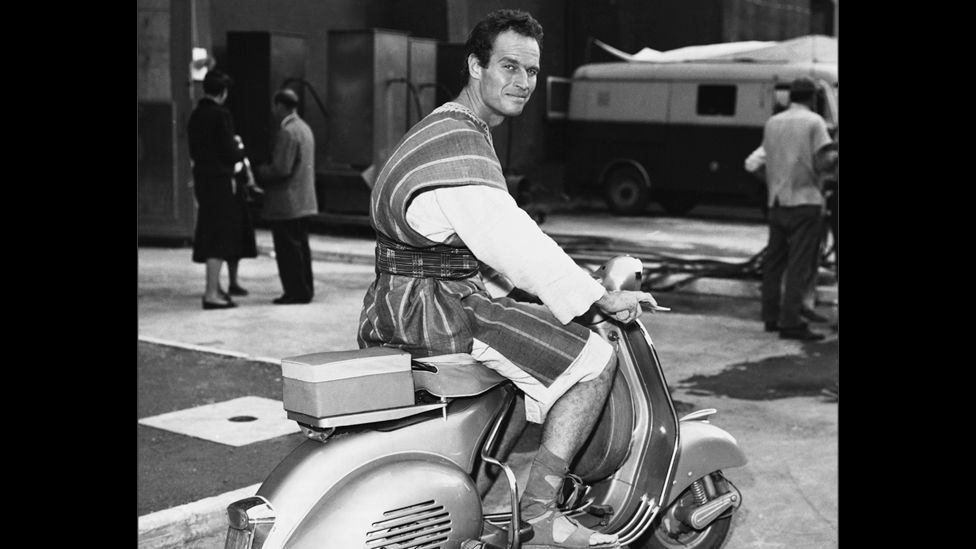 Vespas quickly became very popular movie stars. Charlton Heston rode one to get around the set of 1959's Ben-Hur. (Corbis)
Vespas quickly became very popular movie stars. Charlton Heston rode one to get around the set of 1959's Ben-Hur. (Corbis)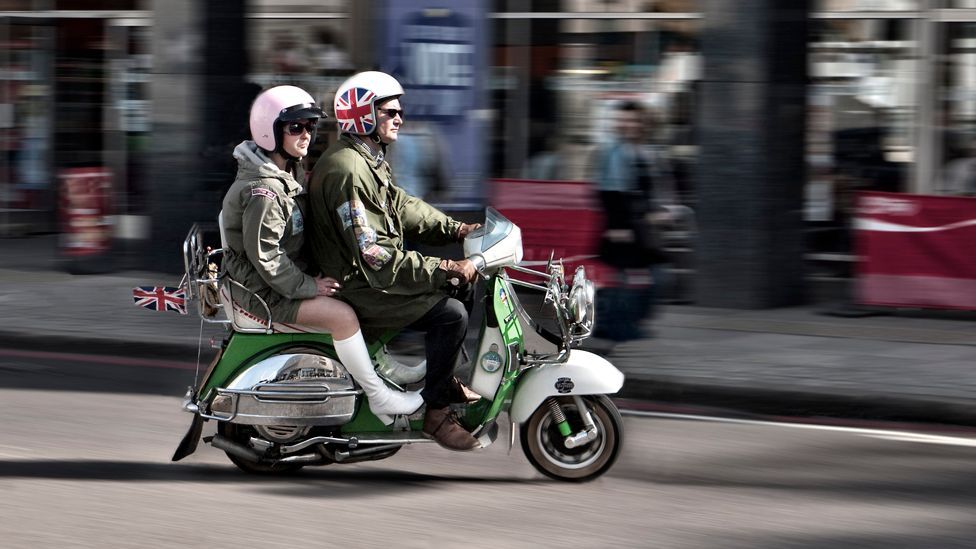 The 1960s Mod subculture was often associated with scooters like Vespas and Lambrettas, while their rivals, the Rockers, rode motorbikes. (Corbis)
The 1960s Mod subculture was often associated with scooters like Vespas and Lambrettas, while their rivals, the Rockers, rode motorbikes. (Corbis)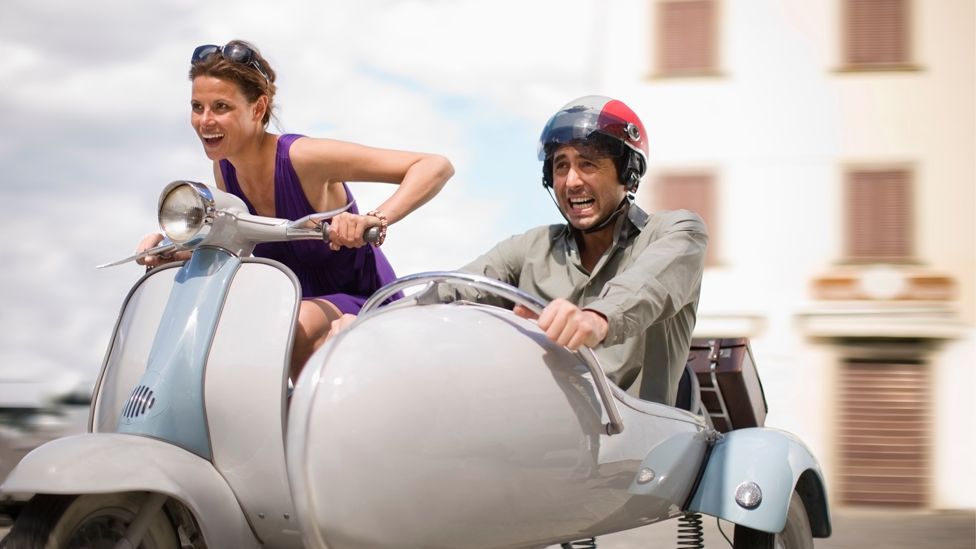 Vespas have been able to come in different configurations over the years, such as with a motorbike-style sidecar or with a third wheel. (Corbis)
Vespas have been able to come in different configurations over the years, such as with a motorbike-style sidecar or with a third wheel. (Corbis)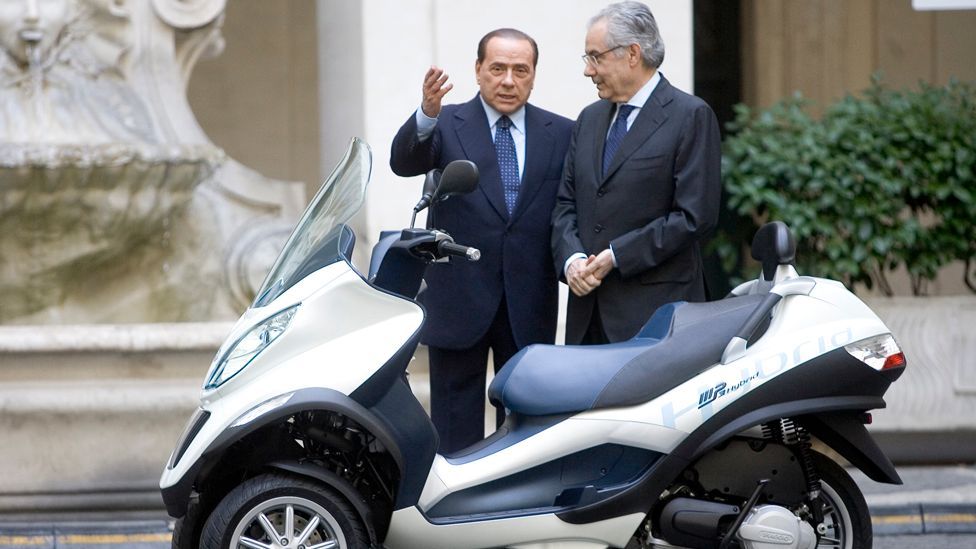 Pomp and circumstance
Piaggio makes the unveiling of each new model an event, such as in 2009 when Sylvio Berlusconi was presented with his own MP3 hybrid scooter. (Corbis)