It is the women's wardrobe staple that always manages to capture the spirit of the times. Katya Foreman examines the enduring appeal of the Little Black Dress.
T
The little black dress, that Christmas party staple, is a bit of an enigma. It is both one of the blandest elements of a woman's wardrobe – as the default option when stuck for what to wear for an occasion – and a stubbornly  timeless, persistently revisited icon. Essentially a simple black cocktail dress, the garment goes by the affectionate nickname of LBD, which has its own entry in the dictionary.
According to André Leon Talley, a contributing editor at Vogue who recently staged an exhibition dedicated to the LBD, the term 'little black dress' first appeared in 1926, in an American Vogue illustration of Coco Chanel's first black 'Ford'. Vogue editors had named the dress after the era's democratic black Model T automobile, predicting that the straight, long-sleeved design in unlined crèpe de chine accented with four diagonal stripes would "become sort of a uniform for all women of taste." They were spot on.
The garment cut a radically modern figure, as much for its stark design as its sober shade, which since the Victorian era had been associated with mourning. For Chanel, black was the definition of simple elegance and, ever disregarding of conventions, she helped bring the colour into everyday wear. Among the displeased, rival couturier Paul Poiret is said to have sniped at Chanel in the street, "What are you in mourning for, Mademoiselle?" The equally scissor-tongued designer is said to have retorted: "For you, dear Monsieur."
Frock and awe
To put it in context, three decades earlier, John Singer Sargent's portrait of Madame Gautreau, better known as Madame X, in a black dress had provoked outrage in Paris. The jet-black look, with its skimpy straps and plunging décolleté, was considered indecent. "Displayed in the huge jury-selected exhibition, the Salon, in 1884, it horrified Parisians so much that the ignominy drove Sargent across the Channel to take refuge in Britain," wrote the Guardian's Jonathan Jones.. "In this case it wasn't anything about the style, or the flash of naked shoulders, that upset a public used to 'modern nudes'. It wasn't the morbid paleness of the New Orleans-born high society personage Madame Pierre Gautreau… or even the impressionistic way in which Sargent, a friend of Monet, rejects the crispness of academic naturalism. No, it was the dress that caused distress."
Fellow independent style maven, Wallis Simpson, the Duchess of Windsor, who owned several LBDs, once said of the versatile garment: "When a little black dress is right, there is nothing else to wear in its place." And, swiftly embraced as a staple of French elegance in the 20s, the shape-shifting LBD nearly 90 years on is still going strong, with a family of icons still fuelling its myth. Notably, there is something about the slim sleeveless black dress worn by Audrey Hepburn in Breakfast at Tiffany's that continues to mesmerise generations. Accessorised with black elbow gloves, a pearl choker, dark glasses and a cigarette holder, on Hepburn the gown transcended the sum of its parts.
"I am absolutely dumbfounded to believe that a piece of cloth which belonged to such a magical actress will now enable me to buy bricks and cement to put the most destitute children in the world into schools," a tearful Dominique Lapierre told BBC News after auctioning off the dress for charity at Christie's London in 2006, for £467,200 ($765,000) to an anonymous telephone bidder. Lapierre, a French writer and philanthropist, had been given the dress by its maker, French couturier Hubert de Givenchy. According to Christie's, a second version of the dress remains in the Givenchy archives in Paris, while a third is in the Museum of Costume in Madrid.
Stitches in time
Deceptively simple, the LBD, with its morphing silhouettes and features, can be seen as a marker of shifting social codes. The va-va-voom black Versace safety pin dress worn by Elizabeth Hurley to the 1994 premiere of the film Four Weddings and a Funeral, for instance, encapsulated an era, as did Catherine Deneuve's prim LBD by Yves Saint Laurent in Belle de Jour (1967), with its white silk French cuffs and collar.
 "The little black dress has managed to adapt to all of the socio-political changes," vintage specialist Didier Ludot has noted. He has been championing the cause since 1999, the year in which he created his line, La Petite Robe Noire, with a dedicated store in Paris's Palais Royal. And designer Miuccia Prada, quoted in Talley's aforementioned book said: "To me, designing a little black dress is trying to express in a simple, banal object, a great complexity about women, aesthetics, and current times."
From the wearer's stance, nothing is more flattering and versatile than the LBD. Offering new personalities in the tweaking of a neckline or sleeve length, it smoothes contours, serving as an inky frame to exposed areas of flesh. All lines and shadows, the LBD is an ally to curves. To Ludot it is "an iconic, magical garment as it enhances a woman's features and erases imperfections".
As the epitome of the blank canvas, the LBD has become a rite of passage for generations of designers, and a fixation for some, such as cult couturier Azzedine Alaia, whose roots lie in architecture.  "The little black dress is interesting to designers because it is a wardrobe classic that we can experiment with and twist. The cut and the volume form the foundations, with the fabric bringing it to life. It's a real creative exercise," commented French couturier Alexis Mabille who was among five designers tapped by French lifestyle chain Monoprix to design a little black dress for this Christmas season, along with Giles Deacon, Hussein Chalayan, Anne-Valérie Hash and Yiqing Yin. Suited to all types, the affordable capsule, which premiered at the style emporium Colette in late November, once again reflects the codes of the black Ford Model T.  From Hash's split-personality design, which melds two styles of dress in one piece, to Deacon's black satin t-shirt style with an oversized satin bow at the neckline, each offers a new take on a perennial wardrobe classic whose capacity for reinvention seems inexhaustible.
If you would like to comment on this story or anything else you have seen on BBC Culture, head over to our Facebook page or message us on Twitter.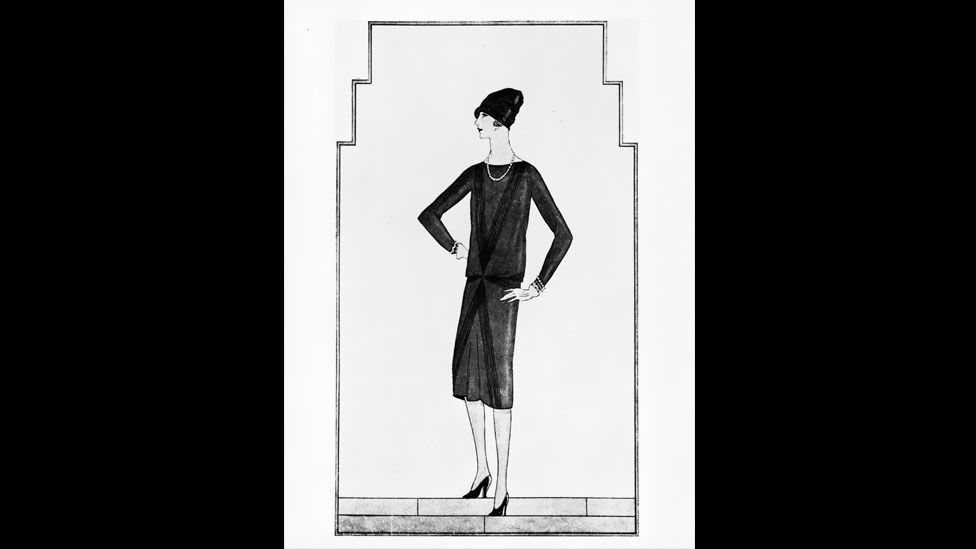 Vogue's editors in 1926 dubbed Coco Chanel's original Little Black Dress 'the Ford' because it mirrored the democratic ideals of the Model T car. (Chanel/Courtesy Vogue Paris)
Vogue's editors in 1926 dubbed Coco Chanel's original Little Black Dress 'the Ford' because it mirrored the democratic ideals of the Model T car. (Chanel/Courtesy Vogue Paris)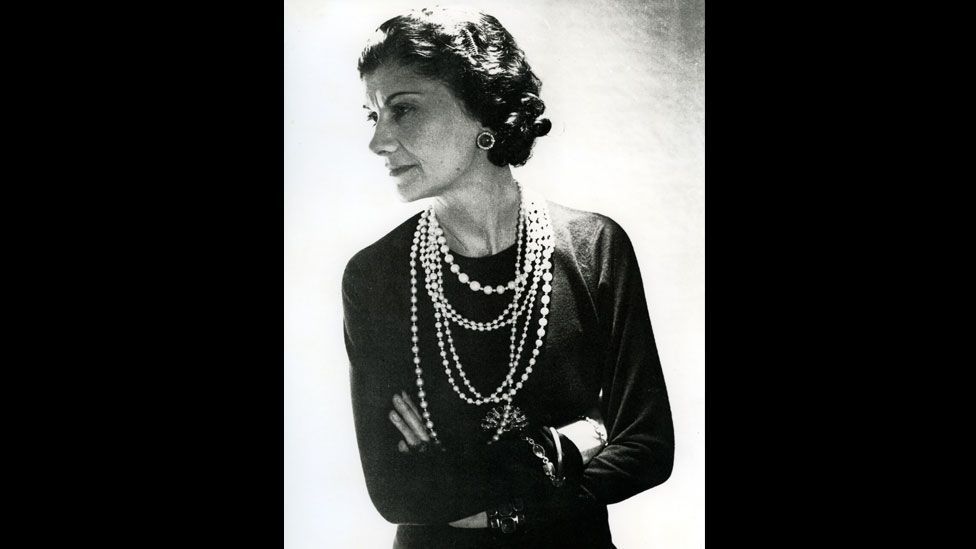 Chanel threw away conventions and her influence endures today – trousers for women, branded perfumes and a fashion for suntans are among her other inventions. (Alamy)
Chanel threw away conventions and her influence endures today – trousers for women, branded perfumes and a fashion for suntans are among her other inventions. (Alamy)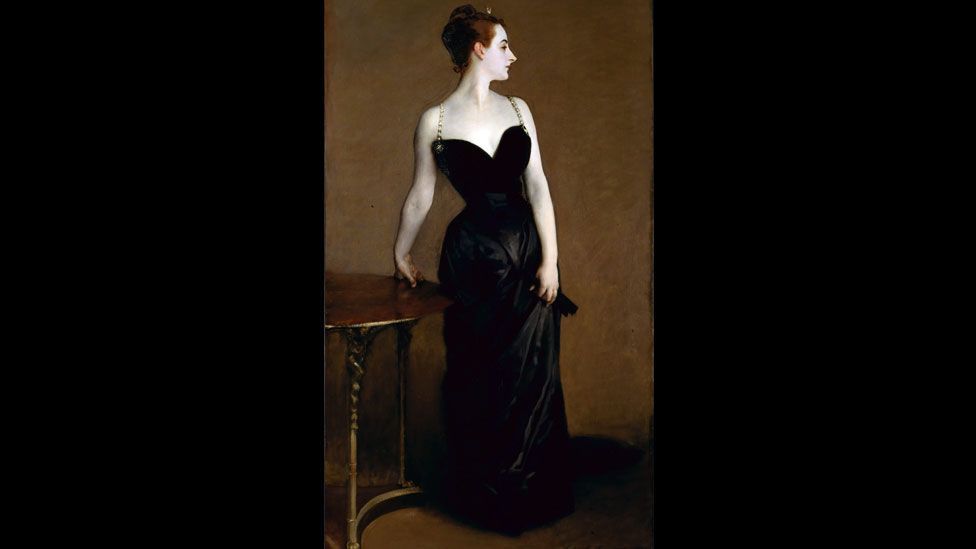 The revealing dress in John Singer Sargent's portrait of the socialite Virginie Gautreau (often known as the Portrait of Madame X) scandalized the Paris Salon in 1884. (Wikimedia)
The revealing dress in John Singer Sargent's portrait of the socialite Virginie Gautreau (often known as the Portrait of Madame X) scandalized the Paris Salon in 1884. (Wikimedia)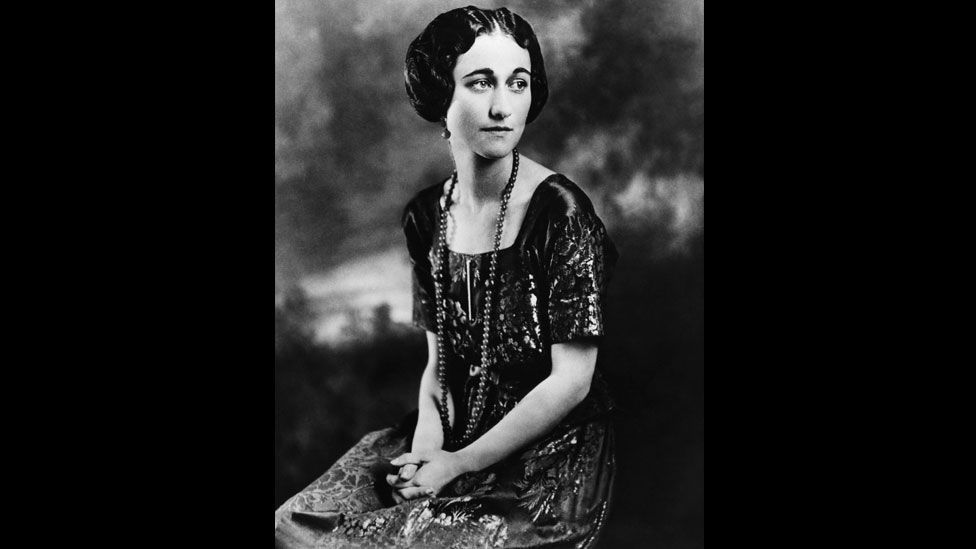 Wallis Simpson, the Duchess of Windsor, was a fan of the LBD from the outset. Her style tips included the advice that a woman could "never be too rich or too thin". (Rex Features)
Wallis Simpson, the Duchess of Windsor, was a fan of the LBD from the outset. Her style tips included the advice that a woman could "never be too rich or too thin". (Rex Features)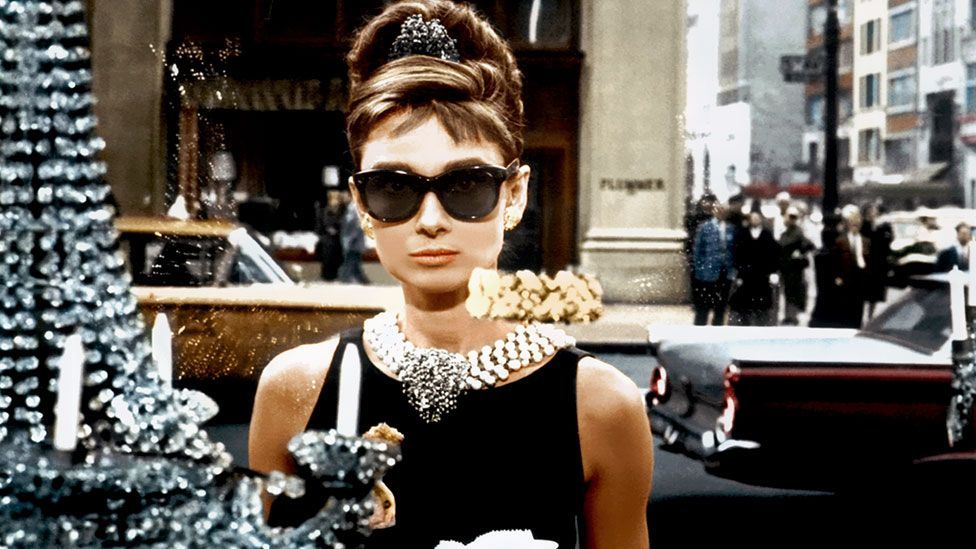 Hubert Givenchy's dress worn by Audrey Hepburn in Breakfast at Tiffany's is perhaps the most famous LBD of all time. (Rex Features)
Hubert Givenchy's dress worn by Audrey Hepburn in Breakfast at Tiffany's is perhaps the most famous LBD of all time. (Rex Features)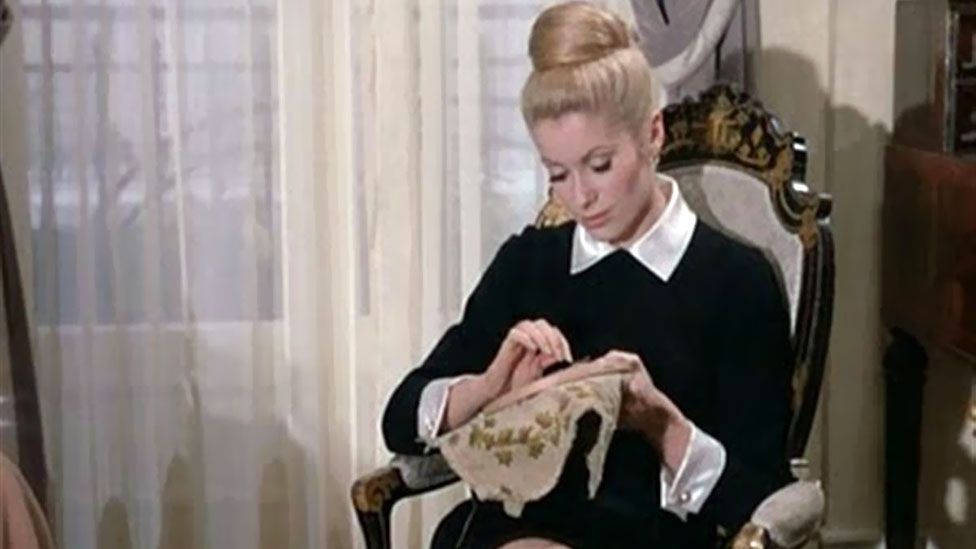 Catherine Deneuve's Yves Saint-Laurent-designed outfit in Buñuel's Belle de Jour is a 1960s LBD classic. (Allied Artist Pictures)
Catherine Deneuve's Yves Saint-Laurent-designed outfit in Buñuel's Belle de Jour is a 1960s LBD classic. (Allied Artist Pictures)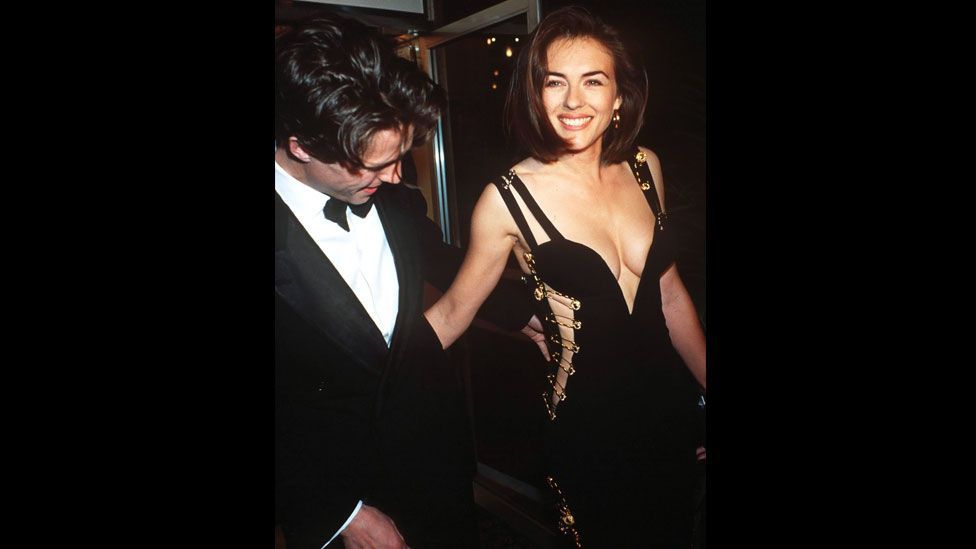 The Versace dress worn by Elizabeth Hurley to the premiere of Four Weddings and a Funeral caused a storm in the press and made Hurley a household name. (Rex Features)
The Versace dress worn by Elizabeth Hurley to the premiere of Four Weddings and a Funeral caused a storm in the press and made Hurley a household name. (Rex Features)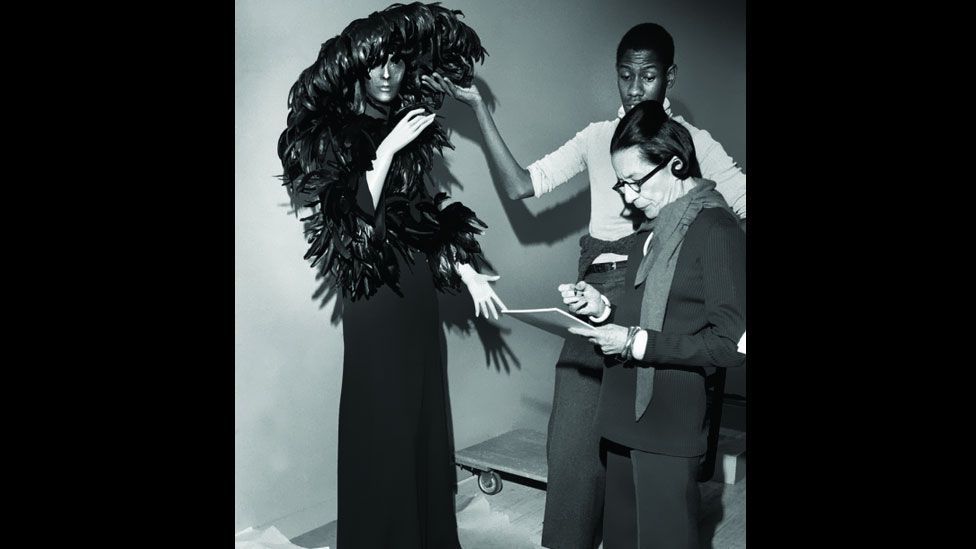 Fashion editor André Leon Talley has been fascinated by the LBD for years. Seen here in 1974, he recently curated an exhibition on the subject. (Bill Cunningham/Skira Rizzoli)
Fashion editor André Leon Talley has been fascinated by the LBD for years. Seen here in 1974, he recently curated an exhibition on the subject. (Bill Cunningham/Skira Rizzoli)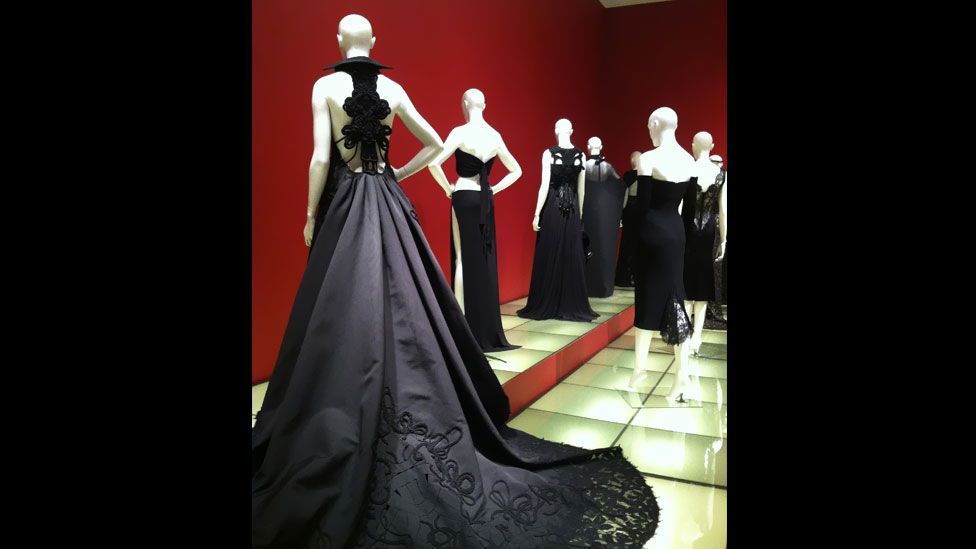 The exhibition was shown in Paris at the Mona Bismarck American Center for Art & Culture this year. It featured around 50 classic dresses from the fashion canon. (Adam Kuehl/SCAD)
The exhibition was shown in Paris at the Mona Bismarck American Center for Art & Culture this year. It featured around 50 classic dresses from the fashion canon. (Adam Kuehl/SCAD)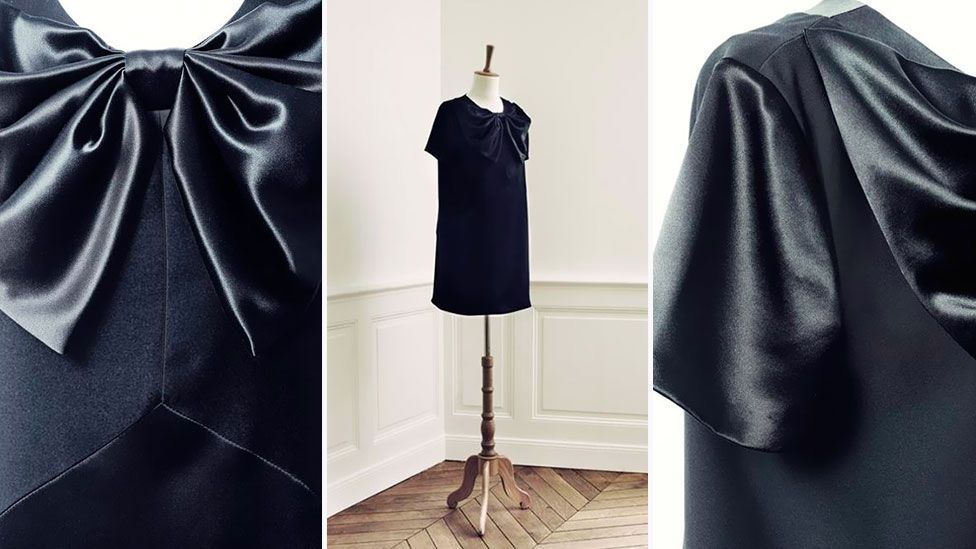 British designer Giles Deacon's 2013 LBD for French retailer Monoprix raises the hem and adds a classic touch with an oversize bow at the neckline. (Monoprix)
British designer Giles Deacon's 2013 LBD for French retailer Monoprix raises the hem and adds a classic touch with an oversize bow at the neckline. (Monoprix)