To celebrate the 2014 World Cup, a Los Angeles museum shows how the sport of Pelé and Zidane has aesthetic appeal. Jason Farago argues its artistic merit.
T
There's a Portuguese phrase you'll be hearing a lot over the next few months: o jogo bonito. No one is sure who first coined the phrase 'the beautiful game' to refer to football, but in Brazil, host of the 2014 World Cup and a country where only the Catholic Church can rival the sport in popularity, football and beauty are a natural pair. For your average Brazilian connoisseur, football is not just an effort to put a ball into a net. It has, at its pinnacle, an aesthetic dimension – it is not just a game, but an art.
The aesthetics of football are now on display at the Los Angeles County Museum of Art, where a new exhibition examines the world's most popular sport. Fútbol: The Beautiful Game features the work of 32 artists who look at the sport through the lenses of celebrity, nationalism, commerce, spectacle and athleticism. It's a timely exhibition, and not only thanks to the World Cup, since many of the themes that contemporary artists have engaged with in the last few decades – from the construction of media events to the globalization of culture to the politics of the body – overlap with the beautiful game itself.
The show-stopper in the LACMA show is Zidane: A 21st Century Portrait, a video installation from 2006 by Scottish artist Douglas Gordon and his French colleague Philippe Parreno. It's an astonishing portrait of Zinedine Zidane, a dour genius of a midfielder with as strong a claim as any to the title of 'greatest footballer ever', filmed according to a simple but radical principle. The video depicts a single match, but the artists' 17 cameras follow the player instead of the ball. For much of his 90 minutes on the pitch Zidane is away from the action, and even when he's running or setting up a goal his expression barely shifts. He scratches his head, runs back and forth in place, adjusts his socks – and sweats. He sweats endlessly, sweating from his brow and his chin, litres and litres cascading down his face. It's like watching a play in which all the characters but one have been edited out. The plot is unintelligible, but the remaining character has his traits amplified to stupefying intensity.
Kicking and screaming
Zidane, the tragic hero, is almost too perfect a subject for a work of art. A son of Algerian immigrants and a symbol of France, he is a soft-spoken virtuoso with a flaring temper, who in the last moment of his career – with a billion and a half people watching – suddenly headbutted an Italian opponent and left Berlin's Olympic stadium with a red card. Several other artists have depicted that 2006 World Cup final. The Algerian-born French artist Adel Abdessemed cast Zidane's headbutt as a grandly historical 5m (16ft) bronze statue, as if it were a statue by Rodin. More impressively, the German experimental filmmaker Harun Farocki refashioned the match into a 12-screen video installation. Deep Play depicted the France-Italy final through a wide, seemingly self-negating range of images and data: FIFA's official video feed, fans' documentation, stadium surveillance, digital recreations and endless rivers of statistics. When we watch football on television, Farocki suggests, we are watching just one possible articulation of a bogglingly multifaceted event.
Not every component about the beautiful game is so beautiful, of course. Football is very big business, and, not unlike the unregulated art market, offers prime opportunities for money laundering, tax evasion, insider trading and other financial shenanigans. Football can lead to massive, glorious celebrations, as in Stephen Dean's film of a wild Brazilian crowd that undulates like an anemone. Or it can lean to hooliganism and worse, as recalled in the paintings of Wendy White, whose Curva series takes its name from the Italian word for the part of a football stadium behind the goals where the ultra-obsessed fans have their seats.
Football is also intimately linked to nationalism, in good ways and in bad. Witness Mexican artist Miguel Calderón, who secretly placed a television in a São Paulo bar during that city's contemporary art biennial in 2004. Unannounced, a football match came on the screen: a showdown between Mexico and Brazil, which bar patrons assumed they hadn't heard about. Mexico scored early. Then they scored again, and again, until the final whistle blew and Mexico had beaten Brazil by a highly improbable score of 17-0. Of course the whole thing was a fake – Calderón had cunningly edited footage of multiple matches to make it look seamless – but the jogo bonito had been undone, the sport's usual losers and winners reversed.
Playing for keeps
Perhaps the most gratifying part of Fútbol: The Beautiful Game, though, is that it's appearing at an American museum. The show is organized by an American curator, Franklin Sirmans, and it includes works from many American artists, from Andy Warhol's portrait of Pelé to Paul Pfeiffer's videos of players collapsing on the pitch. It has taken a long time, but what fans in the States call 'soccer' is finally becoming an American sport. More Americans play soccer than American football now, television ratings are climbing and the once moribund Major League Soccer is maturing into a legitimate international operation. The US men's national team, though it has been drawn into the group of death, should be a force to reckon with in Brazil. The US women's team is the best in the world. Los Angeles in particular, with two Major League Soccer teams and a large Latin American population, is a hotbed of football lovers, and as much as Rio or Rotterdam, LA is an ideal home for a show like this.
For whatever the artistic merits of Fútbol: The Beautiful Game, its geopolitical significance is clear. It's not art but football that is the true international language, and the United States is at last coming close to fluency.
If you would like to comment on this story or anything else you have seen on BBC Culture, head over to our Facebook page or message us on Twitter.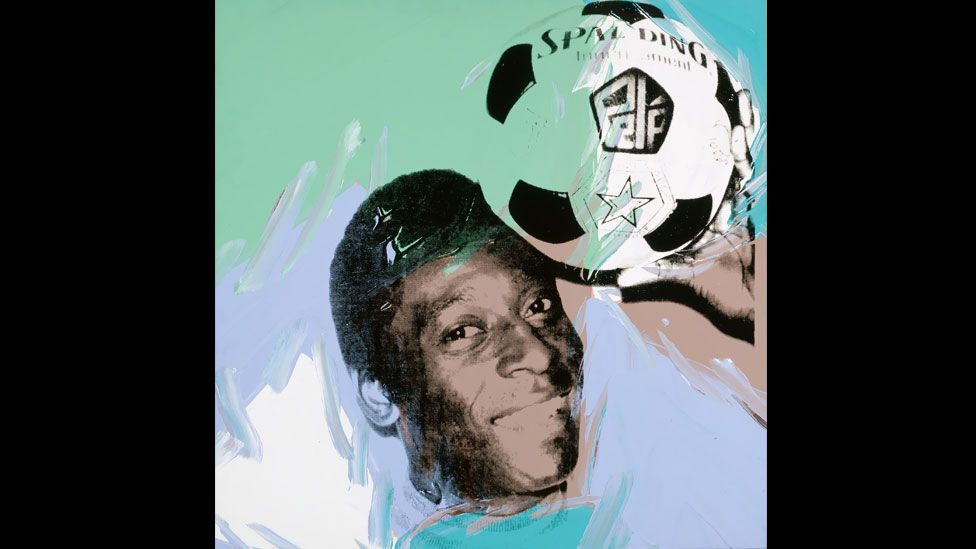 The art world has a long history of representing football. Andy Warhol painted this likeness of three-time World Cup champion Pelé in 1978. (Andy Warhol Foundation/ARS)
The art world has a long history of representing football. Andy Warhol painted this likeness of three-time World Cup champion Pelé in 1978. (Andy Warhol Foundation/ARS)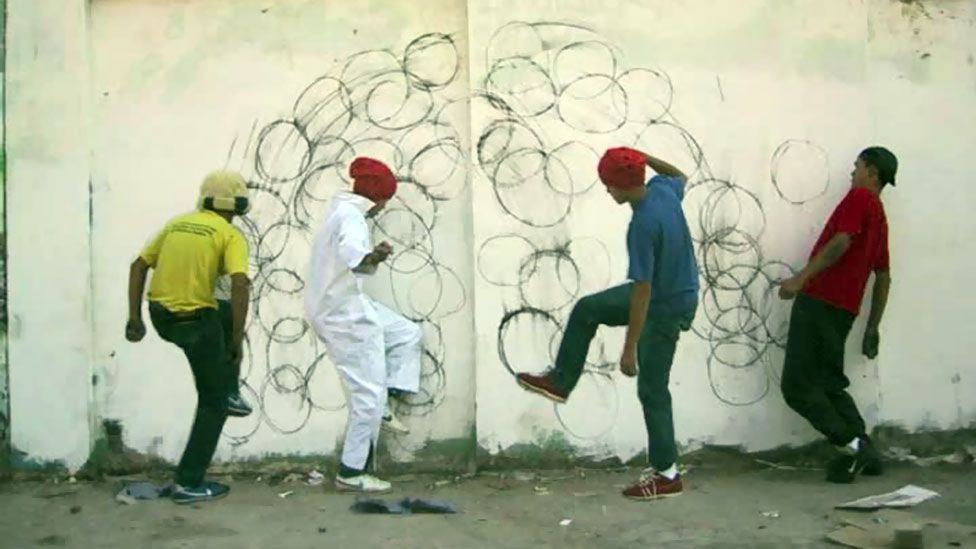 Robin Rhode's Hondije is a digital animation installation from 2001 that mixes photography and drawing. (Robin Rhode)
Robin Rhode's Hondije is a digital animation installation from 2001 that mixes photography and drawing. (Robin Rhode)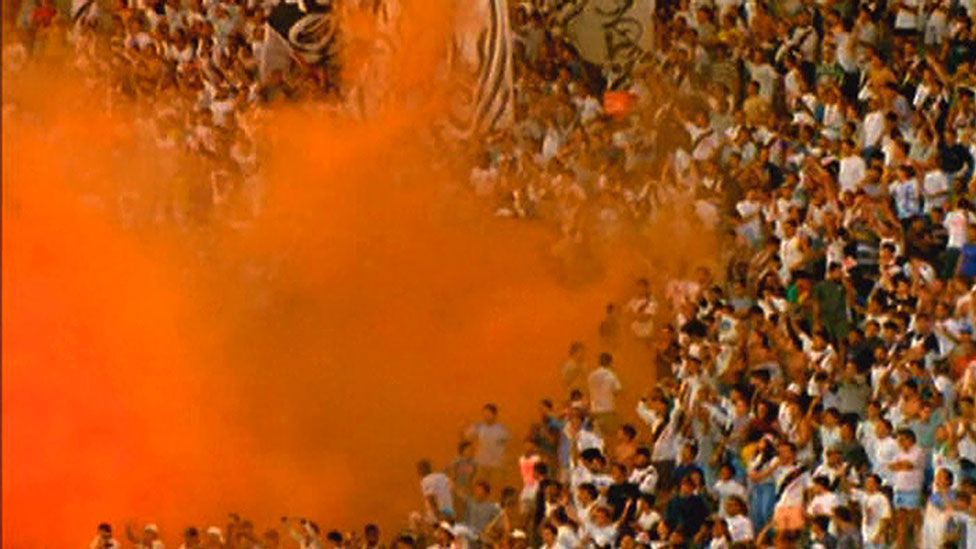 Volta by Stephen Dean is a DVD projection on a 9ft screen showing a massive group of football fans. (Stephen Dean)
Volta by Stephen Dean is a DVD projection on a 9ft screen showing a massive group of football fans. (Stephen Dean)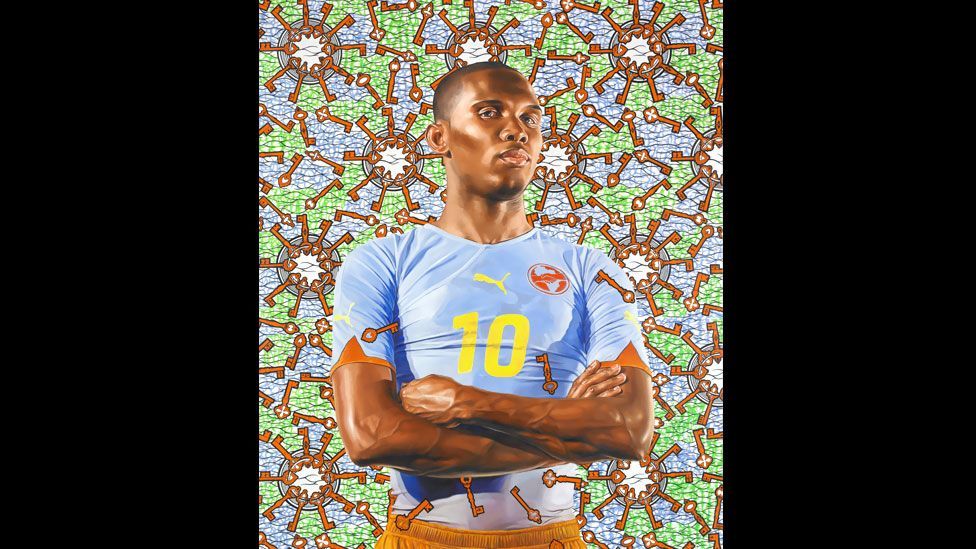 Cameroonian footballer Samuel Eto'o, who plays as a striker for Chelsea, was painted by artist Kehinde Wiley in 2010. (Kehinde Wiley/Roberts & Tilton)
Cameroonian footballer Samuel Eto'o, who plays as a striker for Chelsea, was painted by artist Kehinde Wiley in 2010. (Kehinde Wiley/Roberts & Tilton)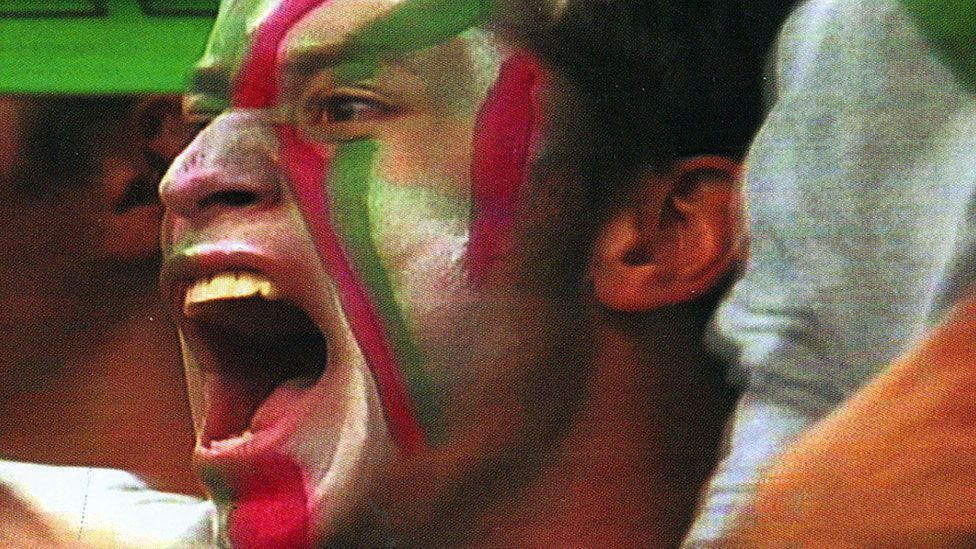 Miguel Calderón's 90-minute video Mexico vs Brazil depicts a hypothetical 17-0 upset by the Mexican team via strategically edited footage. (Miguel Calderón)
Miguel Calderón's 90-minute video Mexico vs Brazil depicts a hypothetical 17-0 upset by the Mexican team via strategically edited footage. (Miguel Calderón)
Lyle Ashton Harris' Verona #2 looks like a political demonstration with fists raised in protest but is actually a depiction of rioting football fans. (Lyle Ashton Harris)
Lyle Ashton Harris' Verona #2 looks like a political demonstration with fists raised in protest but is actually a depiction of rioting football fans. (Lyle Ashton Harris)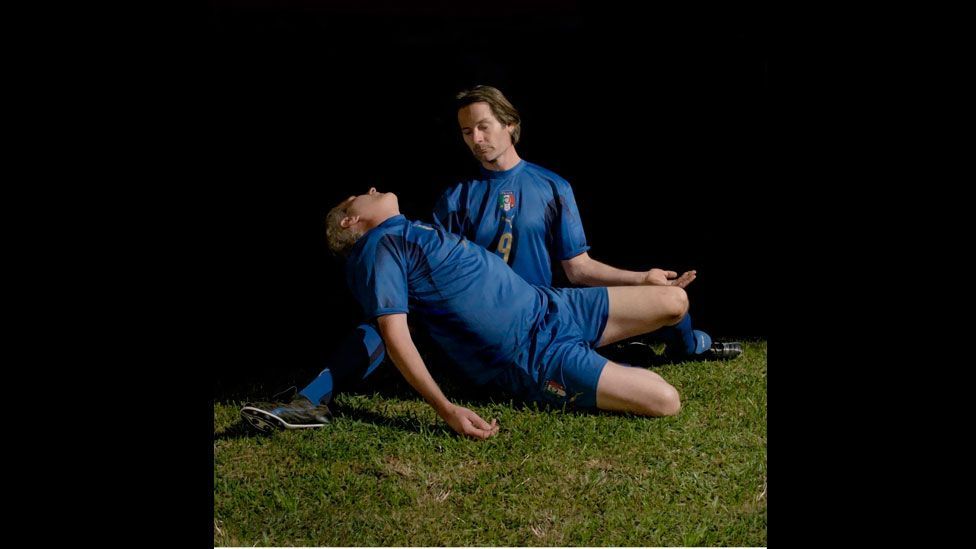 This photograph, titled Pieta, reinforces the idea that football is practically a religion in much of the world. (Generic Art Solutions)
This photograph, titled Pieta, reinforces the idea that football is practically a religion in much of the world. (Generic Art Solutions)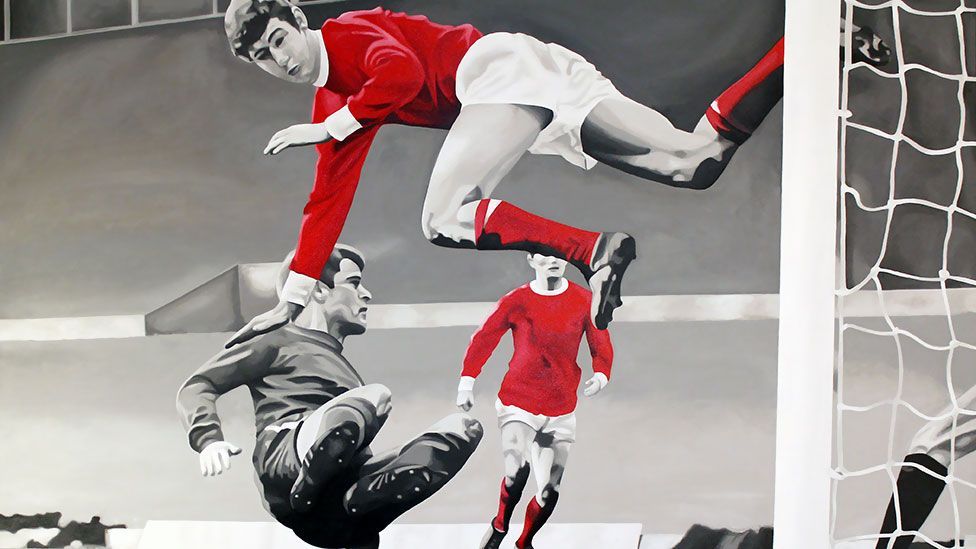 Painter Chris Beas highlights his love of Manchester United in The Kid's Alright by draining out all colour except for the United red. (Chris Beas)
Painter Chris Beas highlights his love of Manchester United in The Kid's Alright by draining out all colour except for the United red. (Chris Beas)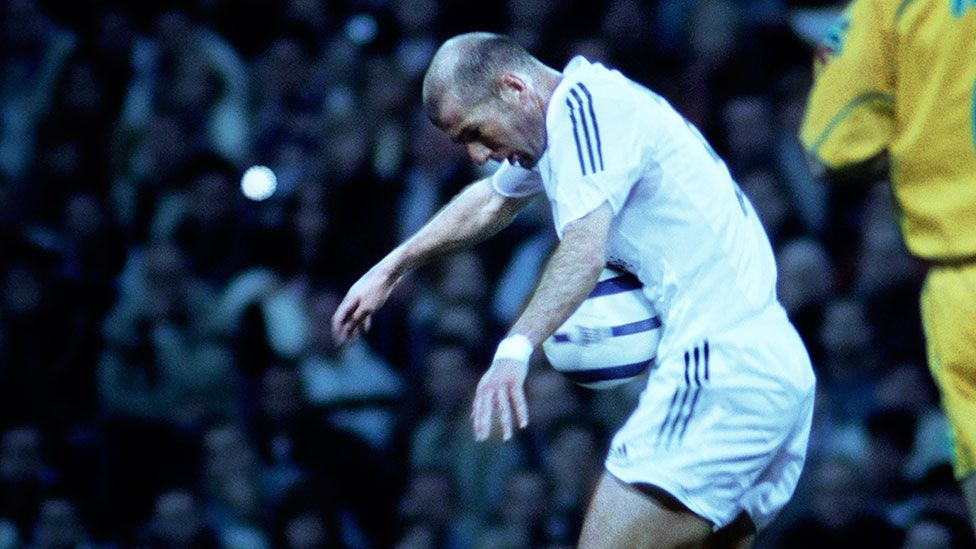 Video installation Zidane: A 21 Century Portrait presents an entire game but with the camera trained on Zinedine Zidane for its duration. (Philippe Parreno and Douglas Gordon)
Video installation Zidane: A 21 Century Portrait presents an entire game but with the camera trained on Zinedine Zidane for its duration. (Philippe Parreno and Douglas Gordon)