The world's largest film studio isn't in the US but in China and is one of the country's biggest tourist attractions. Clarissa Sebag-Montefiore takes a look.
O
On a sunny winter's afternoon in eastern China chickens scratch and scuffle on a busy market street. Men and women in flowing robes sell their wares: large straw hats and baskets, woven fans and red lanterns. Behind them stretch the mountains and red imperial wooden gates. All eyes are on Youyou, a pretty young protégée of Jackie Chan, who feigns an argument with a handsome male companion under the watchful lens of a roving camera.
Youyou is shooting a kung fu television series in Hengdian World Studios, the largest outdoor film studio in the world. Nestled in the hills of Zhejiang province, a five-hour drive south from Shanghai, Hengdian spans over 2,500 acres – more than Paramount Studios and Universal put together. Its vast life-like sets – ranging from the dusty grandeur of Beijing's Forbidden City to the lush tropical jungle of colonial-era Hong Kong – have been used to film over a thousand Chinese TV shows and films, including Hero and Crouching Tiger, Hidden Dragon.
Farmer-turned-entrepreneur Xu Wenrong first began to build Hengdian in the 1990s. Xu, now in his late 70s, converted agricultural land into elaborate sets (construction remains ongoing). His vision was prescient. China is now the second largest film market in the world, beaten only by the United States. Last year, box office returns reached 21.7 billion Renminbi ($3.6 bn), up 48 percent from 2012. Crucially, of the top ten grossing films of 2013, seven were made in China.
'Chinawood', as Hengdian is also known, is cashing in. While the sets are free for film crews, Xu makes returns on the hotels, restaurants, equipment and costumes. "Hengdian used to be this random village and then this guy with a dream was like: 'I am going to make this into the biggest movie studio in the world,'" says Jonathan Kos-Read, otherwise known by his stage name Cao Cao, an American who has acted in a hundred Chinese movies. "And he did."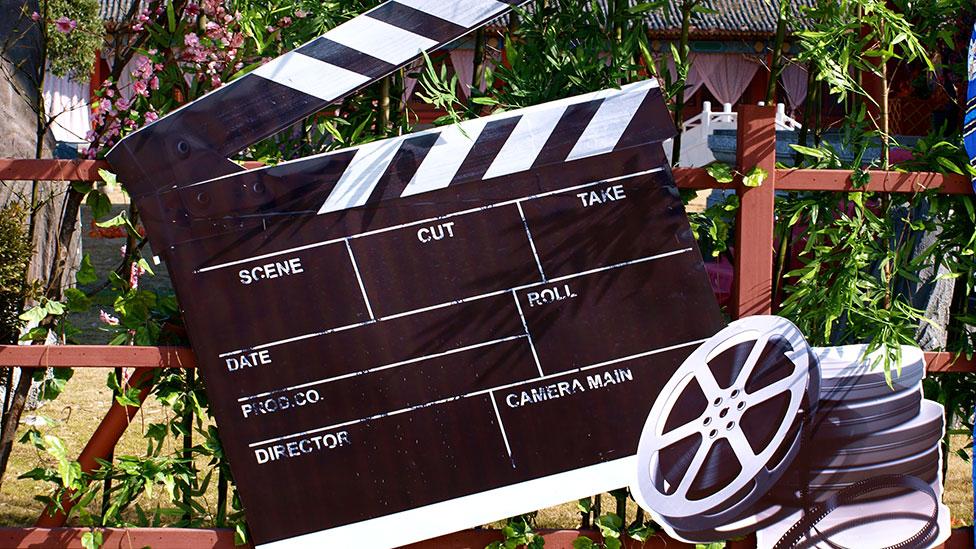 A film board in the Palace of Ming and Qing Dynasties (Clarissa Sebag-Montefiore)
It is also one of China's biggest domestic tourist attractions. Early January is low season. But, despite the cold and the high-ticket prices (access to three sets costs 480 Renminbi or $79), there is a steady trickle of visitors. They include 600 retirees who have descended on Hengdian mid-week for a two-day tour en masse. Many wear matching caps and clutch SLR cameras, as they pose with actors in period dress. (The paved streets of the Hong Kong and Guangzhou studios are also popular for wedding photographs). Shuttle buses take tourists between sets where daily performances are held. At the faux Ming and Qing dynasty palaces, Mongolian horsemen perform stunts against a backdrop of pavilions. Tourists can pay for a lap around the arena on a docile pony or buy popcorn. The entire show is executed to the dramatic tune of a famous soap opera.
Local hero
Hengdian now attracts more than 11 million tourists per year: the recreational visitors and professional film crews – have transformed the local area. In a decade this former rural backwater has ballooned, with a population riding off the back of the burgeoning film industry. Shentu Ping Ping, a wrinkled 61-year-old local, has witnessed the dramatic change. Shentu used to live in a small house with two muddy rooms that had just one bed for five people. But now she helps out in her family's restaurant and is paid to take care of the flowers in the studio opposite. "Before we were poor and had to work in the fields," says Shentu with a satisfied burp, sitting down after the lunch shift. "We didn't know where our next meal was coming from. Now we are no longer considered farmers. Now Xu Wenrong is our boss. We have food, we have money to spend. We have our own business."
Wang Xi Xie, 41, Shentu's daughter-in-law, agrees. "We have visitors eating here not only from China but from all over the world. I have even got foreign tourists in my restaurant and famous movie stars here," says the mother of three. Above all, Wang is happy that, unlike millions of rural Chinese, she does not have to migrate to the city. She explains: "The best thing is we get to stay here – we don't have to leave home to work." On the contrary, migrants have flocked to Hengdian. Many come to set up businesses or work eight-hour days as extras on film sets. Payment is only 40 Renminbi a day ($6.60) – but for many it is still better than toiling in a factory or field.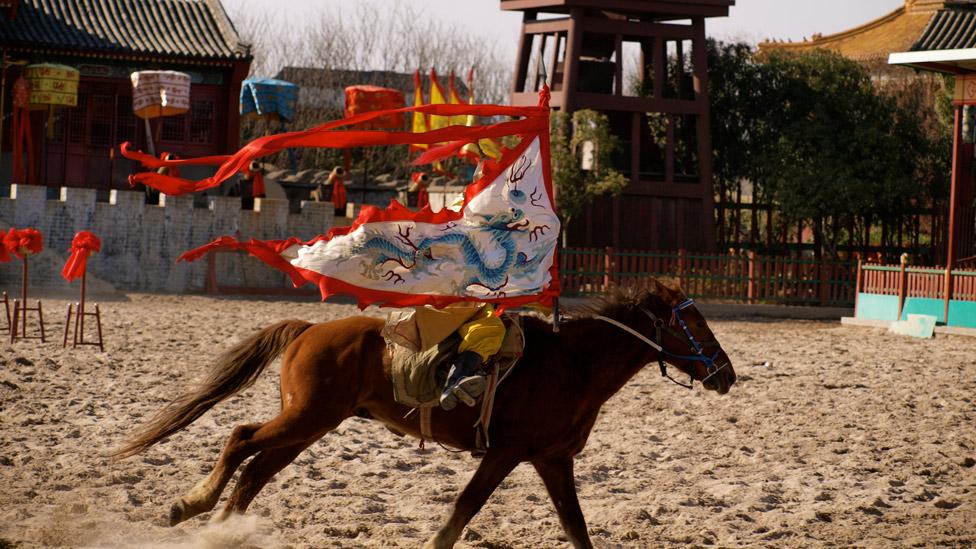 Horse-riding display in the Palace of Ming and Qing Dynasties (Clarissa Sebag-Montefiore)
Others have come to follow a dream. Known as 'hengpiao' or 'Hengdian drifters' they are the equivalent of the waitresses and waiters hankering after hitting the big time in Hollywood. Tang Wei, 20, an extra on a kung fu television series, is in Hengdian against his parents' wishes. "Almost no parents support their kids doing this kind of thing. Half of them don't even know what they are doing − they think they are working in some factories. Parents don't think it is realistic, that it has no future," he explains.
Risky business
Gong Wen Biao, 26, has also come to Hengdian, where he has joined the actors' union hoping to get a gig in a kung fu movie. But while he wants to break into the Chinese film industry, he still believes that American films – for now − are better. "Foreign films are about the future but Chinese cinema is always about the past so the Western film industry has a lot more imagination," he says. All films shot in China must have their scripts approved by the State Administration of Radio, Film and Television, the country's censorship body. Placing movies in the present day can be more risky. With this in mind many films and television series are set during the dynasties of the past, where there is no question of criticising the ruling Chinese Communist Party.
Despite these restrictions, domestic movies are proving more popular in China as technical know-how improves. "The props are better, the cinematographers are better, everything looks better," says Kos-Read, the American actor who has worked in the Chinese film industry for 14 years, and was recently in Hengdian shooting a new telenovela alongside the Hong Kong star Gillian Chung. "The fact that Chinese people are going to Chinese films more than they used to doesn't say so much about changing tastes in China," insists Kos-Read. "It just says that domestically made films are getting better. There is a growing group of talented professionals who know how to make films for audiences. That sort of talent takes a while to grow – the American film industry had a hundred-year start."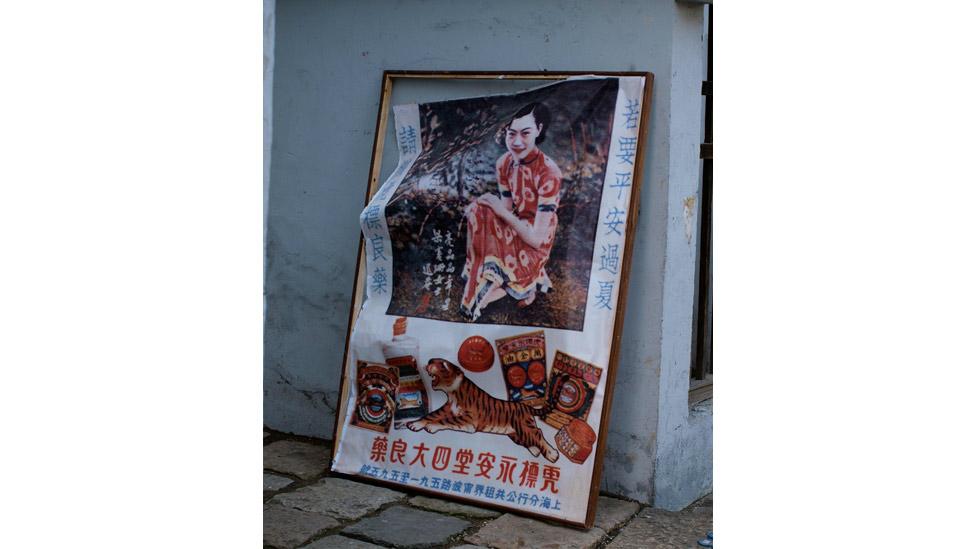 A poster in Hong Kong/Guangzhou street (Clarissa Sebag-Montefiore)
Hengdian is not quite Hollywood yet. Stars such as Jet Li and Jackie Chan have worked here. Increasingly, the sets are being used for Hollywood co-productions, such as The Mummy: Tomb of the Dragon Emperor and Snow Flower and the Secret Fan, which are hoping to get around the government's strict quotas for the import of foreign films. But accommodation and entertainment is still basic by American standards. While filmmakers can have barbecued sparrow eggs delivered to their hotel rooms at 2:00am there is still only one Western restaurant in town – a KFC.  
Gong Wen Biao, the aspiring actor, is unfazed. "We will rise above Hollywood," he says in his Ming dynasty gown, gesturing his arms around the palace setting as the evening's shadows grow. "China has only been opened up for thirty years and we are already here."
Additional reporting by Kim Wu.
If you would like to comment on this story or anything else you have seen on BBC Culture, head over to our Facebook page or message us on Twitter.