As a replica of the Welsh poet Dylan Thomas's famous hut goes on tour, Fiona Macdonald picks out five literary cabins in which famous works were penned.
D
Dylan Thomas
This is a caravan with literary heritage: a replica of Dylan Thomas's writing shed is going on tour around the UK to celebrate the centenary of the Welsh poet's birth. With his jacket slung over the back of a chair, and an ashtray full of Woodbine butts, the mobile hut recreates the space as it was left in 1953 when Thomas left for New York, where he died. The original sits above the Boathouse in Laugharne, Carmarthenshire, where the poet lived for four years before his death – and where he wrote his most famous work, Under Milk Wood. Alongside lists with rhymes and alliterations, the walls are covered with pieces by Walt Whitman, WH Auden and William Blake. Thomas called it his "wordsplashed hut", and "my study, atelier, or bard's bothy".
Arthur Miller
In April 1948, Arthur Miller set off for Roxbury, Connecticut to build a cabin. "It was a purely instinctive act," Miller told The New Yorker in 1999. "I had never built a building in my life." He had the kernel of an idea for his play Death of a Salesman, and somehow the construction of his hut was bound up with the writing. "I kept saying, 'As soon as I get the roof on and the windows in, I'm gonna start this thing.' And indeed I started on a morning in spring." His impulse was just "to sit in the middle of it, and shut the door, and let things happen." By the end of that day, he had written the first act of one of the most famous plays of the 20th Century.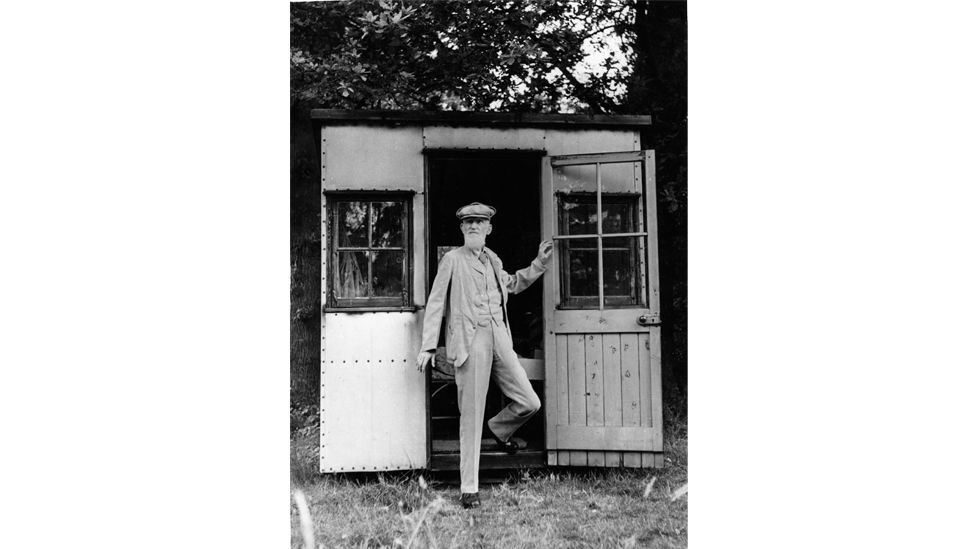 (Keystone Pictures USA / Alamy)
George Bernard Shaw
In the garden of a plain suburban villa, George Bernard Shaw (pictured above in 1945) sought out privacy for the final four decades of his life. "People bother me," Shaw confessed. "I came here to hide from them." The Irish playwright moved to the house – now called Shaw's Corner – in a Hertfordshire village in 1906; while living there, he became the only person to be awarded both the Nobel Prize in Literature (1925) and an Oscar (1938). Built on a turntable, the hut could be rotated from inside so that Shaw could always face the sunshine while he worked.
Virginia Woolf
Built out of a wooden toolshed, the small writing room in which Virginia Woolf penned many of her most famous novels stood in the garden of a house she bought with her husband Leonard in 1919. An important rural gathering place for the Bloomsbury Group, Monk's House in Sussex attracted famous guests like TS Eliot and EM Forster. Although the modernist author described the importance of having a space for writing in her 1929 essay A Room of One's Own, this was not an ideal spot for concentration. According to The Guardian: "She was always being distracted - by Leonard sorting the apples over her head in the loft, or the church bells at the bottom of the garden, or the noise of the children in the school next door, or the dog sitting next to her and scratching itself and leaving paw marks on her manuscript pages. In winter it was often so bitterly cold and damp that she couldn't hold her pen and had to retreat indoors." Despite that, Woolf wrote parts of novels like Mrs Dalloway and The Waves here. It was also the place where Woolf wrote her final words in 1941: a farewell letter to Leonard, shortly before she waded into the river Ouse and drowned.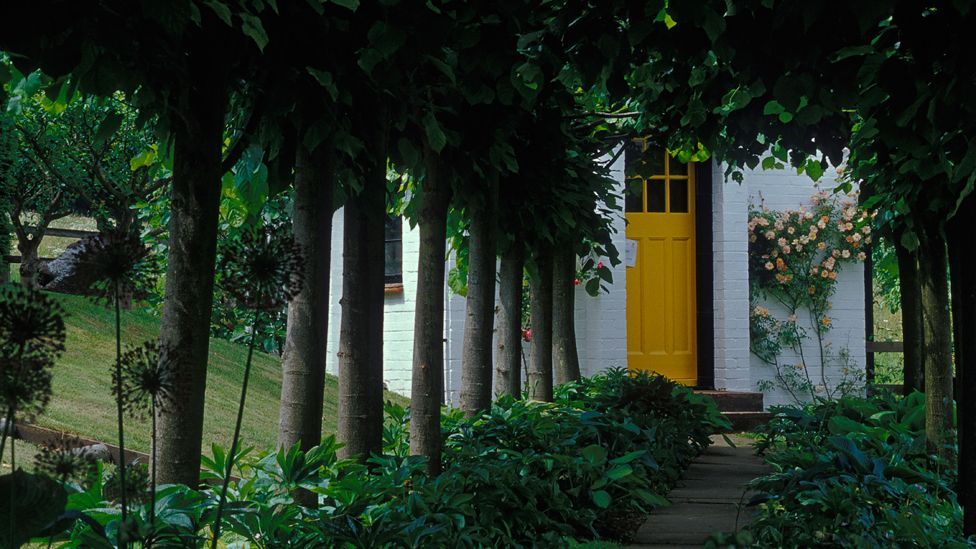 (parkerphotography / Alamy)
Roald Dahl
The author of Charlie and the Chocolate Factory and Fantastic Mr Fox moved to Buckinghamshire in the south of England in 1954. He had a 6ft x 7ft (1.8m x 2.1m) writing hut (pictured above) built in his garden, and worked in it until his death in 1990. It was left exactly as it was when Dahl was alive – including screwed up manuscripts in the bin. Despite reports that the author banned children from his shed, telling them that ferocious wolves prowled inside, his daughter Ophelia remembers visiting: "It had a very mercurial atmosphere, the sense of an inventing room or a laboratory." Her favourite object is a Toby jug containing six pencils. "He would go to the hut at about 10am and would sharpen all six pencils with an electric pencil sharpener. He would say when all six needed sharpening again he knew he'd been writing for about two hours. At this point he'd come back to the house for a light lunch, a nap and a little flutter on the racehorses, before going back to the hut for two more hours."
If you would like to comment on this story or anything else you have seen on BBC Culture, head over to our Facebook page or message us on Twitter.