Mention Italy and a particular sort of effortless glamour comes immediately to mind. Is it real or just a nostalgic myth? Lindsay Baker investigates.
"The only word Liz knows in Italian is Bulgari," joked Richard Burton about Elizabeth Taylor who, photographed in her show-stopping jewels, encapsulated the global obsession with Italy. The 1950s and '60s gave birth to a stylish, seductive – and uniquely Italian – iconography: the dazzling Trevi Fountain scene in Fellini's La Dolce Vita, for instance, and Gregory Peck and Audrey Hepburn's Vespa moment in Roman Holiday. Italy and glamour have been synonymous ever since.
What does Italian glamour really mean, though, and is it anything more than a nostalgic myth? A new exhibition opening this week at the Victoria and Albert Museum (V&A) in London sets out to answer these questions. The names of luxury Italian sports car manufacturers like Ferrari and Maserati certainly conjure a vision of uniquely confident, showy sleekness, just as the names Valentino, Versace, Gucci, and Prada ooze luxury, sensuality and a distinct Italian swagger. In fashion, Milan is one of the 'big four' cities, and while Paris is famed for its perfect sense of chic, New York for sporty wearability and London for iconoclasm, Italian glamour has become Milan's signature. But can a sense of glamour be inherent in a whole nation's DNA? Or is it just a cliché, a national stereotype?
Stitches in time
Certainly, the roots of Italian fashion go way back – to 14th-Century Florence. And as the cradle of the Renaissance, Italy can lay claim to some serious heritage. In Florence, for elite families of the period – the Medici among them – appearance and display were intimately bound up with identity. Affluent Florentines were obsessed with fashion, investing huge proportions of their fortunes on clothing.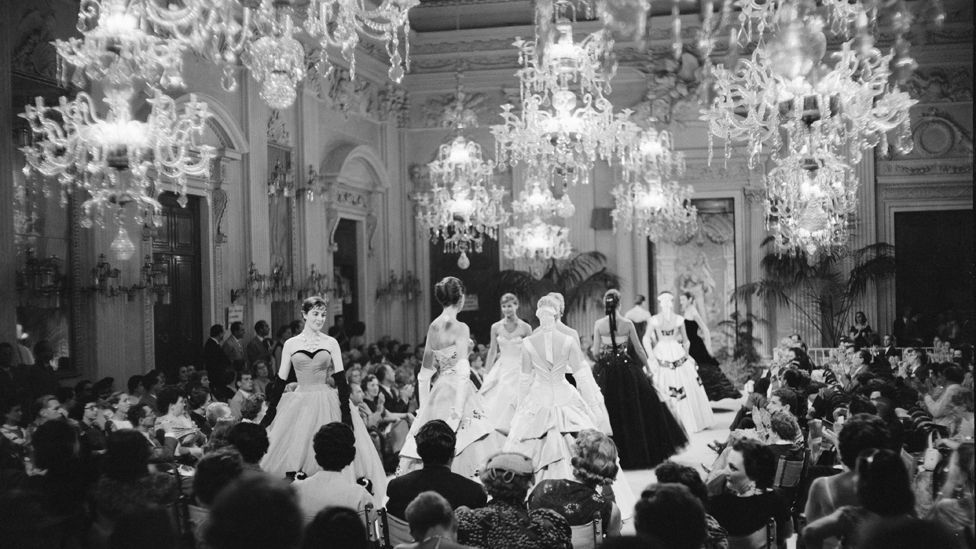 An early fashion show in Florence's Palazzo Pitti (Giorgini Archive)
But it was not until the postwar years of the 20th Century that Italy's international fashion industry came into its own. Largely responsible was aristocratic entrepreneur Giovanni Battista Giorgini, who gathered designs from the best tailors and dressmakers in the country, including Pucci, the Fontana sisters and Capucci. The first fashion shows were staged in the grand, chandeliered Sala Bianca at Palazzo Pitti in Florence, and the fact that the designs were around 30% cheaper than their Parisian counterparts meant they were snapped up by buyers – and soon spread rapidly to the department stores of the US.
It was the heady combination of celebrity and style that proved the truly irresistible combination, and ultimately it was Hollywood that fully propelled Italian style onto the global stage. The movie industry was drawn to the sunny climate and relatively low costs of filming, and Cinecittà studios in Rome became an international hub, the city itself acting as an open-air set. Films like Roman Holiday and Cleopatra proved huge hits.
The exuberant, opulent aesthetic of the 'Hollywood on the Tiber' years spread quickly. Off set the stars were photographed by the paparazzi, then a new phenomenon (and a few years later itself fictionalised in La Dolce Vita). Bogart and Bacall were snapped gliding elegantly in a gondala in Venice, Audrey Hepburn shopping for shoes at Ferregamo in Florence, Taylor and Burton in the boutiques of her beloved Bulgari, while other stars were shot holidaying on the scenic Amalfi coast. These images went around the world, portraying a beguilingly sybaritic and effortlessly stylish way of life.
It was a fashion moment on a global scale. "A whole generation benefitted from the media glow," says American-born Sonnet Stanfill, the curator of the V&A exhibition. "They were the go-go years." But according to the curator, Italian glamour amounts to much more than hype or a media moment: "Real Italians care passionately about their appearance," she insists.
Stanfill points to the quintessentially Italian custom of the passeggiata that she observed when she lived in Florence. The daily ritual of the early-evening stroll or promenade is embedded in Italian society, and self confidence is intrinsic. "It's a kind of street theatre, there is an element of posing," she says. It's a way to see and be seen, according to Stanfill, and its participants are always groomed, well dressed, completely pulled together − to fare la bella figura, to make a good impression or cut a dash is fundamental to the Italian image.
First craft
The nation's trademark swagger goes hand in hand with its long tradition of craftsmanship. In the financial district of Milan, says Stanfill, the men are meticulously turned out in their bespoke, immaculately tailored, silk-lined suits, carefully coordinated soft-leather belts and shoes, silk pocket squares and ties. And in Italian tailoring there are many regional variations of detail. Italian tailoring has reached worldwide status over the past half century – with films like American Gigolo and Richard Gere's vast array of Armani suits increasing awareness.
It's certainly true that the Made in Italy label is still sought after worldwide, particularly in the past two decades. As Sicilian designer Fausto Puglisi tells BBC Culture: "Italian craftsmanship is totally unmatchable. And in Italy it is something that is extremely connected to society − people don't just do it for the money, they do it because they love it." Tuscany, for instance, is the region to go for leatherwork, he says. "It's amazing: they treat leather like silk."
Conservatism and conformism are the two main criticisms of Italian fashion now, and Milan is said to be less  influential than it was. In part this is attributed to the industry's family-business methods. Some big labels have remained in the same family for decades, dominating the industry, resulting, some commentators say, in stagnation. Does it make it harder for new talent and creativity to come through? "Italian fashion history has been built by big fashion families and we have to pay a tribute to them," says Puglisi.  "And it's true that the situation until now has been quite still… but at the same time I believe that you have to work hard and truly believe in yourself, no matter what, staying focused on your vision, and that's the only way to really break through."
There are signs that times are changing in the industry, though. Italy's new prime minister Matteo Renzi has been vocal about supporting fashion – and even made an appearance at the exhibition's opening gala dinner in London this week. For Puglisi fashion is all about innovation − it means "to go out and discover new things." And it does appear that creativity is beginning to come through again, with innovators like Puglisi flourishing, young designers at the helm at Gucci and Valentino, a scholarship for young people on offer from Ermenigeldo Zegna, and Giorgio Armani offering free use of his runway venue to up-and-coming designers like the much-acclaimed Stella Jean.
So what does glamour mean today to Puglisi and to the everyday lives of Italians? "Glamour is something deeply attractive, something strong related to beauty, and I definitely believe in beauty. For us Italians it must be something we grew with, it's part of our taste and culture, in our approach to life. Look at art, sculpture and the architecture: from the Roman Empire to contemporary, they're still part of our everyday life." Reality or fabulous mythology? In the end, Italian glamour is probably a bit of both. And according to Puglisi, it's ultimately about passion. As an Italian designer, he says: "fashion is your obsession, fashion is the only boyfriend or girlfriend you can have in life. There is nothing else."
If you would like to comment on this story or anything else you have seen on BBC Culture, head over to our Facebook page or message us on Twitter.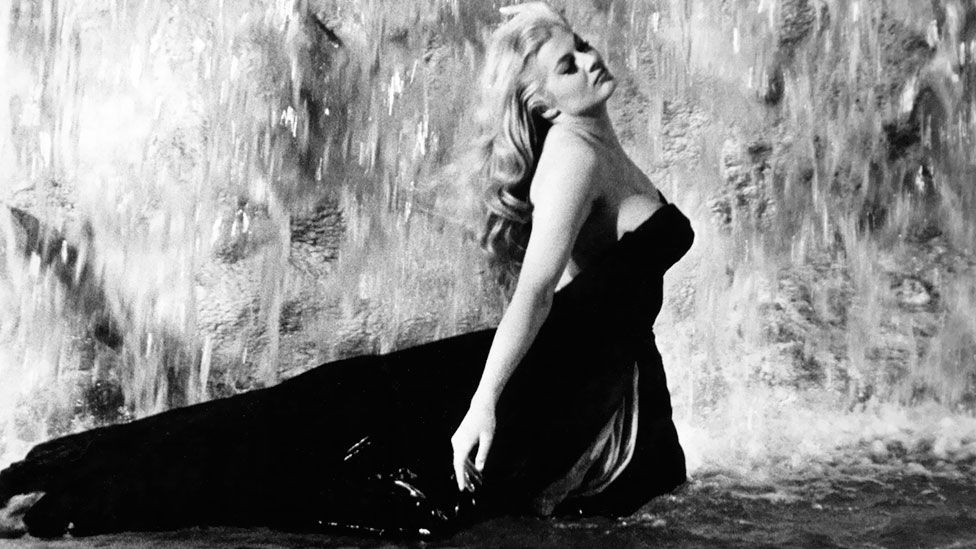 The scene in which Anita Ekberg cavorts in Rome's Trevi Fountain in Fellini's 1960 film La Dolce Vita has become an iconic image of sybaritic Italian glamour. (AF archive/Alamy)
The scene in which Anita Ekberg cavorts in Rome's Trevi Fountain in Fellini's 1960 film La Dolce Vita has become an iconic image of sybaritic Italian glamour. (AF archive/Alamy)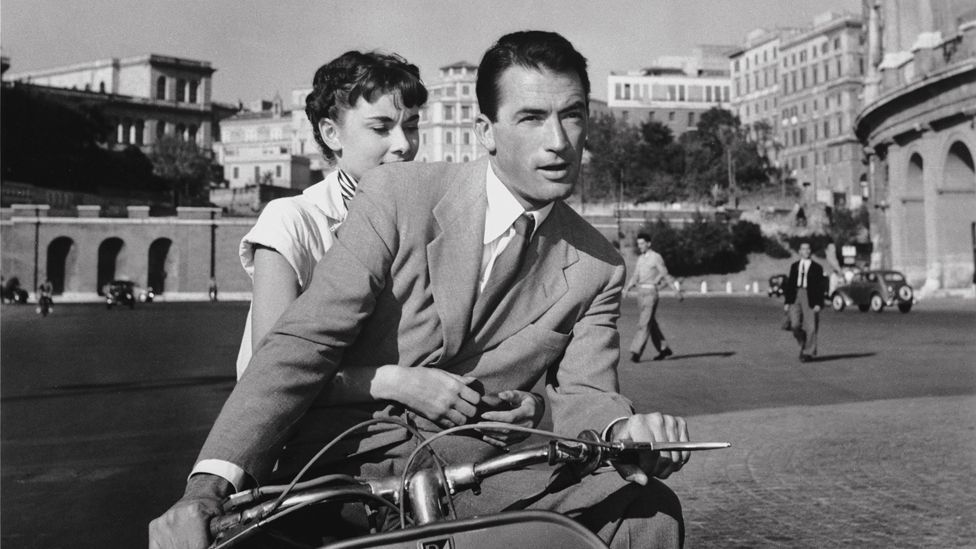 In the 1953 film Roman Holiday, an elegant Audrey Hepburn and Gregory Peck brought a taste of the Italian way of life to the world. (Paramount, the Kobal Collection)
In the 1953 film Roman Holiday, an elegant Audrey Hepburn and Gregory Peck brought a taste of the Italian way of life to the world. (Paramount, the Kobal Collection)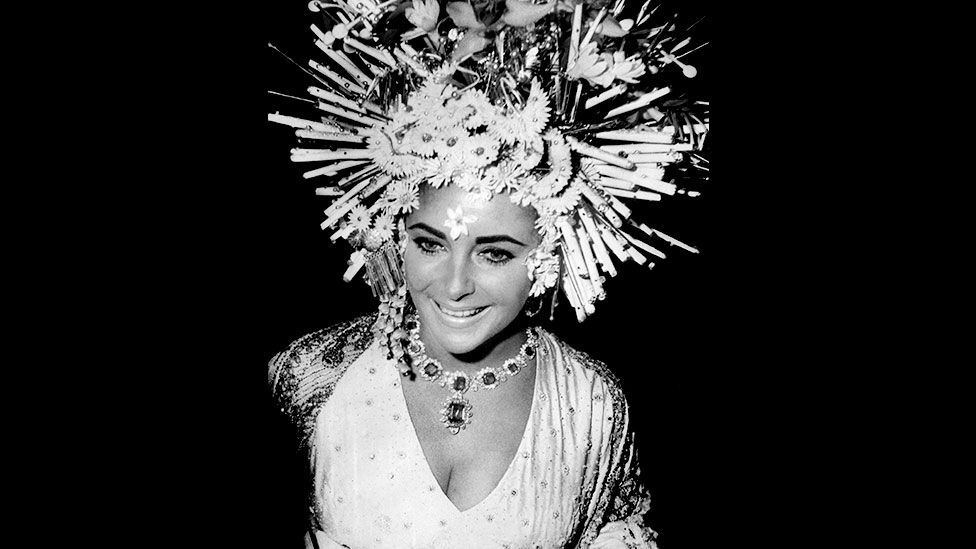 Elizabeth Taylor wears Bulgari jewellery at the masked ball, Hotel Ca'Rezzonico, Venice, 1967. Bulgari was founded in Rome in 1884, and has since become a global brand. (V&A)
Elizabeth Taylor wears Bulgari jewellery at the masked ball, Hotel Ca'Rezzonico, Venice, 1967. Bulgari was founded in Rome in 1884, and has since become a global brand. (V&A)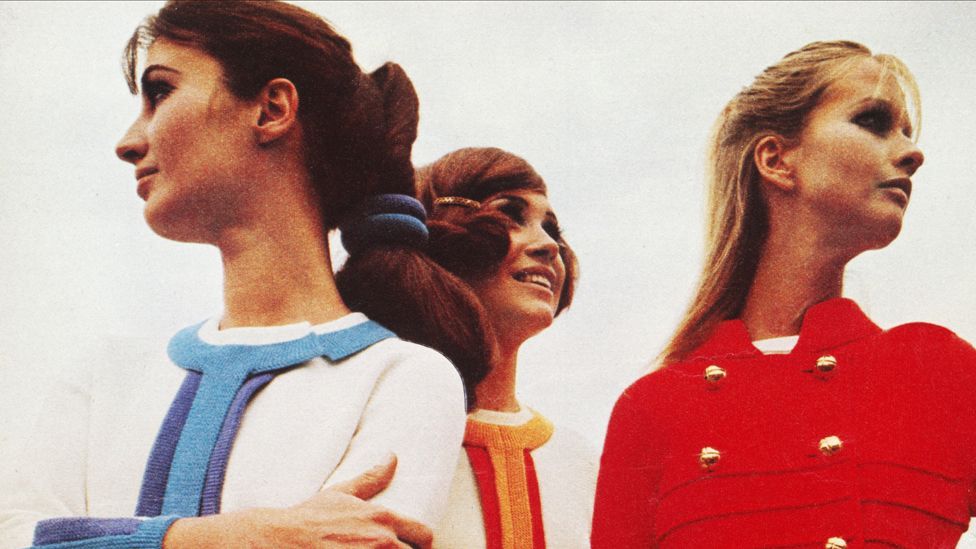 Advertising from the 1960s shows designs by Albertina, among the first Italian designers to become popular worldwide. (V&A)
Advertising from the 1960s shows designs by Albertina, among the first Italian designers to become popular worldwide. (V&A)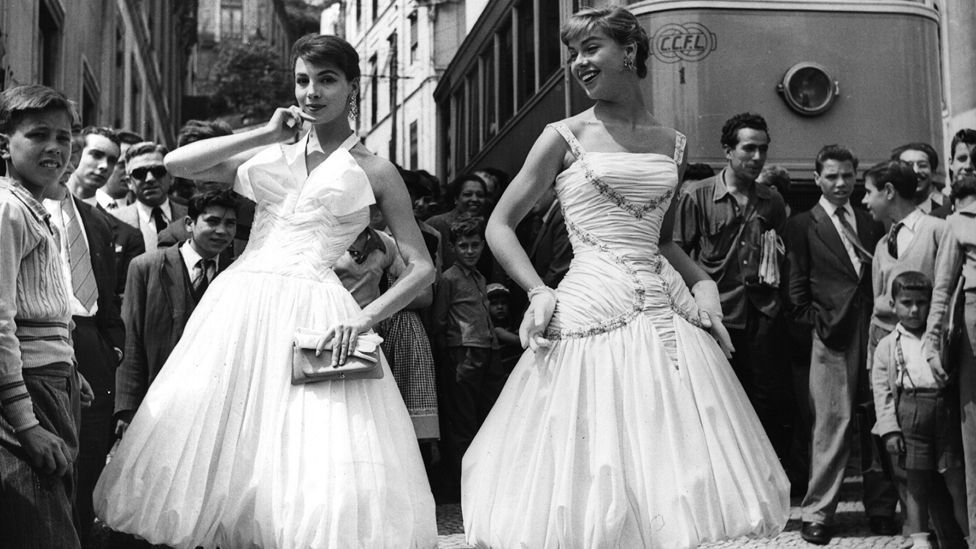 The dresses designed by Joel Veneziani in 1956 summed up the effortless glamour of the era. (courtesy the Art Archive, Mondadori Portfolio, Electa)
The dresses designed by Joel Veneziani in 1956 summed up the effortless glamour of the era. (courtesy the Art Archive, Mondadori Portfolio, Electa)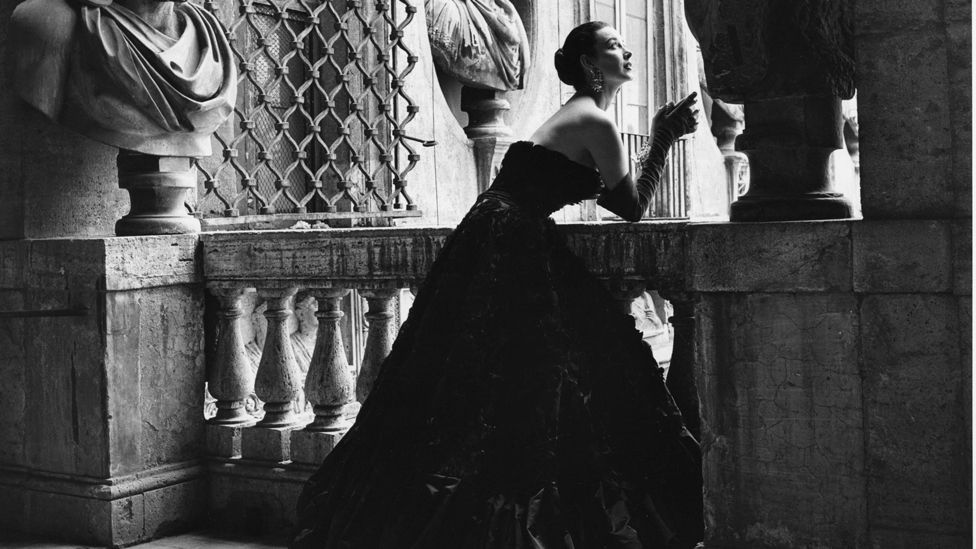 A dramatic Simonetta evening gown of embroidered silk denotes opulence, elegance and Italian pizzazz. (Genevieve Naylor, courtesy Staley-Wise Gallery, New York)
A dramatic Simonetta evening gown of embroidered silk denotes opulence, elegance and Italian pizzazz. (Genevieve Naylor, courtesy Staley-Wise gallery, New York)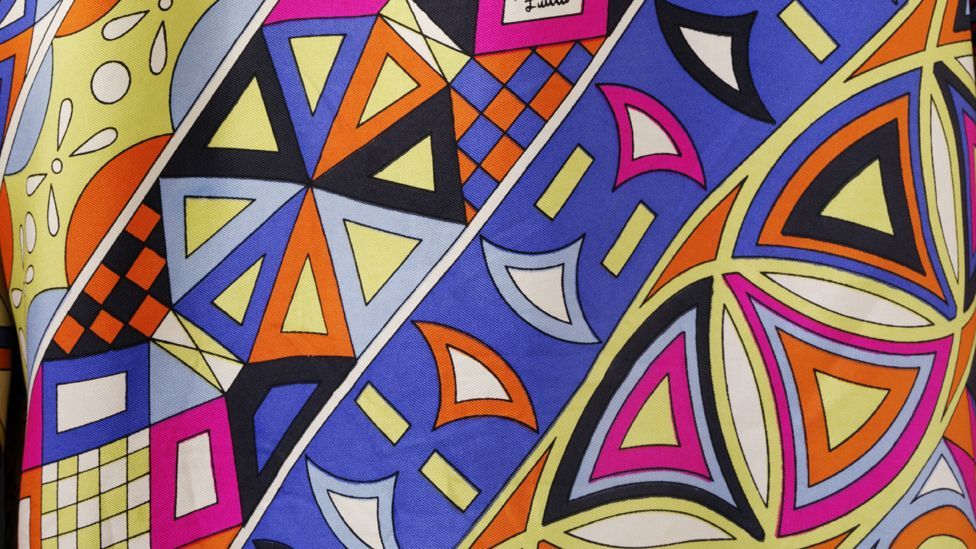 Emilio Pucci was renowned for his dazzling, op-art printed textiles, such as this 1960s design. (V&A)
Emilio Pucci was renowned for his dazzling, op-art printed textiles, such as this 1960s design. (V&A)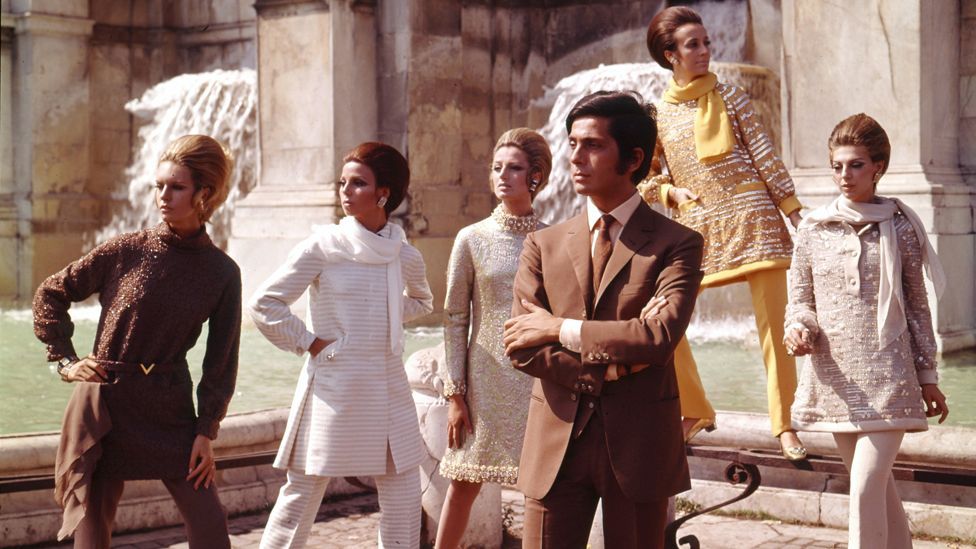 Designer Valentino poses with Italian swagger alongside models wearing his designs in Rome, 1967. (Courtesy Art Archive/Mondadori Portfolio/Marisa Rastellini)
Designer Valentino poses with Italian swagger alongside models wearing his designs in Rome, 1967. (Courtesy Art Archive/Mondadori Portfolio/Marisa Rastellini)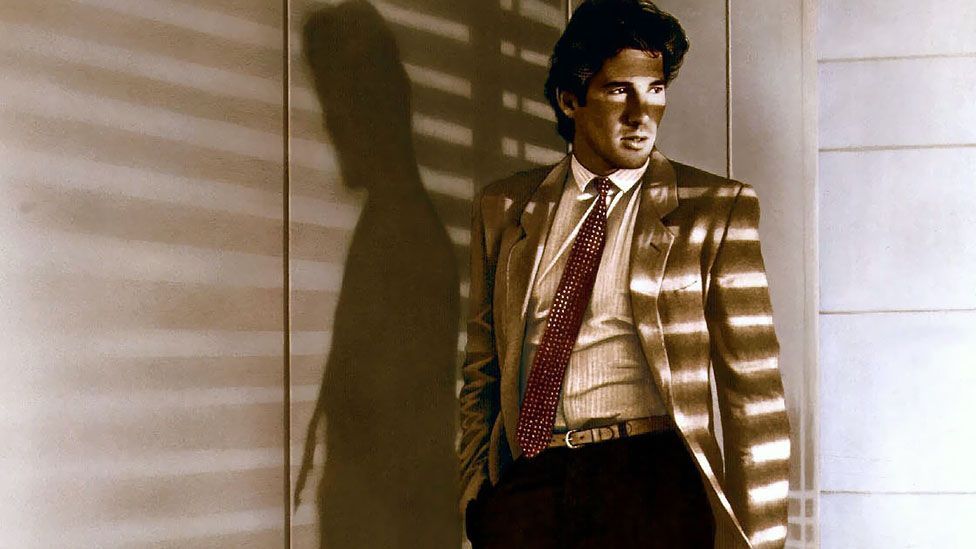 The Armani wardrobe worn by Richard Gere in the 1980 film American Gigolo helped propel the Italian designer even further on to the world stage. (AF Archive/Alamy)
The Armani wardrobe worn by Richard Gere in the 1980 film American Gigolo helped propel the Italian designer even further on to the world stage. (AF Archive/Alamy)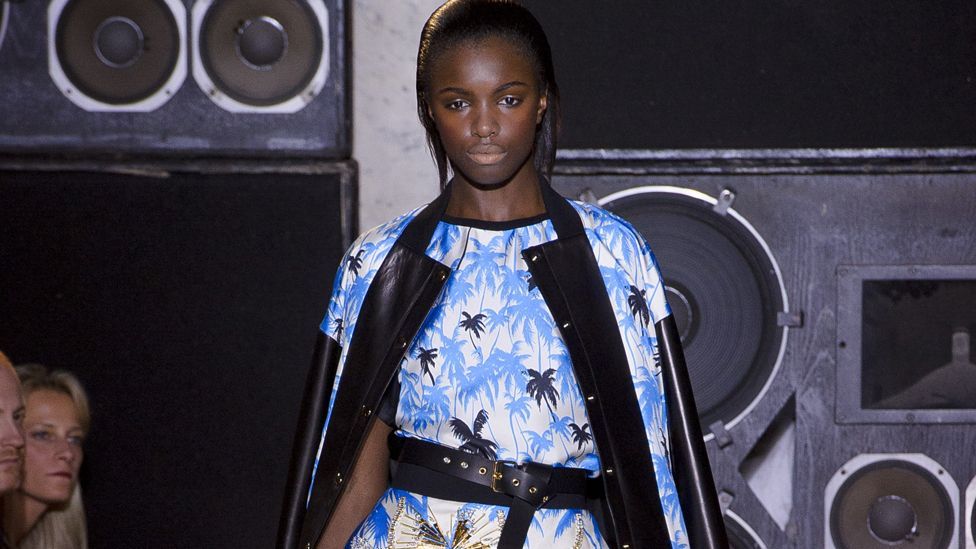 Designs by Fausto Puglisi for Spring 2014 combine finely-crafted leather accessories with delicate prints. "Italian craftsmanship is totally unmatchable," he says.(Filippo Fior)
Designs by Fausto Puglisi for Spring 2014 combine finely-crafted leather accessories with delicate prints. 'Italian craftsmanship is totally unmatchable,' he says.(Filippo Fior)