TV dramas based on complex domestic relationships, often between brides and their mothers-in-law, have riveted Indians for over a decade. Geeta Pandey reports.
I
In traditional Indian culture, it is said that when a woman marries, she doesn't just marry her husband − she marries his entire family. And her relationship with her mother-in-law can often be crucial to her survival in the bridal home. So nearly a decade-and-a-half ago, when the first soap opera arrived based on the relationship between a mother-in-law and a daughter-in-law − Kyunki Saas Bhi Kabhi Bahu Thi (Because the Mother-in-Law Was Also Once Daughter-in-Law) − it struck a vital chord with its audience.
The story of the fictitious Virani family centred on Tulsi, a young woman who falls in love with and marries Mihir Virani, the scion of a wealthy family. It had the country in thrall. The trials and tribulations of the pious and perfect daughter-in-law, and her battles with a mother-in-law who often behaved like a monster-in-law swiftly became a talking point.
The first episode of Kyunki went on air on 4 July 2000 and it continued for nearly eight-and-a-half years. In millions of homes across the country, families reorganised their daily routines to ensure they didn't miss out on the show.
"I lived in Mumbai when it started. I used to watch it every single day. I would not miss it for anything," says housewife Seema Arora. "I loved the show because it stressed family values. People were always making sacrifices for each other. It taught us to live together happily within the family and care for each other."
Shailaja Bajpai, television critic for the Indian Express newspaper, says Kyunki's success was due to the fact that it was "a universal story that appealed to everyone". In India, the family is paramount − and the producers, Balaji Telefilms, cashed in on that. "It was a winning combination of piety and family," Ms Bajpai says. "The show celebrated all the big festivals, it was all packaged very well, there was drama and melodrama."
On repeat
The unprecedented success of Kyunki encouraged Balaji to launch similar programmes, and many of them also went on to become huge hits. "Nothing succeeds like success," says Shoma Munshi, professor of anthropology at the American University of Kuwait. "Kyunki's popularity led to Kahani Ghar Ghar Ki (The Story of Every Home) and Kasauti Zindagi Ki (The Test of Life) and several others. The channels wanted more of the same."
Prof Munshi, who has authored two books on Indian television dramas − Remote Control: Indian TV in the New Millennium and Prime Time Soap Operas on Indian TV − says they were heavily influenced by American soaps like Dynasty and Dallas. "They had multiple story lines with lots of twists and turns, plots and sub-plots to keep the viewers engaged. You needed evil plotting, affairs, illegitimate children and they were all there. Women were central to these soaps, men were of course needed, but they remained on the periphery, to move the narrative forward.
And everyone was watching them, the housewives, the working women, the housemaids… nobody ever missed them."
And this phenomenon was not limited to India. The soaps, dubbed the "saas-bahu sagas" − saas is the Hindi for mother-in-law while bahu is the daughter-in-law − acquired large followings in the Middle East, Afghanistan, Sri Lanka and Bhutan. During a visit to the Bhutanese capital, Thimphu, in 2005, I met several families who said they were "addicted" to Indian TV dramas. Colleagues who visited Afghanistan said there were posters of Kyunki (named Tulsi for the Afghan market) in shops and marketplaces in Kabul. "There were reports from Afghanistan that thieves struck at that time of the day when people were glued to their TV sets, watching Tulsi," Professor Munshi says.
The actors and actresses who were the protagonists of these original dramas became household names. Smriti Irani, who played Tulsi, later entered the world of politics and is contesting the current general election to enter parliament. When her onscreen husband Mihir Virani, played by Amar Upadhyay, was killed, the producers received so many letters and phone calls from heartbroken fans that they had to bring him back to life.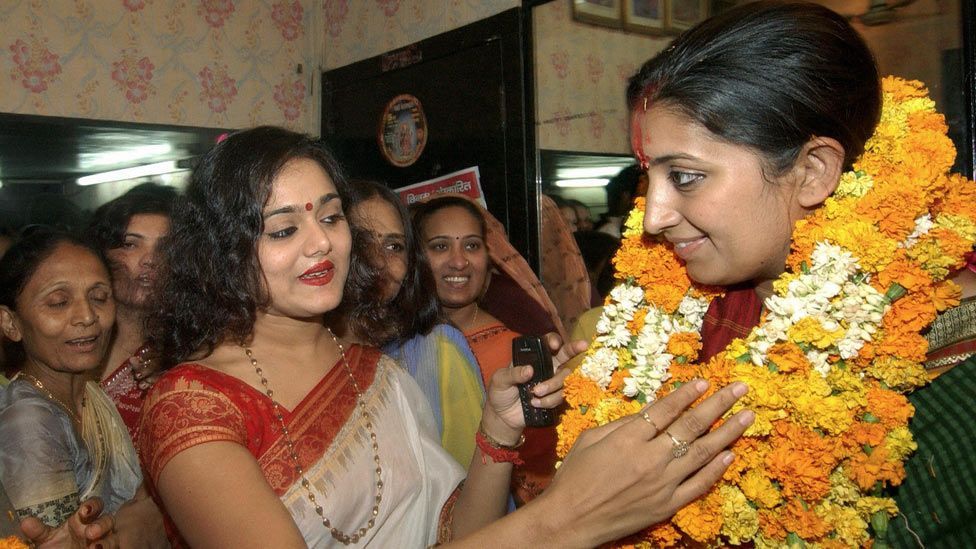 TV star Smriti Irani is now a politician (Getty Images)
Modern family?
Critics, however, accuse the "saas-bahu stories" of being theatrical, removed from reality and often reactionary. Sociologist Meena Radhakrishna says: "Some of the stories were quite regressive − they showed men slapping women. In the family structure, there was the devilish mum-in-law who wielded enormous power over her submissive daughter-in-law. They reinforced gender stereotypes and hierarchies in the family system, sometimes subtly, at others not-so-subtly."
Ms Bajpai disagrees with this assessment. "Many things in these soaps were neither real nor realistic, but they were certainly not regressive. On the contrary, they dealt with all sorts of themes. Kahani had a rape episode, there were extra-marital affairs, business rivalries within families and they allowed engagement with the audiences. It was a way to begin discussions within the family on important issues, but in a soft, gentle way. They were not news programmes."
Even though Kyunki, Kahani and Kasauti ended after being on air for several years, newer dramas with more prescient themes have taken their place to satisfy an audience hungry for TV drama. Professor Munshi explains: "They are still set within the big joint families where several generations live together, but Balika Vadhu (The Child Bride), which deals with child marriages and Naa Aanaa Is Des Laado (Don't Come to This Country, Darling), which is about female foeticide, deal with socially relevant issues." A popular drama now is Ek Nayi Pehchaan (A New Identity) which actually turns the mum-in-law-daughter-in-law relationship on its head. 
India has more than 800 channels and TV is the cheapest and most accessible form of entertainment in a country where the majority of people still live incredibly challenging lives. Family soap operas continue to consistently dominate the ratings. Looking at their popularity, it seems unlikely that production houses will deviate from a tried and tested formula. As Professor Munshi predicts: "TV dramas have a bright future. They are the bread and butter of entertainment channels. They are here to stay."
If you would like to comment on this story or anything else you have seen on BBC Culture, head over to our Facebook page or message us on Twitter.