Most airports are purely functional, but these are architectural wonders. Jonathan Glancey shows where flying becomes a work of art.
A
At any one moment some 800,000 people are flying on aircraft. So, imagine just how many air passengers there are in any 24-hour period, let alone a month or a year. And, think of how all these millions have to be processed - a horrid but appropriate word - through thousands of airports.
No matter how hard even the world's best architects have tried, the airport is a difficult building type with which to fall in love. The reality is that many passengers rarely give much of a second glance at the quality of the architecture around them.
And, yet, there are airports that do have a special ability to encourage us to look up and around, airports that have been designed one way or another to offer something of the adventure and poetry of flight even in an era of mass travel and budget fares. Here are some of the best airports – in terms of design and atmosphere – in our extraordinarily busy and increasingly itinerant world.
Chek Lap Kok (Hong Kong International), Terminal 1, Hong Kong
This huge, airy and elegant airport was built to coincide with the handover of Hong Kong to the People's Republic of China in 1997, although the opening took place the following year. The vast Terminal 1, designed to look like a giant airliner by Foster and Partners, sits on top of a landfill extension of Hong Kong. Chep Lap Kok is characterised by lightweight steel and glass roofs, clear passenger routes, carefully modulated daylight, commanding views out to the aircraft and a vast central "market square".  
General Cesareo L Berisso International Airport, Montevideo, Uruguay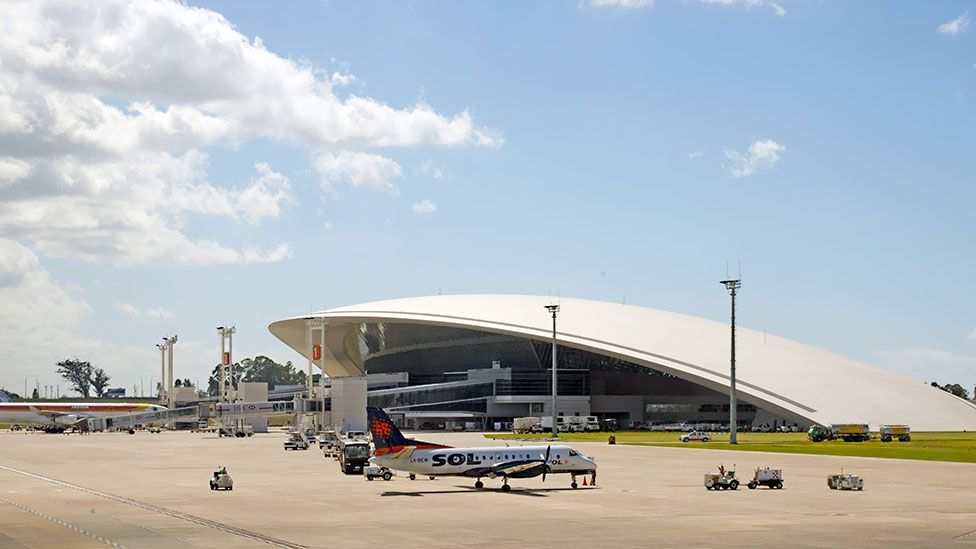 Better known as "Carrasco" – after the name of a suburb 15km from central Montevideo in which it resides – this growing airport has achieved a degree of international acclaim for its refined and elegant new terminal opened in 2009. Designed by the Uruguayan-born, New York-based architect, Rafael Vinoly, all the terminal's functions are housed beneath one sweeping 365-metre curved roof. The interior is awash with daylight, and passengers and visitors can look out from the windows of a restaurant and an open terrace beneath the eaves of the great roof to the rolling landscape beyond and, of course, to aircraft taking off and landing.
Giovanni Nicelli Airport, Venice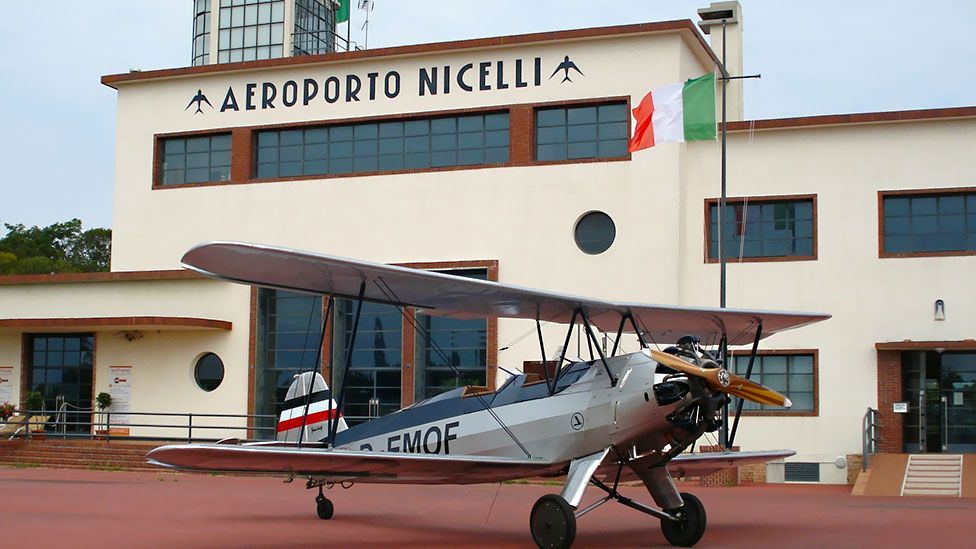 [Hermannk](https://de.wikipedia.org/wiki/Datei:FW44-auf-Nicelli.JPG), CC BY-SA 3.0.
Set on the Venice Lido, a few minutes by water taxi from St Mark's Square, Nicelli Airport is one of Europe's most delightful city airports. It serves second fiddle to the international airport – Marco Polo – on the other side of the lagoon, yet it is beautifully located and its terminal building is a strikingly handsome design from 1935. Here, the bright arrivals and departure lounge is happily dominated by a grand piano and surrounded by stirring murals of 1930s aircraft by the Futurist artist Tato (Guglielmo Sansoni). Set between the lagoon, a medieval church and other historic buildings, the airport can be reached on foot, bike or boat.
Long Beach Airport, California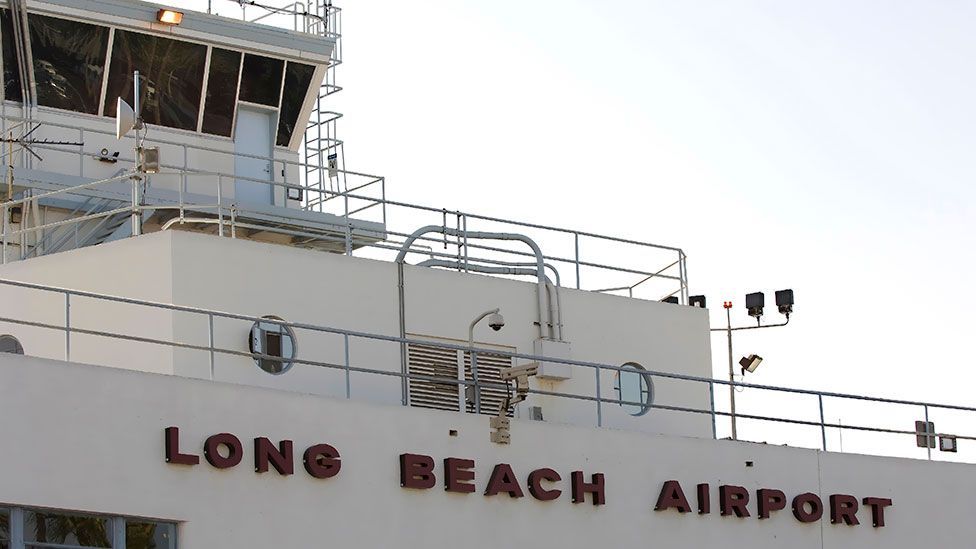 Set behind an Art Deco terminal dating from 1941 - by W Horace Austin and Kenneth Wing Sr - is a range of crisp and cheerful new buildings by HOK Architects that has brought this much-loved regional airport up to date without it losing its Bogart-Bacall-era Hollywood charm. Here, you walk through tree-lined pavilions, open to the California sky. What Long Beach does so enchantingly well is to offer a relaxed and gracious alternative, at least for domestic flights, to LAX – Los Angeles International Airport – its mighty, and often mightily confusing, neighbour, 18 miles north. The Art Deco terminal has been well looked after and, indeed, during the new works carried out in 2012, a number of enchanting mosaics depicting seabirds, ships, an oil well and a hand dialling a telephone among others, were found hidden under layers of well worn carpet.
Barra Airport, Scotland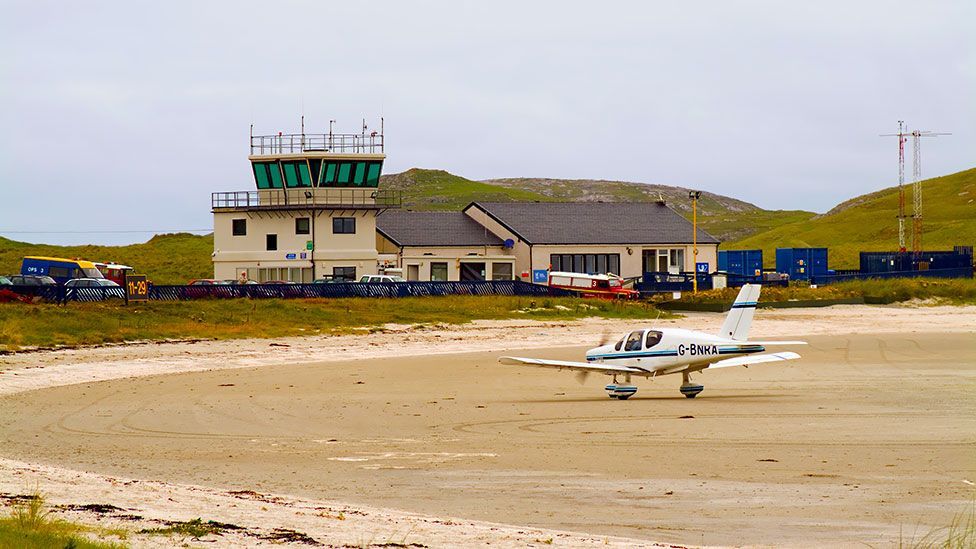 Flights to and from Barra, an island in the Outer Hebrides, are dependent on tides. Barra offers what are probably the world's only scheduled flights from a beach runway. The experience – pure delight if you enjoy old-fashioned, seat-of-the-pants flying – is never less than memorable, the scenery magnificent, the weather often unsettled. To watch aircraft – these are not specially equipped seaplanes – rushing in and out of water as they take to the Scottish skies is a wonder, and definitely for "bravehearts" and romantics among you.
Kansai International Airport, Terminal 1, Osaka, Japan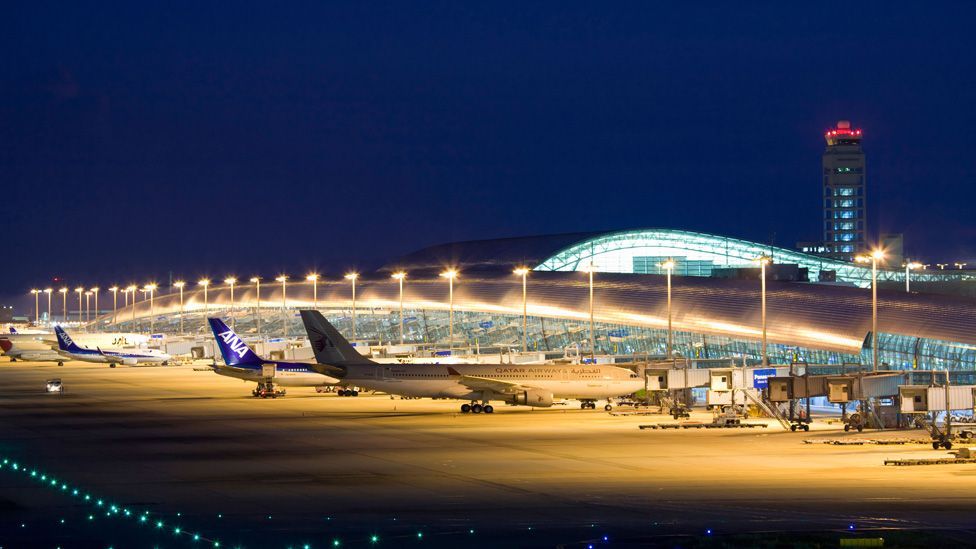 (Payless Images, Inc/Alamy)
This remarkable airport serving several cities is set on a man-made island measuring 4km by 2.5km in Osaka Bay. Opened in 1995, it was a hugely ambitious and colossally expensive project undertaken because there was neither the desire nor the space to build a major new Japanese airport. The 1.7km long Terminal 1, designed by Renzo Piano Building Workshop of Genoa, Paris and New York City is light and elegant, and probably the longest building in the world, but it is also designed to withstand earthquakes and typhoons. When the Kobe earthquake struck in January 1995, with its epicentre just 20kms from Kansai, 6,434 people were killed on land; Kansai was undamaged, its acres of glass unbroken, and among the people in the airport there were no casualties. In 2001, the American Society of Engineers named Kansai one of its ten Civil Engineering Monuments of the Millennium along with Eurotunnel linking England and France and the mighty Hoover Dam.
Courchevel Airport, France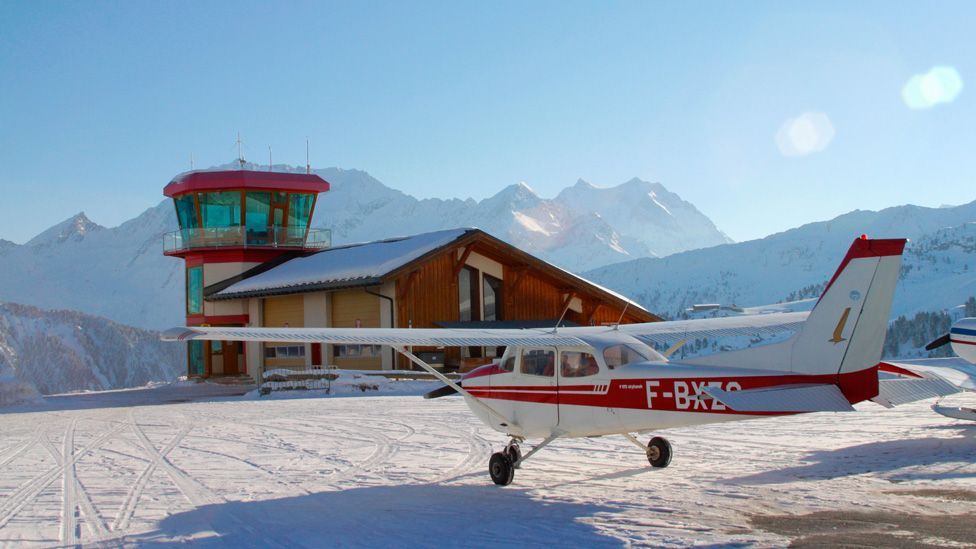 Opened in 1961 to boost the fortunes of this top-end French Alpine ski-resort, Courchevel is the most demanding for pilots. They have to negotiate deep mountain valleys and a notoriously short runway, set into the mountainside and sloping at an angle of 18.5 degrees. This slows landing aircraft very quickly and the view through the cockpit is somewhat daunting. Takeoffs are downhill, allowing aircraft to scramble into the mountain air in record time. Pilots require a special certificate to fly here. James Bond was possibly an exception: you can see his exploits at Courchevel in 1997's Tomorrow Never Dies.
Queen Tamar Airport, Mestia, Georgia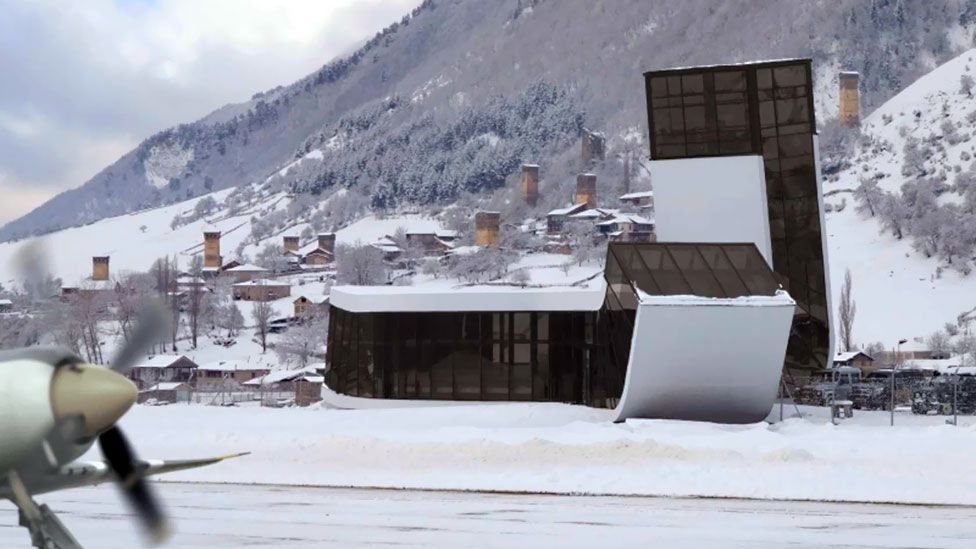 Mestia is a small ski town, 1,500m up in the Caucasus mountains in northwest Georgia and its churches and forts form a Unesco World Heritage site. The bizarre new airport terminal – in the guise of an extruded square steel and glass section bent into three improbable directions – is the work of the German artist and architect Jurgen Mayer-Hermann. The black and white structure has been designed to attract the curious and to help put Mestia on the map of the modern world.

Dammam King Fahd International Airport, Dammam, Saudi Arabia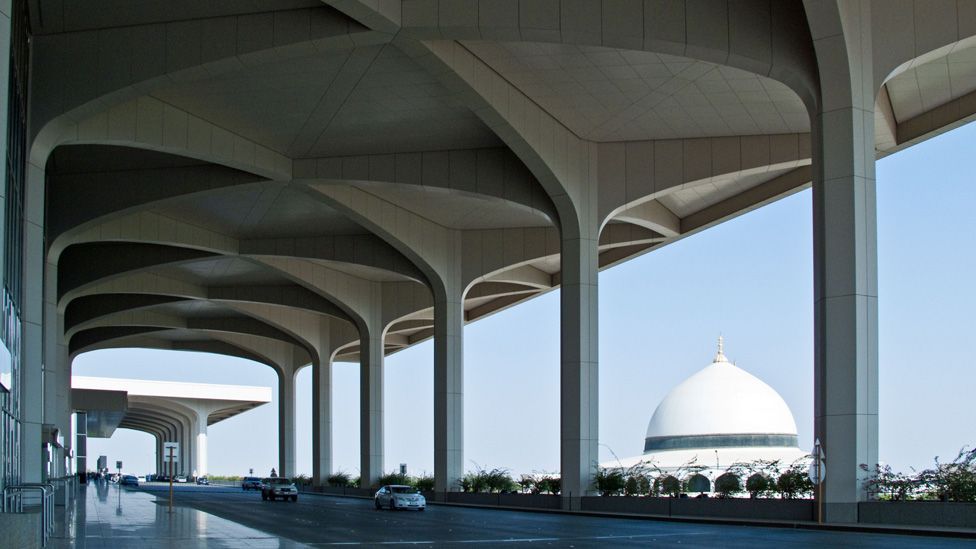 Dammam is one of the most oil-rich cities on earth. Its airport is possibly the world's largest, although this claim is based on the land it occupies: countless acres of desert sands yielding to the Persian Gulf. Planned by the Japanese architects Yamasaki and Associates starting in 1976, the airport was opened for full commercial operation in 1999. During the first Gulf War, it had served as a military base. It sits 50kms from Dammam and reached by a road though a desert of camels, Bedouin tents and other scenes from traditional Arabian life. A lavish royal terminal here is rarely used and, on the whole, this enormous airport seems remarkably quiet.
Hajj Terminal, King Abdul Aziz Airport, Jeddah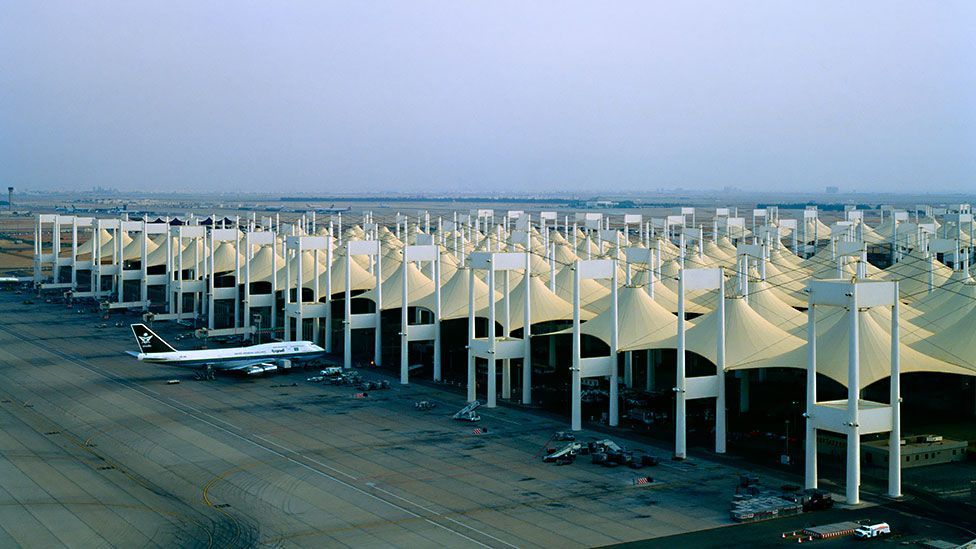 (Art Directors & Trip/Alamy)
Formed by an array of gigantic tents aligned in the most orderly fashion, this is one the most unexpected, and mesmerising, airport terminals. What makes it so different is that it is only used during six weeks of each year, for a million or so Muslims flying into Jeddah on their way to Mecca during the annual Hajj pilgrimage. The Bangladeshi engineer Fazlur Rahman Kahn and the American architects SOM came up with a brilliant plan: a gigantic and naturally ventilated grid of tents, although the fabric of the 210 "tents" that form one giant structure are made of modern Teflon-coated fibreglass supported by tapering 45m steel poles. The sides of the "tents" are open to the elements. Serving as a giant sunshade, the roofs of the terminal keep pilgrims comfortable as they wait to be transferred, by road, to Mecca, 70km away. They can also cook their own food, creating an atmosphere more like a souk than an airport terminal.
If you would like to comment on this story or anything else you have seen on BBC Culture, head over to our Facebook page or message us on Twitter.