Quentin Tarantino's homage to disreputable genres stormed Cannes 20 years ago. Tom Brook shows how the film became a sensation.
I
In May 1994 Nelson Mandela was sworn in as South Africa's first black president and the Channel Tunnel linking England and France finally opened. But another seismic event took place early one morning on the French Riviera when Quentin Tarantino's crime drama Pulp Fiction was screened for the first time at the Cannes Film Festival.
"That would have been 8:30 in the morning," recalls film critic Anne Thompson. She was inside the Palais des Festivals, as a senior writer for Entertainment Weekly, for what turned out to be a joyous screening. "I don't remember anything but really enthusiastic applause. It was electric. There was a lot of expectation that this would be something remarkable – and it was," she says.
The reaction was swift and very soon there were proclamations that Pulp Fiction had reinvented the gangster film in many dazzling ways.
At Cannes it won the Palme d'Or, the top award. In the weeks that followed, as the film travelled to other festivals and into general release, it was met with considerable praise, a little dissent and the odd bit of drama.
When the picture was shown as the opening night attraction at the New York Film Festival the screening had to be stopped. David Ansen, then film critic for Newsweek, recalls:  "Someone fainted, a doctor was summoned. They restarted the movie just as they plunged the needle into the heart to revive [Uma Thurman's character] and the crowd burst into cheers."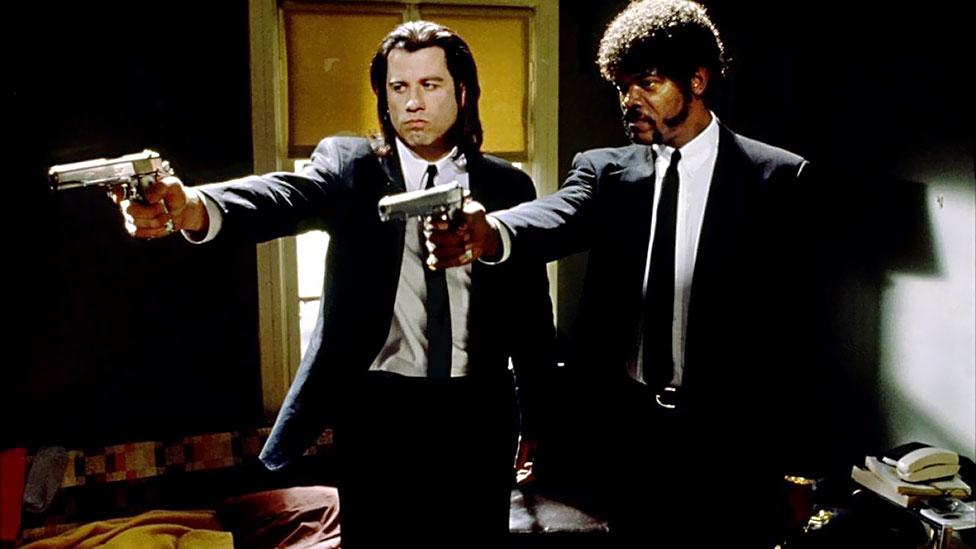 But as New York Observer film journalist Steven Garrett recalls, many thought this was a publicity stunt orchestrated by the film's producer. "Everybody absolutely was convinced that Harvey Weinstein had faked it and had put a plant in the audience so it [would be] a very memorable screening."
Bring out the gold
Pulp Fiction became a huge commercial hit, especially for an independent film. It eventually grossed more than $200 million worldwide. All of this was exceedingly good news for John Travolta, whose career the film revived. He received an Oscar nomination as did co-stars Samuel L Jackson and Uma Thurman. It was, of course, also a major triumph for Harvey Weinstein at Miramax Films, who backed the movie.
No factor accounts for Pulp Fiction's tremendous impact  more than the almost universal verdict that the film felt entirely fresh. The story unfolds out of sequence as it chronicles a group of well-drawn underworld characters who inhabit a Los Angeles crime subculture. They include Travolta and Jackson as mob enforcers, Uma Thurman as the wife of a mob boss and Bruce Willis playing an ageing boxer.
Ken Dancyger, professor of film and television at New York University, sees the tonal changes that Tarantino brought to the film as setting it apart. "He had this tendency to shift tone suddenly from comedy to utter violence, so he was into what I call shock therapy," he says.
Thompson, a big Pulp Fiction fan, concurs: "The reason it was so influential would be the violence, the extraordinary combination of humour and violence. It was just hugely entertaining."
Pulp Fiction also brought audiences sympathetic characters even if they were violent,  says Dancyger, "It humanises them and it just pokes fun at the genre, plays with the genre, it's playful. Tarantino is trying to humanise the gangster. He's trying to say he's anxious like you are. He's philosophical."
The film famously drew on numerous aspects of pop culture. It has an impressive soundtrack, striking cinematography and clever dialogue. It resonated with many young moviegoers who found it to be a totally intoxicating cocktail.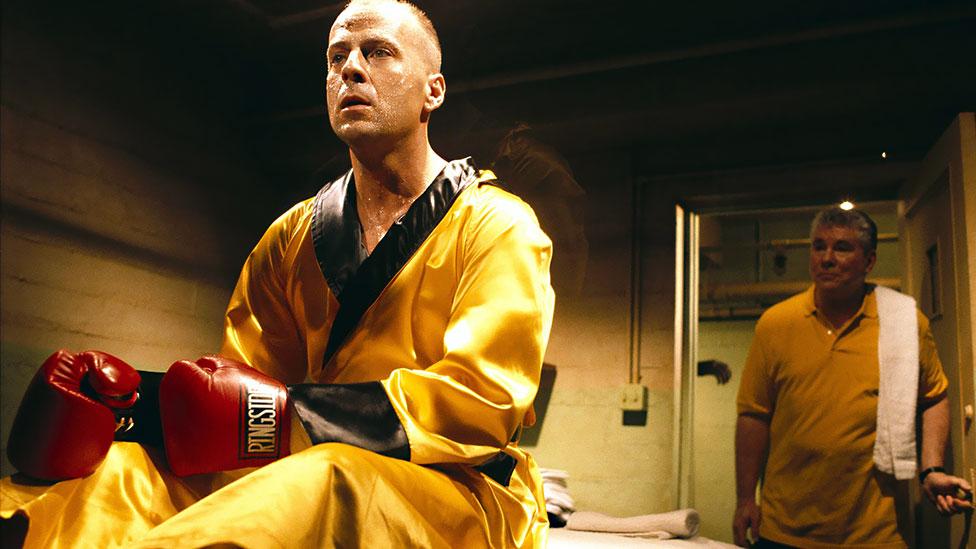 "It felt like you'd seen something revolutionary in American filmmaking," says New York movie fan Frank Powers, who was in his mid-20's when he saw Pulp Fiction. He was deeply impressed by what Tarantino had brought to the screen. "He drew from a lot of influences that were already out there – foreign cinema and niche filmmaking," he says.  "But to audiences it was the way he had compiled it together, people had never seen that before."
Do the twist
It was the film's form – its non-linear structure – that really startled audiences. Wheeler Winston Dixon, Professor of Film Studies at the University of Nebraska-Lincoln, says, "It changed the whole model of what people would sit through, because it was so long, the complexity of it, the intelligence of it, the vitality of it, the originality of it and the fact that it never really did what you expected and it constantly kept audiences guessing."
But not everyone was won over by Pulp Fiction. Los Angeles Times film critic Kenneth Turan was one of the few dissenting voices. "The writer-director appears to be straining for his effects," he wrote. "Some sequences have the uncomfortable feeling of creative desperation, of someone who's afraid of losing his reputation scrambling for any way to offend sensibilities." There were several reviewers who found the film shallow – and gimmicky.
But says Wheeler Winston Dixon, the "people who attacked it as a shallow gimmick missed the greater depth that was obviously there in the writing, which was brilliant. It's some of [the]  best speeches that [Tarantino has] ever written."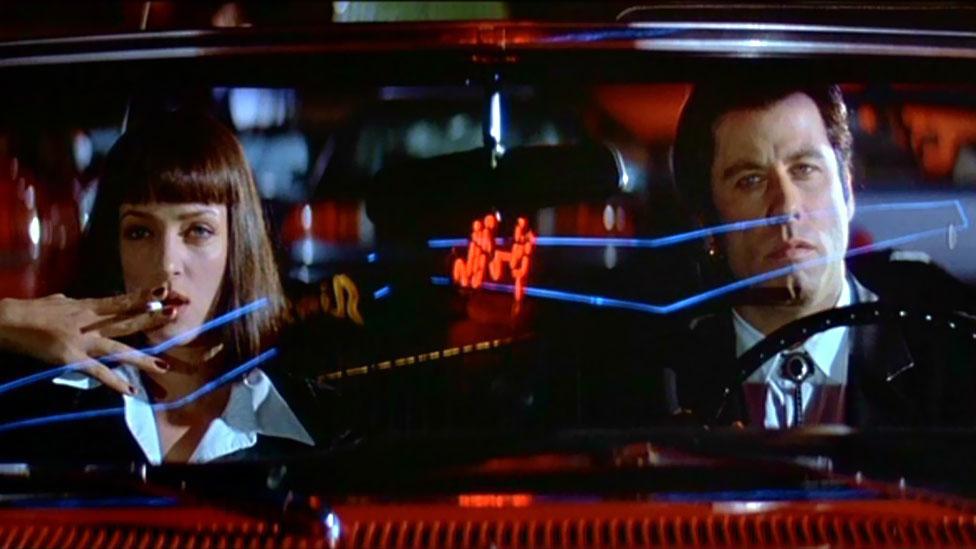 The film has also been criticised for bringing stylised violence into mainstream moviemaking. But Tarantino's fans certainly don't see him as a prime offender.
"I wouldn't blame Quentin Tarantino, especially when you had filmmakers like Sam Peckinpah, 20, 30 years before him really setting a standard for violence that inarguably has yet to be surpassed," says Stephen Garrett.
The film also had an impact on a new generation of filmmakers who were influenced by Tarantino.  There were several Pulp Fiction copycat films that emerged in its wake.  But in eyes of Tarantino's admirers the excellence of Pulp Fiction has never been outdone.  "You could make lists of the films that were influenced by that movie without ever coming close to its brilliance," says Thompson. "You didn't know at the time that it would be so influential.  That it would have such an impact on all the movies to follow."
This week film critics and journalists are gathering in Cannes once again 20 years after Pulp Fiction's memorable unveiling. Many would love to witness the emergence of another movie just as groundbreaking. Whether or not you're a fan of Pulp Fiction, everyone is hankering for a fresh, totally original new movie. It might just happen – that's the wonder of Cannes. But it's going to be hard to be beat what many have called one of the greatest films of all time.
If you would like to comment on this story or anything else you have seen on BBC Culture, head over to our Facebook page or message us on Twitter.