The ubiquitous rubber-soled shoes and boots made a successful leap from sport to streetwear. Katya Foreman looks back at their colourful history.
A
As one of the most democratic – and omnipresent – footwear icons of American pop culture, with fans ranging from young skater dudes and grungy rockers to Michelle Obama, Converse's Chuck Taylor All Star boasts as colourful a history as the brand's rainbow range of shoes. A masterpiece of utilitarian design, with its sleek lines and textured contrast of canvas and vulcanized rubber, the trainer's black-and-white beginnings were rooted in basketball.
Founded in 1908 by Marquis Mills Converse in Malden, Massachusetts, the Converse Rubber Shoe Company started out as a specialist in winterised rubber-soled shoes and boots. Within a few years, the firm had branched out into the athletic footwear market, at first targeting sports such as tennis, netball and football (at the time, Spalding had the basketball beat covered). Its first basketball shoe, the Converse All Star, was released in 1917, although the man behind its success – Charles 'Chuck' H Taylor – was to enter the picture a few years later.
Taylor, who as an active high school basketball player had developed a penchant for Converse All Stars, talked his way into a job at the company in 1921 as an ambassador and salesman. The charismatic young entrepreneur was instrumental in fine-tuning the shoe's design to improve its performance on the court, but he also had the gift of the gab, a knack for networking, and an impressive knowledge of the basketball industry. "He had a fascinating life," Joe Dean, a former sales executive for Converse, told The Philidelphia Inquirer. "It was impossible not to like him, and he knew everybody. If you were a coach and you wanted to find a job, you called Chuck Taylor. Athletic directors talked to him all the time when they were looking for a coach."
Taylor took the shoe and ran with it, driving across America to host basketball coaching clinics ̶ promoting the shoe's virtues all the while ̶ , in a white Cadillac with a trunk-load of Converse All Stars. Boasting a thick rubber sole and a canvas or leather ankle-high upper, the original design was brown with  black accents.. So influential was Taylor in the marketing and development of the shoe, Converse renamed it after him in 1932, adding his signature on either side of the All Star logo on the patch that reinforced the shoe's ankle. The ventilation eyelets were added in the same year.
In 1936, Taylor designed the white Chuck Taylor All Star high-top, the official shoe of Team USA for the first ever Olympic basketball championship, held at the Summer Olympic Games in Berlin (they scooped the gold medal). Sporting patriotic red and blue lines on the sole and logo, the iconic design was also adopted as the official training shoes of the United States military during World War II.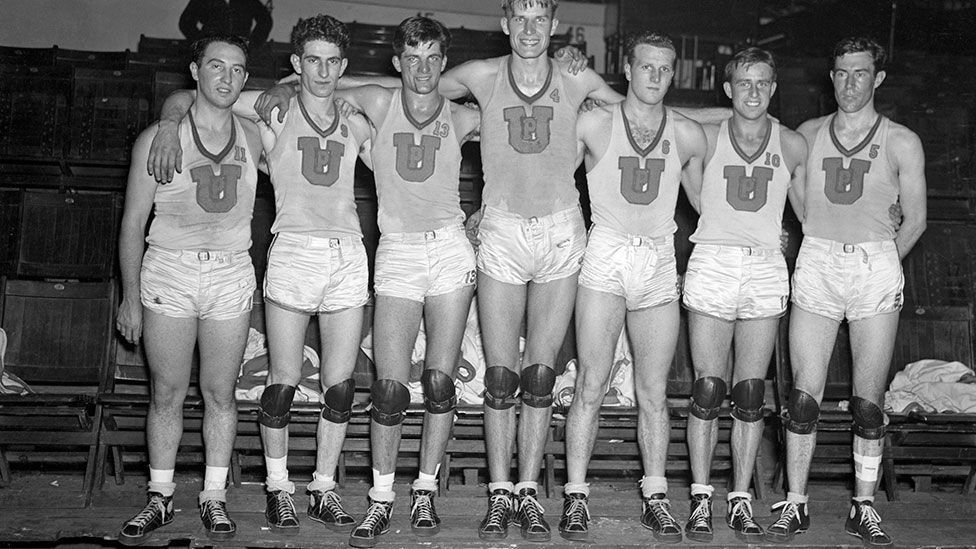 US Olympic Basketball team, 1936 (Bettmann/Corbis)
In living colour
Converse's golden era spanned the 1940s and the 1960s, when it became the most popular sneaker for any athletic activity (and possibly spawned a generation of flat-footed athletes). At its peak, the brand is said to have controlled 80% of the US sneaker market. The period saw design taken in some new directions, with the introduction of the iconic black-and-white Chuck Taylor All Star in 1949, and the low-cut Oxford Chuck in 1957. But it wasn't until the 1960s that coloured versions of Chuck Taylors hit the market, in response to demand from basketball teams keen to match the shoes to their kits.
Despite its legacy as the all-time bestselling basketball shoe, a change of fortunes was on the cards for the Chuck Taylor All Star. By the late '70s, surfing a new fitness craze centered on running, a sea of high-tech performance trainers from brands such as Nike, Adidas and Puma came onto the market, along with a range of new-generation basketball shoes. "The NBA players wore Chuck Taylors and they were the best, so that's what everyone wanted to wear. When I was with the Nets, I had signature Michael Ray Richardson leather Chuck Taylors, $19.95 a pair. That was a good-looking shoe – wasn't nothin' to play in compared to Air Jordans. I had to wear orthotics when I wore Chuck Taylors," remembered Michael Ray Richardson, a guard for the New York Knicks, Golden State Warriors, and New Jersey Nets from 1978 to 1986. Converse had also lost its secret weapon with the passing of Taylor in 1968 one year after he was inducted into the Basketball Hall of Fame.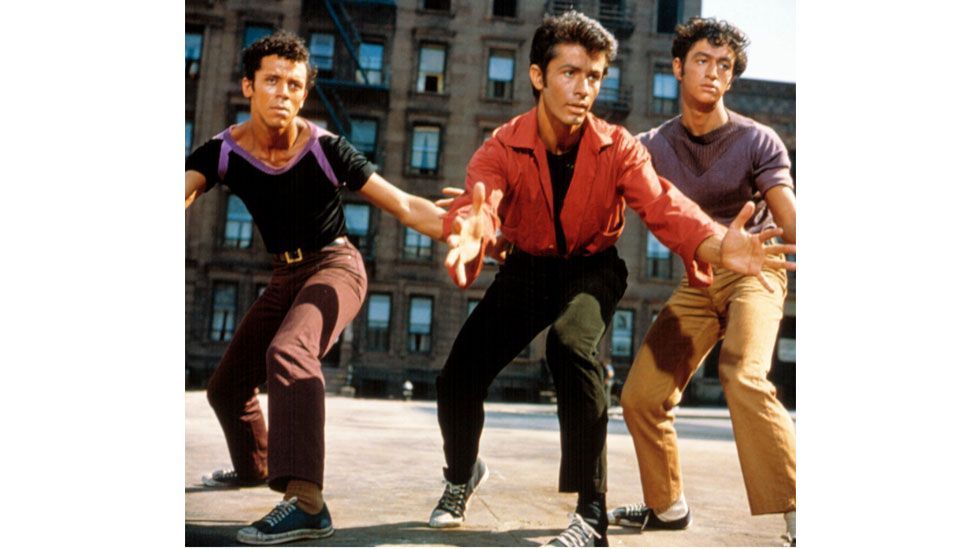 West Side Story, 1961 (Everett Collection/Rex)
The shoe's brief revival in the '80s and '90s, fuelled by grunge culture, with Kurt Cobain as its poster boy, marked a cultural shift in the brand's destiny. With affordability and great design on its side, Converse sneakers, now available in a variety of materials and hues, and even in knee-high versions, had been bubbling up through the baby boomer generation as a casual footwear staple ever since James Dean was pictured in his Jack Purcell Converse kicks in the 1950s. These kids were uninterested in the shoe's basketball roots. Among the Converse-sporting rockers, Tommy Ramone, drummer of The Ramones, when asked who Chuck Taylor was replied: "He was maybe a basketball coach or something. I don't know. He made cheap shoes."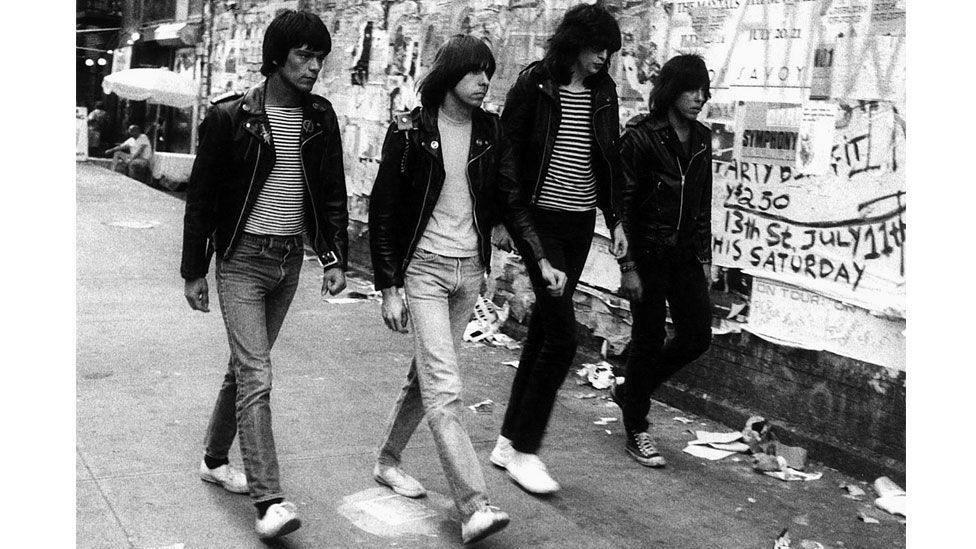 Ramones,1978 (AF archive/Alamy)
Canvassing opinion
As big a part as non-slip rubber played in the Chuck Taylors' early history, canvas, its other main ingredient, was to lead Converse into the future. After several management changes, the beleaguered brand crashed and burned in the early '00s, filing for bankruptcy in 2001. But its rescuer, Nike Inc, has steered Converse away from its performance message towards creative expression, working with a range of big-impact collaborators, including fashion brands like Givenchy, Missoni, and Maison Martin Margiela. (A new capsule collection released in May saw the brand's iconic Jack Purcell and Chuck Taylor All Star styles daubed in the latter fashion house's signature white paint). Recent artistic dalliances, meanwhile, include a limited edition capsule of Chuck Taylor All Stars honed from two of Nate Lowman's slashed up canvases, with each pair selling for $25,000. The formula seems to have worked, with Converse raking in a reported $1.4bn in sales in 2012, versus a reported $205m in 2002.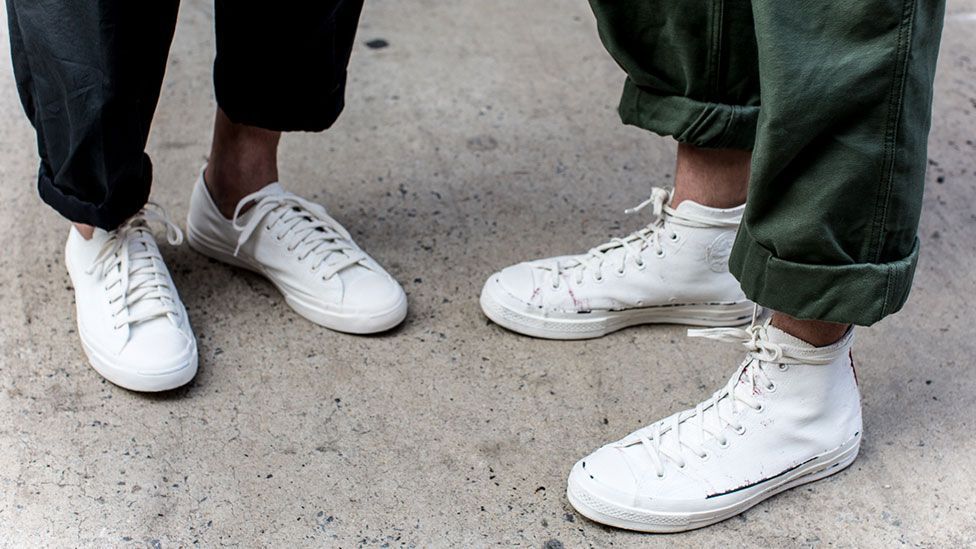 Margiela (Maison Martin Margiela)
Converse has become impressively versatile. It bridges the gap between trainers and shoes as a smart-casual footwear and has even tiptoed into formal occasions. Kristen Stewart likes to wear them on the red carpet, with clean-cut Chuck Taylor All Stars now a trendy option for weddings."We have hit on a sharp point for our brand, and that has to do with our relationship with the creative community," Jim Calhoun, president and CEO of Converse, told Footwear News. The priority today is to be a brand "made for, and inspired by, artists," he added.
While honouring the brand's design heritage, Converse's next step has involved the recent shuttering of the brand's performance basketball line for the first time since it was introduced a century ago, a move which, Calhoun confessed, was "a relief". "We had been so afraid to let go – of basketball, in particular – that we spent a lot of effort trying to remain relevant [there]. It was a rediscovery of [the fact] that our history hasn't just been about our relationship with the sports world," he told FN. With its frame still intact, the Chuck Taylor All Star's future, it seems, is literally a blank canvas.
If you would like to comment on this story or anything else you have seen on BBC Culture, head over to our Facebook page or message us on Twitter.